Trendsetters: Community Connection
Urban Food Forest at Browns Mill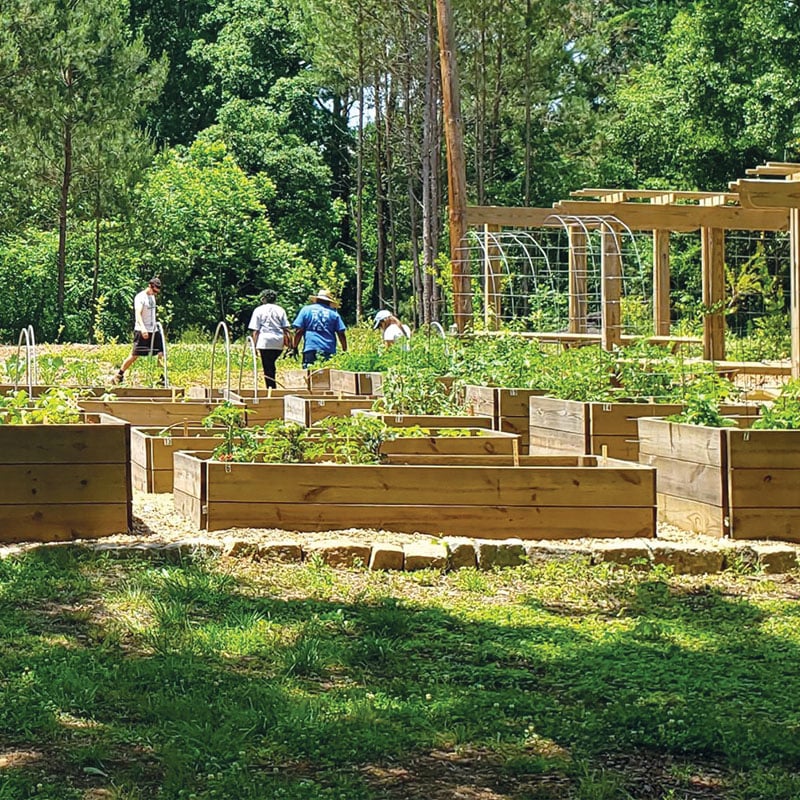 Ten minutes southeast of Atlanta's City Hall, on a quiet residential street in the Lakewood-Browns Mill neighborhood, is a growing community asset – literally. On 7.1 acres of land that was a farm until the early 2000s, Georgia's first food forest has sprouted.
What's a food forest? A simple definition is land featuring highly integrated plants that yield edible produce, arranged in a variety of vertical and horizontal layers, much like a natural forest ecosystem. It's a trend that's taking root around the nation as more people discover the benefits of eating locally grown, fresh food.
However, the Urban Food Forest at Browns Mill is so much more than a living produce park. It strives to connect with its surrounding community in multiple ways.
"As much as this is an asset to the community for fresh food access, it's also an ecological lab for people to learn about nature," says Mario Cambardella, Atlanta's urban agriculture director. "It's a catalytic engagement piece for other services and programs that can help solve some problems and lead to higher quality of life and resident retention."
He uses the term "rooted citizenry" to describe the dynamic he envisions resulting from the food forest. Community participation is a big piece of the park's goals, and neighborhood residents were active in discussions about it from the time the food forest was the seed of an idea in 2016, until the city officially purchased the property last summer. Citizen involvement contributed to what's planted on the site, and the community's continued input – and volunteerism – is informing how the park is run.
Currently the nation's largest, the Food Forest relies on partnerships with a number of organizations, like Trees Atlanta and the environmental nonprofit The Conservation Fund, that help secure grants, sponsor educational programs and provide volunteers for clearing, planting and maintaining the property. Last year, about 900 volunteers helped out.
A walk along clearly marked trails reveals the diversity of food that will be harvested and given freely to volunteers and neighborhood residents who ask. The community vegetable garden is planted in raised beds constructed by local youth employed for the summer. Trellises for climbing fruit vines border the vegetable planters. An herb garden is built on mounds of biomass designed to trap and release water – just one of the passive irrigation techniques employed at the site.
An orchard with the farm's original pecan, black walnut and mulberry trees still stands. Swaths of blueberry and blackberry brambles and an asparagus grove are springing to life. Spindly young fruit trees will bear figs, nectarines, plums, pears, apples, cherries and pomegranates in a few years. Ultimately, the bounty will address the community's lack of access to fresh food, which led to the U.S. Department of Agriculture classifying it as a food desert.
The Food Forest is open to the public, however it's also a food source. Visitors are encouraged to check with a volunteer worker before picking anything.
"We're not here just to create fresh food access," says Cambardella. "We're here to create abundance."