Bird's-eye View of Georgia's Coast
From natural and historical attractions to palaces of pampering, the state's coastal region promises something for every intrepid traveler.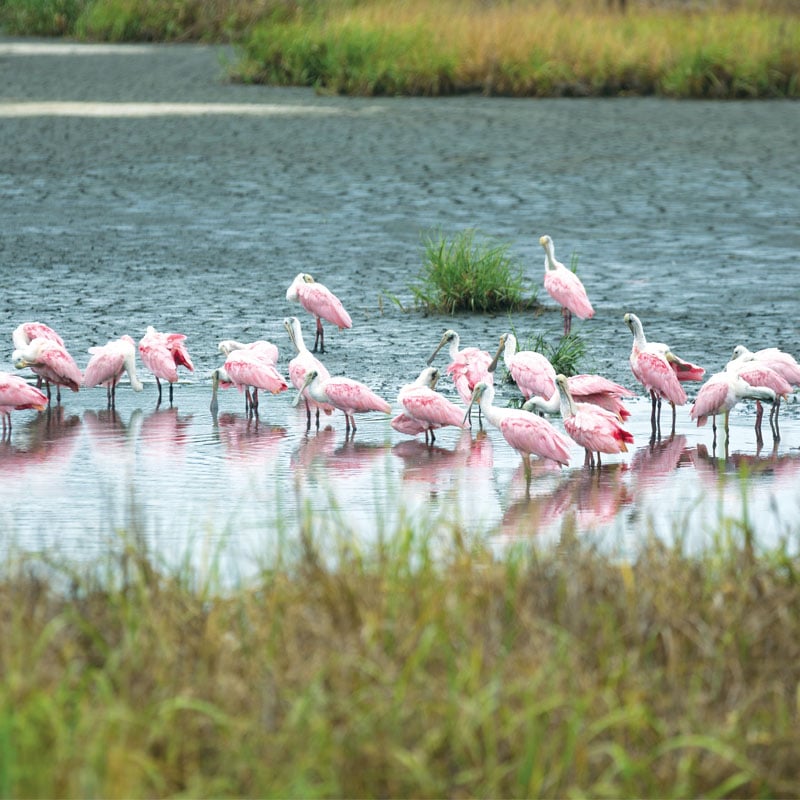 Georgia's coastline covers about 100 miles, as the roseate spoonbill flies. And this exotic bird – large and pink with a combination of great beauty and comic facial features – does, improbably, fly the Georgia coast, from its start where the Savannah River divides the state from South Carolina to the southernmost point in the state, where the St. Marys River marks the boundary with Florida. You're not guaranteed to spot the spoonbill on your coastal trek, of course, but your odds have gone up in recent years, and they improve as you go southward.
Along that span of coast, there are lots of attractions, from historic sites that remind Georgians of our role as a buffer colony between Spanish Florida and British South Carolina to such natural wonders as a living tree reputed to have been around for several hundred years by the time Columbus sailed the ocean blue.
But first, back to the spoonbill. Professional birder Diana Churchill of Savannah – author, columnist, photographer and tour guide – describes them as "rare but regular" visitors to the northern part of the Georgia coast. "The further south in the state you go, the more spoonbills you will find," she says.
That you see them at all is amazing. Roseate spoonbills were largely wiped out in the mid-1800s by the craze for plumage-trimmed hats and fans, and until recent decades were mainly restricted to a few breeding colonies in inaccessible swamps, Churchill says. The federal Migratory Bird Treaty Act, passed a hundred-plus years ago, made it illegal to kill them and other migrating birds, and the population has slowly recovered. Other, less optimistic reasons contributing to their resurgence in Georgia could be climate change and habitat destruction in Florida.
Start your search for the spoonbill at the Savannah National Wildlife Refuge, a federal refuge for migratory waterfowl and other creatures – though it can be a problematic start. The refuge's four-mile wildlife viewing drive is closed much of the time at present as crews work to repair damage to the refuge's water-control structures from Hurricane Irma. Check the website for updates that let you know when it is open on weekends, when construction crews usually aren't working.
If you strike out with spoonbills at the refuge, Churchill recommends trying Skidaway Island State Park, also near Savannah. The birds are early breeders further south, she notes – say February to May – and then are more likely to move north through October.
---
Rediscovering a Painful Past
After all that nature, it's time to switch gears to urban tourism. In Savannah, which the Savannah Area Chamber of Commerce says hosts 14 million visitors a year, tourism is a well-oiled machine with new hotels coming online at a brisk pace, along with the attendant restaurants and attractions. And the industry has matured enough that it's even got a little self-parody going on.
Enter the Savannah for Morons Tour, something completely different from the city's crowded field of bus, Segway, riverboat and walking tours with themes from architecture to ghosts. This tour is where stand-up comedy meets the tourism industry on a motorized trolley. It's a mixture of biting sarcasm, high camp and broad slapstick, gleefully roasting such sacred cows as Savannah's putative title as "the most haunted city in Savannah" and the tuition at a certain Savannah art school. With a self-proclaimed "PG-13" orientation and a midway refreshment stop at Ghost Coast Distillery, this is definitely not the tour all those visiting Girl Scout troops are taking.
Performers John Brennan and Dan Gilbert break character one time during their 90-minute routine: when they talk about the Weeping Time. This is the name given to one of the largest auctions of enslaved people – maybe even the largest – recorded in the United States, held just outside Savannah to settle the debts of failed plantation owners.
And that illustrates a growing willingness to address slavery and the role of enslaved people in the history of Savannah. There's been a strong sprinkling of African-American-oriented sites since Savannah's tourism boom began 30 years or so ago, but they largely address the time period after the Civil War: The Beach Institute, the city's first school for freedmen; the Pin Point Heritage Museum, preserving a Gullah/Geechee community built around the crabbing industry and dating to the late 19th century; and the Ralph Mark Gilbert Civil Rights Museum with its more contemporary orientation.
But now you actually see (or hear) the word, "enslaved." The Owens-Thomas House has become the Owens-Thomas House and Slave Quarters. This is not only one of the most prominent house museums in a city that is rife with them, but part of a trilogy of museums under the Telfair Museums title – meaning it is part of Savannah's prestige line of society and philanthropic causes.
Researchers have documented and restored where the enslaved people who ran that household worked and lived – helped, ironically enough, by the previous neglect of those areas. Few were interested in the basement before now, so the workspaces were preserved behind utilitarian modernization like massive air-conditioning ductwork. The latest renovations found a less intrusive way to cool the building and led to the almost accidental preservation of this part of the house.
The portion of the carriage house where those who were enslaved lived has also been restored and furnished as it would have been in the 19th century, creating a chilling counterpoint to the elegance and opulence of the main house. These two very different lifestyles are woven into the tours of the historic property.
"This is not just African history or black history; this is American history and it's about perspective. My guests are not just people of color. They come from all over the world, and they want to know the story," says Vaughnette Goode-Walker, who has been pacing through Savannah squares leading her Footprints of Savannah Walking Tours for 10 years now. Along the way, she's earned a master's degree in history from Armstrong State University. And she's quick to point out that hers is not the only Savannah tour group focusing on African-American history.
Urban slavery differed radically from slavery as practiced in plantation fields, she says, and urban enslaved people practiced many highly specialized trades and skills. "Urban slaves were 40 percent of Savannah's population in 1810," she says.
---
History Meets Elegance
After leaving Savannah, travel a little farther south to Darien in McIntosh County for a visit to Fort King George State Historic Site. Here, you can visit a reconstruction of a fort that was built in 1721 to stand between British settlements to the north and the Spanish to the south. Heat, mosquitos and disease did what the Spanish could not, ultimately leading to the abandonment of the fort.
Of course, you won't have it that hard. Relax and watch a film of the fort's history, or rent a canoe or a kayak. The birding's good here, too.
Keep going south to Brunswick, the jumping off point for the Golden Isles. Your chances of seeing a spoonbill are increasing, but there are other great things to see here as well.
Brunswick has begun to reassemble its historic district after decades of decay and neglect. It's still early enough in the process that you can sense the energy that drives it, with a downtown divided between plucky startups and vacant storefronts.
Look for the intersection of Prince and Albany streets to meet Brunswick's oldest resident. It's a tree, specifically a live oak.
Now some accounts say this tree is more than 900 years old. There's a plaque that cites the date 1787. Believe what you want: the gnarled oak isn't saying. But it does come with a legend, and a name. It's called the Lover's Oak, with the story being that Native American lovers from the area would meet beneath its branches.
If Brunswick is a haven of emerging revitalization, nearby Sea Island offers the closest thing to perfection that money (lots of it) can buy. Here stands The Cloister, a venerable and recently restored resort that holds a Forbes Five-star rating in both accommodations and dining.
How exclusive is it? Well, the Georgian Room, its top-tier dining experience, comes with an actual dress code and impeccable service. In addition to The Cloister, Sea Island offers The Lodge, an English-style manor with warm Southern charm; The Inn, for a more casual vibe; Broadfield, a Southern sporting club; and cottages for families and groups.
The Spa at Sea Island Resort imbues a peaceful mood with towering palms overhead and smooth stones underfoot. Its Forbes Five-star services include a hydrotherapy pool and cascading waterfall, eucalyptus-infused steam room, mineral pool baths for women and men, private relaxation lounges and a labyrinth for contemplation. If golf is more your thing, beautifully manicured courses cater to all levels and feature top instructors, new teeing areas and practice greens and a state-of-the-art Golf Performance Center.
---
Sub Sector
St. Marys, a bit farther south, is a quaint little village that serves as both the jumping-off point for Cumberland Island National Seashore and home to a major nuclear submarine base.
Here you'll find the St. Marys Submarine Museum. And while it's definitely worth a visit (especially since admission is a modest maximum of $5), don't mistake this for a destination museum. There's a working periscope that kids can use to spot their siblings if they stand outside, but that's about as far as the interactive part goes.
Instead, it's a classic museum of artifacts, including things like cartoon emblems Walt Disney's company produced for submarines during World War II. Upstairs, reached via stairs or a mechanized stair-chair, you'll find a massive collection of reports and reference material for submarine scholars doing serious research. No glitz or glamour here, just a sweet and poignant salute from a community to the industry that has changed its face forever.
In fact, it's possible to stand on the dock at Cumberland Island and see a surfaced nuclear submarine cruising into Naval Submarine Base Kings Bay while a manatee snorts under the pilings of the island's ferry dock. It's just another example of wildlife and modern life crossing paths on the Georgia coast.
---
Tasty Coastal Cuisine
There's no place better for getting a taste of coastal Georgia than the rustic restaurants that abound where the state meets the sea. Some of these spots have been here for years, some are newly minted legends, but all serve up delicious food, from mouthwatering seafood to barbecue and grits.
Breakfast is the first meal of the day, so let's start there. You can't beat tried and true. The Breakfast Club on Tybee Island is an unchanging landmark of good food dating to 1976. The humble-looking restaurant has some lunch items on the menu, but honestly, few people have ever seen them because breakfast is the big draw. The Parmesan cheese, mushroom and spinach omelette may be the best one ever served, and it's complemented with grits that have the perfect consistency and a strip of bacon that's so thick and tasty, you don't mind that there's only one.
Fish Tales in Richmond Hill, located at the Fort McAllister Marina, is an unpretentious seafood restaurant with chicken and pasta backups. Let's face it, anything fishy tastes better when consumed within sight of the water. Stay traditional and go for a grilled, steamed or fried seafood platter. Or branch out with shrimp spaghetti.
Back before GPS became ubiquitous, simply finding Speed's Kitchen, located on its namesake road in Townsend, was part of the thrill. Trees shade the complex that makes up the restaurant, which is open for lunch and dinner Thursdays through Sundays, but days/hours are seasonal and occasionally erratic. Smart diners will call ahead. The menu is heavy on seafood, ranging from shrimp and oyster po' boys to deviled crab casserole.
Live music and barbecue are the draws at Captain Stan's Smokehouse in Woodbine. Amid the eclectic, eccentric and rustic décor, chow down on smoked ribs or something called the "Holy Trinity Layered Bowl," which layers baked beans, Boston butt and coleslaw. The sandwich side of the menu even offers, in addition to the usual, PB&J and hotdogs steamed in beer.
You're a bit late to discover Southern Soul Barbeque in St. Simons ahead of the crowd. But the restaurant hasn't let its reputation go to its head. It serves up a full range of barbeque, backed up with such sides as okra and fried green beans. The Soul Bowl isn't on the menu, but you can still order this layered combination of Hoppin' John, collards and 'que.
Whatever type of food you crave, you'll find something tasty to whet your appetite along the coast of Georgia.