At Issue: Political Drama
A number of Georgians have played a role in the specifics surrounding the Mueller Report and impeachment trial.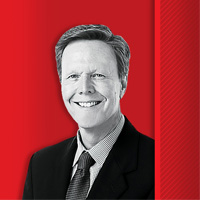 The House impeachment and Senate trial of President Donald Trump has consumed much of the nation's attention for the past several months. The Democratic Party's campaign to dethrone Trump, which began just after his election in 2016, has produced the Mueller probe, which failed to find evidence of collusion between the Trump campaign and Russia; a disgraced FBI leadership team that abused the FISA process; a divisive standoff in Congress over a partisan impeachment; and a sharply divided American public. In other words, Vladimir Putin's plan to divide us has worked like a charm.
During all of this, a number of Georgians have been front and center. I'll take them in something of a chronological order, from late in the Obama Administration up to present day. In the first weeks of the Trump Administration, Sally Yates, former U.S. attorney for the Northern District of Georgia, deputy attorney general under President Barack Obama, and then briefly acting attorney general under President Trump, played a key role in some of the early drama and intrigue.
Related to impeachment and the Mueller probe, Yates was involved, at least tangentially, in the circular firing squad known as Peter Strzok, then an FBI agent; Andrew McCabe, then the deputy director of the FBI; and then-FBI Director James Comey. Acting off of intelligence from the FBI, Yates warned the Trump team that new National Security Advisor Michael Flynn was compromised through his contacts with Russian government officials. Subsequent FBI interviews with Flynn and then the Mueller investigation did not find that Flynn was compromised by Russia but did lead to a charge of lying to the FBI about his contacts.
Flynn's defenders insist that this was a set up, and that certain FBI and Department of Justice officials, including Yates and her former boss, President Obama's Attorney General Loretta Lynch, were motivated by anti-Trump partisanship. Yates, who was reported to be "unhappy" with how Strzok handled the Flynn interview, insists she did nothing wrong.
Another Georgian playing a leading role in impeachment has been Congressman Doug Collins (R-District 9). One can only assume he is now President Trump's favorite member of Congress. As the ranking minority member of the House Judiciary Committee, he has been nothing short of a bulldog in his support and defense of Trump. Fortunately for him, Collins has been blessed with an inept and hapless opponent in the form of Judiciary Committee Chair Jerrold Nadler of New York.
Staying with the Judiciary Committee, two other Georgians have played what might be called bit parts in the drama. Congresswoman Lucy McBath, the freshman Democrat representative from Georgia's 6th District, may have endangered her reelection by sanctioning and voting for President Trump's impeachment. McBath defeated then-incumbent Republican Karen Handel in 2018 by a margin of 1%.
And then there is congressman Hank Johnson, of Georgia's 4th District, and a member of the committee. The congressman, who apparently has a very dry sense of humor, once wondered aloud in a hearing on military deployments if the island of Guam was in danger of tipping over. During the impeachment hearing, he seemed very concerned about President Trump's height advantage over Ukrainian President Zelensky. "… Big, six-foot-four President Trump, five-foot-eleven President Zelensky. And they're standing there, President Trump is holding court, and he says, 'Oh, by the way, no pressure.' And you saw President Zelensky shaking his head as if his daughter was downstairs in the basement, duct-taped." Yeah, so that happened.
More seriously, former Atlantan and current FBI Director Christopher Wray finds himself supervising a damaged organization and under tremendous pressure to right the ship. In light of Department of Justice Inspector General Michael Horowitz's report that identified major problems in the FBI's applications to the FISA court in the investigation into Russian election interference, Wray should be expected to act. His initial defense of the bureau's integrity is understandable, but he surely recognizes that serious mistakes were made.
And lastly, Georgia's two U.S. senators, Republicans David Perdue and Kelly Loeffler, took their roles in the spotlight as two of the 100 jurors in the Senate, overseeing the impeachment trial. Less drama here, as both of them had already pledged to vote to acquit the president.
This will continue to be a tough, hard-fought year in politics, both nationally and in Georgia. The Georgians named here, and many others not named, will continue to play key roles.