2020 Georgia Trustees
This year's Georgia Trustees – the state's highest honor – have a commitment to community that drives their visionary leadership styles.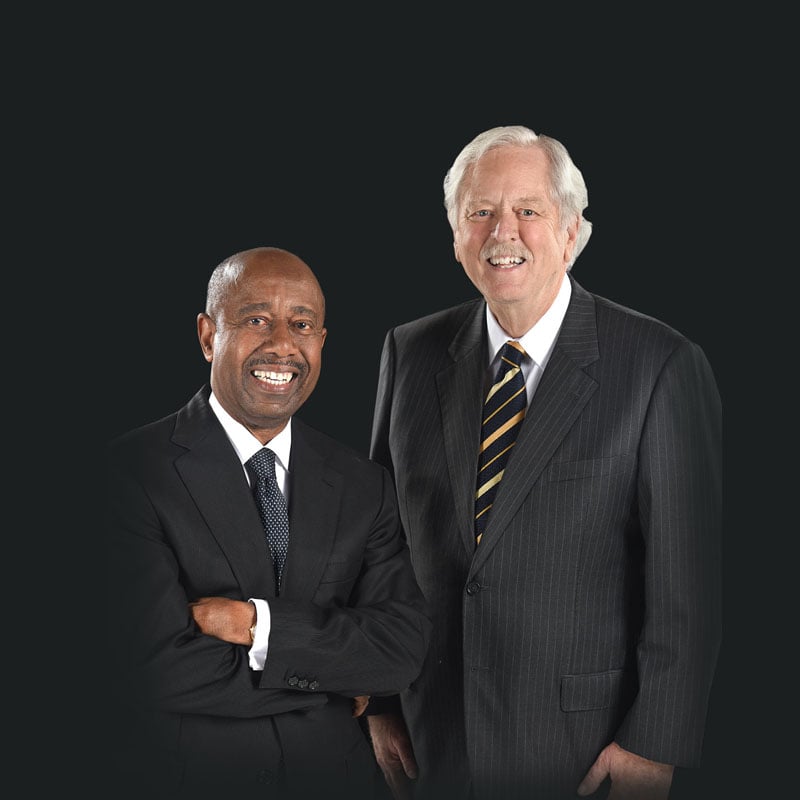 One of the things that sets Georgia apart from other states, so the anecdotal evidence says, is the dedication of business leaders to making the state more than a great place to do business, but also a great place for people to live. The two leaders named 2020 Georgia Trustees exemplify this commitment.
Robert Brown Jr., president and CEO of RL Brown & Associates, is as well known for his community involvement in Atlanta and across the state as he is for the quality work of his firm. Robert Jepson Jr., founder and CEO of Jepson Associates, has had a lasting impact on education and the arts in Savannah. It's this commitment to community that sets these two – and the trustees who have come before them – apart.
Being named a Georgia Trustee is the state's highest honor, presented to individuals from every sector whose work has made Georgia a better place to live. The award is presented by the Office of the Governor and the Georgia Historical Society (GHS). Brown and Jepson will be honored for their achievements Saturday, Feb. 15, at the historical society's Trustees Gala in Savannah, part of its annual commemoration of the state's history.
The original trustees were chartered by England's King George II in 1732 and charged with establishing the new colony. The group disbanded in 1752, but the state re-established the honor in 2009 to recognize contemporary Georgians.
The original motto of the trustees, Non Sibi Sed Aliis, which means "not for self, but for others," steers the selection process each year toward people whose lives and accomplishments have had a positive impact across the state.
"It is a great honor to have Robert Brown and Bob Jepson as the newest Georgia Trustees," says W. Todd Groce, president and CEO of the GHS. "Their visionary leadership in their respective fields and their lifelong commitment to bettering the lives of all Georgians make them worthy of the highest honor that the state of Georgia can bestow." – Karen Kirkpatrick
---
Making Things Better
Robert L. Brown Jr. brings an architect

'

s vision and an entrepreneur

'

s determination to a long history of civic involvement.
By Susan Percy
Inspired by his father, who was a builder, Robert Brown Jr. knew from an early age that he wanted to be an architect, so he headed off from his home in Dublin to Alabama's Tuskegee Institute to prepare for a career that started more than 40 years ago and is still going strong.
But it took a meeting with the late, legendary DeKalb County CEO Manuel Maloof, founder of Manuel's Tavern, to set him on a path to civic service that became his other job.
"I'll never forget the day I met Manuel," Brown says with a grin, recalling the two had a testy exchange at a fundraiser when Brown asked some pointed questions about DeKalb infrastructure. The CEO didn't take kindly to the inquiries. "He cut me up," Brown says.
But soon thereafter, Maloof invited Brown to his office and asked him to join the board of the Fulton-DeKalb Hospital Authority, which oversees the Grady Hospital system, telling him, "I just want you to look after the poor people."
And so he did. Brown served on the board for 20 years, 14 as chair. He and Manuel became fast friends. "That relationship was something I would cherish for the rest of my life. He was tough but always had good advice."
From that beginning, Brown, now 69, would go on to serve on the boards of the Department of Corrections, the Georgia Chamber of Commerce, the Metro Atlanta Chamber, the Georgia Partnership for Excellence in Education, Georgia Power, the Georgia Historical Society, Agnes Scott College and the Georgia Department of Transportation.
After working with a couple of Atlanta architectural firms, he established his own, RL Brown & Associates, in Decatur in the early 1980s and still serves as CEO. He recalls that he started out in a converted house near the downtown square, where his officemate was a young lawyer named Hank Johnson, now Georgia's 4th District congressional representative.
The firm's work includes The Ray Charles Performing Arts Center at Morehouse College, the Birmingham Civil Rights Institute, the rental car facility at Hartsfield-Jackson Atlanta International Airport, projects at Tuskegee and at numerous schools and libraries. He describes his areas of focus as "airports and education – you have to get into a particular field that you can somewhat command." Brown is a member of the College of Fellows of the American Institute of Architects.
---
The Right Balance
The business and volunteer combination has made for a fulfilling career. "Having that blend of opportunity has been most rewarding," Brown says, but he never sought to leverage his community involvement for business gain. "I never pursued any work in that area, never mixed business with civic. I kept it totally separate."
Still, there were solid business lessons to be learned about balancing budgets and making tough decisions while remaining true to an organization's mission.
Brown says he has rarely pursued board memberships: typically the boards have found him. But he tells a funny story about himself about joining the state Department of Transportation (DOT) board, as a representative of the 4th Congressional District. He didn't realize that interested candidates typically "campaigned" their district's lawmakers for the positions. "I was asked to pursue that board, and I didn't know [members] were elected by legislators. The election was coming up, and they called me up and said you haven't called anybody. I said, 'Called anybody about what?' So he made a few quick phone calls. "When they voted, it was the most amazing thing, they elected me – they had several people running."
He has been on the board since 2005 and served as 2016-2017 chair during the time of the infamous I-85 bridge collapse and rebuild.
Brown's community service endeavors are typically challenging – the Grady board in particular is hardly a cushy "do nothing" assignment. He was honored by the Georgia Hospital Association with its Distinguished Service Award for his service.
During his Grady tenure, he often rode on weekends with EMS crews, accompanying them to some of the community's most dangerous areas, to understand their challenges first-hand. He once put himself in the position of a homeless person trying to get a "Grady card," for healthcare access, because he wanted to know what the experience was like. None of the hospital staff recognized him, but he brought back some ideas to the board for improving the procedure.
Overall, he approached his board work the way he approaches his professional work, with determination and optimism. "As an architect, you always have a vision. Being a visionary of sorts, I went into each one of those positions, always looking to see how we could make it better."
He simply doesn't waste time being discouraged, even when big problems arise. "I've been able to push through. There's always an angle you can look at that will make things better. I've never been discouraged."
---
Doing Business
Both the architectural profession and Brown's own business have changed over the years. "We used to have several people doing a project," he says, perhaps six or seven. "Now we can do a nice-sized project with two or three people, because of the technology involved. When I started we had a T-square, then we went to a parallel bar, then went to AutoCAD [a software drafting program] then Revit [software] – just a progression of technologies involved." At one point he had 40 people working for him, but the staff is smaller now.
He was a pioneer in the design-build approach in the 1980s and 1990s that represented a significant change in his field. Prior to that, architecture and construction were usually separate. An owner hired an architect to design a project, then found a contractor to build it. With the design-build model, the project is typically handled by a single entity.
Brown has been honored as Entrepreneur of the Year by the Atlanta Business League, and his firm was named Small Business of the Year by the Metro Atlanta Chamber. The state chapter of the American Institute of Architects, AIA Georgia, awarded him its highest honor, The Rothschild Award, in 2018.
In recent years, his firm has become more involved in construction management, overseeing a large project on behalf of a developer. "You represent the client. You've got to have that overall vision of something being designed, being built."
He says he is not a micromanager; he believes in giving people a job to do and letting them do it. He credits this approach – and the people who have worked for and with him – with giving him the freedom to pursue his civic interests.
"You start out trying to keep your arms around it, but you kind of get to the point as I did – sitting on civic boards allowed me to gradually reduce that" and let employees do their jobs. They appreciate that, he says, and it has helped him keep good people. "They only come to me when they have questions." Then a pause. "Very difficult questions."
He likes the way things have turned out. "If I'd tried to micromanage the business, I'd probably be in the crazy house." At one point, he says, "We averaged 25 or 30 projects, and the average size of a project was probably $10 million – you've got to be comfortable with [your] people. They have to be on top of it."
That same approach has worked well in civic endeavors, he says. "You provide input for the leaders to be able to carry out the objectives of the organization."
---
Inspirations
The years of working along with his father taught Brown ground-up building skills, practical experience that has served him well in his career.
But he credits both of his parents – his mother was a seamstress with her own business – for his approach to running his business. "I watched them, when I was 6, 7 years old – it's amazing what you can learn. You hang around and see how they deal with clients, deal with money, deal with other people. It drills it into your brain."
Over the years, he learned, too, from individuals he considers friends and mentors – Felker Ward, a pioneering investment advisor and attorney, and the late construction magnate and behind-the-scenes Civil Rights power Herman Russell, as well as Maloof. "Manuel, Herman and Felker – they were all the same way. They'd give you that good advice and let you go make the decision."
The same for the business leaders and professionals he has served with – people like Georgia Power's Paul Bowers and Mike Garrett, who consider public service a responsibility. He mentions state DOT Commissioner Russell McMurry, formerly the chief engineer, who shepherded the department through the I-85 bridge crisis and quick recovery. "He came in with a plan and implemented the plan very well," Brown says. And when the bridge fire and collapse occurred, "he knew exactly what to do."
Not surprisingly, Brown considers mentoring an obligation – but one he has happily taken on throughout his career, relishing the occasionally surprising results. "I was at Morehouse [College] five or six years ago and a young man stopped me and said, 'You came and spoke to my elementary school.'" He recalls he used to speak regularly at DeKalb's Bob Mathis Elementary School and occasionally donated small amounts of prize money to reward good students.
He is more of a listener than an advice-giver, he says, and believes in letting people make their own decisions. "They call and want to talk. I never give them direction specifically – I give them suggestions, tell them what's possible, let them think it out."
He won't pinpoint a favorite project, but references his long relationship with Morehouse College.
"Morehouse was one of my favorites – [we did] the performing arts center, the leadership center, other buildings. You get in, start working with them, and they like working with you. You can continue for a long time. Working with them has been one of my most rewarding relationships.
"The personal relationship is still important," in his field, he says, "but I don't think it's the way it used to be." In previous years, it was more important with private clients – like Morehouse, Spelman, Tuskegee – than government clients.
He would like to see more young architects starting their own firms. That experience was valuable to him and his generation of architects. "Normally, it used to be at about 30 or so, you'd take the step to start your own business." But he is gratified to see that young professionals are still taking an interest in civic matters.
Brown and his wife Barbara have two grown children, but neither followed their dad into architecture. His son, Robert Brown III, is a businessman, and his daughter, Robyn Denise Brown, is a law student.
For himself, he still loves what he does. "My dad was a builder. That was in my blood. Although I didn't want to build per se, I still enjoy seeing the concept of something being thought about, talked about, then developed – I never got tired of it."
---
---
Positive Influence
Through compassionate leadership, Savannah

'

s Robert Jepson became a business icon and established an enduring legacy of philanthropy in education and the arts.

By Mary Ann DeMuth

Robert Jepson enjoys winning, but he's the complete antithesis of the get-ahead-at-any-cost competitor. What's made him a winner in more than 50 years in business – and in life – is the fact that he genuinely cares about other people and his community. His concern is evident in the principles of ethical leadership he embodies and in his ongoing efforts to help educate students and foster a love of the arts.

His positive influence has encircled Savannah like a warm embrace for the past 30 years, and for that the Georgia Historical Society (GHS) has named him a 2020 Georgia Trustee.

"Bob Jepson's impact on the city of Savannah rivals that of Georgia founder James Oglethorpe himself," says W. Todd Groce, GHS president and CEO. "His generosity and vision are legendary, and his impact on every facet of this city cannot be overstated. He is truly one of the most remarkable people I have ever known."
---
Leadership Acumen
Since his 1964 graduation from University of Richmond's Robins School of Business, Jepson has been honing his entrepreneurial and leadership skills. After two years of Army service, he began working for banks and brokerage houses, first in his home state of Virginia, then in California and later in Chicago. While there, he founded The Jepson Corp. in 1983, acquiring two eyeglass lens makers that had cornered half of the total market, and went on to build his business empire.
His diversified manufacturing conglomerate was soon listed on the New York Stock Exchange (NYSE). In just three years, he led it to become the fifth fastest-growing U.S. company, according to Forbes. During his time at the helm, The Jepson Corp. acquired 19 market-leading firms with $1 billion in sales and 8,500 employees. In 1989, at the age of 46, he sold the conglomerate for about $230 million and moved to Savannah. It was the first of four super-successful companies where he would serve as CEO and board chair. These included Kuhlman Corp., another NYSE diversified manufacturing company that he grew from $60 million to $1 billion in six short years before orchestrating its lucrative sale in 1999.
"It's called turning around, but it's really saving them," Jepson says of the businesses his conglomerates acquired. "It was fun because we changed lives, saved companies and did positive things. We always had a winning team, and winning is the most fun you can have in business."
His business triumphs are built on a foundation of positive leadership principles to which he steadfastly adheres. "No matter what industry you're in, a general concern for others is a top characteristic," he says. "As a leader, you're in a position to do something to make [people's] lives easier. If you really care, it incites a respect for you as a leader."
He believes a good leader embraces excellence in everything he or she does and sets standards for others to emulate. He says vision is also a necessary aspect of leadership. "If you take a hike, you watch where you put your feet," he explains. "You have to have the ability to look down and assess the situation step by step and the ability to look up to see where you're headed. Short- and long-term vision are both essential."
Integrity is another indispensable leadership quality. "If a person does not have an unwavering commitment to absolute integrity, they will not be able to inspire others to join in the mission," he says. "Sometimes doing the right thing is the more stressful thing, and you have to have the ability to handle that stress – and handle it quietly – in a way that doesn't detract from your goal."
He feels a capacity for risk taking is important, and it's a leadership trait with which he's very familiar, having borrowed millions to finance business acquisitions. "If you measure risk carefully and look at it from a position of experience and knowledge, then it becomes less of a risk," he says. "That's always worked well for me."
Today, he's retired, except for maintaining a private investment firm, Jepson Associates Inc., and he's very busy "doing other things important to the state and our community in Savannah, and important to education and the arts," he says. Among those activities is his 12-year involvement with the Georgia Ports Authority (GPA), where he served as board chair from 2012 to 2014.
"During Bob Jepson's service as chair of the Georgia Ports Authority board, his primary focus was seeing the Savannah Harbor Expansion Project through to final authorization," says Griff Lynch, GPA executive director. "Thanks in part to his steady leadership, not only was that vital project approved, it is now nearing completion."
In addition, Jepson continues to serve on the Georgia Research Alliance Board of Trustees, and he is chair emeritus of GHS.
---
Providing Opportunities
In essence, Jepson views himself as a problem solver. "That's what I've done my whole career," he says. His love for problem solving dates back to his undergraduate days at University of Richmond (where he also earned a master's degree in commerce in 1975). There, he learned how to analyze and define business problems and define solutions in what he calls "the case study method." It's one he's employed ever since in his business and philanthropic endeavors.
His appreciation for what he learned at University of Richmond led him to found and become the principal benefactor of the Jepson School of Leadership Studies in 1987.
"Bob Jepson provided the vision, drive and financial resources to launch the Jepson School of Leadership Studies, an undergraduate school with a multidisciplinary approach to educating for and about ethical leadership," says Sandra Peart, the school's dean. "In doing so, he placed University of Richmond on a new plateau and permanently altered the landscape of higher education. Since its founding, Bob has challenged Jepson School faculty, students and staff to continue to innovate and lead, and to lead well."
He is currently in the process of creating a foundation at University of Richmond that will provide scholarships to Oxford University in England for graduates of the Jepson School. In 2019, the first student benefited from the program, and he hopes three will receive scholarships this year. The eventual goal of the endowment is to award 10 scholarships per year.
"The Jepson Scholars program [gives] students the opportunity to gain firsthand experience at global institutions, and with people who live and work in an international environment," says Peart. "Thanks to Jepson's generosity, our students not only have the benefit of a world-class undergraduate education, but also a world-class graduate education opportunity that will prepare them to be exceptionally well-positioned to lead at home and abroad."
"I hope my great-grandkids someday will know that the Oxford program at University of Richmond was something that someone in their family helped create," he says.
For the past 30 years, Jepson and his wife, Alice, have provided professional stipends and scholarships at Gonzaga University in Spokane, Wash. His largesse there and support for other institutions of higher learning have earned him 11 honorary doctorate degrees from colleges and universities across the country.
Closer to his home in Savannah, he's spent six years on the advisory board for Savannah State University, helping to raise money for scholarships to the historically black school. Each year, 24 graduates from the Savannah-Chatham County Public School System receive full scholarships through the educational alliance the Jepsons founded.
"This college has a need for outside help for scholarships for their first-time college students," he says. "We help many students get an education [there] every year. That's a study in helping people make their lives better. What more noble cause could you have?"
He's also spent 19 years on the Savannah College of Art and Design (SCAD) Board of Visitors, raising funds and promoting involvement between the college and the local community.
"SCAD is a good example of filling a need in education today," he says. "It's providing an education where people step out and go to work and make a good living. The courses and majors are in great demand, and those graduates are all over animation and creation in the arts."
---
Arts Aficionado
"Bob Jepson is a lover of fine art because he has an eye for all things beautiful," says Kim Iocovozzi, president of Iocovozzi Fine Art Services, a Savannah art brokerage, appraisal and conservation firm.
His support of the arts in his adopted hometown led to the creation of the Jepson Center for the Arts, one of Savannah's three Telfair Museums. Completed in 2006, this strikingly modern building was designed by Moshe Safdie, a world-renowned Israeli-Canadian architect and urban designer.
"Bob really wanted to help Savannah out, and that's how he got involved with the Telfair Museums," says Dale Critz Sr., former head of the Critz Auto Group, who served with Jepson on the museums' board. "He knew we had to have a museum with more storage and more display space. He came up with the idea of developing and building the Jepson Center."
Critz says Savannah was not known for overzealous giving in the late 1990s when work began in earnest on the goal of building the new arts facility. He and Jepson courted business leaders for donations and eventually raised more than $24 million, including a substantial contribution from the Jepsons. It took close to 10 years for the project to come to fruition, and today, the museum includes six exhibition galleries, two sculpture terraces, a 225-seat auditorium, a large art storage space, a library, a museum store and a 3,000-square-foot, two-story educational gallery known as ArtZeum, which is the first of its kind in Savannah.
"It all stems from his love of this community and trying to make it great," says Critz.
---
Lasting Legacy
Somehow during Jepson's 78 years of life, he's managed to devote time to hobbies along with his multiple business and philanthropic pursuits. He's a certified diver and an airline transport-rated pilot who has owned superfast American fighter planes. Many dignitaries, including former Gov. Sonny Perdue, and business executives have flown with him at more than 400 mph in these P-51 Mustangs. Some were also thrilled by his expertly maneuvered aerial acrobatics.
He no longer mans the cockpit, but he's channeled his love of fine machines and his competitive spirit into collecting antique cars and showing them all over the country. "Competing is fun," he says. "It's like life – it's more fun when you win."
When asked about what drives him to continually strive to help others, he quotes Stephen Grellet, an American Quaker missionary from the 1800s. "I expect to pass through this world but once. Any good thing, therefore, that I can do or any kindness that I can show to any fellow creature, let me do it now. Let me not defer or neglect it, for I shall not pass this way again."
His achievements as a big-hearted business leader and his unwavering generosity will be felt in Georgia and far beyond for generations.

---
Past Trustees
2019
Frank Blake
The Home Depot Former chair & CEO
John Schuerholz

Atlanta Braves vice-chair emeritus
2018
Ed Bastian
Delta Air Lines CEO
Paul Bowers
Georgia Power president, chair & CEO
2017
Duane Ackerman
Former BellSouth CEO
A.D. "Pete" Correll
Former Georgia-Pacific CEO
2016
Jim Blanchard
Former Synovus CEO and philanthropist
Muhtar Kent
Former Coca-Cola Co. chair & CEO
2015
Alana Shepherd
Shepherd Center founder
Paula Wallace
Savannah College of Art and Design founder and president
2014
Arthur Blank
The Home Depot co-founder and Falcons owner
Billy Payne
Atlanta Olympics visionary and former Augusta National Golf Club chair
2013
Truett Cathy
Chick-fil-A fast-food pioneer and philanthropist
Herman Russell
Construction giant and Civil Rights participant
2012
Tom Cousins
Developer and philanthropist
Andrew Young
Former ambassador and former Atlanta mayor
2011
Vince Dooley
Former University of Georgia athletics director and football coach
Sam Nunn
Former U.S. senator
2010
Hank Aaron
Braves baseball legend
Ted Turner
Businessman and philanthropist
2009
Bernie Marcus
The Home Depot co-founder and philanthropist
Marguerite Neel Williams
A founding trustee of The Georgia Trust for Historic Preservation