Making Georgia better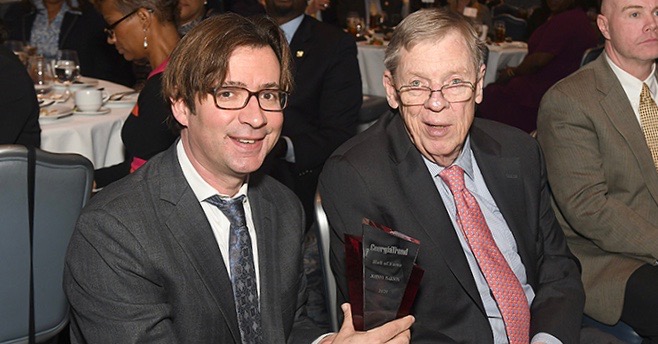 Georgia Trend held its annual luncheon this week recognizing individuals who have made a positive impact on our state. More than 350 honorees and their guests gathered at the Georgia Aquarium's Oceans Ballroom for the event. (Check out the photos from photographer Jennifer Stalcup here.)
Kicking off the celebration, former Sen. Saxby Chambliss introduced former Sen. Johnny Isakson, the magazine's selection for its 2020 Hall of Fame. Chambliss fondly recalled his and Isakson's days together at the University of Georgia, in the U.S House of Representatives and in the U.S. Senate, saying "every day I learned something from Johnny." He also characterized Isakson as someone whose first thought every day was, "What can I do for my state today."
Isakson, who retired in December, is the only Georgian to serve in the state House of Representatives, the state Senate, the U.S. House and the U.S. Senate. He gave brief remarks about Georgia being a state of opportunity. His definition of opportunity is where preparation meets challenges.
Atlanta's 60th mayor, Keisha Lance Bottoms, was honored as Georgian of the Year. In her speech she traced her roots to a freed slave who lived and worked near Crawfordsville and said her family history and where she is today demonstrate the best this country has to offer. She also quoted Kobe Bryant, the professional basketball player who recently died, saying, "The moment you give up, you let someone else win," and thanked everyone for not giving up on her.
Following those recognitions, the 100 Most Influential Georgians and the Notable Georgians were honored.
Sponsors of the event included the Georgia Chamber, Emory Healthcare and Emory University, AT&T, Bennett Thrasher and Scientific Games.
Learn more about Sen. Isakson, Mayor Bottoms, the Most Influential Georgians and the Notables in our current issue.
Jennifer Stalcup took the photo of Ben Young, Georgia Trend publisher and editor-in-chief, and Sen. Isakson.
Do you follow us? Find us on Linkedin, Facebook, Twitter and Instagram.