Transforming Digital Dirt Roads
Solutions for better rural broadband access are as distinct as the communities they serve.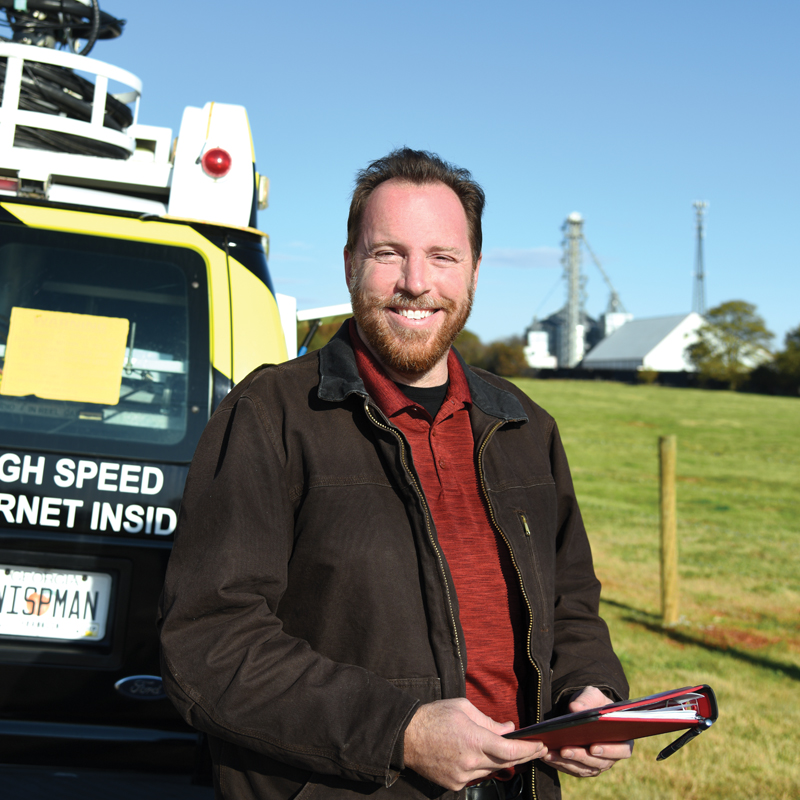 If you live in a metropolitan area, chances are you take your high-speed internet for granted. From your house, you can easily shop online, stream movies or music, have a virtual doctor visit and do research for homework assignments.
But for an estimated 1.6 million rural residents in Georgia, high-speed internet, or broadband, is nonexistent at home. Broadband is defined as a minimum of 25 megabits per second (Mbps) download speed and 3 Mbps upload speed.
"This is a community problem because it impacts our economic development, it impacts our skills, it impacts our education and healthcare," says Steve Fortmann, founder, president and CEO of Paladin Wireless in Royston. "But the biggest thing [internet access impacts] is opportunity. Back in the 1800s, it was the railroad that connected you to the world and opportunities. Today it's the internet."
Lack of access to broadband in rural areas has been on business and legislative leaders' minds for some time. In 2016, the Georgia General Assembly approved Senate Resolution 876, creating a study committee to examine how the lack of broadband affects communities and explore solutions. The committee worked with the University of Georgia's Carl Vinson Institute of Government (CVIOG), which collected and analyzed data from homeowners and other internet users.
This led to the 2018 passage of state Senate Bill 401, the Achieving Connectivity Everywhere (ACE) Act that provides planning, deployment and incentives for broadband services. The Georgia Department of Community Affairs (DCA) created the Georgia Broadband Deployment Initiative (GBDI) to operationalize the ACE Act.
As executive director of DCA's rural broadband program, one of Deana Perry's first goals was to get a handle on exactly where the service exists – and doesn't exist – in the state. She's working with the CVIOG; the public-private Georgia Technology Authority, which manages IT services for state government; and about 40 broadband providers on a master database of more than 5.5 million residential and business locations to determine which are served or unserved. This unique mapping project is a crucial first step because the most recent Federal Communications Commission (FCC) map greatly overstates Georgia's broadband coverage. DCA's mapping pilot in Elbert, Lumpkin and Tift counties revealed the FCC missed about half the homes and businesses that were without broadband.
"The state's approach to map served and unserved locations does work and provides more accuracy to enable the state to make better decisions," says Perry.
The partners in the project have gained valuable insights from working together, she says. They shared their mapping approach and pilot results with the FCC, which issued an order in August to change the federal broadband mapping approach to one similar to Georgia's.
The problem with inaccurate maps is they can penalize places that need funds for broadband expansion. Locations considered served with broadband are not eligible for grants and other funding from the federal or state government. Perry expects the $2-million mapping project to be completed this summer.
As part of the GBDI, rules and regulations for a grant program have been approved to stimulate investment for broadband deployment to underserved Georgians, however the program has not yet been funded.
At the federal level, the FCC has proposed establishing a $20.4-billion Rural Digital Opportunity Fund to expand broadband in unserved areas. Rulemaking for this fund is expected to be completed by the end of first quarter. There is some question as to whether the funds will be allocated based on the current inaccurate FCC map or will be delayed until its new map is completed, which could take a couple of years.
In addition, the U.S. Department of Agriculture has the ReConnect Program that aims to award grants or loans to applicants seeking funds to establish broadband service in rural areas. As of press time, several Georgia applicants were currently awaiting decisions about their potential share of the $600 million.
---
Productive Partnerships
Building the infrastructure for broadband – via fiber optic networks or wireless solutions – requires significant funds. Low or slow returns on investment are barriers to bringing high-speed internet to rural areas. "All broadband providers have limits to the amount they can invest, so they will prioritize investment to services and areas in Georgia with the greatest return opportunities," says Perry.
Entities like the state's electric membership cooperatives (EMCs) seem like a good fit for providing broadband service in rural areas because they are not-for-profit, consumer-owned electric utilities focused on quality of life improvements for their members and communities. In most cases, EMCs have already invested in fiber optic cable infrastructure for delivery of utility services. But until last year, many were unsure whether they would legally be allowed to add broadband service to their utility portfolio. State lawmakers remedied this uncertainty with the passage of SB 2 in 2019.
"It provides vital strategic clarity for an EMC, if it chooses, to be an authorized broadband service provider," says Bill Verner, senior vice president of external affairs at Georgia EMC, the trade association representing the state's 41 electric cooperatives. "All EMCs can leverage existing fiber networks put in place for the energy side [of their business] to aid in broadband deployment around the state."
He says EMCs can now lease excess fiber capacity to a third party that will establish broadband in a rural area and take advantage of fiber swaps and partnerships with other entities. "SB 2 removes any barriers to broadband deployment and leverages assets," he says. "It makes sure all options are on the table."
According to Verner, the fiber swap with Pineland Telephone Cooperative in Metter is a good example of such a partnership. In 2007, Pineland began installing fiber optic cable to deliver broadband service. After about 10 years, its network covered 1,200 square miles, delivering high-speed internet in and around the towns of Metter, Twin City, Adrian and Stillmore.
The Georgia Transmission Corp. (GTC), owned by the EMCs, arranged to use Pineland's fiber to help complete its own statewide fiber network, which increases electric power reliability. In return, Pineland used a portion of GTC's network to expand broadband service outside its original footprint to Lewisville, Wrens and Sandersville.
"We also branched out of our territory to [install fiber to] other towns that needed broadband service, such as Swainsboro and Claxton," says Dustin Durden, general manager and executive vice president of Pineland. "In 2016, we began talking with Altamaha EMC in Lyons. They had a need for connectivity to Swainsboro. We shared maps and ideas and saw where we could help one another. They allowed us access to their fiber network, and we now serve Lyons and Vidalia."
He's worked with the Sumter EMC in a similar manner and last year brought broadband to commercial locations in downtown Americus. Today, Pineland has close to 8,000 broadband customers.
The telephone co-op was able to fund its fiber installation with board-approved loans. With grant funding, Pineland put free Wi-Fi in Metter's downtown park, and Durden estimates hundreds of people a day come to the park for a connection point. Because of the co-op's service to the community, the National Telephone Cooperative Association recognized Pineland with a Smart Rural Community Showcase Award in 2016, one of the first in Georgia.
---
Early Adopters
Five hours north of Metter in Young Harris, the Blue Ridge Mountain EMC (BRMEMC) has been in the broadband business since 2002, first via a wireless option and since 2014 by building its own fiber network. "If anything could have been done wrong, we probably did it wrong at least once," says Erik Brinke, BRMEMC director of administrative services and external relations. "We learned a lot of valuable lessons."
BRMEMC made the decision to switch to fiber-based broadband because the wireless technology at the time was limited by mountainous terrain. Through federal grants and member funding, the utility was able to install more than 1,100 miles of fiber in Fannin, Towns and Union counties – and into North Carolina. BRMEMC now has approximately 8,400 customers.
Some of the challenges BRMEMC has encountered include the broadband business being a totally different model from the electric utility and the slow return on investment. Additional barriers to overcome were the low density of customers, lower signup rates and fewer high-value customers that are big data users.
""There's a reason others have not provided broadband in the rural communities," he says. "Co-ops should be in this business. Co-ops were created because no one was building electric lines [in rural areas]. Today, co-ops can play the same role in the broadband space."
Dalton Utilities, which provides water, electric, natural gas and wastewater treatment services to its city along with Whitfield, Murray, Gordon, Catoosa and Floyd counties, was also a pioneer in rural broadband. In 1999, the utility began building fiber optic cable infrastructure to connect its own facilities and soon began offering high-speed internet services to industrial and commercial customers through its OptiLink service.
In 2003, the utility's board approved adding telephone, cable television and internet services for residential users over a fiber network. "We built the first one-hundred percent all-fiber system in the state of Georgia to homes and small businesses," says Hank Blackwood, chief technical services officer for Dalton Utilities. "And we continue to bring higher and higher speed internet." Today, he estimates approximately 14,000 business and residential customers are served over about 450 miles of fiber optic cable.
In 2018, Dalton Utilities launched 1 gigabit internet service – 1,000 Mbps – to residential customers, and last year it was the first in the state to launch ultra-high-speed 10 gigabit services, currently the world's fastest, to residential and home-business customers.
"We've watched the usage on our network grow and grow as people connect more and more devices to the network," he says. "We've got several homes that have over 50 connected devices." These include doorbells, cameras, thermostats and computers.
"As the number of devices in people's houses increase, it's not that they need that kind of speed [10 gigabit], but multiple devices needing little bits of speed fill the pipe up," he explains.
"Any business looking for that type of connectivity, Dalton is ready for them," he says.
The utility is now considering fixed-point wireless delivery of internet services to "get outside of our footprint without the expensive infrastructure of running fiber optic cable," he says. Fixed-point wireless provides broadband access to an individual location via radio waves and a receiving device mounted on the home or business, eliminating the need for phone or cable lines.
---
Have Internet, Will Travel
Paladin's Fortmann discovered first-hand the disadvantages that occur when rural communities lack access to high-speed internet. As head of an Atlanta-based web services company, Fortmann moved his family to Royston in 2012, thinking he could work anywhere. He was shocked to find the local internet provider's speed was far below the minimum standard. As a result, he had to drive 45 minutes to Athens and sit in a fast-food restaurant to do work for his clients.
"I never even considered [high-speed] internet wasn't everywhere," he says. "I mean it was at the space station. The technology had to be out there."
After a few years of figuring out how rural broadband could work, he formed Paladin, named for the heroic knight and champion of causes. Using friends and family funding and his savings, he built towers to deliver fixed-point wireless and began testing it in 2015. The following year fixed-point wireless was available to the public, and today he estimates that 40 percent of the Royston community has broadband access.
But he didn't stop there. Other communities saw what was happening in Royston and started asking for his help. Soon the company expanded service to the adjacent towns and counties. Fortmann says Paladin goes into a community and inventories assets that can be used to fix the broadband problem. These include water and other types of towers, buildings, existing fiber network and unused radio-frequency channels. Paladin partners with each community to take advantage of what's available.
That's the approach the company took in Oglethorpe County, which the DCA certified last year as Georgia's first Broadband Ready Community following a formal application and planning process.
"We're not a great candidate for a fiber network because our population is spread out," says Amy Stone, the county's planning development director. "We set aside $350,000 to entice a wireless provider to come. We got one response, and that was from Paladin. It speaks to the problem that we're not a great business case."
She says the funds the county appropriated will go toward a pilot that will provide high-speed internet to 1,000 households and businesses by the end of 2020. If Paladin is successful in the pilot, the county will move into the next phase. "Our goal is within five years, we'll have 90 percent of [the 5,600] households served," she says.
"Oglethorpe has all the vertical assets needed to cover the city with [fixed-point] wireless internet," says Fortmann, adding that he hopes the pilot will be a template that can be used across the state.
"One size doesn't fit all," says Blue Ridge Mountain EMC's Brinke, referring to rural broadband access. "It's a mammoth job, and it will take a long time and everyone working together – wireless companies, fiber companies, whatever technology comes next. If we're going to fix it, it will take every one of us to be part of the solution."