Cobb County: An Economic Gem
Business diversity, professional sports and leisure activities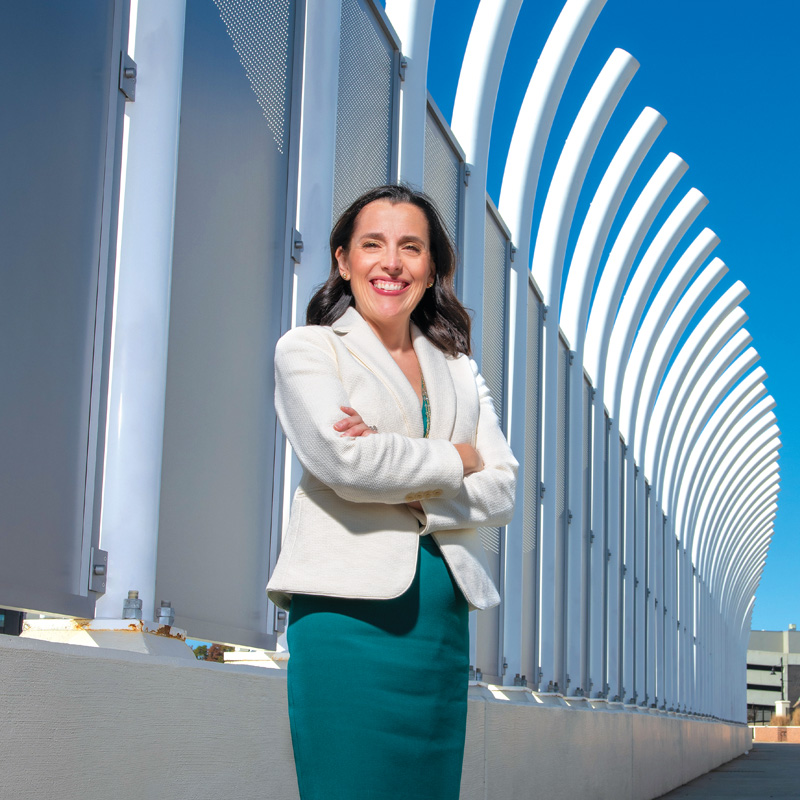 Cobb County is an economic behemoth in Georgia. With a population exceeding 750,000, more than 20,000 businesses, a convention center, professional sports teams and one of the best educated workforces in the state, Cobb seems to truly have it all.
"The growth has been tremendous, from The Battery and the Cumberland CID to really all of Cobb County," says Cobb Chamber President & CEO Sharon Mason. "We're seeing even more businesses relocating to Cobb across a number of different industries. Almost 3,000 new jobs were created just in 2019."
Can it get any better? A better question might be, where do we begin?
Cobb, already home to five Fortune 1000 headquarters – Aaron's, Bluelinx, Genuine Parts Co., The Home Depot and HD Supply – welcomed 18 new companies or expansions in 2019, representing $325 million in investment. One huge project in the works comes from German conglomerate thyssenkrupp AG, which is building the North American headquarters for its elevator division in the Cumberland area. At 420 feet, it will become the county's tallest building when it opens in 2022.
The forward-thinking Cobb community continues making new and exciting changes. In fact, the chamber itself will be moving this month from its longtime home to a full-floor lease on the 10th story of 1100 Circle 75 Parkway, with views of both the stadium and the Atlanta skyline. In Cobb County, one could say that big moves are the norm.
---
Atlanta's Sweet Spot
Cobb Travel and Tourism uses the tagline "Atlanta's Sweet Spot," and President and CEO Holly Quinlan says the reason why is all too simple.
"Because that's what we are!" she says. "We are a part of Atlanta. … We like to think that we are unique and that we bring a diverse mix into what Atlanta offers. Therefore, we are Atlanta's sweet spot."
It's a sweet spot that's easy to reach thanks to four interstates running through the county, with the county's southeasternmost portion reaching inside the I-285 perimeter. This ease of access helps Cobb attract more than its fair share of events, from conventions and conferences to weddings, traveling shows and a stream of entertainment options.
"In 2020, we will continue to promote all the great assets throughout the county," says Quinlan. "Six Flags has some new pieces coming to their parks, both Over Georgia and White Water. The Battery continues to add new attractions and pieces within their footprint as well." For example, Park Bench, a dueling piano bar, is relocating from Buckhead this year and will be one of the first of its kind in the county.
The Cobb Galleria Centre has hosted more than 15,000 events in its history, ranging from anime shows and the national square dance convention to the Georgia Manufacturing Summit. Also in the Cumberland area, the Cobb Energy Performing Arts Centre is home to the Atlanta Ballet and the Atlanta Opera, along with scores of traveling shows and talents.
Rising in the Cobb Energy Centre's parking lot will be a dual-branded Hilton Garden Inn and Home2 Suites hotel featuring a parking structure, restaurant and a rooftop bar. It's one of many planned new openings in the already lodging-rich county, with new hotels on the way in Kennesaw and Marietta in addition to Cumberland. Other established hotels are celebrating milestones, such as the Embassy Suites in Kennesaw reaching its 10th anniversary.
Cobb attracts plenty of visitors and more than its fair share of educated locals. Fully 44 percent of the county's workforce holds at least a bachelor's degree, making it the most educated county in Georgia. Cobb is home to Kennesaw State University, Life University, Chattahoochee Technical College, two highly rated public school systems and several private K-12 schools.
---
Select Cobb
To help take advantage of that educated workforce, the chamber launched Select Cobb seven years ago. Now headed by Cobb Chamber Executive Vice President of Economic Development Dana Johnson, Select Cobb not only helps existing businesses grow, it also brings new business to Cobb by focusing on all the factors that impact companies. The program has helped bring more than 30,000 new jobs to the county since its launch.
"Select Cobb is the economic development initiative of the Cobb Chamber of Commerce," says Johnson. "We work collaboratively with our state, local and regional partners, plus utility partners, in order to grow jobs and grow investment in Cobb."
Growing investment is done in many ways, such as through business recruitment and retention; innovative programs like Business Walks, which was launched in 2019 to take business developers on multiple site visits per day; and entrepreneurship grants in partnership with the Development Authority of Cobb County government. The grants are awarded to individuals who have gone through training, with the goal of helping grow future success stories.
"We're revamping the economic incentives and services we provide businesses," says Cobb County Economic Development Manager Michael Hughes. "We've shifted away from a one-size-fits-all to a targeted approach."
---
Sports and Outdoor Activities
When the workday is over, Cobb's thriving sports industry heats up. Most notable is the Atlanta Braves, but that's only the beginning.
To name just a few other options: the Atlanta United headquarters in Marietta, division one college sports at Kennesaw State University, a new professional rugby team, BMX competitions, dragon boat races, wakeboarding and of course youth sports. And last spring, Acworth opened its new 44,000-square-foot community center, which features two full-sized basketball courts, an exercise room, an indoor walking track and a multi-purpose classroom.
Some unique events take place outside of the traditional team sports calendar. In December, SunTrust Park hosted Visa Big Air, an Olympic qualifying event with a 15-story scaffolding tower and imported snow creating a giant ramp for skiers and snowboarders.
"We're very excited about this event coming to SunTrust Park," says Quinlan. "To have snow in Georgia in December is very exciting."
And SunTrust Park will host the Major League Baseball All-Star Game in 2021.
Cobb also offers plenty of everyday outdoor activities. The Silver Comet Trail, originating in Smyrna and running all the way to Alabama, is one of the nation's longest multiuse paths, enjoyed by bikers, hikers and walkers nearly every day of the year.
A $3.7-million downtown park connecting with the Silver Comet Trail is on the way in Powder Springs. And the PATH Foundation and Cobb County are leading efforts to extend the trail east to the Chattahoochee River and, eventually, to the Atlanta BeltLine. That effort got a big boost last fall in the form of a $6-million donation from the Cox Foundation.
"We're really pleased about the grant from Cox Enterprises to connect the BeltLine to the Silver Comet Trail," says Mike Boyce, chair of the Cobb County Board of Commissioners. "It's another great example of the kinds of farsighted thinking that we have here in the local area. We're building a county and a region that reflects the 21st century."
Several other trails crisscross the county, from Smyrna to Powder Springs, Kennesaw and Acworth, and there are even rentable bikes for patrons to use.
"Our trail system is a hidden gem of Cobb County," says Boyce.
---
Thrilling Attractions
Thrill seekers of a different sort have been flocking to Six Flags Over Georgia for more than 50 years. Since opening day in 1967, the park has continually expanded to offer locals and out-of-towners something new to look forward to with each trip.
Pandemonium, the tallest swinging pendulum ride in the Southeast, debuted at Six Flags in 2019. Two new rides, Catwoman Whip and Poison Ivy Toxic Spin, will open this spring. Six Flags White Water in Marietta will celebrate a new attraction as well, a "mega slide" along a 500-foot course called Python Plunge. Between them, the two parks employ more than 3,000 team members.
Six Flags Over Georgia Park President Dale Kaetzel sees the attraction as a part of a wider story of South Cobb economic development.
"South Cobb's ultimate goal is to be a premier destination to live, work and play," says Kaetzel. "We believe what is happening throughout the entire county brings critical mass to the area, and as the county's largest attraction, Six Flags Over Georgia and South Cobb benefit exponentially."
---
Healthy Impact
Of course business growth, top-notch education, entertainment and outdoor activities can't take place without a safe and healthy populace. One of Cobb County's largest employers is WellStar Health System, with headquarters in Marietta, though it reaches throughout Cobb and West Georgia with hospitals, clinics and offices. In total, one in six Georgians now get healthcare through WellStar, and the health system makes a $2.5-billion economic impact in Cobb County alone.
Its flagship hospital, WellStar Kennestone Regional Medical Center in Marietta, is expanding its emergency room and will soon have capacity to handle 220,000 patients annually. The new ER facility will boast three separate entrances to get people in and out more efficiently, and a total size of 162,000 square feet, larger than many entire hospitals.
"Sixty percent of the total admissions we have to the hospital come through the emergency department, so it is definitely considered the front door of our hospital," says WellStar Kennestone President Mary Chatman. "We get excited because a new building is great, but we get more excited because we have highly competent staff."
---
Public Safety
Residents and visitors must also feel they are safe when conducting business. Quinlan and Boyce each tout public safety as one of Cobb's biggest strengths, even if it doesn't always attract headlines. When citizens are secure, they perform at their best.
"If people feel safe, they will work with you. When they work with you, that allows them to think about the future rather than looking over their shoulder," says Boyce. "The highest compliment you can pay us as a public service is that you don't know who we are. That means we're doing our job."
Throughout the county, government and business professionals are accomplishing great things in their jobs. The evidence is in the economic powerhouse Cobb County has become.
---
Local Flavor
The World's Game
The Atlanta United professional soccer team and its legions of fans flock to Mercedes-Benz Stadium in downtown Atlanta on game days, creating a soccer atmosphere rivaling any across the globe.
But every other day of the year, United's players, staff, coaches, executives and academy prospects call Cobb County home. The team's headquarters, officially titled the Children's Healthcare of Atlanta Training Ground, sits on Marietta's Franklin Gateway.
"You play your matches at the stadium, but this is [the team's] home," says Atlanta United President Darren Eales. "This is where the players come to work. It's their office during the week."
The 30,000-square-foot headquarters building places Cobb County and Marietta firmly on the map of the world's most popular sport. Spanning 33 acres, the training ground includes six full-sized fields, half with natural grass and half with an artificial surface, plus a total of seven locker rooms, a full-service kitchen and a 2,500-seat "show pitch" for high-profile matches.
Every Major League Soccer team has trained at the facility, along with national and international clubs. At the individual level, names like Germany's Bastian Schweinsteiger, England's Wayne Rooney and Mexico's Carlos Vela have all paid a visit, not to mention United's contingent of South American stars.
In addition to the current professionals who call the training ground home, future stars participate through open training sessions and youth tournaments. United's reserve squad, Atlanta United 2, also plies its trade in Cobb with home games at Kennesaw's Fifth Third Bank Stadium.
Atlanta United's headquarters makes a tremendous economic impact by attracting so many high-powered professional athletes, staffers and coaches to Cobb County, and the training ground has played a key role in revitalizing the surrounding area.
Construction began in 2016 with the grand opening in April 2017. It's part of a wider transformation of what was previously called Franklin Road, an area formerly known for run-down apartment complexes.
"When we were choosing the location, that was something that was important to the club and to Arthur Blank, our owner," says Eales. "This idea of being a catalyst for change and helping to give back to the community. We've already seen that with Franklin Gateway and the development over the four years since we've been involved here."
Atlanta United became part of an effort to rebrand the road as Franklin Gateway, marking a new era in its history. Along with the new name, a $64-million bond was issued for redevelopment projects, which included tearing down and redeveloping some of the old apartments along with road infrastructure improvements. Crime has dropped by 40%, while business is now booming.
It's both a business and sports success story. Atlanta United has quickly established itself as one of North America's most successful soccer squads, training and preparing every day in Cobb.
"When we're out recruiting, whether we're in South America or in Europe, one of the things we'll always be showing is footage of the training ground and the local area," says Eales. "We're selling Atlanta, but we're specifically selling Cobb County and the immediate area, because this is where we're based."