At Issue: In the Spotlight
What are we to make of the attention paid to Georgia in this year's presidential campaign?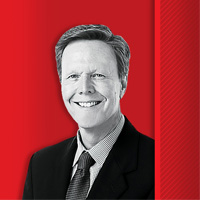 In November the Democratic presidential candidate roadshow made a stop in Georgia, specifically to Tyler Perry Studios in South Atlanta. This was the fifth Democratic Party debate in the series, as the various presidential candidates vie for the opportunity to take on President Donald Trump later this year. So what are we to make of the attention paid to Georgia in the presidential campaign?
Does it mean that Georgia is now a swing state in the presidential election? No. Not yet. Does it mean the national Democratic Party recognizes that Georgia is trending its way demographically, and that it could be an emerging swing state? Absolutely. Maybe most importantly, it means that the Democratic Party is willing to spend considerable money in Georgia in 2020 to push it across the goal line.
Georgia's movement from a solid red state to a purple one is a slow-moving development that is still a work in progress. It's not clear just how purple, or how blue, Georgia can ultimately become, but the trends are undeniable. The state's population is increasingly diverse, increasingly young, and is becoming more tech-oriented and transient. All of those factors favor the Democratic Party, at least in the abstract, and help to explain why national Democrats are beginning to pay more attention to Georgia.
It also doesn't hurt that Stacey Abrams came within a whisker of winning the governor's mansion in 2018. In fact, her manifesto of abandoning the political middle and mobilizing the party base seems to have crept into the playbook of Democratic candidates and strategists. And her admonition to the national Democratic Party to, and I'm paraphrasing, "come on down to Georgia and bring your money" may have had the desired impact.
Choosing a host city for a presidential debate is akin to choosing a city for the parties' national nominating conventions. It means something, but it's also partly a hope and a prayer. In 2019, the Democratic Party held presidential debates in Florida, Michigan, Texas, Ohio, Georgia and California. It says something about their electoral strategy and their hopes of swinging states over to the Democratic column.
In the Atlanta debate, 10 candidates duked it out, at times cutting into each other as much as into President Trump. The best two performers of the night were Senators Kamala Harris, who has since withdrawn from the race, and Amy Klobuchar. Harris was strong and smart, unlike during most of her debate performances from the fall. Most importantly, she effectively fended off attacks from Rep. Tulsi Gabbard. In earlier debates, Gabbard had owned Harris, which marked the beginning of Harris' decline in the polls.
Mayor Pete Buttigieg, the up-and-coming young candidate everyone is talking about, did ok. He came across as smart and polished, but he fell flat when discussing his appeal among African-American voters and his plan to gain their trust. He has a real problem there.
One of the themes of the Atlanta debate, and an emerging theme among many of the presidential candidates, is an emphasis on political centrism. That's in contrast to the earlier fall debates, in which the candidates seemed to be battling to determine who loved socialism the most. Biden, Buttigieg, even New Jersey Sen. Cory Booker took senators Bernie Sanders and Elizabeth Warren to task over the high costs of their far-left policies, such as Medicare for All. They recognize this is box-office poison for most American voters.
Warren and Sanders stood firm in their positions, but were ill prepared to really stand out and break from the pack. They seemed to be in survival mode. Same for Joe Biden. He survived but didn't look good doing it. He stumbled a few times, mostly performing well enough to hang in there. But one thing that struck me about Biden and some of the other candidates were the visuals.
Visuals are hugely important in a televised debate. Viewers want to feel comfortable with a candidate, and even like them. Biden went through the entire debate with a decisively grim look on his face. Gone is the "smiling Joe" of past campaigns. This Joe looked more like Grumpy Cat, the feline that reached internet fame before his untimely passing.
So what about the focus on Georgia? Not much to report. For one thing, the debate was largely overshadowed by the intense media scrutiny on the House impeachment hearings. And there was little to no attention paid to issues close to home. Near the end, there were a couple of references to voter suppression, which is Stacey Abrams' main issue. And one question about Georgia's legislation restricting abortion after six weeks, but that was it.
The debate brought the nation's attention to Georgia, if only briefly. But our state's emerging status as an electoral battleground assures that the attention is only just beginning.