Southwest Georgia: Patience Pays Off
Manufacturing, medicine and high-tech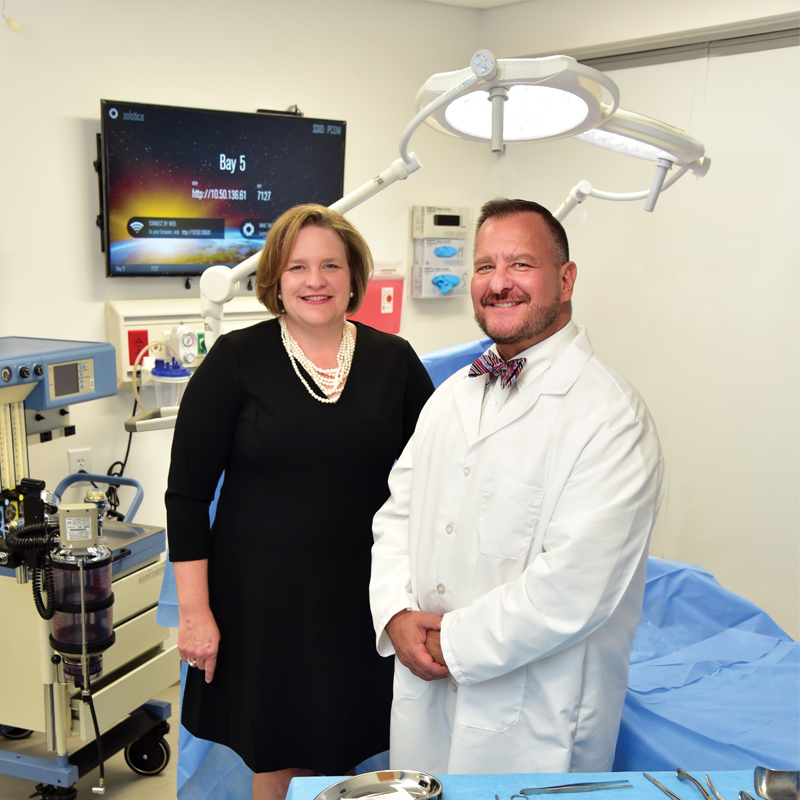 While all new and expanding industry announcements, as well as a continued boom in retail, restaurants and hotels, are met with applause, Southwest Georgia is celebrating some extra-big wins. From metal stamping and handguns to glassmaking and blockchain technology, hundreds of millions in investments and hundreds of jobs have landed in the region in the past year.
---
Slow and Steady
If economic development leaders in Southwest Georgia have learned one thing over the years, it's that patience truly is a virtue. Courting potential business and industry leaders to attract them to the region often requires vast amounts of time, years even.
Lowndes County celebrated a $123-million investment and 150 new jobs from glass container manufacturer Arglass Yamamura LLC this summer when the company announced it would build its first U.S. plant there, a prospect that economic leaders worked on for more than four years, says Andrea Schruijer, executive director of the Valdosta-Lowndes Development Authority.
"I think it's important for people to know that sometimes you work a project that can take three months, six months," says Schruijer. "But sometimes you get them, and they [take] four years. It was definitely an emotional project because there were a lot of ups and downs with it."
The announcement was made in early August, and Arglass started site work the next day. The authority worked with the Valdosta-based Langdale family, which donated property for the project, resulting in development of the Billy Langdale Industrial Park off Rocky Ford Road. Once construction is complete in June and equipment is installed, things will really begin to heat up in Lowndes County.
"The furnaces take 30 days just to heat up to the point that they can make glass," says Schruijer, with production of glass bottles, primarily for the spirits industry, slated to begin first quarter 2021.
The state-of-the-art facility will incorporate the latest glass forming technology and environmental controls for a reduced environmental footprint.
---
Projects and Plans
Like many of her peers in surrounding counties, Shelley Zorn, executive director of the Thomasville Payroll Development Authority, says 2019 has been her busiest in the 20 years she's worked economic development in Southwest Georgia. This year she's landed seven new projects totaling $125 million in investments and 775 jobs.
The largest number of job opportunities will come from Walmart, which opened a meat packaging facility in a building with 200,000 square feet of freezer space vacated by Americold Logistics. The payroll authority approved a $90-million bond for the project and was promised 400 jobs over the next three to four years.
After two years of focused effort, Thomasville celebrated the opening this summer of a factory by Check-Mate Industries, a Long Island, N.Y.-based tool and die, stampings and assemblies manufacturer providing components for the firearms, medical, aerospace and automotive industries among others. The $16-million investment will ramp up over the next five years to 230 jobs and $7.2 million in payroll, says Zorn.
Regina Vieweg, chair and CEO of the 47-year-old company, took over the business following her husband's death in 2014. Having outgrown its first facility, it started looking for opportunities elsewhere. Vieweg was won over by Thomasville as well as Georgia Quick Start, the state's program that designs custom training programs and trains employees for businesses at no charge, which Check-Mate used to train the local workforce.
"They weren't going to just set us up and leave us, and I think that was the biggest draw," says Vieweg, who is taking the move slowly. "They came to New York and studied everything. They did training manuals, took videos, worked with our people to get all of our processes. I can't tell you the amount of effort."
Check-Mate refitted the building vacated in 2016 by Caterpillar on a campus large enough to construct a second identical facility, one of the factors in Check-Mate's decision to locate in Thomasville. A number of former Caterpillar employees are now working for Check-Mate.
Strategic planning is front and center in Dougherty County as a handful of entities are working on individual plans that could become a community-wide vision for long-term economic success, says Justin Strickland, president of the Albany-Dougherty Economic Development Commission (ADEDC).
ADEDC has partnered with the Albany Area Chamber of Commerce to enlist the assistance of the University of Georgia's Carl Vinson Institute of Government (CVIOG) to formulate a workforce development strategic plan.
"We're bringing together, with the guidance of [CVIOG], industry, education and community leaders to talk about how to better our workforce for long-term economic success in Albany, Dougherty County and Southwest Georgia," says Strickland, of the project that kicked off last summer. The partners will begin implementation of the strategic plan when it's complete in February.
At the same time, the chamber is working on its own strategic plan, as are Albany State University, Albany Technical College and Phoebe Putney Memorial Hospital, he says.
"We can harness the findings of all those strategic plans from those different entities and put our heads together," he says. "We're at the cusp of being able to formulate a community-wide vision from these strong organizations within our community."
Georgia-Pacific Lumber's $150-million softwood lumber mill is expected to be operational this month, with a formal dedication planned for this spring, adds Strickland, regarding Dougherty County's latest new industry. The plant is hiring 130 full-time employees.
Tift County, too, announced a project that was more than two years in the making. In mid-October, North America's second-largest privately held Coca-Cola bottler shared its intent to build a 300,000-square-foot sales and distribution center in Tifton, creating 200 jobs and investing $60 million in the project. The new facility will be complete in late 2021 and is projected to distribute 4.5 million cases of Coca-Cola products annually. The jobs will have an average salary of $40,000, plus excellent benefits, says Brian Marlowe, president and CEO of the Tifton-Tift County Chamber of Commerce and executive director of the Tifton-Tift County Development Authority.
---
A Healthy Future
Another long-awaited project, PCOM South Georgia, the first four-year medical school in Southwest Georgia, welcomed its inaugural class of 55 doctor of osteopathic medicine students to the 31-acre Colquitt County campus in August, where 30 faculty and staff members lead the institution. PCOM opened a branch school in Suwanee in 2005, making this the state's second location.
"The economic impact of [PCOM] is immeasurable for what it will do for years and generations to come," says Barbara Grogan, president of the Moultrie-Colquitt County Economic Development Authority, of the overall $20-million investment. "From not only students and their families that come and visit our community but also if they remain here in our residency programs, if they become a doctor here in rural Georgia. In our minds, it will change not only Colquitt County but the region and the state and the Southeastern U.S."
More than 3,000 students applied for the 55 slots, and qualified applicants from Georgia and the Southeast got top consideration with the idea that they'd be more likely to remain in the area to practice, says Dr. Michael Sampson, chief academic officer and senior associate dean for clinical education at PCOM South Georgia, who in September was already interviewing students for the class of 2024.
The population in South Georgia has long needed more physicians, he says, so when PCOM was approached to locate a medical school in the region, the board acknowledged adding primary care physicians to a rural area was definitely in line with their mission. The school is centrally located to consortium hospitals in Moultrie, Albany, Valdosta, Tifton and Thomasville where students will do rotations.
"We didn't want to build a medical school in rural Georgia to have all our students going to the city," says Sampson, adding osteopathic medicine treats patients from a holistic approach, encompassing mind, body and spirit, and that this location also has nuances of rural medicine built into the curriculum.
"We're truly a rural medical school, training rural physicians in rural medicine," Sampson says. "Students can go to medical school near their hometown, and if they train here most likely they'll stay here and practice, which is the end goal."
In other healthcare news, Lee County continues to push forward with plans for a new hospital – Lee County Medical Center – and is currently looking for a large hospital system to partner with, says Winston Oxford, executive director of the Lee County Chamber and Development Authority.
Edward Alexander, president and CEO of Healthcare Facilities Partners, the company that will manage the hospital, got an extension for the Certificate of Need over the summer due to some site issues, all of which are being resolved. He's still hopeful groundbreaking will take place this year. The 60-bed facility will offer both acute and emergency care.
"From day one we've wanted a healthcare system partner," says Alexander, noting in September that they were completing due diligence on the potential partner they narrowed down to from a handful. "That really will be the last checkmark on the to-do list, so we're close."
---
Newcomers and Expansions
High tech landed in Cook County this year when blockchain technology company Blockstream announced development of a substantial Bitcoin mining data center there, says Lisa Collins, executive director of the Cook County Economic Development Commission. Blockchain is the technology that supports cryptocurrencies like Bitcoin, allowing digital information to be distributed, but not copied. Access to a large volume of power required by Blockstream – up to 270 megawatts, which is more than 10 times the amount used daily by the city of Adel, she says – is what brought the company to Southwest Georgia. The first phase of its project is estimated at $20 million with 80 to 100 jobs total.
"We had the majority of the power, but to get up to 270 [megawatts], we partnered with six other cities up the line," says Collins. Adel does have access on its own to a large volume of power thanks to the $8-million substation built there last year by the Municipal Electric Authority of Georgia (MEAG) to accommodate Messer Industries (formerly Linde), a $40-million air separation plant that began production earlier this year.
Mitchell County recently gained 100 new jobs with the $34-million expansion to its processing plant in Camilla announced in late summer by Tyson Foods. The largest U.S. meat processor, Tyson currently employs about 1,800 at the Mitchell County facility.
Other expansions in the area include Taurus in Bainbridge, which Rick McCaskill, executive director of the Development Authority of Bainbridge and Decatur County, says began producing handguns this year even before its new facility was complete. The company had more than 50 employees in September and will reach full capacity of 300 employees the first of next year, he says.
"Everybody we've got in town has done some type of expansion in the past 18 months. There's just a lot of growth going on right now," says McCaskill, adding that downtown Bainbridge is also booming with activity, including new housing, added retail and the new Southern Philosophy Brewing.
Straddling I-75 continues to be a winning factor for Tift County, which reports the opening of a number of new distribution centers, including facilities for commercial refrigeration coil manufacturer Heatcraft; HVAC system distributor Associated Equipment; irrigation manufacturer Reinke Manufacturing; Second Harvest of South Georgia, a Feeding America-affiliated food bank; and Orgill, distributor of products for hardware stores, says Marlowe. Kelley Manufacturing, a producer of farm implements, recently completed an expansion, as did PB2 Foods, which produces peanut butter powder, he says.
A unique addition currently under construction in Tift County is the Boll Weevil Eradication Foundation of Georgia headquarters. "It's really a good fit for Tifton because we have the University of Georgia Experiment Station, so they'll be able to complement and benefit one another," says Marlowe of the nonprofit that's funded by cotton producers to implement a program for boll weevil eradication, suppression and containment.
Marriott made a $12-million investment in downtown Thomasville with a hotel currently under construction and expected to bring 50 new jobs, says Zorn. In addition, Thomasville's Sweet Grass Dairy is investing $3.5 million to expand its artisan cheese production, adding 35 to 40 jobs.
Better Way Products, manufacturer of fiberglass components for the marine industry, established a Lowndes County facility this year and will provide 86 new jobs to the roster over the next two years. Also in Lowndes, CJB Industries announced a $2.5-million expansion establishing their subsidiary, Bee Innovate, an applied technologies/research and development division, with 10 high-wage research jobs. Looking toward future growth in the county, the development authority this year approved construction of a 100,000-square-foot spec building that will go out for bid by the end of the year.
Kicking off production in downtown Valdosta earlier this year, craft brewery Georgia Beer Co. continues to draw crowds. "It's always packed, and they do great community events. They're not just processing beer, they're also creating a quality of life here in Valdosta and Lowndes County, which is really nice," says Schruijer.
Kubota dealer Southern Tractor plans to open its newly constructed Lee County facility this year, says Oxford. Superior Sauce, manufacturer of Terry Ho's Yum Yum Sauce, is doubling the size of its facility and adding another 10 jobs "because sales of the sauce are so good worldwide," he says.
Back in Colquitt County, a leading producer of manufactured and modular homes, Cavco Industries, purchased Destiny Industries and continues to add jobs, says Grogan. National Beef continues to grow and add jobs following expansion number eight and equipment upgrades to provide for increased volume.
Ben Hill County touted an expansion by Polar Beverages, which continues to experience growth in the increasingly popular seltzer water market, says Jason Dunn, executive director of the Fitzgerald and Ben Hill County Development Authority. Pryority Powder Coating, a newly launched entrepreneurial project, brings the most advanced electrostatic paint system and the largest powder coating job shop in the Southeastern United States to Fitzgerald to complement the region's ever-growing metal fabricators. The community is also seeing some benefit from the film industry, including ongoing production of the sci-fi thriller Anti-Life starring Bruce Willis. It's the community's third recent production, with others in the pipeline.
---
Making a Name
Southwest Georgia leaders were encouraged to hear Gov. Brian Kemp mention Locate South Georgia, a regional economic development initiative of 18 counties, in a speech this summer about his Rural Strike Team, says Dunn, who also serves as Locate South Georgia's board chair.
"Eighteen months or so ago we said we needed to secure our base and work better to get our name out, and that tells me that we're starting to get some attention from the right people," says Dunn, adding that the Rural Strike Team will coordinate collaboration between Locate South Georgia, Valdosta State University (VSU), Abraham Baldwin Agricultural College and the Department of Community Affairs among others. "We're excited for another opportunity."
He is also encouraged by reports of high school graduation rates this fall from the Governor's Office of Student Achievement that revealed the combined counties in Locate South Georgia "outperformed the state average on graduation rates," says Dunn, 88 percent compared to 82 percent.
Locate South Georgia is currently working with VSU's media department on a series of videos that will highlight South Georgia's manufacturers, workforce, quality of life and tourism. Darrell Moore, executive director of VSU's Center for South Georgia Regional Impact, is coordinating the project.
Just another example of the way collaboration and creativity get things done in Southwest Georgia.