At Issue: Political Winds
Unfinished business from 2019 will mix with polarizing hot-button issues and election-year politics in the upcoming legislative session.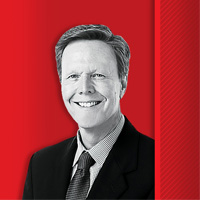 Next month, Georgia's state legislators will gather in Atlanta for what could be one of the most consequential sessions of the General Assembly in decades. There's significant business left over from the 2019 session, but there are also tremendous political winds blowing related to 2020 politics, voter registration, the upcoming census and leadership questions hanging over both houses of the General Assembly.
Coloring all of this is the fact that Georgia is now, for all practical purposes, a swing state. Georgia is not yet purple, but it might as well be, considering the media and political attention focused on the Peach State and how Georgia has now been cast as a major player in the national politics of 2020.
Just imagine if, come next summer, former gubernatorial candidate Stacey Abrams is the vice presidential nominee alongside Joe Biden. Or imagine if Biden is out of the race and Elizabeth Warren is the nominee for president, virtually guaranteeing that Donald Trump carries Georgia once again. That's not to mention two U.S. Senate races instead of just one, and at least two U.S. House races in Metro Atlanta, the 6th and 7th districts, up for grabs.
But first, the unfinished business from 2019. It's a two-year session, so bills that did not pass in 2019 can be reconsidered in 2020. Two of the most contentious and hard-fought are related to air travel. Specifically, the state Senate's legislation to move control of Hartsfield-Jackson Atlanta International Airport to a state authority, as opposed to management by the city of Atlanta. And the very controversial and very political issue of the jet fuel tax, with its impact on hometown Delta Air Lines.
Extension of the jet fuel tax exemption, which would save Delta about $40 million a year, became controversial after Delta announced it would discontinue its policy of discounting airfare for members of the National Rifle Association. Delta's decision was a reaction to the mass shooting at Marjory Stoneman Douglas High School in Parkland, Fla. Many legislators felt Delta had overstepped into partisan politics and so opposed the tax exemption. The House tried to put together a compromise this past winter but couldn't get traction in the Senate.
They'll try again in January. It will likely be thrown into the mix with Senate legislation aimed at what Atlanta officials term a "hostile takeover" of the airport. But the growing number of corruption cases in Atlanta government contracting and concessions, including some involving Hartsfield-Jackson, make it more likely that the legislature will act. Expect a lot of finger-pointing on this issue; Delta should proceed with extreme caution.
Casinos and other forms of legalized gambling will also be back on the table. The temptation to draw additional tourism dollars and add revenue to the HOPE scholarship is very intoxicating. But it's also very risky.
If we're talking profitability and market share, horse racing won't get it done. But casinos are no sure thing either. Financially, the best bet is to go all in on one big casino in Metro Atlanta, on the north side. In exchange for sole operating authority in the state, the government could demand a large percentage of casino revenue go directly into HOPE. But politics and the necessity to wet everyone's beak will likely doom that strategy.
There are other hot and polarizing issues that will get significant media coverage. Georgia's heartbeat bill on abortion, which was to go into effect Jan. 1, has been temporarily blocked by a federal court. It's not clear there will be additional legislative action, but it will be an election-year public relations battle between Republicans and Democrats. Same with guns and gun rights. This is an emotional and, in this day and age, ever-present issue. But there is little political breathing space for new legislation.
Hate-crime legislation stands a good chance of being revived. Georgia is one of four states in the nation without a hate crimes law. Many such laws are vague and difficult to enforce. And in Georgia, the debate often boils down to LGBTQ protections, making it difficult for socially conservative lawmakers to support. Yet many Republicans believe it is time to act.
Republicans call it school choice, and Democrats refer to it as a "voucher scheme," but the effort to allocate public education dollars to the costs of private school will likely resurface. Lt. Gov. Geoff Duncan supports it, so expect to see it fairly early in the session.
It will be a tightly drawn, politically contentious session, with election year politics and impeachment driving much of the conversation. We'll see if Republicans and Democrats are speaking to each other come April.