Dogs 'talking' with humans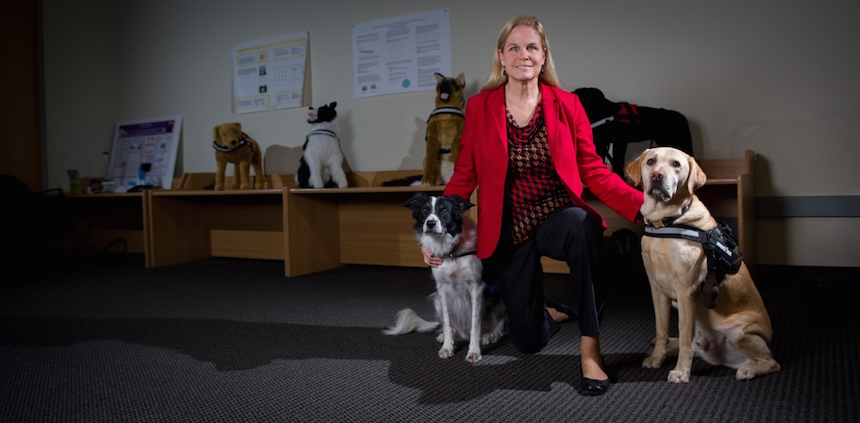 As dog owners, we converse with our canine friends all the time. But what if they could communicate with us in our own language?
Melody Jackson, director of the Georgia Tech Animal-Computer Interaction Lab, has been working for the past few years on technology that gives dogs a human voice. As founder and head of the FIDO project, which stands for Facilitating Interactions for Dogs with Occupations, Jackson and her team are developing different types of vests service dogs might wear to verbally summon help for people with health issues such as impending seizures, heart attacks and autism meltdowns as well as low blood sugar. Other adaptations of the vests include search and rescue and bomb detection.
Dogs are being trained to activate voice messages from the vests by pulling on an attachment, touching a sensor with their noses or 'gesturing' by moving their heads. Touchscreen technology is also going to the dogs. Jackson is teaching her canine charges to tap 9-1-1 with their noses on a large monitor to activate a notification.
The National Science Foundation and the Defense Advanced Research Projects Agency (DARPA) are among the sponsors of the FIDO project and it's only one of a number of important research initiatives in our state. Find out about other leading-edge projects at Georgia universities in this month's feature, "Banking on Breakthroughs."
Photo: Melody Jackson with her canine research assistants
Photo by Rob Felt, courtesy of Georgia Tech
Do you follow us? Find us on Linkedin, Facebook, Twitter and Instagram.