Veterans Day remembrance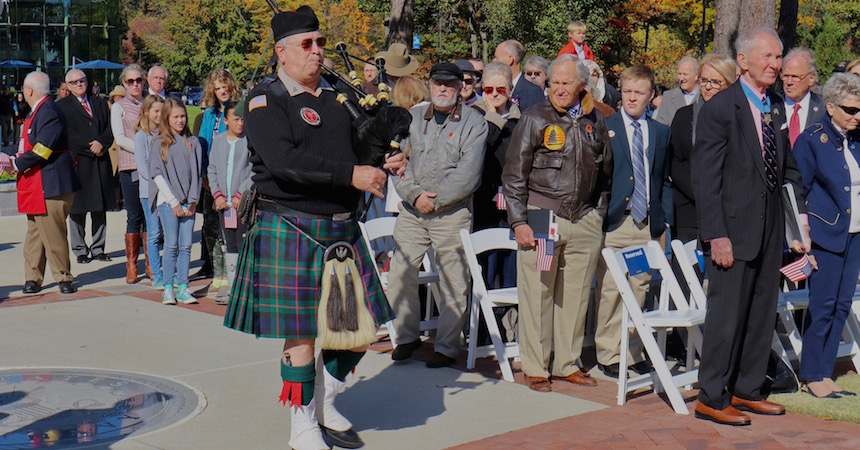 The Atlanta History Center will hold its annual Veterans Day ceremony, beginning at 11 a.m. on Monday, Nov. 11, at the center's Veterans Park. The program honoring military veterans will open with Stone Mountain resident Wayne Coleman playing the bagpipe, followed by presentation of the colors and opera baritone Bill Killmeier of Newnan performing the National Anthem.
Rear Admiral Wendi B. Carpenter, U.S. Navy (Ret.), will deliver the keynote address. She retired from a distinguished 34-year career in 2011 and was a pioneer of women in Naval aviation. The first woman Navy aviator to be promoted to flag rank, designating her senior status, Carpenter held five commands during her career. She was honored with numerous awards for service and leadership, and will be inducted Saturday, Nov. 9, into the Georgia Military Veteran's Hall of Fame in Columbus.
Following the Veterans Day program, attendees are invited to visit the Atlanta History Museum's Allen Atrium to find out about the center's Veterans History Project. The project is dedicated to collecting, preserving and sharing veterans' stories for future generations. In the 20 years since its inception, more than 700 veterans have been interviewed.
Sponsored by Regions Bank, the Atlanta History Center's Veterans Day program also offers free admission to the entire campus for active and retired military veterans and up to five family members, from 10 a.m. to 5:30 p.m. Monday.
Featured photo: Wayne Coleman playing the bagpipe at last year's Veterans Day ceremony.
Photo by Kim Link, courtesy of the Atlanta History Center.
Do you follow us? Find us on Linkedin, Facebook, Twitter and Instagram.