DeKalb County: DeKalb Gets Going
Cooperation, fiscal responsibility and filmmaking.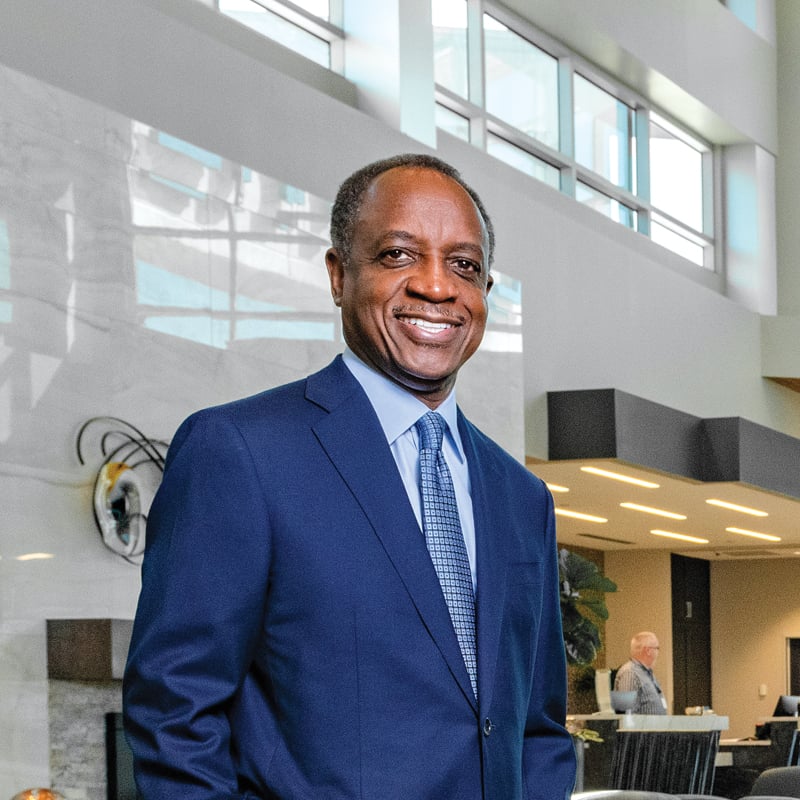 DeKalb CEO Michael Thurmond used the phrase at his state of the county address back in March, and it's one he returns to often: "DeKalb is rising."
There are plenty of projects big and small to point to as proof, but there's also a different feeling in the county today: That people – in the public sector, the private sector, residents, business owners – are pulling together instead of in all directions.
---
Infrastructure and Beyond
Thurmond, who was elected to lead DeKalb in 2016, singles out several areas that are moving the county forward. The first he calls fiscal responsibility.
"I have always believed the threshold issue in the public sector is … to create a fiscal environment that's transparent and demonstrates to our taxpayers and voters that we are utilizing public revenue in an honest and transparent way," he says. "And the first thing we had to do is get our fiscal house in order."
That involved getting rid of a $24.7-million deficit and creating a $110-million surplus "rainy day" fund. Two of the largest credit ratings services, Moody's and Fitch, upgraded the county's financial outlook from stable to positive in 2018.
Another achievement was the fiscal 2019 midyear budget that included property tax reductions for DeKalb homeowners, thanks to a rollback in the millage rate and the Equalized Homestead Option Sales Tax (EHOST) credit, which became effective in April 2018. EHOST is a 1 percent sales tax on everything except food and drugs that will result in $119 million in revenue passed on to homeowners. For the average home valued at $250,000, residents will receive an estimated $889 credit. "I'm very proud of this," Thurmond says. "Even though property values are up, which is very positive, residential taxes are down."
The county has also implemented pay raises for more than 2,000 public safety employees since 2017.
Infrastructure is another area where the county is working to finally make some progress. Under a federal consent decree since 2011 to fix its old sewer system that overflows in heavy rains and suffers blockages, the county struggled for years as corruption scandals and a revolving door of watershed directors took their toll on any improvements. Earlier this year, the county admitted to the public what everyone suspected: It wasn't going to make the June 2020 deadline specified in the consent decree.
But Thurmond points to forward motion indicating that DeKalb is getting back on track with the massive undertaking, including $103 million currently being spent to repair and upgrade the system.
"Oftentimes when we think about economic growth, we think about the skyscrapers and buildings that are being built, but without an effective and efficient sewer system it is impossible to generate and maintain economic growth," he says. "For decades DeKalb unfortunately neglected our most valuable resources, which is the water and sewer system … [now we're] protecting the water resource." Earlier this year, Thurmond created a new position to oversee implementation of the consent decree.
The county also began replacing its aging and often malfunctioning water meters, a three-year project that will result in 102,000 new meters. And it's begun a project to replace seven miles of water pipes along Briarcliff Road to fix low water pressure problems there.
DeKalb is devoting a lot of time and money to its infrastructure thanks to passage of a Special Purpose Local Option Sales Tax (SPLOST) in 2017 – a first for the county.
"I'm proud that we passed our first SPLOST in the history of DeKalb County," says Thurmond, praising the coalition of mayors and city leaders, businesspeople and community improvement district leadership that worked to get it passed.
From the SPLOST, $660 million will go toward resurfacing more than 300 miles of roads, as well as improving all existing fire stations and building new ones, improving parks and purchasing new police vehicles. "We are positioning ourselves to become the focus of economic growth and development [in the metro area] over four years," Thurmond says.
An asset that sometimes flies under the radar is DeKalb-Peachtree Airport. It may surprise some to learn that "PDK" is the second-busiest airport in Georgia. But it's well-known to business leaders, who regularly fly corporate jets in and out of the general aviation airport in Chamblee.
Thurmond says the Georgia Department of Ecomomic Development (GDEcD) calls PDK a "jewel in terms of recruiting economic development, not just in DeKalb but in Metro Atlanta." It's so popular, in fact, that it's basically run out of hangar space. Airport leaders hope to build an additional eight corporate jet hangars on 19 acres close to Clairmont Road and have held meetings with neighbors concerned about additional noise and air pollution. A master plan is also in the works, scheduled to be finished in 2020.
Ryan Millsap, chair and CEO of Blackhall Studios in Southwest DeKalb, says these efforts are crucial to enhancing the business climate in DeKalb. "Just balancing the budget and setting aside money and having a surplus and a rainy day fund, being able to explain where infrastructure dollars are going and why different projects are being funded – that goes a long, long way," he says.
Millsap is chair of Advance DeKalb, a five-year, $1.5-million public-private initiative that's raising funds to promote three economic development goals: comprehensive economic development, workforce development and infrastructure and community development.
The initiative will expand the work of the county's development agency, Decide DeKalb. Among the projects it will launch is the creation of tools that promote infrastructure transparency, showing what's being spent where. That should promote better coordination between the public and private sectors, says Millsap.
Advance DeKalb will also launch a survey of 100 businesspeople in the county to get feedback "about what private industry is doing, what private industry is thinking about their own businesses … and about the county," says Millsap. That survey will help with the initiative's third goal, providing information on business expansion to inform workforce development.
The county is focusing on several key industries – advanced manufacturing, healthcare and life sciences, corporate operations, entertainment, logistics and distribution – according to Dorian DeBarr, interim president at Decide DeKalb. These areas play to the county's strengths, such as an existing base of companies in advanced manufacturing and logistics along the I-20 corridor. "We're going to be really intentional about how we attract these sorts of companies or industries to DeKalb County over the next five years," says DeBarr.
Advance DeKalb held its first board meeting in August. "The proof will be in the pudding," says Millsap, "but the chefs are in the kitchen, and people are starting to show up with stuff from the store."
You can already see some results from DeKalb's new spirit of cooperation, says DeBarr, who estimates that the level of economic development activity in the first six months of 2019 has already surpassed all of 2018. Part of the reason, says Randi Mason, who joined Decide DeKalb as vice president of economic development this year, is that the county increased its partnerships with entities like GDEcD, Georgia Power and the Metro Atlanta Chamber. That, again, speaks to the change in attitude about DeKalb's governance.
"One of the things I'm proud of is that [GDEcD Commissioner] Pat Wilson says, 'We feel like we have a partner again in DeKalb,'" says Thurmond. "That benefits the state of Georgia as well as DeKalb County and Metro Atlanta."
---
Big Projects on the Horizon
Several large projects are in progress, some that will transform major corridors in DeKalb. In Dunwoody, State Farm continues to expand its regional hub with the construction of two additional office buildings, one with about 610,000 square feet opening in 2020 and one with about 500,000 square feet opening in 2021. The complex has direct access to the Dunwoody MARTA station, making it one of the most prominent examples of transit-oriented development (TOD) in the metro area. Eventually 8,000 workers will be located there.
In Doraville, Assembly Yards (on the site of the old GM plant) is another TOD, one of the largest redevelopment projects in the metro area. The mixed-use project encompasses 165 acres and when complete will include homes, retail, parks, Third Rail Studios and the corporate headquarters of mattress company Serta Simmons.
Access to transit was one of the company's requirements, says Noreen Pratscher, vice president of corporate communications and chief communications officer for Serta Simmons Bedding. Also on the list: room for 500 employees and to expand, as well as a showroom and light manufacturing capabilities where the company creates prototypes. Assembly fit the bill with a five-story main office building and an innovation center housing the showroom and manufacturing facility.
"We have a beautiful courtyard, and there is a covered walkway to get from building to building," Pratscher says, adding that the company currently runs a traditional shuttle to the MARTA station. Soon, however, employees should be able to take one of the autonomous shuttles Assembly Yards tested earlier this year to great fanfare (including having Gov. Brian Kemp as a passenger).
It's not just the traditional areas that are seeing redevelopment, either. Former DeKalb Chamber of Commerce president and CEO Katerina Taylor says developers are starting to consider what's possible in South DeKalb. For example, Blackhall Studios is planning a major expansion that will triple the size of its sound stages, making it the largest studio in North America in terms of soundstage space.
Millsap's vision for the studio is that it serves as a kind of gravitational force that attracts other businesses to the area – an area that is underdeveloped. "Blackhall is a portal for a huge amount of money that's being spent to make film and television," he says. "That money comes into Southwest DeKalb and splashes around like a pipeline."
The studio has only been open since 2017, and Millsap predicts that by 2020 "you'll start to see a lot of other developers and businesses taking a hard look at Southwest DeKalb County and saying, 'What's going on over there? Do we want to be a part of that? Are there hotels or retail needed?' I think you'll start seeing a lot of transformation in that corridor after that."
These kinds of investments in DeKalb will help retain young talent, says Taylor. That keeps the local economy humming as they "fill our school systems and our local shops and eateries," she says. "We need those people [who will] make their own investment in their local neighborhoods."
At North Druid Hills and I-85, several projects are underway that will create a healthcare nexus to rival "Pill Hill," which is in Fulton County near Georgia 400 and Interstate 285. Children's Healthcare of Atlanta has begun work on a $1.5-billion campus that includes office and medical buildings as well as a 446-bed hospital (opening in 2025) and hotel. It's the largest healthcare project in the state's history.
Across the street, Emory University is redeveloping Executive Park into a $1-billion campus that will center on its orthopedics practice and include a 140-bed non-emergency hospital along with office, commercial, hotel and multifamily developments. Greenspace and a multi-use trail are also planned in what Emory calls a "health innovation district."
Executive Park is already home to some of Emory's medical offices and a sports medicine and training facility for the Atlanta Hawks. "We're in the master planning phase with this first phase of development with our orthopedics group, but we're very excited about what might be possible over the next 20 years there," says Christopher Augostini, Emory's executive vice president for business and administration.
---
Global – and Local – Health
Emory University has always had a big presence in DeKalb. Recently it became the largest employer in Metro Atlanta, surpassing Delta Air Lines. And as it grows its physical footprint – in addition to its plans in DeKalb, Emory Healthcare is constructing a cancer tower at its Midtown hospital – it's also seen the largest gift in the school's history. The Robert W. Woodruff Foundation gave the university $400 million in 2018. In 2019, the O. Wayne Rollins Foundation gave $65 million toward the construction of a third building at the Rollins School of Public Health.
As an investment in the school of public health, the Rollins gift is "transformative for us as well as our global partners," says Augostini. "Recently we received a Gates Foundation grant totaling $180 million, which was the single largest research gift we have ever received. Very few institutions globally would have received a grant of this size. It's really focusing on our strengths … in global health."
The Bill & Melinda Gates Foundation donation is for the Child Health and Mortality Prevention Surveillance network (CHAMPS), a worldwide health network that uses data to identify and lower the causes of childhood mortality. CHAMPS is headquartered in the Emory Global Health Institute and works in Bangladesh, Ethiopia, Kenya, Mali, Mozambique, Sierra Leone and South Africa.
"The Woodruff gift and the Rollins gift are really leveraging the historical strengths of Emory," says Augostini, "but doing it in a way that can provide impactful initiatives far beyond Emory in Atlanta."
Emory's employee expansion is evident in three areas, says Augostini. One is clinical care. Last year DeKalb Medical Center merged with Emory Healthcare, adding several thousand employees to the Emory system. Another is research, as evidenced by the Gates Foundation gift.
"Our research portfolio has grown dramatically over the last several years, which means we have to bring in highly skilled professionals to help with the delivery of [that] mission," Augostini says. The third area is teaching and educating students. Emory's student population has grown slightly – more than 15,400 undergraduate and graduate students are enrolled – and Augostini says many stay in the Atlanta market, and even at Emory, as employees.
In 2018 Emory was annexed into the city of Atlanta (part of Atlanta sits within DeKalb County), a move that might help push forward plans for MARTA's proposed light rail line along the Clifton Road corridor. Currently in the planning stages as part of MARTA's overall $2.7-billion expansion in the metro area, the long-sought project needs additional funding to come to fruition.
"Transportation, and being a part of the larger conversation with MARTA, is vital," says Augostini. "We take very seriously the issues around how to create and set the right context for our employees. A piece of that is [how they get] to and from where they work." The Clifton Corridor is a high priority, he says.
"We take that responsibility as a large employer very seriously," he says. "I think what makes [a distinction] is that we have a hundred-year horizon. We expect to be here in decades and centuries."
With these and other county projects in the works, it's easy to see the momentum building in DeKalb.
---
Local Flavor
Coffee with a Mission
Four years is all it took for Kitti Murray's idea to become a fixture on East Ponce DeLeon Avenue in Clarkston. Locals know Refuge Coffee Co.'s bright red truck serves some of the best lattes in town, and the converted garage with its eclectic furniture and art provides a place to plop down if you can stay a while.
Thanks to coverage in Food & Wine and on CNN, so do people across the country. But if you come for a cup and a pastry, you'll still mingle with the refugees – customers and employees – who are at the heart of this enterprise.
That was the intent when Murray and her husband bought a 1986 truck and outfitted it as a mobile coffee shop: to provide jobs (with living wages), job training and mentorship to refugees.
"The guy who owned the [garage and used car lot] offered us the front half of his parking lot for two days a week, and we paid him a dollar a month," Murray remembers. "The other days, we catered. … We started with one full-time employee, Leon Shombana, who's still here [as garage manager]."
Then everyone else showed up, and Refuge now has two trucks (and is fundraising for a third), owns the parking lot and former garage, and is open every day but Sunday. In Clarkston, it's a de facto mascot for the city, which has been called "the most diverse square mile in the U.S."
Refuge is a nonprofit, and Murray aims to support many of the refugee-owned businesses that are Refuge's neighbors, pointing customers to local shops and restaurants. The place also hosts community fundraisers and get-togethers, like a neighborhood "Friendsgiving" potluck the Monday before Thanksgiving.
The Murrays chose coffee because it was associated with welcoming neighbors, and Murray says there is something about Refuge that brings out generosity in people. In the beginning, "Our goal was to bring worlds together, to provide good jobs and job training," says Murray. "It's gone way beyond [my expectations]."