2019 Silver Spoon Awards: 2020 Vision
Big changes are in the air for Georgia's dining scene as we look at the state's best restaurants. Plus 10 spots that have weathered the storm and are better for it.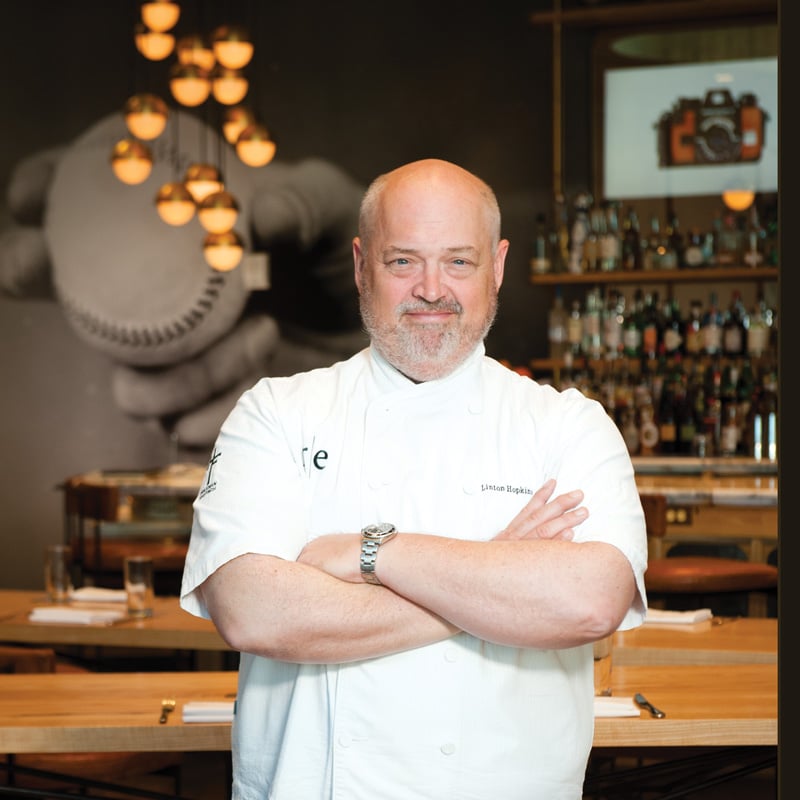 As we round out this tumultuous year, it feels as if we're on the verge of something. Politically, culturally, historically – even meteorologically. The pendulum swings faster; storms blow fiercer. As I write, the Georgia coast prepares for what may be another devastating blow or mere glancing wind – we're all holding our collective breath. Again. But even apart from the physical world, atmospherically, everything's all atwist.
The same seems true of the state's restaurant scene, although there hasn't been anything nearly as threatening as a hurricane. It just feels like big change is in the air, even if, after all, this imagined trajectory changes and we just keep going much as we have in the past.
Still, there are a few harbingers and some seismic jolts: Restaurant Eugene, one of Atlanta's few remaining adventurous fine-dining establishments, closed in August after 15 years. However, Chef/Owner Linton Hopkins is expanding his empire (Holeman & Finch, C. Ellet's, and the new Eugene and Elizabeth in the old Restaurant Eugene space) to focus less on special-occasion dining and more on relaxed, casual restaurants that cater to the neighborhood locals.
Meanwhile, Savannah's dining scene is glowing white-hot. New entries (La Scala, The Fitzroy, Cantina Tulum, among many others) crowded into a once-moribund environment.
Then there's the downtown Savannah restaurant that's catapulted to national stardom. In August, an ambitious Food & Wine/Travel + Leisure joint project, featuring a stellar advisory panel and written by former Atlanta-based restaurant critic (and James Beard Award-winner) Besha Rodell, published its list of 30 "World's Best Restaurants." Among the few U.S. restaurants, the only Southern restaurant listed was from Georgia. And it wasn't one of the big-name Atlanta standard-bearers, but Savannah's The Grey, with enterprising (and fellow Beard Award-winning) Chef Mashama Bailey.
There are signs that even wildly successful food-centric dining halls like Atlanta's Ponce City Market may not always prove to be a sure-fire location: The Mercury shuttered there. At the similarly food-centric Krog Street Market, Watchman's Seafood & Spirits, from the crew at Decatur's Kimball House, replaced the classically French bistro The Luminary's padded booths and luxe sauces with simple wooden benches and a more casual (but deeply delicious) beach vibe.
At the restaurant-retail complex surrounding the Braves stadium, the battle of the big-name chefs (including Hopkins, of C. Ellet; Hugh Acheson, of Empire State South and 5&10; and Atlanta-raised celeb chef Todd English) saw both Acheson's Achie's and the Todd English Tavern withdraw after only brief residencies. Charleston-based magazine Garden & Gun has opened its first restaurant there, the Garden & Gun Club, crowded with men in khakis and dock shoes.
Meanwhile, in July the perennially underused and overexposed The Shops at Buckhead acquired its third owner/developer, Jamestown Properties, of Ponce City Market fame. A public hearing crowdsourced ideas on how to better position this home for luxury brands like Hermès and a heap of high-end restaurants with its clientele and neighborhood.
Tellingly, the biggest food stories of the year involved fast food: Both Impossible and Beyond Meat vegetarian burgers are or will soon be available at chains like Burger King, White Castle and Del Taco, but also tiny spots like Cleveland's Soda Fountain Cafe. KFC has already begun testing a similar Beyond Meat chicken substitute in Atlanta. The biggest tectonic shift: the wildly popular rollout of Miami-based Popeye's fried chicken sandwich, threatening Atlanta-based Chick-fil-A's iconic biddy on a bun. Talk about earthquakes!
This year, in addition to the state's top 10 restaurants (presented in no particular order), I'm also tipping my hat to the restaurateurs and chefs who have survived metaphorical storms and somehow came out the other side a little stronger, wiser and better. These Silver Linings winners are the folks we need to keep in mind when dark clouds gather.
---
The State's Best Restaurants
C. Ellet's
Atlanta
c-ellets.com
Located within The Battery Atlanta at SunTrust Park, C. Ellet's is one of the standout restaurant experiences I've had in recent years. This rock-solid steak-centric restaurant is all party in the front and business in the back. A walk-up oyster bar, a few booths and discreet screens cater to a more casual menu in the Club Room, while the Dining Room menu is a power hitter, featuring over a dozen bone-in and hand-cut steaks, along with sides like hen-of-the-woods mushrooms and green beans with spiced pecans.
---
Staplehouse
Atlanta
staplehouse.com
Elegant, convivial and dedicated to both the craft at hand and a larger mission to create a better safety net for Atlanta restaurant workers through its nonprofit, Giving Kitchen. Reservations are tricky to snag and require skill nearly equal to that of the outstanding staff. Do not leave without trying the chicken liver tart.
---
Masterpiece
Duluth
facebook.com/Masterpiece名厨堂-658304740912215/
The cumin and spices at this stunningly good Sichuan spot seem to be absorbed through the skin and eyes as much as the tongue. But Beard-nominated chef Rui Liu isn't out to torch you, only to dazzle you with complementary subtleties and salt, bitter and heat, fat and sweet.
---
Sushi Hayakawa
Atlanta
sushihayakawa.com
Chef Atsushi "Art" Hayakawa continues his personality-driven (meaning, laden with humor, fueled by creativity and tight control of the highest standards of quality) success story at an intimate spot.
---
The National
Athens
thenationalrestaurant.com
This small college town is perhaps blessed with more great restaurants per square inch than any other in Georgia. But The National succeeds with its small-d democratic appeal – to working stiffs in need of a veg-driven power lunch, to stressed-out teaching assistants in need of one expertly made cocktail, to students who need a nice, but not-too-expensive spot to recommend to mom and dad. Chef Peter Dale's Mediterranean-with-local-ingredients strategy hits on all counts – healthiness, affordability, sustainability, but most of all, flat-out delectability.
---
Epic
Columbus
epiccuisine.com
With a near-grandiose literary theme, Epic achieves its own high goals (or writes its own story) with the kind of ambitious menu and skilled service that's becoming more difficult to find in larger cities. Bison ribeye, sugar-seared sea bass and a long list of local and regional cheeses and charcuterie join craft cocktails like The Old-Fashioned Girl, with pineapple and "smoke cloud," under an undulating wood ceiling.
---
The Grey
Savannah
thegreyrestaurant.com
Near-unanimous critical praise continues to roll in for The Grey, in which the ingenious renovation of a downtown Art Deco Greyhound bus station becomes a metaphor for the food. Chef Mashama Bailey takes you on a journey that acknowledges where we've been, but her eyes are on the horizon. Foie gras, grits, shishito peppers, oysters and quail commingle on a Southern-tinged menu that reflects the diverse influences of this port city and the changing South as a whole.
---
Spring
Marietta
springmarietta.com
In a small converted warehouse off Marietta's town square, Chef Brian So composes beautiful dishes that star exquisitely framed local vegetables in careful layers of flavor that somehow coax more from their essence than if they stood alone. The carefully edited, seasonal menu typically includes only four entrees – one vegetable, one fish, one poultry, one beef.
---
Abel Brown Southern Kitchen & Oyster Bar
Augusta
abelbrownaugusta.com
Something about Chef/Owner Todd Schafer's place seems empathetic to the point of near-clairvoyance. How did he know you were craving lady peas and wax beans? How did your server know to suggest the Royal Treatment cocktail, with purple Empress gin and pink cranberry? The menu changes daily, but Schafer also seems to think you're always going to want oysters, house-smoked meats and the kind of salad that might feature both roasted golden beets and pickled plums. And he's right.
---
Tiny Lou's
Atlanta
tinylous.com
The most stylish restaurant in Atlanta also features some of its best food. Inside the smartly updated Clermont Hotel, and atop the purposefully left-intact downbeat charm of the Clermont Lounge, Tiny Lou's is a nod to the scantily clad dancers below (its namesake was a stripper who "refused to dance with Hitler") and to classic French bistro cuisine. A great burger, some pâté, a little champagne – how about duck consommé? With foie gras dumplings? Non? Then you will surely love the whole roasted loup de mer. Don't leave without sampling one of the innovative desserts by pastry chef Claudia Martinez, one of only 12 people in the country named as an Eater Young Gun this year. After dinner, enjoy a nightcap on the hotel's rooftop lounge.
---
Silver Linings
Georgia restaurants representing redemption, resurrection and refreshment. These 10 establishments rode out stormy weather and somehow came out the better for it.
Clyde's Table & Tavern
Cleveland
clydestableandtavern.com
Ward Gann saved the old building he bought on Cleveland's town square but couldn't find a restaurateur to open the place he knew the tiny North Georgia community needed. So, despite a lack of any restaurant experience but armed with recipes he'd honed with fraternity brothers and a towed smoker, he did it himself. The result is an always-packed spot, named for his dog Clyde, full of burgers, mac and cheese, wings and deviled eggs.
---
Slutty Vegan
Atlanta and Jonesboro
sluttyveganatl.com
Incredibly, this off-the-rails success story isn't even a year old. Clark Atlanta grad Aisha "Pinky" Cole, raised in Baltimore by a single mom, had already suffered many devastating blows, including a fire to a successful Harlem restaurant she'd started at just 26.
She eventually returned to Atlanta as a casting director, when late one night she found herself hungry with no options for her vegan diet. Thus was born the Slutty Vegan, so popular that people would wait seven and eight hours for her signature plant-based burgers and sides.
At presstime, Cole had signed a lease for her third brick-and-mortar location – as well as an agreement for a reality show and more franchises. Her goal: "To make Slutty Vegan the new fix-it, the new McDonald's, but bigger and better," Cole told The Bitter Southerner.
---
B's Cracklin BBQ
Savannah and (soon, again) Atlanta
bscracklinbbq.com
Chef/owner and Beard Award nominee Bryan Furman has been through this before. His first barbecue restaurant, in Savannah, burned. He rebuilt. Then his smashingly successful Westside Atlanta restaurant also burned this past March, but he's rebuilding again. In the meantime, he opened a counter in the BeltLine Kroger on Ponce de Leon Avenue in October.
---
Canyon Grill
Rising Fawn
canyongrill.com
On a two-lane road winding through the rural northwest Georgia mountains and into the clouds, Canyon Grill never should have worked to begin with. But for 23 years, a dedicated clientele has driven from as far away as Birmingham and Atlanta for their signature specialties: trout amandine, filet mignon and a two-pound "slash-n-burn" Asian-inspired fried catfish.
When original owner Lawton Haygood decided to sell, a buyer emerged from his long-serving staff – Johnny Holland, who'd begun as dishwasher nearly 20 years before. Holland kept the staff, the recipes and nearly everything else, including the restaurant's long-standing policy of allowing customers to bring their own wine, even after once-dry Dade County legalized its sale.
---
Frosty's
St. Simons
facebook.com/frostysgriddleshake
Like several other restaurateurs on this list, the folks behind Frosty's also suffered a fire to their other restaurant on St. Simons, Southern Soul, back in 2010. After rebuilding, the place lands often on lists of the nation's best barbecue, and sometimes at the top of it. Their new restaurant, Frosty's, is a burgers-and-shakes kind of place that has taken over the old Dairy Queen.
---
Manuel's Tavern
Atlanta
manuelstavern.com
Named for founder, patriarch and former DeKalb CEO Manuel Maloof, the iconic bar-and-burger joint survived upswings and downturns since 1956. But faced with an aging building and overwhelming repairs, the Maloof family found a way forward by selling off some of its prime real estate to retail partners and reconfiguring its space, leading some longtime patrons to fear "Disneyfication" of its pleasingly rough-edged environs. But those dedicated patrons are back, basking in the unique atmosphere that somehow survived intact.
---
H&H
Macon
handhsoulfood.com
Best known for feeding the once-starving Allman Brothers and later catering their tours, "Mama Louise" Hudson started the place with her aunt Inez Hill in 1959, but closed after Hill passed away in 2013. The next year, the Moonhanger Group stepped in. Having restored and reopened burger destination The Rookery and other historic buildings, the group reopened H&H, keeping the original recipes and vibes, and putting Hudson on salary. The food alone is worth this restaurant's hallmark status – stop in for classic meat-and-three staples like fried okra and turkey and dressing.
---
Steel Magnolias
Valdosta
steelmagnoliasvaldosta.com
Keira Moritz was an up-and-coming chef at a hot downtown Atlanta Italian restaurant, Pacci. Then the hotel that housed it was sold, the restaurant closed, and the staff was laid off in 2011. Moritz returned home to Valdosta, bought a three-story historic building on the town square and brought her "urban Southern" food to a grateful hometown clientele.
---
The Grey Market
Savannah
thegreymkt.com
It's not as if The Grey or its chef, Mashama Bailey, need more accolades. But anyone who has watched the Netflix episode of The Chef's Table profiling Bailey may also appreciate the hurdles she overcame on the way to groundbreaking, national recognition. Raised in Savannah, she initially turned to her parents' career in social work, but struggled and was eventually fired. She managed to land a life-changing culinary internship in France, then worked under New York City's celebrated chef Gabrielle Hamilton, at Prune, who recommended her to a restaurateur looking to open a new kind of place in a restored downtown Savannah bus station.
The Grey Market, opened this year just a few blocks away from The Grey, is a lunch counter and takeout spot where Bailey offers bagels, sandwiches and cocktails-to-go.
---
Ann's Snack Bar
Atlanta
facebook.com/pages/category/Burger-Restaurant/Anns-Snack-Bar- 156215627758930/
The 2015 death of the formidable owner, "Miss Ann" Price, did not end the story of her legendary Ghetto Burgers, declared by the The Wall Street Journal in 2007 to be "the best burger in America."
Price was nearly as famous for her strict rules as for her freshly made, gigantic burgers, heaped with bacon, chili, her secret sauce and everything else God made good. If you've never made the pilgrimage to the little shack on Memorial Drive, go soon. Her brother and sisters still run the place, using the original recipes, but for years have discussed their intention to close up shop. It's a taste of old-school Atlanta and must be experienced. Take cash and patience.
---
Tips? Comments? Contact Krista Reese at gtcritic@mindspring.com