Gas South is Awarded the Inaugural goBeyondProfit Champion Honor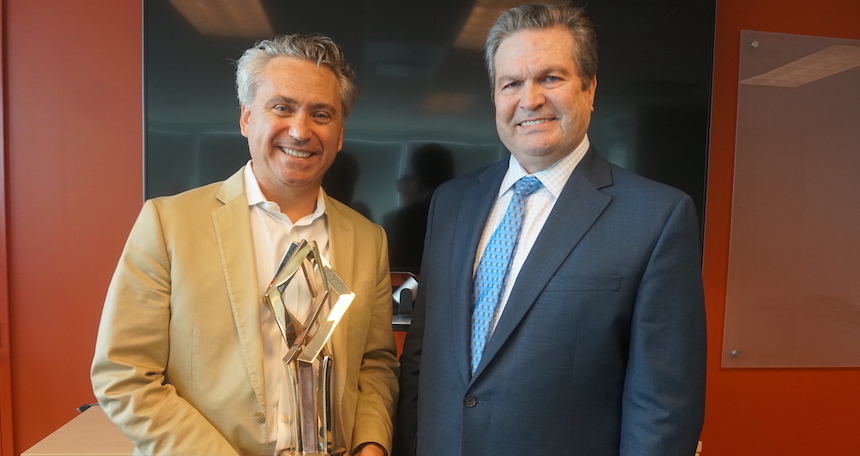 Gas South was honored with the first goBeyondProfit Champion Award.  Gas South was chosen out of nominations of companies who gave of their resources, including time and people to serve the community and give back. The company not only showed these attributes, but encourages a culture in their company of giving back.
Gas South lives up to their tagline, "Be a Fuel for Good." goBeyongProfit founder Rick Jackson explains, "Gas South's journey has been decisive and creative. We hope it's inspiring to businesses of all sizes to embrace an idea, infuse associates with its energy, and empower their employees and customers to live it."
Gas South President and CEO Kevin Greiner, pictured with goBeyond Profit founder Rick Jackson, accepted the honor personally on October 8.
To read a complete profile of the Gas South honor, visit here.  goBeyondProfit was launched by business leaders, for business leaders, as a visible statewide alliance providing peer and expert insights into elevating community engagement for highest business and community impacts. Every Georgia business, from sole proprietors to Fortune 500s, are invited to join the 550+ members of the goBeyondProfit initiative.
Peer nominations currently open for other Georgia businesses and can be accessed here, in the story on Georgia Trend.
Sponsored Post
Do you follow us? Find us on Linkedin, Facebook, Twitter and Instagram.