Check out Georgia's rising stars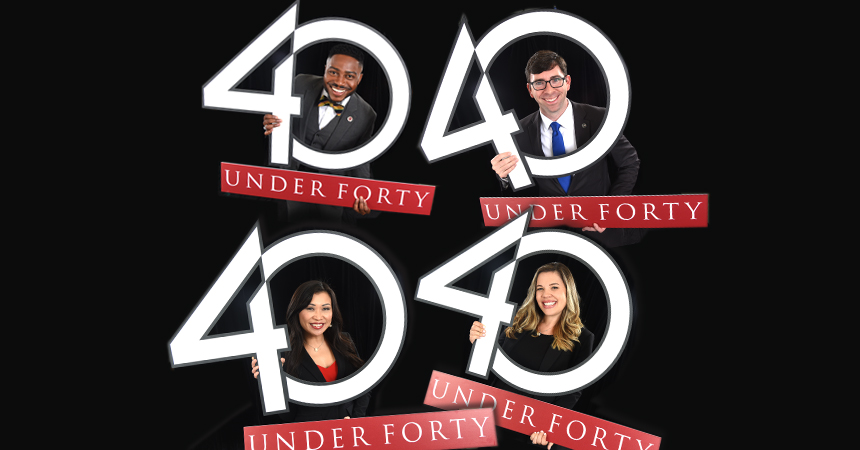 For the 23rdyear, Georgia Trend is featuring the best and brightest stars under the age of 40 in our annual "40 Under 40" listing. The current group of young leaders represents the healthcare, legal and nonprofit sectors as well as large corporations and entrepreneurial startups. Along with their day jobs, they still find time to volunteer and give back to strengthen and grow their communities.
The Georgia Trend staff had the tough task of selecting these 40 individuals from more than 400 nominations sent by readers throughout the state, and we are proud to share their stories.
They will be honored at an awards ceremony on Wednesday, October 30, at the Georgia Aquarium in Atlanta. Presenting sponsors of the event are the Georgia Chamber, Mercer University, WellStar Health System and the Georgia Lottery. AT&T and Thomas & Hutton are gold sponsors. For information about attendance and sponsorship opportunities, contact us today.
Pictured clockwise from top left are Brandon P. Fleming, founder and CEO of the Harvard Diversity Project in Atlanta; Josh Rogers, president and CEO of NewTown Macon; Siobhan Alvarez, executive director of the Atlanta Autism Consortium; and Cecilia Arango, marketing manager for Thomas & Hutton in Savannah. Photos by Jennifer Stalcup and design by Penny Alligood.
Do you follow us? Find us on Linkedin, Facebook, Twitter and Instagram.