North Fulton County
Transportation, placemaking and more residences.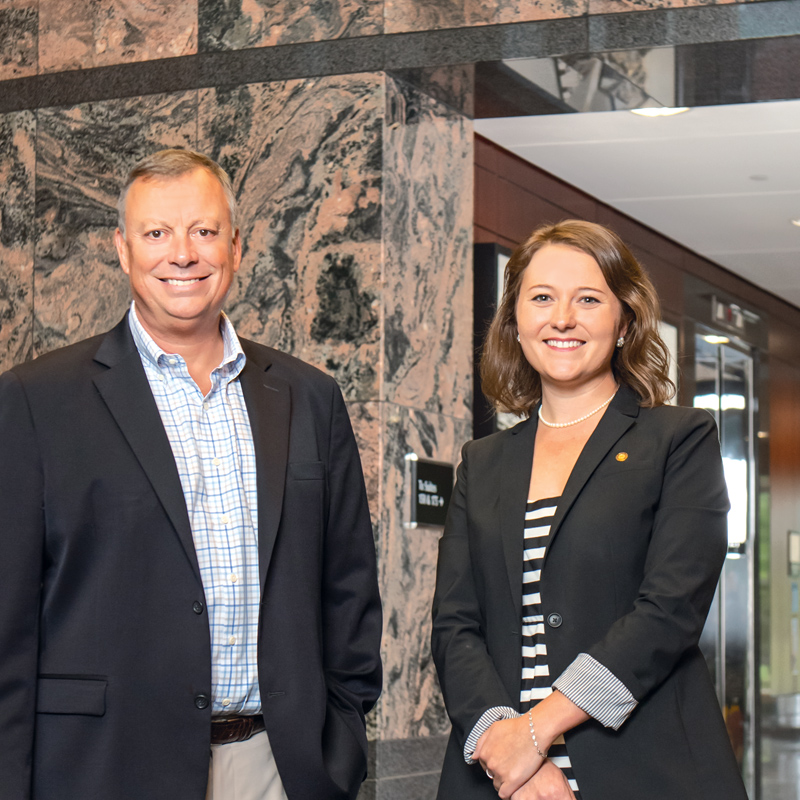 Premier investments in technology, healthcare and financial services are continuing to fuel growth in the cities of North Fulton County – Alpharetta, Johns Creek, Milton and Roswell. And city leaders are carefully balancing growth and development with residents' need for community identity and connectedness. However, transportation and its impact on quality of life continues to be top of mind as the driver of future success.
"The key to the success in this community is maintaining the workforce pipeline and everything that goes with it – like transportation and trying to reduce traffic, both of which add to quality of life," says Kali Boatright, president and CEO of the Greater North Fulton Chamber of Commerce.
Fortunately, solutions aren't just on the drawing board, they're on the way. Between major transit-transportation projects, myriad city Transportation Special Purpose Local Option Sales Tax (T-SPLOST) projects and nifty new technology infrastructure, North Fulton residents will soon experience much-needed relief from traffic pressure. But they'll have to make adjustments, too, including a wider embrace of transit options.
"If we could've pushed the 'EASY button' we would've a long time ago," says Milton's Mayor Joe Lockwood. "I think the transportation solution will be a combination of infrastructure improvements and lifestyle – ridesharing services, telecommuting and bus rapid transit (BRT). You have to improve on infrastructure but also the way people live."
---
Teaming Up for Transit
Transportation projects generating the most buzz in North Fulton are the creation of two dedicated express lanes – both northbound and southbound – from the North Springs MARTA Station to McFarland Parkway, and BRT. It's important to note that because BRT would use the express lanes (and require building stations along the route) Georgia's Department of Transportation (GDOT) and MARTA are partnering on BRT.
"In the past, MARTA's worked on its project and GDOT worked on its project," says Freda Hardage, chair of MARTA's board of commissioners. "This time they're working together – very hard and successfully – to make it blend, not spending money on the same thing."
Officially dubbed the SR 400 Express Lane project, the lanes will feature dynamic-pricing tolls that rise and fall with demand, and demand is expected to be high. Riders in transit vehicles, like BRT, and registered vanpoolers will use the lanes without added fees. Construction on the north and south express lanes will begin in 2021 and should be completed by 2024.
"Even if you don't use the lanes, your commute will speed up," says State Sen. Brandon Beach, executive director of the North Fulton Community Improvement District (CID). "These are not reversible lanes because there is no reverse commute to North Atlanta. There's as much traffic going up to North Atlanta as there is coming out of the region both in the morning and the evening." Alpharetta office parks alone draw an additional 50,000 to 60,000 people each day.
The North Fulton BRT plan is a first for Georgia. The route stretches 12 miles on Ga. 400 from the North Springs MARTA Station with stops at yet-to-be-built stations at Holcomb Bridge Road, North Point Mall, Old Milton Parkway and Windward Parkway. "The BRT makes minimal stops," says Hardage. "Other than its wheels, you really won't notice a difference between that and a train."
Beach is equally enthusiastic about the technology infrastructure to support the improvements. "That infrastructure is vital to the growth of the transportation corridor in the region as well, especially as we compete with places like Austin, Texas, or Charlotte, North Carolina," he says. "We need to make sure Atlanta has cutting-edge, 21st-century infrastructure."
Beach uses the example of signal pre-emption – enabling public safety vehicles to change traffic signals from red to green when responding to an emergency – as an example, but the idea is to equip transit vehicles – buses – with the same smart technology, creating a connected transportation corridor.
"If you're going to take an express bus from North Fulton to the 191 building in downtown Atlanta, we want you to get there as quickly as possible," he says. "With this technology, you'll get on that bus and get where you're going 20 minutes faster. I think that's a key to encouraging people to take transit – helping them see the benefit."
---
Relieving the Pressure
Smaller projects funded by a T-SPLOST approved by Fulton County voters in 2016 are making a difference, too. "We're working on just about every major east-west corridor in the city," says Jim Gilvin, the mayor of Alpharetta. "We anticipate $60 million over the five years of the T-SPLOST." Current projects in Alpharetta include increasing capacity on McGinnis Ferry, Haynes Bridge and Kimball Bridge roads.
Roswell Mayor Lori Henry also credits the T-SPLOST with allowing the city to undertake major road projects that would otherwise be out of reach. The city is tackling construction of the Big Creek Parkway Bridge over Ga. 400.
"It won't have any ramps, so it's just for local traffic to be able to get over 400, which is a physical barrier for us when we're traveling east to west," she says. The city and GDOT are working together to make some improvements to the bridge at Holcomb Bridge Road, too, as part of the express lane project.
Johns Creek is a 'tweener' community, says Mayor Mike Bodker. "We're nestled between I-85 and Ga. 400, which allows us to be the wonderful community we are," he says. "It also means it's much more difficult to get around." Faced with serious gridlock, Bodker and the city council are fighting the battle of road widening.
It's a tough battle, he says, because they don't want to lose their residential character (Johns Creek is roughly 81 percent residential to 19 percent commercial in land use), but there are ways to widen a road and maintain character.
Bodker says they want to include some characteristics of complete streets – plantings and materials to aid with sound and light abatement, beautifying the center median, and dealing with non-vehicular transportation by possibly adding bike lanes, 10-foot sidewalks for trails or five-foot sidewalks on both sides of the street. "We've done four roundabouts, but they have a big footprint," he says. "It's all a balancing act."
---
Defining Character
Placemaking – a multi-pronged approach to planning, designing and managing public spaces – has become 'a thing' in community development, but for some cities, placemaking comes naturally. "We already have a city center and have had one for 150 years," says Roswell's Henry. "For us, the challenge was how do you create those destination places throughout the city."
She's referring to Roswell's historic district and collection of antebellum homes and popular Canton Street – a walkable district of restaurants, galleries and shops located downtown. For the city's next act, here comes Southern Post – a $100-million mixed-use redevelopment within walking distance of City Hall.
The project, going into the former Roswell Plaza property on Hwy. 9, will include 125 apartments and 17 townhomes. "It's really key because it adds a retail component while taking out an old shopping center and adds about 65,000 square feet of Class-A office," says Steve Stroud, executive director of Roswell Inc., the public-private economic development and business advocate for the city. "Roswell runs at about 94 percent occupancy, so we desperately need it."
Stroud hopes more office space makes way for more startups, maybe even coworking space. "Coworking has been on my radar for the last five years," he says "It's exactly what we want in an entrepreneurial city like ours."
Meanwhile, a mixed-use development at North Point Mall in Alpharetta is taking off. "The plan has evolved into something that will completely reenergize that area," says Gilvin. "North Point Mall is a big piece of what happens in that part of Alpharetta, but it's not alone; there's a whole commercial corridor around it."
Brookfield Properties, the mall's owner, is tearing down the old Sears building, tearing up concrete and asphalt parking lots and putting in public greenspaces, an activated fountain, freestanding restaurants and retail, and 300 apartments. The project will also tie into the nearby trail system and Big Creek Greenway. Gilvin says they're planning to begin demolition early next year.
"In addition to the mall project, the city council also approved a residential component on the approach road to the mall, which will hopefully provide some more affordable housing in Alpharetta," Gilvin says.
Having purchased and renovated an existing office building in February 2017, Johns Creek's city government officially moved into its new 92,000-square-foot City Hall and Public Safety Complex in March of this year. The city plans to build a linear park adjacent to the municipal complex that will eventually become the municipality's town center.
A feasibility study undertaken in the last year by the Cultural Arts Alliance of Johns Creek (CAAJC) to determine the interest in and financial backing for a performing arts center determined that interest was high. The CAAJC is moving forward with fundraising. Bodker expects the performing arts center would locate in the yet-to-be-developed town center.
The city of Milton broke ground on a new public safety complex in mid-July – a 25,000-square-foot police department and municipal court and a 14,000-square-foot fire station. Construction should be complete by fall 2020 and is located in Milton's Deerfield development node.
"Choosing Deerfield was strategic," says Lockwood. "It's a key location on the east side of Highway 9. The area is 5 percent of our land mass and home to 45 to 50 percent of our population, so there's a lot of density there."
There's roughly 200 acres of developable land in Deerfield, and Sarah LaDart, Milton's economic development manager, says the city has engaged RKG Associates, a consulting group from Alexandria, Va., to conduct the city's first economic development and marketing study of the area.
"The purpose is to tell us what we're good at, who we need to be attracting, what the potential of that area is," she says. "We should have that study back in the next few months. Milton is turning 13. We're a teenager. We can no longer say 'we're a new city, we don't know.' It's time for us to know and to be actively recruiting companies."
Companies and residents locating in North Fulton like its regional nature. "You don't know when you've passed from one city into another," says the chamber's Boatright. "And when you've got businesses located here and their leaders living up here, it makes a big difference because they're invested. It creates successful communities."
---
Local Flavor
Representation Matters
A simple conversation between Roswell Mayor Lori Henry and Sabin Strickland, pastor of historic Pleasant Hill Missionary Baptist Church, has become a community-wide restoration project with a mission to tell the whole history of Roswell.
They were looking at a display of photos in one of the city's historic antebellum homes, recalls the mayor. "Pastor Strickland said, 'that's my mother, this is my aunt,'" Henry says. "Then he said, 'You know, we don't have any grand homes like this to preserve, but we have a rich history.' Then he told me about Doc's Café."
Doc's Café was a restaurant started in the early 1950s on Oxbo Road, and it was the only café in Roswell where African Americans could freely gather during the dangerous days of segregation. The café had a lunch counter, tables and a jukebox. There was an outdoor cooking area, and it was famous for serving Cokes and "splits."
"My mom tells me they sold those red-hot links, cooked and split down the middle, then served on a bun or most likely on plain white bread," says Strickland. "There were apartments, razed now, that sat across the street from Doc's Café so you can imagine the back and forth."
Doc's Café, located in a house, was still standing at 20 Oxbo Road earlier this year as the street was preparing to be realigned, part of a T-SPLOST project. The mayor found out the contractor had sold the house and went into action. The city purchased the house, moving it to a safe location until it can be restored and placed as part of the city's historic homes.
There are plans to save at least one more home in the future. Strickland's mother lives in the first schoolhouse built for African-American children in Roswell. "These were probably the children of slaves based on photos," he says. "It's hard for us to know or reconcile the time, but by virtue of dress and what you see, you can make some conclusions."
Strickland's family has lived in Roswell for generations, helping to found both the church he now pastors and another historic church in the area, Zion Missionary Baptist Church.
"As we went through the tour of Barrington Hall, listening to the guide and the history shared, which I'm not taking anything away from, what was certainly missing was the story behind the Barrington gardens," he says. "They were designed, but they would leave out the slaves that had to work those gardens and put those gardens together. We miss the whole idea of black presence. You get this idea there was no black presence in Roswell, and obviously that's not true." – Patty Rasmussen