A Study in Contrast
Georgia has some of the most advanced OB-GYN centers anywhere but still leads the country in maternal mortality.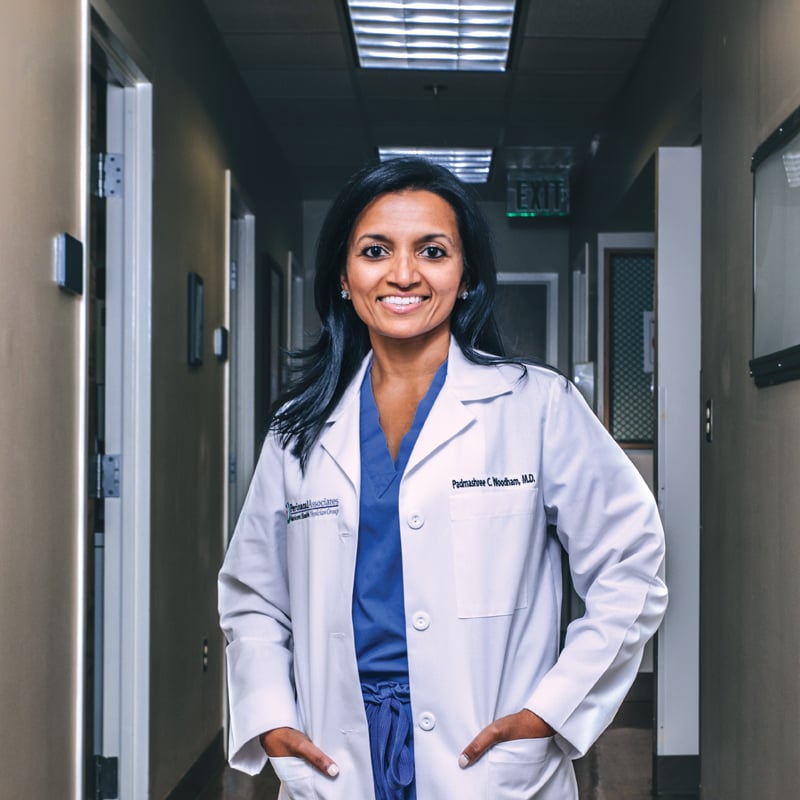 In an Albany clinic, Elois Edge, an experienced midwife, sees a woman in her 31st week of pregnancy who has had no previous prenatal care and begins the process of trying to catch her up.
In a Macon hospital, Dr. Padmashree "Champa" Woodham, an OB-GYN surgeon specializing in maternal-fetal medicine, performs specialized surgeries such as shunt procedures on babies still in the womb to relieve pressure from fluid collecting around the lungs or in the kidneys, so pregnancies can progress. She also performs a highly specialized surgery, not widely done, called an EXIT procedure (short for ex utero intrapartum therapy) in concert with other surgeons and physicians – on babies with airway obstructions or those for whom breathing difficulties are anticipated. This is done just before the baby is born.
"We partially deliver the baby," says Woodham, "but keep the placenta circulation intact, so we don't cut the cord. This allows doctors and surgeons to stabilize the airway before we deliver the baby – it buys us time to get the baby intubated. It's like a partial C-section. We establish an airway, then deliver the baby."
Edge sees patients at Albany Area Primary Health Care's Mirian Worthy Women's Health Center; high-risk pregnancies are common among the largely African-American population the facility serves. Woodham is director of maternal-fetal medicine at the Medical Center, Navicent Health in Macon, one of Georgia's six regional perinatal centers. Some of the surgeries done there are not available anywhere else in the state.
Hospitals and stand-alone facilities have long recognized the need to offer services specifically tailored to women, especially maternity care. Women's health centers in Georgia range from small clinics offering basic services – pregnancy testing, treatment for acute or chronic conditions, mammography or other screenings – to sophisticated hospital-affiliated centers with a full range of gynecological, obstetrical and newborn care.
Eighty-one of Georgia's approximately 170 hospitals deliver babies, according to the Georgia Hospital Association. Some offer basic care for healthy moms; others have more specialized care and are staffed to handle more difficult pregnancies and births.
The state's regional perinatal centers have full teams of maternal-fetal doctors as well as cardiologists, neonatologists and neurologists and other specialists and the ability to mange complex maternal and infant conditions to care for the highest-risk patients. These are located at hospitals in Atlanta (Grady), Columbus (Piedmont Columbus Regional, formerly Midtown), Augusta (University Medical Center), Savannah (Memorial University Medical Center) and Albany (Phoebe Putney) as well as Macon (Navicent).
Georgia also has freestanding birth centers, typically staffed by midwives, for low-risk patients.
The extremes of Georgia's maternal health picture are striking, and the disparities troubling. More than half of Georgia's 159 counties have no OB-GYNs. State-of-the-art women's centers, typically in metro areas, offer exceptional care but co-exist with regions of little-to-no care.
Take East Central Georgia, where there is a significant lack of obstetrical care outside of Metro Augusta: "It kind of looks like half of a donut," says Dr. Chadburn Ray, interim chief of the OB-GYN section at Augusta University's Medical College of Georgia and president of the Georgia Obstetrical and Gynecological Society (Georgia OBGyn), "where the center of the donut, the hole, has high-quality care and good access – really Richmond and Columbia counties. Outside of that it becomes a bit of a maternal healthcare desert."
---
The Numbers
Despite a cadre of dedicated healthcare providers and top-tier facilities, Georgia has more maternal deaths than any other state; black women are 3.3 times more likely to die than white women.
A Georgia Department of Public Health (DPH) report, from the state's Maternal Mortality Review Committee, shows 64 maternal deaths – defined as occurring up to one year postpartum – for every 100,000 live births for 2012-2014, the latest figures available, and says a stunning 60 percent of maternal deaths were preventable.
The leading causes of preventable maternal deaths in Georgia are cardiomyopathy, cardiovascular and coronary conditions, hemorrhage, embolism, preeclampsia and eclampsia, and amniotic fluid embolism. Or, as one researcher puts it, "hypertension and hemorrhage," noting that high blood pressure is a common factor.
Maternal deaths are a national problem as well: Some 700 women die from pregnancy-related complications each year in the country, according to the Centers for Disease Control and Prevention (CDC). The American College of Obstetricians and Gynecologists (ACOG) says more women die in the U.S. of such complications than in any other developed country. But Georgia's numbers are the worst.
House Speaker David Ralston has appointed members of a new House Study Committee on Maternal Mortality, which will present recommendations for the 2020 legislative session. Reps. Mark Newton (R-Augusta) and Sharon Cooper (R-Marietta) are co-chairs. Ray is a citizen member of the committee, as is Emory's Dr. Jane Ellis.
The DPH is in the process of establishing criteria for levels of maternal and neonatal care in response to a measure passed by the General Assembly in 2018.
---
The Whys
If you are looking for reasons for Georgia's maternal death numbers, the urban/rural divide comes into play; so do poverty, access, education, economics and health inequities – the factors often overlapping and intertwining. Even the way such deaths are counted and recorded may be a factor; not all states use the same methodology.
A report last year from the Yale Global Health Justice Partnership identifies Georgia's initial decision not to expand Medicaid coverage under the Affordable Care Act as a barrier to many low-income women's ability to access prenatal and post-partum care (although a number of poor women in the state do have access to Medicaid).
Georgia's healthcare professionals have insights based on their own work – many relating to pre-existing health conditions and access to care.
"There is no one contributing factor," says Trish Witcher, clinical outcomes manager for women's services at Atlanta's Northside Hospital, which delivers more babies than any other single hospital in the country. "Georgia's higher rate of maternal mortality is multi-factoral.
"We're seeing obstetrical causes like hemorrhage or amniotic fluid embolism and seeing non-obstetrical causes – like other medical conditions. Cardiac conditions are the leading causes of death we're now seeing. We know there's a higher proportion of pregnancy-related death among women after the age of 35; if women are delaying pregnancy until after 35, that's going to increase the pregnancy-related death rate."
"It's quite common in my practice to see women with late prenatal care or no prenatal care," says Navicent Health's Woodham. "No access or poor access to care," she says, often relating to "some other factor in their life that causes them not to be able to get care."
Albany's Edge, with 40 years of experience – first as a maternity nurse, now a midwife – points to chronic health conditions among the poor population and difficulty in accessing care as key. "The driving force is low income, social issues, substance abuse, a long history of health inequity as far as chronic hypertension, diabetes, end-stage renal disease, sickle cell."
Although the patient she saw at 31 weeks who had not had prenatal care is not typical, her plight does underscore difficulties many face. "So many hospitals have closed, so they don't have access to care," Edge says. "In the '70s, '80s and '90s, there were hospitals in Sylvester, Camilla, Cuthbert. Guess what? There are no hospitals there anymore."
In Augusta, Ray cites hospital closures in surrounding counties and one hospital's decision to stop delivering babies. "That makes it difficult for individuals in those counties," Ray says. "When a hospital no longer has obstetrical services, the providers will almost certainly leave."
Access to overall healthcare is critical as well, he says, "even just regular routine [care] from a primary healthcare provider – that's certainly going to impact the rate of maternal mortality and morbidity in an area," he says. "If you enter pregnancy and you already have some underlying cardiovascular disease or you are morbidly obese or are in poor health to begin with, pregnancy is not going to make you better.
At some point, all this begs the question, "Why Georgia?" Other states have high poverty rates, large expanses of rural areas and problems with access. Why are Georgia's numbers so bad?
Diane Durrence, director of women's health for the Georgia DPH, says many of the people involved in the data collection and review wonder about that as well. She believes additional research and review may provide some answers. "As we focus our review process further into more individual demographic information, [we hope to] learn more about what kind of individual lifestyle circumstances may play a part, including lack of resources. We want to look closer."
But the undeniable fact is that Georgia has a severe problem, one in sharp contrast to some of the advances the state claims.
---
Perinatal Care
Atlanta's Northside offers a full range of pregnancy, birth and post-delivery services, including, Witcher says, "maternal-fetal specialists who provide consultation throughout pregnancy and postpartum to help guide medically complicated pregnancies."
Northside was the first hospital in the Southeast to open a women's center, in 1999. The hospital had offered a full range of women's services before then, but the women's center brought them all under one roof. Now, in response to the increase in heart conditions in pregnant women, Witcher says, "we have an in-house Maternal Heart Health Clinic that accepts referrals from OB providers for women who have had pregnancy-induced hypertension [now called preeclampsia] who are at risk for cardiac disease later in life." The center offers comprehensive services of cardiologists, nurse practitioners, exercise physiologists and nutritionists who work with maternal-fetal specialists and obstetricians.
Navicent's Woodham says there are both maternal causes and fetal causes for the high-risk pregnancies she sees and the patients she treats.
"The maternal cause would be a chronic medical condition – diabetes, hypertension, cancer, any other risk the mother had coming into pregnancy or that formed during pregnancy – like preeclampsia or gestational diabetes."
In terms of fetal causes, "If the baby has a genetic disorder, such as a birth defect, that could be affected by the family history. Some babies have issues with growth – they can be growth resistant – or it could relate to something longer term, a condition of the mom or a weak placenta, infection, exposure [to something] during pregnancy, drug use, smoking. A whole list of things maternal or fetal could cause a general OB-GYN to send a patient to someone like me."
---
Solutions
The overarching question for anyone concerned about maternal and fetal health and Georgia's dismal ranking is what can be done?
"We're working on all these different fronts," Augusta University's Ray says. "Every little bit matters – from tracking deaths to establishing maternal levels of care, to having the patient delivering in the hospital where they should be delivering, where the resources are. It matters where you deliver when you have a sick mom or a sick baby."
The DPH maternal death report makes recommendations relating to education, including the use of informational "patient safety bundles," prepared with the Georgia Perinatal Quality Collaborative; these outline procedures and practices for dealing with hypertension and hemorrhaging. They are designed for use in places like hospital ERs that do not do deliveries, to help the practitioners recognize and respond to signs of pregnancy complications.
Significantly, the report stresses the need to ensure resources for "long-acting reversible contraceptives" such as IUDs and other methods of birth control, which tracks recommendations from ACOG and the Georgia OBGyn Society.
Planned Parenthood, with four clinics in Georgia (Atlanta, Marietta, Lawrenceville and Savannah), has long been a resource for women seeking contraceptive information and other services – including abortions, which Georgia hospitals do not provide.
Staci Fox, president and CEO of Atlanta-based Planned Parenthood Southeast, says the extent of healthcare services the nonprofit offers is not generally known and includes screening for cancer and treatment of urinary tract infections and sexually transmitted diseases. For some patients, Planned Parenthood provides the only care they receive.
But contraception is central to its offerings. "When we're talking about trying to reduce unintended pregnancy and address maternal health, quick access to contraceptives is really key," Fox says. "You can walk into a Planned Parenthood [clinic] any day and get counseling and get on the method of your choice that day."
---
The Providers
Despite the problems of maternal health in Georgia, it is hard not to be struck by the passion healthcare practitioners bring to their calling, the pride they take in what they do, and their determination to make things better.
Northside's Witcher says the increase of pre-existing medical conditions among pregnant women places more responsibility on hospitals to offer cohesive healthcare. "At the institutional level, we are seeing more complications and optimizing the care of women with more health problems – this trend of pre-existing conditions and later pregnancies means more complicated pregnancies."
Dr. Francis Kwarteng, an OB-GYN at Albany Area Primary Health Care, values the opportunity to serve a rural poor population. "We educate and counsel [patients]," he says. "We promote prevention and health maintenance, and we work to help reduce racial and ethnic barriers to healthcare. Our open-door policy means many patients who do not have insurance are able to be seen early."
"We have a commitment to provide care to as many women as possible," Augusta University's Ray says, "especially those who have limited means. A lot of times they come to us late in the game. We want to help with the overall health of these women, not just the maternal health."