Mobile concussion care comes to Gwinnett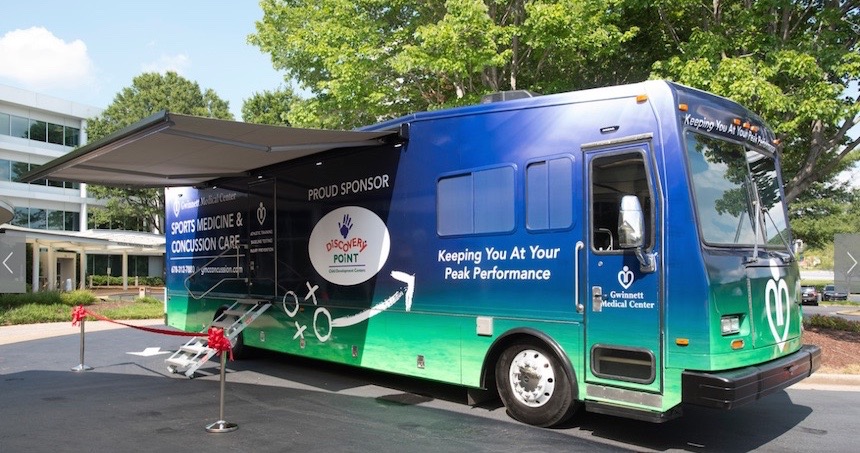 With the start of football season, parents' thoughts often turn to injuries and the possibility of concussions. Gwinnett Medical Center is addressing these concerns with its Sports Medicine and Concussion Care-A-Van. This state-of-the-art mobile concussion care unit is equipped with the latest technology and will be traveling to sports and family events, parks, festivals and childcare centers to provide baseline concussion testing that will aid in the proper diagnosis and treatment of head injuries.
In addition, the Care-A-Van will educate families about concussion symptoms and signs, prevention, treatment locations and when it's safe to return to normal activities. The goal is to help reduce the long-term effects of concussions.
The RV-sized vehicle houses 10 to 12 baseline testing stations for concussions that may have occurred in athletes from ages five to 59. It also has a specially designed treatment room. Discovery Point Child Development Centers provided funding for the Concussion Care-A-Van.
The van's fall schedule of stops includes:
09/06: Centennial High School
09/20: Central Gwinnett High School
09/27: Duluth Fall Festival
10/18: Providence Christian Academy
10/25: Duluth High School
11/08: Norcross High School
Learn about more innovations happening in Gwinnett County in this month's feature, "A Beautiful Mosaic."
Photo of the Care-A-Van courtesy of Discovery Point Child Development Centers and Gwinnett Medical Center.
Do you follow us? Find us on Linkedin, Facebook, Twitter and Instagram.