Georgia Fare: Forever Young Harris
The inventive Restaurant Lorene keeps this North Georgia college town eager to see what comes out of its kitchen next.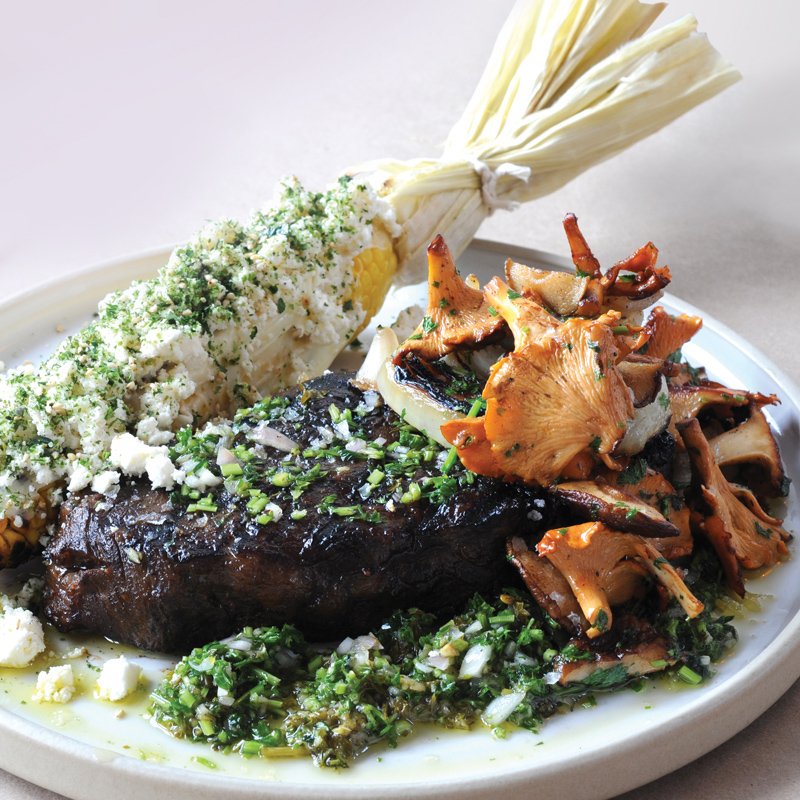 We arrived with nerves still jangling. On a second visit, our GPS system had sent us from Atlanta to the charming mountain college town of Young Harris over (we later learned) Blood Mountain.
It was a gorgeous Saturday, and daredevil motorcyclists and, perhaps, former stock car racers took crazy chances on the narrow hairpins, often zooming by with inches to spare. One young motorcyclist blithely rode down the twisty curves toward us, with harrowing views of the steep mountainside below, with no hands.
When we took our seats for an early dinner in Restaurant Lorene, a tiny 32-seat restaurant across from the Young Harris College campus, my nerve endings were tautly stretched and aching for some calm. So I asked to be moved to a more quiet spot in the dining room, away from the sound system and talk radio coming from the kitchen.
"No problem," said our waiter, co-owner Keri Benoit, happily jostling reservations on what ended up being a capacity evening.
Ahhh. That made all the difference. Soon after, I was icing down those abraded nerve endings with an expertly made Negroni and checking out the menu in cool quiet.
Restaurant Lorene's small staff boasts a wealth of experience. Keri and her husband and co-owner/beverage manager Cory Benoit met while working at a Boston restaurant. Chef Doug Rouen and Cory met while working at One-Eared Stag, one of Atlanta's best and most creative restaurants. Rouen had also worked in New York and New Orleans before being lured to the mountains with the Benoits.
What attracted them all was the opportunity to create a seasonal, farm-to-table restaurant in the Appalachian foothills. Some restaurants pride themselves on remaking almost any dish to make a customer happy, but there also ought to be room for a small-staffed restaurant like this one, with a clear view of what they want to do.
The menu changes often but takes full advantage of time and place. In early summer, that meant a gorgeous salad of local, purple-tinged Cherokee, pink and yellow tomatoes and grilled peaches, with fresh basil and a bit of balsamic, garnished with (edible) orange nasturtium blossoms and its parasol-like leaves. Heaven, or maybe an oil painting, on a plate.
I can't decide whether that, or the oasis-like bowl of lightly dressed cubed watermelon with feta and cucumber, represents the season better. Then menu also includes classics with a twist. The wedge salad's iceberg chunk with bacon, purple onion and blue cheese sits on a base slice of marinated green tomato.
As the dining rooms filled with a combination of Young Harris faculty, local professionals, retirees and weekenders, the restaurant's strategy seemed to be paying off. There was almost palpable gratitude from diners who'd come for the vegan "healthy grain and vegetables bowl" – wheatberries and sautéed zucchini, thinly shaved cucumber and radish, halved grape tomatoes, with arugula, green salsa and sesame seeds. Regulars seemed to delight in parsing out menu descriptions aloud and weighing which dish they'd go for tonight.
In two visits, we didn't have one dish we wouldn't order again, but like those regulars, we wanted to see what would come out of the kitchen next. The highlights: New York strip steak with mushrooms and onions, with a pool of chimichurri (finely chopped herbs, garlic and oil). On the side, grilled Mexican street-style corn, drenched with aioli, heaped with cotija cheese and flecked with fresh herbs and furikake (Japanese rice seasoning), a messy challenge that's worth the bother. Pan-fried mountain trout in an unctuous, spicy kimchi butter, with sautéed green beans and sliced almonds, along with the crawfish étouffée, hit the right balance of heat and sweet.
Dessert standouts included the owner's grandmother's pound cake recipe with strawberries and whipped cream – but if you're not driving back over the twisty roads, ask for a sugar-rimmed, brandy-based Sidecar instead. It's the only kind of open-air vehicle I'd recommend in these hills.
Open since February 2018, Restaurant Lorene draws its enthusiastic crowd of regulars with cutting-edge entrees, but also crowd-pleasing features such as Taco Tuesday. The Benoits say it regularly sells out – "We turned away 40 people one night," says Cory, serving 120 in their dining room, bar and 15-seat patio – with seven tacos, including their signature fried mahi mahi with kimchee slaw, and Vietnamese al pastor with pineapple salsa, paired with margaritas from hand-squeezed limes.
Another fan favorite, fried chicken, will be served for lunch from the restaurant's food truck in the adjacent parking lot. The crazily involved chicken recipe: brined 12 hours, then placed in a sous vide in pickle juice and hot sauce, followed by a 12-hour buttermilk soak before being dredged and fried.
Heck, I'd drive back over Blood Mountain for that.
---
Restaurant Lorene
1149 Main St., Young Harris
762.349.1699 or facebook.com/restaurantLorene
Hours: Dinner, Tuesdays-Saturdays, Lunch from the food truck, 11:30 a.m.-2 p.m. Tuesdays-Saturdays
Parking: Plentiful in front and adjacent lots (Note: The Benoits suggest an easier route from Atlanta – via I-575N and GA 515N through Canton and Jasper, and US-76E to Young Harris)
Dress Code: Regulars are surprisingly soigné – dressy for a little moutain restaurant (but anything goes)
---
Prefer Beach over Mountains?
Check out these recent additions to the Golden Isles.
---
Frosty's Griddle & Shake
St. Simons
New from the beloved Southern Soul Barbeque folks, this Southern-tinged burger-and-soft-serve outpost has taken up residence in the former Dairy Queen not far from the village.
facebook.com/pg/frostysgriddleshake
---
Reid's Apothecary
Brunswick
An ambitious, round-the-world menu (kalbi ribs, jerk shrimp, even Filipino duck lumpia, along with sliders and pimento cheese) and cocktails brings a hipster vibe to this sleepy port downtown. There is even a speakeasy, The Study.
---
Sea Salt Healthy Kitchen
St. Simons
The emphasis at this breakfast-and-lunch spot is good-for-you ingredients: The eggs are cage-free, the oil is olive, and there are several vegan, veggie, whole-grain, gluten-free and keto-friendly options, along with hearty bacon-and-egg English muffins and a chipotle steak wrap.