Support for tech students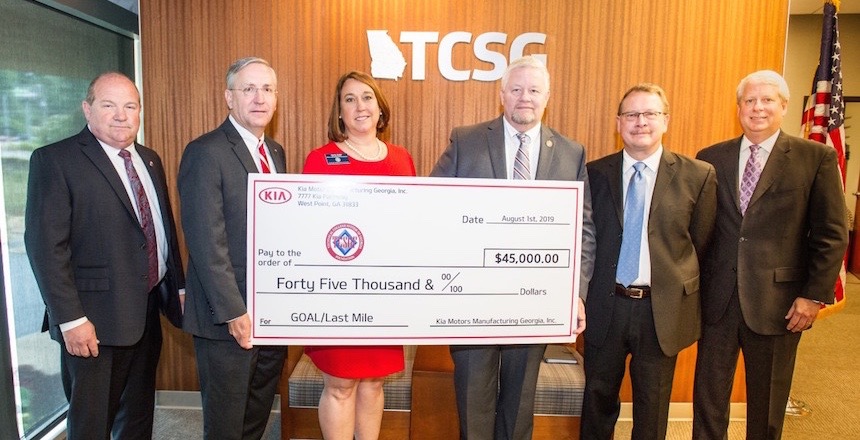 The Technical College System of Georgia (TCSG) Foundation recently received a $45,000 donation from West Point-based Kia Motors Manufacturing Georgia (KMMG) to support students in the state's technical colleges.
A portion of the donation will be applied to TCSG's Last Mile Fund, which provides support to students who would otherwise not be able to continue their education because of financial barriers. In addition, part of the donation will fund the Georgia Occupational Award for Leadership (GOAL) program, which recognizes college students' outstanding personal achievements and excellence in technical education. One student from each of Georgia's 22 technical colleges is selected for the recognition and they serve as statewide ambassadors for TCSG.
TCSG is Georgia's top resource for skilled workers, offering 600 associate degree, diploma and certificate programs, and partnering with companies through Quick Start, the nation's leading workforce training program.
KMMG is North America's first manufacturing site for Kia Motors Corp., which is based in Seoul, Korea. The facility began producing automobiles in West Point ten years ago.
Photo from left: Rick Douglas, KMMG senior manager and TCSG Foundation board member; Stuart Countess, KMMG senior vice president & chief operations officer; Juli Fields, executive director, TCSG Foundation; Matt Arthur, TCSG commissioner; Chris Miller, KMMG vice president & chief administrative officer; Doug Carter, TCSG State Board vice chair
Photo provided by TCSG
Do you follow us? Find us on Linkedin, Facebook, Twitter and Instagram.