FinTech Mecca
Georgia has become a major hub for innovative financial technology companies.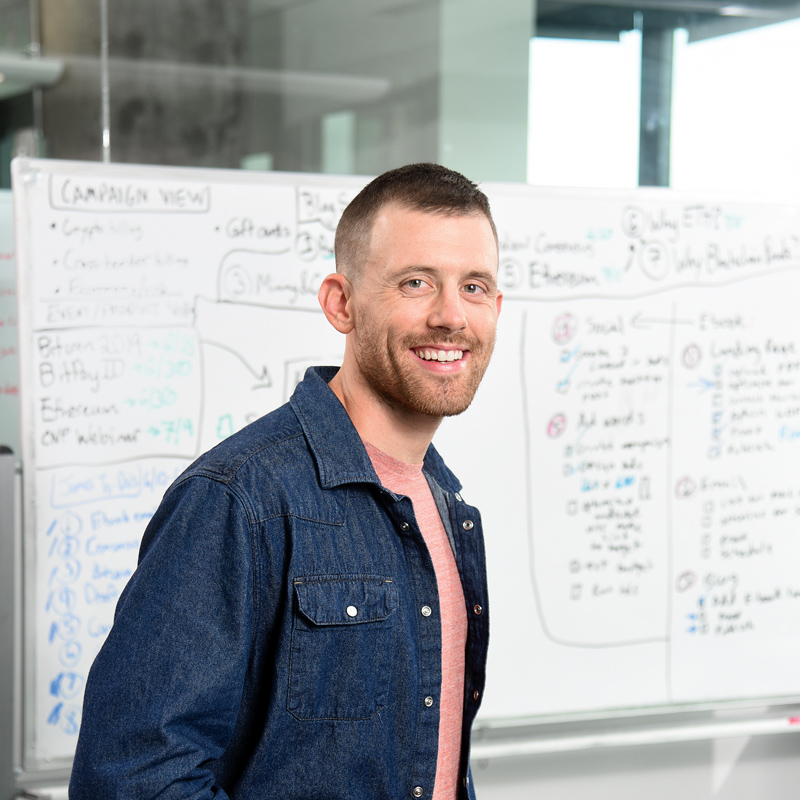 Most of us never think about the technology – called FinTech – that enables us to conduct everyday financial transactions. We insert a credit card at the grocery store and later check our cash-back balance, buy a prepaid gift card for a birthday, have tolls automatically deducted from our Peach Pass account when we drive in Metro Atlanta's express lanes, order products or services and pay our bills online. Despite its invisibility to consumers, FinTech is a huge and growing industry that helps businesses of all sizes – from banks to craft breweries – receive payments from financial transactions efficiently and seamlessly.
Over the past few decades, Georgia has become a FinTech leader, with more than 120 companies here processing about two-thirds of all U.S. payments and creating innovative technologies for the increasingly digital financial world.
"Seventy percent of all debit, credit and rewards card transactions are processed through Georgia, mainly through greater Atlanta and Columbus," says Larry Williams, president and CEO of the Technology Association of Georgia (TAG). "We dominate here for a variety of reasons."
The first, he says, is the FinTech industry's deep, rich history in the state. "Companies used to send checks to Atlanta, and we'd process them there. As we moved into the digital age of transaction processing, we were at the forefront of the game. Companies that have grown up here have kept us at the forefront," he explains.
These companies include Atlanta-based Equifax, which has had roots in Georgia since 1899; TSYS, based in Columbus and owned by financial services company Synovus until 2007 when it was spun off; CheckFree, a Norcross pioneer in online banking and bill payment since 1996 that was acquired by Alpharetta's Fiserv in 2007; and information technology giant National Data Corp., which began operations in Atlanta in 1967 and created the Global Payments business in 2000. (In May, Global Payments and TSYS announced plans to merge.)
Williams says the state also has the FinTech industry's "most relevant talent base" of more than 38,000 workers, which has helped drive innovation in the evolution from paper checks to digital payments. In addition, he says the presence of FinTech accelerators and startup incubators, like the Advanced Technology Development Center (ATDC) at Georgia Tech, are fueling innovation and industry growth here.
FinTech companies benefit from partnerships with state and regional economic development and workforce development agencies that value the economic impact of "Transaction Alley," as Metro Atlanta is often called. Georgia's broader benefits, such as a relatively low cost of living, access to the world's busiest airport – Hartsfield-Jackson Atlanta International – and quality of life also contribute to attracting FinTech companies.
---
The Brass Ring
"The brass ring [for the FinTech industry] is what's referred to as frictionless payments," says Williams. "Being able to tap rather than swipe a card, being able to keep your data on file, those are things that lead to a faster, better user experience in the transaction." He says Georgia companies are continually exploring new ways FinTech can better serve businesses and consumers.
"NCR is one of the companies at the forefront – for restaurants and other small businesses – of innovating at the point of sale," he says. "They're thinking about how to accelerate the time that the transaction is processed and when [businesses] get paid."
Another company that's making it easier and faster for businesses to pay and get paid is FLEETCOR, located in Peachtree Corners. Founded in 2000, FLEETCOR began offering fuel payment services to fleet businesses but has expanded into business lodging and tolls along with automated accounts payable services.
The company provides a variety of payment methods such as credit cards, radio frequency identification (RFID) tags and vouchers that allow customers to monitor and manage expenses. Think credit cards to pay for business lodging and RFID tags, like Peach Pass, that automatically track and pay for tolls, parking and fuel. In less than 20 years, the company has grown to $2.4 billion in annual revenue, with more than 800,000 business customers and 7,600 employees.
"Each year, businesses around the world make an estimated $170 trillion in payments," says Charles Freund, executive vice president of strategy at FLEETCOR. "These can be for supplier-related needs such as utilities, rent and equipment, or for employee-related needs like salaries, benefits and travel expenses. A majority of business payments are still made with paper checks and cash. Not only are these antiquated methods time-consuming and inefficient, they are also vulnerable to fraud and theft. We are helping companies simplify, automate, secure, digitize and control their payments."
In addition, he says FLEETCOR is pioneering accounts payable automation that "helps companies let go of archaic paper-based processes and modernize themselves" by fully outsourcing the accounts payable function.
---
Creative Customer Services
As businesses and consumers evolve toward paperless payments, FinTech companies are striving for better ways to build customer loyalty. For 26 years, Atlanta-based InComm has made it possible for retailers to activate gift cards and other prepaid purchasing products at the cash register. Along the way, the company has expanded the ways prepaid cards can be used, turning them into financial tools. Today, InComm has more than 3,000 employees in 30 countries and an annual transaction volume of over $50 billion.
"InComm has driven the industry forward through a number of innovations, such as creating the first prepaid wireless card [for purchasing minutes directly from a cell phone carrier] and the first digital content card [for things like iTunes]," says Michael Parlotto, InComm's vice president of emerging technologies. The company's prepaid cards are designed to encourage consumers to visit retailers, either in the store or online, by making it easy to make purchases.
Parlotto says extending the payments process from physical to online and mobile channels is critical for retailers, and InComm products have been at the center of that evolution. For example, the company's proprietary MyVanilla general purpose reloadable (GPR) prepaid cards can be purchased in a physical format and stored in mobile wallet applications. Included is the MyVanilla Prepaid Mastercard that is compatible with Fitbit Pay and Garmin Pay mobile wallet apps.
The technology allows consumers to buy and reload funds on their MyVanilla card, which becomes accessible through their mobile wallet. They can then tap their phone to pay for products or services using their pay app. Parlotto says this "enables our retail partners to drive in-store traffic by offering their customers an end-to-end payments experience, from purchasing a prepaid card to spending and reloading it in the future."
Encouraging the use of credit and debit cards while helping banks and brand marketers increase consumer loyalty is the mission of another Atlanta company, Cardlytics. Founded in 2008, Cardlytics partners with more than 2,000 financial institutions for access to data about where consumers are spending, including stores, product categories, geographies and whether purchases are in-store or online. The company uses this purchase data and its proprietary technology to personalize cash-back offers for bank customers based on the brands they've spent money on in the past.
"By incentivizing consumers with cash back on the items they buy everyday – from groceries and apparel to hotel stays – we encourage banking customers to use their credit and debit cards more frequently," says Scott Grimes, co-founder and CEO of Cardlytics. "Our program offers our banking partners lower attrition by an average of 17 percent and increases monthly card spend by 9 percent."
To date, Cardlytics has saved consumers over $240 million.
If the process conjures up Big Brother images, Grimes says his company never receives personal identifiable information about consumers from bank partners, and no individual insights or reporting is shared with advertisers.
Using a cash-back program as a way to pay off debt was the brainchild of Christian Zimmerman, co-founder and CEO of two-year-old Atlanta startup Qoins.
"I came up with the idea after graduating," he says. "Six months later my student loans hit, and I was trying to find ways to make extra payments. It was a personal pain point, and I wasn't the only one with it."
Zimmerman couldn't find one application that rolled together savings and making loan payments, so he created one with Nate Washington, Qoins co-founder and CTO. The app works by plugging into a user's bank account and rounding up purchases to the nearest dollar. The savings are transferred to a Qoins account that sends a monthly loan payment on behalf of the user. For this service, Qoins charges a $1.99 monthly fee. Since 2017, Qoins has made a total of $4.5 million in debt payments for its users.
"People want things that are automated, painless and seamless on the back end, and in digestible amounts so it's not really hurting the pocket," Zimmerman says.
Qoins unveiled its latest service at the end of May, allowing app users to invite family and friends to contribute gifts of money that can be applied directly to debt payment. He says other savings alternatives are also on the horizon.
---
The Future is Here
No future-oriented FinTech discussion would be complete without mentioning cryptocurrencies – those digital currencies that operate independently of banks using encryption to regulate how additional units are created and verify the transfer of funds. Of the cryptocurrencies that currently exist, Bitcoin is perhaps the most well-known.
In 2011, when Bitcoin was still in its infancy, BitPay Inc. was founded in Alpharetta to enable businesses to accept Bitcoin payments. Fast forward eight years, and BitPay is the world's largest Bitcoin payment processor, with merchant customers on six continents and $1 billion in payments processed last year.
"It's a brand new paradigm," says Sean Rolland, BitPay's head of product. "It's a new form of money and currency. People are starting to become aware of how powerful Bitcoin and cryptocurrency payments are."
He says Bitcoin's growth is the result of more people learning about its advantages such as increased speed of payments, especially cross-border payments; greater security due to data decentralization; lower fees than credit cards; and financial independence from banks and government entities.
"It's truly a power-to-the-people form of money," he adds.
There are several ways consumers can acquire Bitcoin, including purchasing it on an exchange or getting it through a Bitcoin ATM. BitPay offers a debit card paired with a mobile phone app and wallet where consumers can store their Bitcoin. The wallet can be used to make purchases at businesses that accept Bitcoin, and the card can be used anywhere Visa is accepted.
BitPay's main service is providing payment processing for merchants and cross-border transactions. Customers pay in Bitcoin, and BitPay verifies funds and accepts Bitcoin on the merchants' behalf. Merchants then have the option of taking the funds in Bitcoin, government-backed currency like dollars or Euros, or a combination of the two. Those that choose to take all the funds in currency have it deposited into their bank account the next business day, minus BitPay's 1 percent processing fee.
For businesses like Alpharetta's Branch & Barrel restaurant, accepting Bitcoin was a strategic decision. "When Bitcoin came along, I thought this could be an opportunity to reach a younger market," says Todd Hogan, chef and owner. "It's very much like [using] a credit card in terms of how the bill is settled, and it's more cost effective for the restaurant because the percentage we pay to use this way of payment is less than with a credit card.
"Cryptocurrency is in our future," he continues, "and BitPay is definitely ahead of the curve."
---
Developing Talent
Also in the future is the challenge of filling the increasing demand for skilled workers in the state's rapidly growing FinTech industry. The University System of Georgia (USG) and FinTech companies have collaborated for several years on ways to create a talent pipeline, and last fall, USG launched the Georgia FinTech Academy. The public-private venture is designed to prepare individuals for FinTech careers through degree programs, executive and continuing education, apprenticeships and internships. The academy's goal is to produce 5,000 professionals with industry-specific, functional experience by 2021 and supply 2,000 FinTech workers annually by 2023.
According to Art Recesso, USG's chief innovation officer for the eCampus, the academy is offering in-person and virtual courses in five high-demand disciplines: cybersecurity, data science, software development, client services and innovation, and product development. Students from around the state are able to enroll from their home institutions and take online courses.
"Accessibility is a big part of it," he says. "People in Georgia will be able to access courses that will prepare them for a high-demand career."
The physical headquarters for the academy is in Atlanta, but Recesso says it's intended to encompass all 26 USG institutions.
"The demand is so massive, and you have so many people throughout the state who would love to have access to [FinTech] opportunities," he says. "The idea is to cement Georgia as a place to come for FinTech talent."
TAG's Williams agrees. "If you're going to be in FinTech, Atlanta and Georgia is the place to be," he says. "It's where the bulk of the industry is; it's where the innovation is. Companies from around the world come here to be part of this great ecosystem."
---
2017 Georgia FinTech by the numbers
Georgia FinTech companies: 120+
Total U.S. purchase transactions: $128 billion
Estimated U.S. purchase transactions by Georgia-based companies: $80 billion
Estimated number of Georgia based FinTech employees: 38,000+
Estimated revenue of top 20 Georgia- based FinTech companies: $72 billion
Source: Technology Association of Georgia's 2018 State of Georgia's FinTech Ecosystem report