At Issue: A Personal Feud
The animosity between Stacey Abrams and Gov. Brian Kemp stretches back to 2013, and their six-year feud has now gone national.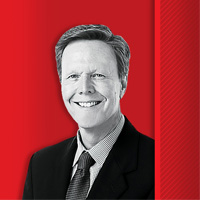 Georgia is undeniably in the eye of a storm when it comes to voter registration and ballot access. Credit the personal invective and animosity between Stacey Abrams and Brian Kemp that stretches back to 2013. Their six-year feud has now gone national, along with Abrams' celebrity status and adjoining media coverage.
The problem for Georgia, and for anyone with good intentions, is that the overheated rhetoric and accusations have stretched way beyond the available evidence. And the rhetoric has been pretty hot. Abrams and a number of the Democratic Party's elected officials and presidential candidates have openly talked of Georgia's "voter suppression" and "racism." She says flat out that the election was stolen from her and that she should be governor today. But the evidence simply doesn't support that. Kemp won by 55,000 votes, and Georgia set a record for midterm election voter turnout and voter registrations.
Certainly there is politics involved here, on both sides. Cue Capt. Renault in the classic movie Casablanca: "I'm shocked! Shocked, to find that gambling is going on in here!"
Without question, states are expected to maintain accurate voter rolls to ensure fairness and representation. Everyone agrees that voters should be removed from the list if they move to a different location or if they die. Additionally, some states, including Georgia, routinely remove voters from the list if they haven't voted in a number of years. This is a long-standing practice and in 2018 was validated by the U.S. Supreme Court in an Ohio case.
Much of the acrimony in Georgia stretches back to 2013 when Stacey Abrams started the New Georgia Project, with the goal of registering 175,000 minority voters for the 2014 election. This involved voter registration drives by volunteers and paid organizers throughout the state. These applications must be verified by the secretary of state's office, and that's where the heat began – 2013, not 2018.
Many thousands of applications were disallowed because of inaccurate information on the forms or incomplete forms. Abrams accused the secretary of state's office, and Brian Kemp (who was secretary of state at the time) personally, of intentionally blocking minority voters from registering. Kemp said he was merely following the law.
In the end, the New Georgia Project wasn't very successful at registering new voters for the 2014 election. In fact, the effort vastly underperformed, amid finger pointing by Democratic Party officials and questions over how money was spent. But Abrams sued the state, and the case was eventually dismissed for lack of evidence.
The 2018 election was a rematch of sorts between Kemp and Abrams. Their 2022 rematch, should Abrams decide to run for governor again for essentially Round No. 3, will be brutal.
Here's the point. Democrats and Republicans are very much alike in their determination to win elections and their horror at losing them. And they're not shy about it – they'll say or do pretty much anything they think they can get away with if it helps them win.
When it comes to voting, both Republicans and Democrats try to tip the scales in their favor; Republicans by keeping the voting lists clean and tidy; Democrats by trying to expand the electorate and bring in new voters.
Sometimes Democrats are successful (2008). Sometimes they're not (2016). During the 2018 campaign, Ms. Abrams seemed to suggest that even illegal immigrants should be able to vote in Georgia's elections, a statement she later walked back.
Many states see fights over ballot access, ID requirements and voter registration. Case in point: late last year, a conservative public interest firm sued the state of California to force them to purge their voter lists of individuals who have either "died, moved or lost interest in voting." That's right. California was refusing to maintain accurate voting lists until they were forced to. Even those voters no longer living there or no longer living at all!
Now if discrimination is occurring, it's clearly wrong, regardless of the reason. But the evidence so far doesn't justify the ugly rhetoric. In the 2018 election, for example, Georgia voters whose applications were "pending" by the secretary of state's office were still allowed to vote. In fact, turnout in Georgia was through the roof: more than 60 percent, compared to 50 percent in 2014. Nearly 4 million votes were cast statewide, easily a record for a midterm election. But this is politics, so why let the facts get in the way of a good fight?