Georgia students excel again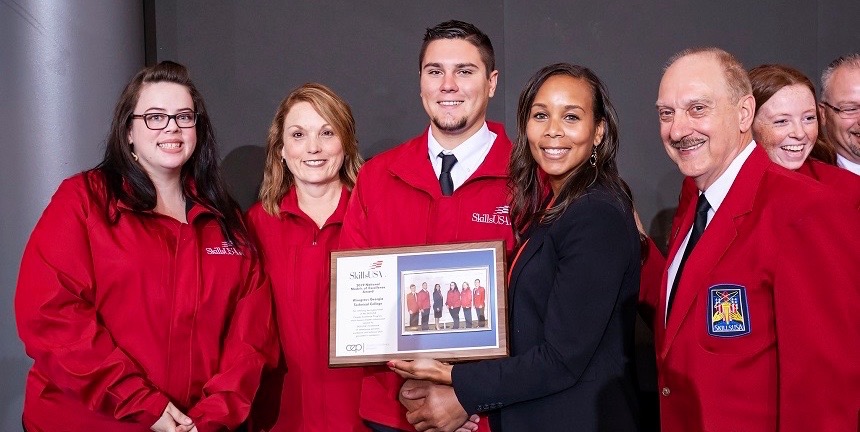 At the recent SkillsUSA national competition, which shines a spotlight on the best career and technical education students in the country, in Louisville, Ky., Georgia placed second in the nation for the number of medals awarded. Middle and high school students along with those from the state's technical colleges racked up a combined total of 72 medals.
The top three Technical College System of Georgia (TCSG) winners were Gwinnett Technical College and Wiregrass Georgia Technical College, each having earned 13 medals, and Ogeechee Technical College with seven medals. Foster Lester from Atlanta Technical College was the highest-scoring individual competitor from a Georgia postsecondary school and Gwinnett Technical College had the highest scoring team from a postsecondary school. The team included Abigale Baluta, Juan Islas, Ashley Palomino, Justin Perez, Jacqueline Sisley, Madison Thorpe and Mikael Yoftahe.
For the second year in a row, Wiregrass Georgia Technical College was named one of 24 SkillsUSA Model of Excellence chapters in the nation in recognition of its exceptional integration and application of personal, workplace and technical skills.
TCSG's 22 colleges offer training in more than 600 associate degree, diploma and certificate programs. TCSG also partners with companies through Quick Start, the nation's top customized workforce training program.
SkillsUSA is a nonprofit association serving more than 360,000 member students and instructors in middle and high schools and colleges.
Photo: Georgia's National Model of Excellence chapter representatives, from left: Nicole Douglas (student), Wiregrass Georgia Technical College; Kelley Wetherington (advisor), Wiregrass; Mason Williams (student), Wiregrass; Cierra Mitchell, U.S. Department of Labor – Office of Apprenticeship; Tim Lawrence, SkillsUSA executive director.
Photo courtesy of SkillsUSA.
Do you follow us? Find us on Linkedin, Facebook, Twitter and Instagram.