At Issue: Too Big to Fail
Georgia's economy is tightly intertwined with China's. So what do the recent tariffs mean for our state?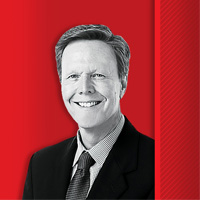 Recently I had the opportunity to travel to China on university business. Our College of Humanities and Social Sciences at Kennesaw State University hosts an annual Symposium on Asia-USA Partnership Opportunities (SAUPO); it alternates every year between Atlanta and Shanghai. This year we took advantage of the opportunity to meet with several universities in and around Shanghai to discuss academic exchanges and partnerships.
It is a strange time to be in China, with the trade tensions between our two governments at an all-time high. But you could never tell that from the interactions we had while there. The conference attracted academics, lawyers, bankers, business owners, students, retail and sales professionals, and others. And they all had at least one thing in common: they want to do business with America. In fact, you might say it's a largely "pro-American" crowd.
In large part, they already are doing business with us. China is one of the state of Georgia's largest trade partners, with roughly $3 billion in exports in 2018. Our largest export item? Civilian aircraft and parts. No. 2 is wood pulp and related products.
In fact, it's stunning how integrated our two economies already are. While in China I talked to Chinese representatives for many Georgia-based concerns, including Delta Air Lines, UPS, the Georgia Ports Authority and commercial real estate firms. I even ran into a Dentons lawyer. [Yes, I know Dentons is not based in Atlanta, it only seems that way.]
None of them are put off or scared by tariff talk or high stakes moves by President Donald Trump or Chinese President Xi Jinping. The truth is, China's movers and shakers are ardent capitalists, and they are used to hard-nosed negotiation tactics. They respect it. They respond to it. They understand it.
In fact, it was an Alabama state official speaking at the conference who got one of the biggest reactions. "President Trump is representing his country and trying to get the best deal possible, just as President Xi is representing his country and trying to get the best deal possible for you." This was met with vigorous head-nodding in agreement.
We had very positive and productive meetings with university officials at several of the area's leading institutions of higher education. Georgia's educational institutions already have a healthy and growing relationship with our Chinese counterparts. Close to 1,000 college students from Georgia study in China each year. In 2018, more than 4,000 Chinese students were enrolled in Georgia colleges. This is a serious relationship, which mirrors the economic exchanges occurring at a growing pace.
Chinese universities want to send their students here, and they want us to send our students to study there. I was even asked by one Chinese administrator if KSU wanted to start a satellite campus at his institution. I told him I would get back to him.
A number of KSU students who were already in Shanghai for a study abroad trip attended the SAUPO conference. Their knowledge of, and interest in, Chinese business and politics stunned our hosts and was one of the highlights of the conference.
We are building relationships with Chinese institutions because they have some very bright students, they want to benefit from American institutional training and they have the financial resources to pay.
That last part is important. Studies from the last several years indicate that a significant number of Chinese students in the U.S. actually stay to seek better employment opportunities. And Chinese people seem to truly want a cultural exchange; they want our students to go there to learn Chinese language, history and culture.
Of course, no one should ignore the reality of Chinese government behavior. Chinese business and academic leaders may be capitalists in their instincts and orientation, but they are overseen and regulated by an authoritarian dictatorship.
However, steps are being taken to protect America's interests, both economic and security. Unfair trade practices have been allowed for too long and will have to change. Security concerns are paramount and will have to be addressed if cooperation is to continue.
It will be difficult, and there will be tensions. But both economies will survive these rocky times because they have to. The American and the Chinese economies need each other. The relationship is literally too big to fail.