Hunter Cattle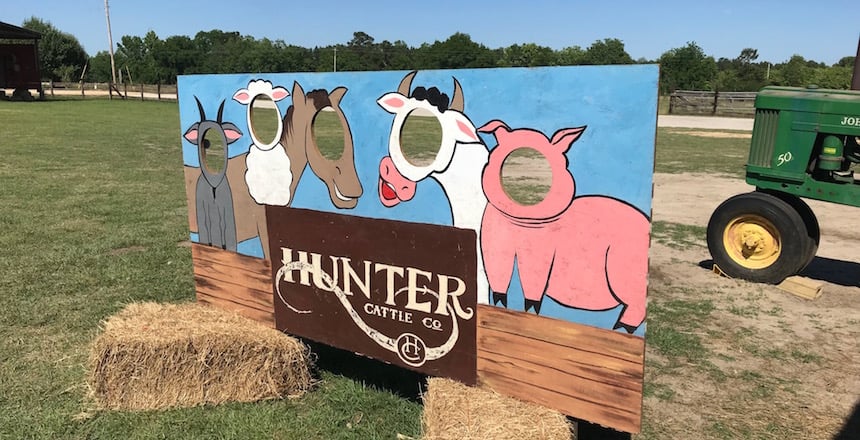 Looking for a family-friendly weekend – or weekday – getaway, where you and the kids will find so much to look at, experience and enjoy that you won't pick up your phone even once? Oh, and you can also try delicious, grass-fed beef and pork – from happy cows and pigs, who are not fed antibiotics, hormones or steroids.
Hunter Cattle is just such a place. It's a sustainable family farm outside Savannah, in Brooklet, where 18 family members co-exist with chickens, pigs, cows, goats, turkeys and dogs.
The farm started in 2003 as a way to raise healthy meat for the family, says Kristan Fretwell, farm manager and the daughter of farm founders Del and Debra Ferguson.
Since then, it has become so much more. The Tobacco Loft and The Roost offer places to stay for people who want to enjoy the farm over several days. Birthday parties that city kids will never forget include wagon rides, animals that beg to be petted and the education that occurs while just having fun on a farm. There's also an outdoor stage for concerts and events.
When you're ready to leave, take some of the award-winning tastes of Georgia with you. At MooMa's Farm Store you can pick up 2016 Flavor of Georgia winner Hot Georgia Nights sausage, dry aged beef jerky in flavors including Bonfire Jalpeno and Farmhouse Garlic, and mouth-watering pork chops and beef.
A visit to Hunter Cattle is a great way to see how one family is making a sustainable difference on Georgia's food chain.
Do you follow us? Find us on Linkedin, Facebook, Twitter and Instagram.