Export achievement honored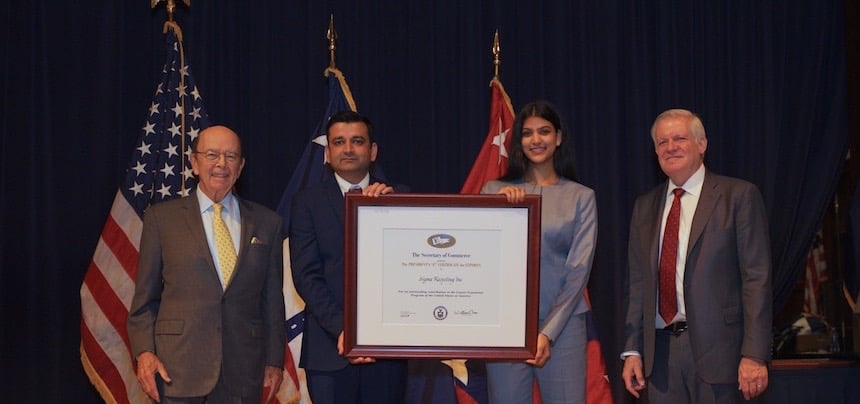 The U.S. Department of Commerce recently recognized
Norcross-based Sigma Recycling as one of
48 American companies that have achieved outstanding export success. Founded in
2009, Sigma Recycling collects recyclable scrap materials like plastic, metal,
paper and rubber and supplies them to markets around the world for recycling
and reuse. The company was among 26 that demonstrated a sustained increase in
export sales over a four-year period.
Winners of the 2019 President's "E" Awards were from 25 states
and most were small and medium-sized businesses. They were nominated for the
awards and selection was based on successive years of export growth along with
demonstration of an innovative international marketing plan that led to export
increases.
Created in 1961 by presidential executive order, the award
is the highest honor a U.S. organization can receive for making a significant
contribution to expanding U.S. exports. Last year, U.S. exports of goods and
services totaled $2.5 trillion, which is a record.
Pictured left to right are U.S. Secretary of Commerce
Wilbur Ross; Ashok Kumar Mehta, Sigma Recycling operations director; Kanika
Patawari, CEO of The Rickshaw Group, an affiliate of Sigma Recycling; and Gil
Kaplan, U.S. undersecretary of commerce for international trade.
Photo provided by the U.S. Commercial Service, the trade
promotion arm of the U.S. Department of Commerce's International Trade
Administration.
Do you follow us? Find us on Linkedin, Facebook, Twitter and
Instagram.