Treating Cancer Closer to Home
Georgia's hospital-based cancer centers offer advanced treatments and more.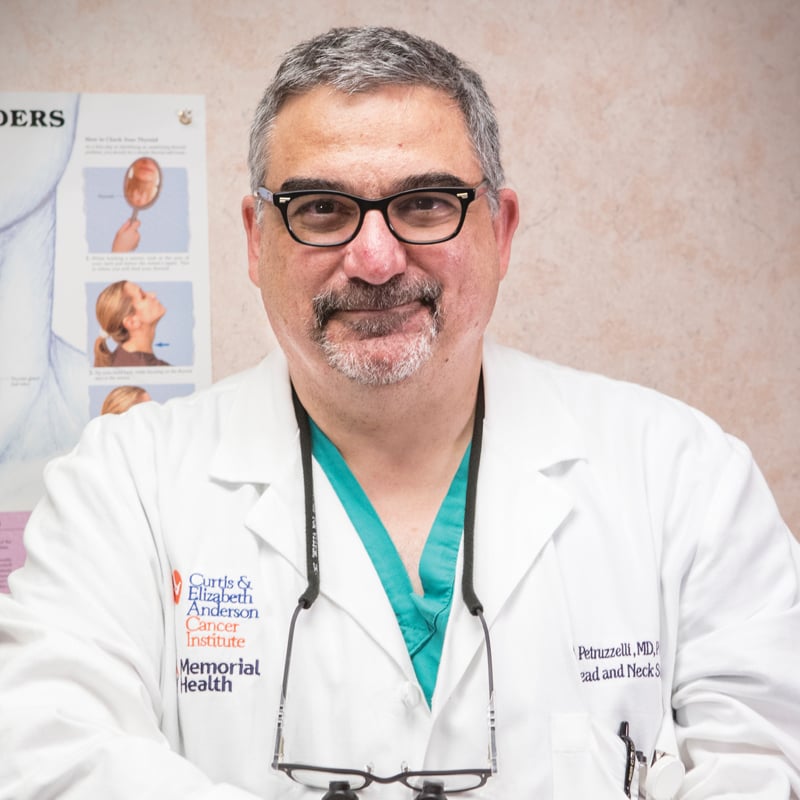 When you think of places where people go for cancer treatment, certain names may come to mind – University of Texas MD Anderson, Dana-Farber/Brigham and Women's, Memorial Sloan Kettering and Mayo Clinic, to name a few.
What many people don't know is that more than 80 percent of patients with cancer in the United States receive treatment in community settings outside major academic or National Cancer Institute (NCI) designated centers, says Dr. Guy Petruzzelli, physician-in-chief for the Memorial Health Curtis and Elizabeth Anderson Cancer Institute in Savannah.
Named for the Andersons, both cancer survivors who he says were "compelled to ensure that people in Savannah did not have to travel outside of the area to get world-class cancer care," the center is one of 35 hospital-based cancer centers in Georgia accredited by the American College of Surgeons Commission on Cancer (CoC), which recognizes cancer care programs for their commitment to providing comprehensive, high-quality and multidisciplinary patient-centered care.
Georgia's hospital-based cancer centers are staffed by doctors who received their training at preeminent institutions, offer advanced technology in cancer treatment and have received national recognitions, including the NCI Comprehensive Cancer Center designation and an Outstanding Achievement Award by the CoC. But impressive credentials and cutting-edge treatment aren't all Georgia's cancer centers have to offer. Most have programs like genetic counseling and screening, education and preventive services.
Some are training the next generation of cancer physicians and developing and testing treatments that have the potential to help patients not only in Georgia, but in cancer centers throughout the nation and the world. All offer help as patients and their families navigate the treatment system as well as survivorship programs to help them get on with their lives once treatment has ended.
Georgia cancer centers are located in major cities and small towns. Some have stood for decades, and one is set to open its doors next fall. And while some bring in patients from across the U.S. and the world, all provide compassionate care and a new chance of life for people right here in the state. Georgia Trend highlights seven centers that are bringing cancer care and more to Georgia.
---
Memorial Health Curtis and Elizabeth Anderson Cancer Institute
Savannah
Each year an estimated 1,800 people receive a cancer diagnosis at Memorial Health's cancer institute. Most of them stay for a comprehensive program that treats the mind as well as the body with services like nutritional and emotional counseling, a strong social work program, mind-body medicine, yoga, therapeutic massage, physical therapy and lymphedema therapy, all provided in a setting that includes soothing music by members of the Savannah Philharmonic Orchestra.
The center's signature programs focus on some of the most challenging and difficult-to-treat forms of cancer, such as women's cancers (ovarian, uterine and breast); head and neck cancers (mouth, tongue, voice box, face and thyroid glands); and gastrointestinal cancers (liver and esophagus), says Petruzzelli.
"One of the very important differentiating factors for us is that all of our surgeons doing cancer surgery are fellowship trained, which means that they have additional years beyond their residencies, just in their particular area of cancer," he says. "So we don't have generalists. We don't have people who do a breast operation one day and a colon operation another day. We have real specialists and subspecialists who devote all of their time, attention and energy to their particular cancer and looking after their particular patients. The surgeons participate in clinical trials, speak at conferences nationally and make fundamental contributions to how cancer is taken care of. "
Patients at the institute have access to a broad and sophisticated portfolio of clinical trials, which has grown in the past year with Hospital Corporation of America's (HCA) purchase of Memorial Health. HCA is one of the largest integrated providers of healthcare in the United States. "[The partnership] provides an amazing framework and infrastructure to share data, to be able to share what we call best practices," Petruzzelli says. "It's really a way to bring very sophisticated comprehensive cancer care to a very wide and very diverse population."
The services give residents of southeast Georgia little reason to travel elsewhere for care, he says. "Living in New York for three months during your cancer is not cheap, but if you can come to Savannah, it is safer for the patient, better for the family and I would say there is really not much offered at those places that we can't offer here these days."
---
Enoch Callaway Cancer Clinic at WellStar West Georgia Medical Center
LaGrange
LaGrange native and surgeon Dr. Enoch Callaway saw 20 cancer patients in 1923, the year he started his first cancer clinic in his downtown LaGrange office. Today, almost a century later, the center that bears his name treats around 500 people annually, says Charlene McClanahan, director of oncology services at WellStar West Georgia Medical Center.
Accredited by the CoC since 1992, the center was one of the first in Georgia to offer stereotactic radiosurgery (SRS) and stereotactic ablative radiotherapy (SABR), which allow lesions in the brain and lung to be treated with high concentrations of radiation. The procedure is painless, says McClanahan. "There is no cutting, no anesthesia and no recovery. Patients are in and out in less than an hour and can usually drive home."
The center also offers an infusion area staffed by oncology-certified nurses, CT screening for early lung cancer for eligible patients, genetic counseling and, thanks to a grant from KIA, complementary transportation for patients who would otherwise have trouble getting to and from their appointments.
The center is undertaking a $28-million project that will revamp the building that has housed the clinic since 1975. The new building will contain the clinic's medical oncology and radiation oncology space as well as a chapel, an area for clinical trials, a boutique for prosthetics, an area for complementary therapy – including art therapy and yoga classes – and a conference room where a multidisciplinary medical team will meet weekly to discuss the best customized treatment for selected cases.
Perhaps most important: The care is offered in a location that is close to home for many West Georgia residents, says McClanahan. "When they are going through a difficult time and they are weak and fragile and frail, they can get everything they need here close to home."
---
Winship Cancer Institute of Emory University
Atlanta
Emory's Winship Cancer Institute has the distinction of being the only NCI-designated Comprehensive Cancer Center in the state and one of only 49 in the nation.
"The main criteria [for the designation] are that the centers have a significant depth and breadth of cancer research – laboratory research, clinical research and population research – and that they are able to demonstrate to a panel of peers appointed by the NCI that their research improves the outcomes for cancer in their region," says Dr. Walter J. Curran, Winship's executive director.
Winship's predecessor organization was started more than 80 years ago with a gift to Emory from then-Coca-Cola President Robert Winship Woodruff. The institute treated 168 patients in its first year of operation. Now, Winship sees more than 17,000 patients every year – 15,000 of whom are newly diagnosed.
While Winship sees patients with many different types of cancer, the institute is uniquely strong in some areas. Its programs are among the largest and strongest in the country for cancers of the head and neck; blood disorders, including leukemia, lymphoma and myeloma; and tumors of the brain and lung, Curran says.
In addition to treating cancer, Winship programs focus on cancer screening and prevention. "We have done research on some fundamental things like figuring out how to reduce the incidence of smoking in the homes," Curran says. The positive results of that research have led to a program adopted by seven states as well as the Atlanta Housing Authority.
"The great news is more than ever the research that people at a place like Winship are doing is impacting the results of cancer care," says Curran. "The investment that Emory and our supporters have made in Winship is really paying dividends for so many patients both in Georgia and beyond."
---
Northeast Georgia Medical Center Cancer Services
Gainesville, Toccoa, Braselton, Winder
When Jayme Carrico joined the Northeast Georgia Medical Center (NGMC) three years ago as executive director of oncology services, he says it didn't take much work "to go from good to great.
"We don't skimp on technology at any of the sites," he says. "One thing that attracted me to the position was the amount of focus they had on a quality program."
In 2018, that quality was recognized by the CoC, which awarded NGMC its Outstanding Achievement Award. NGMC was the only center in the state and one of only 24 in the nation to receive the award.
Highlights of NGMC's cancer efforts include an active navigator program that helps the treatment process go more smoothly for patients; a robust CT program to screen for lung cancer in its earliest, most treatable stages; smoking education and cessation programs; and an oncology rehab program that helps patients get stronger during treatment or, in some cases, become strong enough to endure a life-saving surgery.
NGMC's Cancer Services program offers a level of technology and medical expertise that rivals just about any metropolitan cancer center, says Carrico. People ask, "How's a place like Gainesville, Georgia, doing so well?" The answer in large part, he says, is the quality of the doctors. "Many were trained at some of the top cancer centers in the U.S., and they are helping lead the charge against cancer in this community."
---
Aflac Cancer and Blood Disorders Center of Children's Healthcare of Atlanta
Atlanta
Twenty-five years ago, doctors at what was then Egleston Children's Hospital sent a young leukemia patient to Seattle for a bone marrow transplant, a complex procedure that was not available locally. When the girl returned, her doctors decided it was time to do something differently so that other children didn't have to leave Atlanta for cancer treatment.
For assistance, they approached the Columbus-based Aflac, which in the 25 years since has provided $130 million in funds for the Aflac Cancer and Blood Disorders Center at Children's Healthcare of Atlanta. Last year, the center performed 88 bone marrow transplants. In the last five to seven years, the center has taken care of children from 43 different states, says the center's director, Dr. Douglas K. Graham. "It has been a complete reversal from sending patients out to having patients come here from all over the country."
With 99 Emory faculty members as part of its team, the Aflac center is one of the largest children's cancer centers in the nation. Last year, the center was second only to Texas Children's Hospital in patient volume, Graham says. The center offers sophisticated technology not found at many other facilities and is pioneering treatments that use the child's own immune system to fight cancer. In addition, it "ranks second among children's cancer centers nationally in the number of children it enrolls in therapeutic clinical trials through the Children's Oncology Group, a clinical trials group consisting of more than 200 pediatric cancer centers worldwide," Graham says.
The center trains the next generation of cancer specialists, accepting five young pediatricians each year to begin their three-year postdoctoral fellowships in pediatric oncology or hematology. It also employs child-life specialists who help children understand and cope with their treatment, specialized pharmacists who understand pediatric cancer drugs and how to give the right drugs at the right doses, dietitians who specialize in the nutritional issues that accompany pediatric cancer and pediatric psychologists who help children and families as they are going through the process and beyond.
---
Georgia Cancer Center
Augusta University
Internationally recognized leukemia researcher Dr. Jorge Cortes accepted the position of director of the Georgia Cancer Center at Augusta University in part because of the opportunities to improve leukemia treatment for minorities and underserved populations in Georgia.
"It is a good cancer center that has a good foundation. They are doing a lot of good work. I have been impressed by the quality of care that they provide," says Cortes, who will be leaving his position as deputy department chair in the Department of Leukemia at MD Anderson Cancer Center in Houston to begin his position at Georgia Cancer Center on Sept. 1.
Among the center's good work is a strong research portfolio that allows patients to participate in clinical trials and a research laboratory where new drugs are being developed, and a focus on underserved populations in the center's coverage area.
"We actually have a research grant specifically for that population, something I think is critical because the representation of this underserved population is lagging significantly," he says. "[Minority patients] represent a very tiny percentage of patients in clinical trials, so our trials may not represent all of the nation's population," he says.
Cortes understandably wants to increase the leukemia focus at Georgia Cancer Center. He also wants to expand the areas of pediatric cancer and breast cancer treatment.
But treating cancer is not the only focus. "Because many cancers are diagnosed when they are already advanced, we are working on a very strong program that has a lot of potential for cancer prevention that goes into the community," he says. "We have that traditional approach of treating cancer, but I think putting a strong focus on prevention, control and education is critically important, particularly in the underserved populations."
---
Hamilton Medical Center's Peeples Cancer Institute
Dalton
The newest comer to cancer centers in Georgia, Hamilton Medical Center's Peeples Cancer Institute will open in the fall, serving patients who likely would have crossed the state line to receive cancer care in Chattanooga, says Dr. Mitchell Berger, medical director of the institute.
The $46.5-million, 64,000-square-foot facility will house outpatient diagnostic and treatment services including genetic testing and counseling, access to clinical trials, patient navigators, pet and art therapy, survivorship programs and second opinion services, conveniently under one roof.
To reduce emergency room visits and the need for hospital admissions, the institute will focus on triage care and symptoms management to help patients get early treatment for their symptoms, says Berger.
"When the patient has an issue they will call us with their symptoms, and we have triage pathways that the nurse who answers the phone will follow. If the patient needs to come to the center, we will take care of their symptoms there if at all possible. Sometimes they don't even have to leave home."
The institute will facilitate collaborations with other centers to ensure patients get the best care – whether it be at Peeples or elsewhere, Berger says.
"There are things that an academic center might recommend that we can accomplish here and collaborate with them," he says. "We are trying to make this the best of both worlds."