Georgia Fare: Clyde's Table and Tavern– Who's a Good Boy?
Clyde's Table and Tavern in Cleveland has a little something for everyone.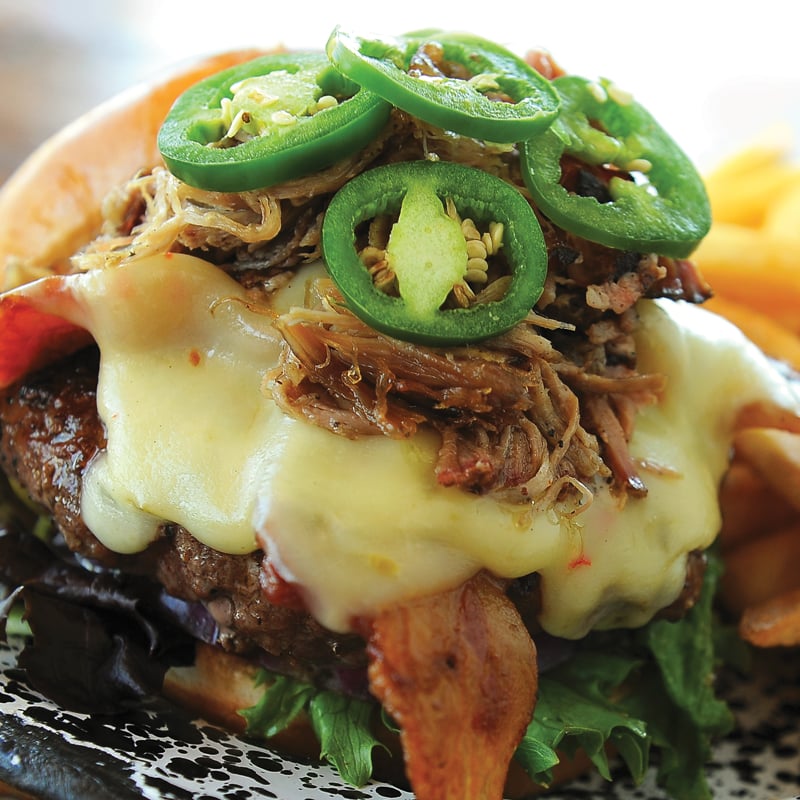 It's just a little tavern on a tiny town square in the North Georgia mountains. It offers the familiar small-town, comfort-food menu of burgers, barbecue, chili and steak. Lots of cheese, lots of fried stuff, lots of meat. Almost anything served here would excite the palate of a 12-year-old. So … why is it so good?
You could ask the same question of any of the people crowded on the shady back porch or piling in the front door. I don't think many of them have thought much about what makes Clyde's such a popular destination, because it is almost literally a no-brainer. It's all just good food – what you might find at a picnic or family reunion, if you're from a family of really good cooks.
But then there are the unecessarily fun and labor-intensive touches: Choose where you want to sit, for as long as you like without ever feeling rushed or pressured, even as a line forms at the door. Note that the salads are spotless and crisp, that orders cooked to order arrive as such. Pay attention to the friendly waitstaff who seem to actually like working here, as well as the owner, who roams about, low-profile, a billed cap shading his face, chatting with all, checking plates and service.
See how the big, let's-please-everybody-AND-ourselves menu tosses in unexpected treats: Eggplant fries. Korean barbecue-sauced grilled salmon. "Craft" macaroni and cheese. Maryland-style crab cakes. The delectable house-made barbecue sauces, in squirt bottles on every table. Pimento cheese from a charming neighboring shop, Nadine's. (See page 89.)
In short, it's hard not to notice the subtle pride emanating from everybody involved with this place. The result of a late-life career change for owner Ward Gann, the restaurant opened in 2018. Many of the recipes are his own, complemented by Executive Chef Natalie Heisley.
Clyde's is named for Gann's dog, whose profile and name are everywhere. Some of the memorabilia also pays homage to Gann's friends, like Joe Bass, whose name adorns the house deviled eggs. Bass must be a pretty good friend, because these eggs are quite a tribute: Six halves filled with sriracha-mustard yolk, topped with a little square of candied bacon, chopped jalapeño and a sprinkle of paprika, on a comfy king-sized mattress of creamy coleslaw. A perfect example of Clyde's lily-gilding, they're also pretty dang great.
If I lived near here, I would certainly be back often, probably always intending to order something new and different, but more likely defaulting to some of the favorites from my two visits, including the deviled eggs. With even a small order of the tender, smoked chicken wings (served whole, with both sections), they're almost a meal on their own. I'd add the eggplant fries, expertly crisped but not overwhelmingly battered and served with jalapeño ranch sauce.
"What should we order?" I asked our waiter, who replied unhesitatingly, "The prime rib." Slow smoked and tender, served from rare to well done in sizes from 10 to 40(!) ounces, this was, indeed, a home run. (It's served only during Friday and Saturday dinnertimes.)
The Faroe Island salmon, cooked to medium-rare with that Korean barbecue glaze, was also outstanding, served with a loaded, coarse-salt-flecked baked potato and Clyde's side salad, with spring mix, tomatoes, carrots, onions and cheddar. Ask for the housemade blue cheese dressing.
One evening's special, "Tuscan chicken," constituted sautéed Springer Mountain breast with spinach and peppers in a basil cream sauce on fettuccine. Like just about everything at Clyde's, it's a flavor bomb.
As you might expect, Clyde's serves a killer, half-pound Angus chuck burger – and you can choose between some creative combos or a build-your-own variety (with pulled pork or brisket, onion rings or pepper jack, among many options, all on brioche buns). Though decidedly a meat-lover's menu, you could also get by with a pescatarian, vegetarian or even vegan option or two, including the Impossible Vegan patty and/or the daily vegetables with or without skewers of grilled scallops and shrimp.
Have we talked about the fries? Hand-cut and slender, they're just what you want with that messy, meaty burger. In fact, there's so much more to consider: The pork chops. The steaks. The shrimp and Nora Mill stone-ground grits. Blackened catfish and chips.
Clyde's offers a solid selection of wines by the glass and bottle. In addition, there is a cocktail list – and a well-made martini. Gann takes pride in his selection of bourbons.
Oh yeah, there are desserts, too. They're really good. All house-made and rich, buttery, ice-creamy. It's summer, in Georgia. You know where it's nice and cool? The mountains. I know a nice drive, and a good place to stop to eat.
---
Clyde's Table and Tavern
5 E. Jarrard St. (town square), Cleveland
706.607.8707 or clydestableandtavern.com
Hours: Lunch and dinner, Mondays-Saturdays; Brunch Sundays
Parking: Plentiful in nearby lots
Dress Code: Mountain garb
---
Headed to Cleveland? Check out these spots.
Nadine's
This little sliver of a shop houses a small world of gifts and goods, many of them Georgia-made, including the award-winning handiworks of the proprietor, Nadine Wardenga. The pimento cheese she sells here (and is offered at Clyde's) is made with cheddar, red bell pepper, a touch of jalapeño and Duke's mayonnaise.
---
Nora Mill General Store
Stop in for bath bombs and candy, but don't leave without the stone-ground grits and cornmeal from Helen's Nora Mill Granary.
---
The Soda Fountain Cafe
Like many small-town old-style drugstores, this spot has turned largely into a gift shop with tourist tchotchkes. But the fountain remains, and with it, a core menu of sandwiches, soups and burgers, as well as specials like tortellini and chicken and dumplings.