Columbus: Overflowing with Opportunity
Financial services, higher education and uptown growth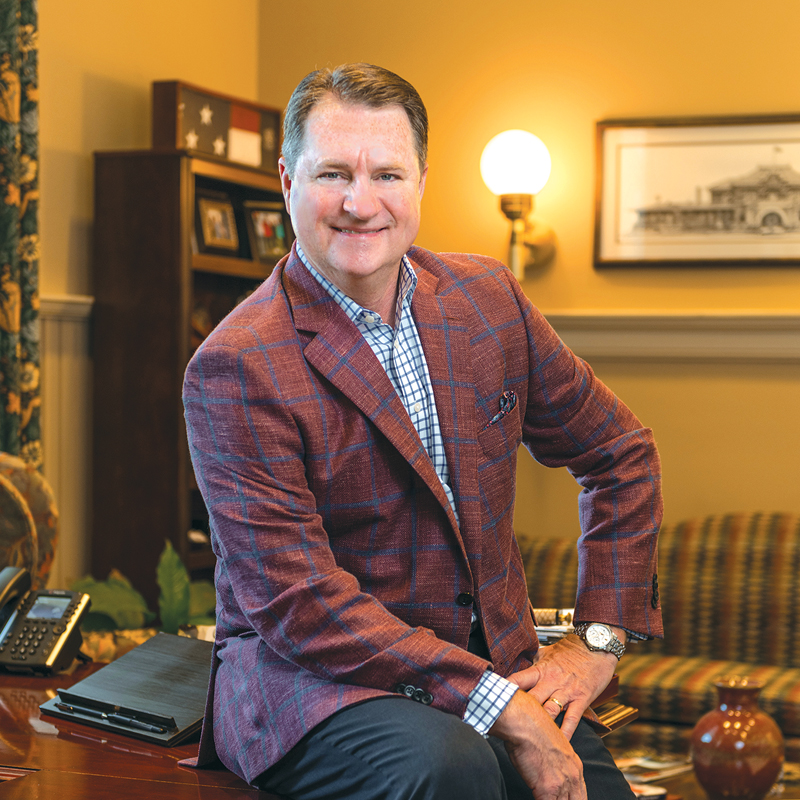 The city of Columbus has brought opportunities to thousands of people over its 191-year history. Columbus pre-dates Atlanta by nearly two decades, has long been an economic hub of Georgia and today boasts a vibrant downtown, rich cultural heritage and business strength reaching far beyond what its 200,000 population might suggest.
Originally founded due to its location atop the navigable portion of the Chattahoochee River, Columbus retains a vital role in the Peach State's economy. The city at first served as a port, shipping products to and from connections in the U.S. and Europe. Later it emerged as a center of the textile mill industry, as the home of snack food staples Royal Crown Cola and Tom's Foods, and today is home to major banking, insurance and credit card processing companies.
Columbus claims a bright and diverse past, and city leaders believe there's a bright future coming as well.
"We believe that Columbus can be a major player in the state of Georgia," says Brian Anderson, president and CEO of the Greater Columbus Georgia Chamber of Commerce. "We have a leadership role to play. We think we're phenomenal and that we can help Georgia compete for jobs."
---
Community Advocate
Like most of the U.S., Columbus has transitioned over time from employment based on agriculture to industrial and now post-industrial jobs.
There's perhaps no better encapsulation of this phenomenon than Total System Services, better known as TSYS. The publicly traded financial services company claims revenue of over $4 billion and 13,000 employees.
TSYS traces its roots back to 1959, though it didn't become fully independent of Columbus banking giant Synovus until 2007. Primarily known for credit card processing, TSYS is now the largest private employer in Columbus.
The company's headquarters is on the site of a former mill overlooking the Chattahoochee River, and some of the building's hardwood floors are even recycled from the old textile facility. But TSYS leadership is much more focused on the future than the past. That, and being a leader in the Columbus community.
"We are a huge advocate of this community. That's one of the reasons why I'm here," says TSYS Senior Executive Vice President and Chief Information Officer Patricia Watson, who moved from Texas to join the company. "For public companies, it's not just about making money, it's about making a difference. This company lives it."
Several TSYS initiatives showcase this leadership quality. One is a series of digital boot camps the company launched in 2017. The goal is to re-skill long-established workers to perform new tasks, in contrast with large businesses that prefer to lay off older workers in order to hire younger ones. Watson says benefits in institutional knowledge, employee morale and loyalty outweigh any involved costs.
Project Search is another initiative Watson is proud to tout. It involves bringing in students with intellectual and developmental disabilities for internships and teaching them job skills. Watson says it has improved morale and that the students have a 100 percent job placement rate.
"You are changing the life of the student, their family and the community," says Watson, who has a son with intellectual disabilities. "This program not only benefits the students and their families, it really changes the lives of our team members."
---
Training and Retaining
For a city like Columbus, which is home to two Fortune 1000 companies (TSYS and Aflac) but nestled in a relatively out-of-the-way location, attracting and retaining top talent is a major challenge.
Stepping in to help fill the void is Columbus State University (CSU) and its AACSB-accredited D. Abbott Turner College of Business. AACSB is a nonprofit accrediting agency that promotes business school standardization nationwide. The CSU school is committed to training the type of talent needed by the likes of TSYS, Aflac and Synovus, both from traditional college students and those looking to transition into second careers.
"The CEO of TSYS is a graduate of the Turner College of Business, and we have executives at Synovus and Aflac who are Turner graduates," says Linda Hadley, the school's dean. "It's much easier for those companies to find and hire people here locally than to go out recruiting to try and convince them to move to Columbus."
The partnership works both ways. CSU's school of computer science is named for TSYS, and last fall the school dedicated the Synovus Center for Commerce and Technology. CSU helps both companies remain competitive and growing while maintaining a strong presence in Columbus, and in turn they have greatly boosted the school's business reputation.
Last February, CSU received approval from the University System of Georgia for a nexus degree in cybersecurity and financial technology (fintech), which it is hoping to begin offering this fall. The nexus degree emphasizes hands-on experiential learning along with industry skills and connections in high-demand fields. Fintech and cybersecurity are in extremely high demand in Columbus and nationally.
Another school, Macon-based Mercer University, is gearing up to expand its presence in Columbus with an influx of medical students. There are currently about 60 Mercer medical students in the area, a number that is expected to grow to 260 early in the next decade.
Getting outside talent to commit to the city can be hard, at least until they actually see it.
"I've talked to our CEOs and asked them about recruitment," says Columbus Mayor Skip Henderson. "When they bring people in, we've got them. Once they experience Columbus and see the vitality of this community, they don't leave."
When folks do come in from out of town, it's often to come to Fort Benning. The U.S. Army post south of town welcomes thousands of soldiers and their families each year, serving as the area's largest employer by a nearly tenfold margin.
"We're proud to have crossed our centennial anniversary last October," says Maj. Gen. Gary M. Brito, commander of Fort Benning. "Our relationship with Columbus has always been great and will always continue to be great."
Not only does the fort employ thousands of civilians who support the Columbus community, it draws in visitors from across the country who come into town to see family members.
"We have people graduating every week," says Brito, who was first stationed at the base in 1987. "Families come to visit from all 50 states and U.S. territories. They go downtown or visit local restaurants. There's probably not a state in the U.S. that we don't touch somehow."
Among private employers, just behind TSYS is insurance giant Aflac, which was founded in Columbus in 1955 and today is known both for its insurance offerings and its famous duck. The company's logo, duck included, adorns Aflac's world headquarters, which is the city's tallest building.
Aflac Foundation President Kathelen Amos played a role in the duck's creation during the 1990s and is proud of the ongoing role it plays in the company's story. Aflac sponsors the Aflac Cancer and Blood Disorders Center of Children's Healthcare of Atlanta and designed a robotic duck to help children cope with cancer, which recently won awards in the robotics and hardware categories at SXSW in Austin, Texas.
"We decided the best thing we could do for the duck is create a secondary identity as a symbol of our philanthropy," says Amos. "The My Special Aflac Duck has been the culmination of trying to unify our philanthropy with our imagery. It's so much a part of the company now."
Through its innovative marketing and popular insurance offerings, Aflac has opened several additional buildings to complement its main tower, providing jobs for thousands of city residents in the process.
"The growth of service industries has been very important for Columbus," says Amos. "Between Aflac and banking, services have replaced the former manufacturing economy jobs."
But Aflac has proven to be more than just a source of income: Forbes has named it a most admired company for 18 years in a row and a most ethical company for the last 13 years.
---
Uptown Again
To impress a visitor to Columbus, all it takes is a quick stroll down Broadway. The main thoroughfare through town, Broadway is home to a thriving restaurant and arts scene, hosting the Freeze Frame Yogurt Shoppe, Fountain City Coffee Co. and The Cannon Brew Pub, and just steps from the Springer Opera House and top-tier Epic Restaurant.
It's a drastic change from a mere two decades ago, when, according to Henderson, one could throw a rock uptown during the middle of the afternoon and not hit anybody.
The fact that Columbus calls the area uptown, rather than downtown, stems from this down era.
"When I grew up here, we never went downtown, we didn't even know there was a river downtown," says Brian Sillitto, executive vice president of economic development and workforce at the chamber. "When downtown disappeared, instead of that connotation of 'down,' they started using the word 'up,' because down was so depressing."
The name stuck, and today it can be found on business signage for stores like Uptown Wine & Spirits, Minnie's Uptown Restaurant, Uptown Pediatrics and The Cave @ Uptown.
Many cities can claim a renewed city center in 2019. Only one is home to what Columbus offers: the world's longest urban whitewater rapids course. Created by using dynamite to blast out dams that were no longer useful in the early 2000s, the course consists of five rapids that are at least class four, plus 10 smaller ones. City boosters boast that it's as wild as Colorado and as warm as Costa Rica.
Along with zinging down the river via raft, adventurous minds can now zoom across it thanks to a zipline course running from Columbus to the Phenix City, Ala., side of the Chattahoochee and back. It's the only zipline in the country connecting two states.
It's one of the main attractions that's drawing not just residents, but visitors to the area, too – one of the major goals of the Columbus Convention and Visitors Bureau (CVB).
"Armed with the destination research and emerging trends on meeting and exceeding visitor expectations, we feel confident that we can continue to grow market share," says Peter Bowden, president and CEO of the CVB. "Telling the destination story that spotlights unique and authentic experiences and exposes the visitor to what the locals know and appreciate about Columbus are integral to the development of our strategy."
Uptown isn't done growing yet. Residential is finally joining the real estate mix thanks to projects like The Rapids at Riverfront Place, a 226-unit, $52-million development that opened in March. It's the largest single real estate investment in the history of W.C. Bradley Co., which has been based in Columbus since 1885.
"The Rapids is the first step in the rest of the story," says W.C. Bradley Co. Real Estate President and Chief Operating Officer Pace Halter.
The next steps in the uptown story will be hotels designed to boost the city's convention business, plus a grocery store, food hall and a Class A office building.
Still, there's plenty of work to be done for Columbus to reach its full potential, such as investing in the city's southern portion and working to bring in more film and TV projects. But a thriving arts scene and business community, paired with a low cost of living and negligible traffic worries, poise the city to continue surprising visitors and, if all goes well, transforming them into locals.
"We are more of a secret than we should be," says Henderson. "We've got to get really good at telling our story in order to reach younger people."
It's a secret that may not last for long in a west Georgia city overflowing with opportunity.
---
Local Flavor
Cultural Heart
The state of Georgia claims many official symbols. There's the state crop (peanuts), the state fruit (peaches) and the state song (Georgia on my Mind).
In the heart of uptown Columbus, across 10th Street from the government center tower, sits Georgia's official state theater: the Springer Opera House.
"We are like the brown thrasher," says Paul Pierce, the theater's director since 1988, referring to the state bird.
Spanning 135,000 square feet, Springer has served as the cultural heart of Columbus for nearly 150 years and was granted its official state theater status by then-Georgia Gov. Jimmy Carter in 1971.
"The sense of history you feel just going into that building is palpable," says Columbus Mayor Skip Henderson. "You can feel it, almost like something you can touch."
In any given year, Springer serves a wide range of tastes with a mixture of well-known musical theater favorites and more avant-garde fare. For example, the 2018-19 season saw hit Broadway musical Mamma Mia! in October, followed just weeks later by Kudzu, The Musical, an original show set in Columbus and written in part by Pierce himself. For the truly adventurous, there's No Shame Theatre, a no-holds-barred talent show held at 10:30 on Friday nights with beer and wine served by the glass.
Pierce says the eclectic mix is designed to attract all types of theater-goers, from the buttoned-up set who attend Saturday evening shows to the more unconventional crowd who may not seek out a Broadway production but will try No Shame Theatre. Though, ultimately, the goal is to get those drawn to one type of show to check out the others.
Originally opened in 1871 by French immigrant Francis Joseph Springer, the stage welcomed some of the biggest acts from both Europe and the U.S. during its first run of fame. Edwin Booth, Oscar Wilde, Ethel Barrymore and John Philip Sousa all graced the main stage.
And yet, the advent of motion pictures and the general decline of American downtowns in the mid-20th century left the Springer close to ruin in the 1950s. At one point, plans called for it to be razed along with the nearby county courthouse. Thankfully, a motivated group of locals raised money to save the space with a 1964 renovation.
Just seven years afterward, Carter named the Springer the state's official theater, and it was declared a National Historic Landmark in 1978. Four decades later, neither the Springer nor the 66-year-old Pierce show any signs of slowing down.
"My general approach my entire career has been for the audience to be bigger on the day I croak than it was when I got started," says Pierce, who is penning a book on the cultural history of Columbus. "We're always trying to make the audience bigger. You build audiences like the country preacher saves souls: one at a time." – Haisten Willis