Brunswick | Golden Isles: Riding a New Wave
Downtown revitalization, tourism and heavy industry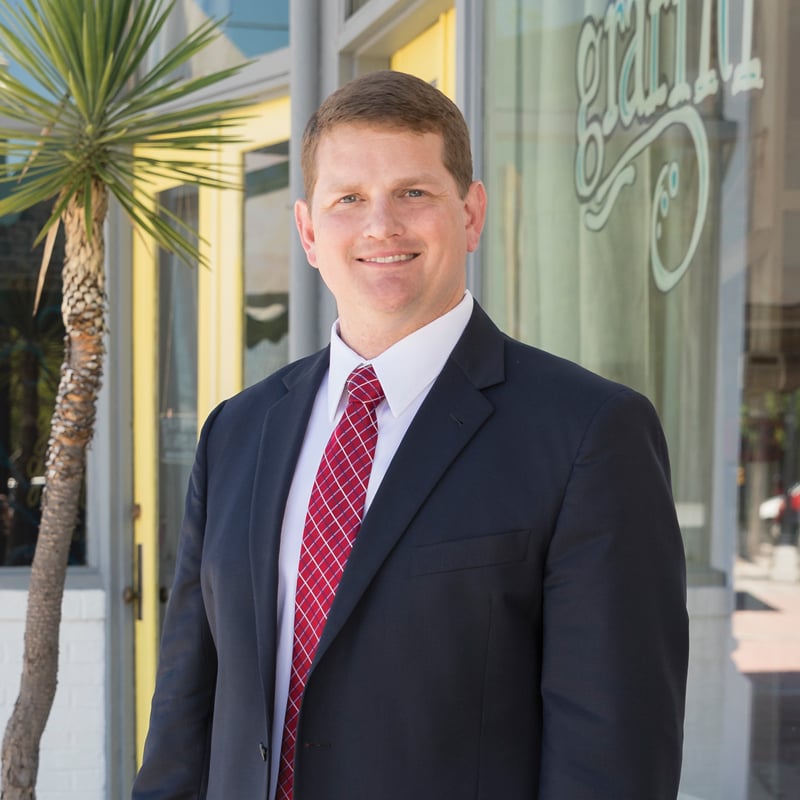 They're making stuff in Brunswick.
Oh, they've been doing that for decades on an industrial scale, of course, from bleached pulp to luxury jet interiors to frozen seafood. We're talking here, though, about individual makers, entrepreneurs who work with their hands to make things – and a living. Within walking distance in historic downtown Brunswick, you'll find small businesses making rustic home décor for national distribution, fabric kitchen goods to replace paper and plastic and, by the end of the year, beer.
"It would have made more sense for us to be out in an industrial park, but downtown is really important to me," says Whitney Herndon, who operates Grace Graffiti with her husband, David. Instead, in an old storefront that the business owns on downtown's Newcastle Street, Herndon and her staff of half a dozen or so full- and part-time employees produce handmade décor items with an Etsy feel but a wholesale market. Think wooden placemats, wall art, trays and bottle openers with state-shaped handles that she reluctantly names as her bestsellers, like expressing favoritism for one of her children. Her wholesale customer list, past and present, is impressive: L.L. Bean, Wayfair, Birch Lane and Nordstrom. She also sells directly from her website but has no retail operation.
"Something we're really proud of: We design it, we make it and we ship it from right here. It's part of being American-made," Herndon says.
Stroll just a bit down Newcastle Street and you're at Dot and Army, where a small retail shop fronts a larger production area. Here, Jennifer Zamudio makes reusable cloth goods for the kitchen. Picture single-use plastic or paper things in your kitchen, and her company probably produces a reusable alternative – "unpaper" towels, dinner and cocktail napkins, bowl covers, scrubbies.
"We're based 99 percent on the internet, and we ship as far away as Australia," Zamudio says, pausing between packing up the day's orders. Her tiny retail operation inside the front door is almost an afterthought. "We're here anyway, so we might as well have a storefront. We love being downtown."
And the beer? Coming soon. Silver Bluff Brewing Co. is taking shape downtown, and the business partners – husband and wife Chris and Allyson Moline and brothers Kevin and Jeff Coyle – are aiming for an opening sometime in the fourth quarter of this year. Their brewery will produce draft and canned craft beers for distribution and will also sell them at the adjacent beer garden and tap room.
"We've been working with the city and the historic preservation board, going back and forth" says Chris Moline. "We wanted to preserve the building but at the same time stay on budget. We've always wanted to be part of the downtown revitalization. There's easier places to go, but we stuck it out."
His reference to "easier" is about the original building shell on their site, which dates to 1894. The partners got what he describes as pushback on demolition and now are working on a plan that incorporates the old building and new construction.
When the brewery is up and running, Brunswick will have an alcohol trifecta downtown – locally made beer, liquor and wine. Richland Rum set up shop a few years ago in downtown Brunswick, distilling single-estate rum there as well as in Richland on the other side of the state. And, while the winery is 40 miles inland on a family-owned blueberry farm in Bristol, Rabbiteye Winery and Market offers tastings of its blueberry wine in a retail shop on Newcastle Street.
"We keep attracting these young entrepreneurs who want to make an impact on their community," says Ryan Moore, president of the Brunswick and Glynn County Development Authority, pointing to a pair of rehabbed office buildings downtown that are essentially fully occupied.
---
A Different Place
Michael Kaufman grew up spending summers on the Golden Isles and moved to St. Simons Island from New York a few years ago. Sensing an opportunity in the office market in downtown Brunswick, he bought the c. 1908 Royal Hotel on Newcastle Street, rehabbed the historic façade and modernized the interior for small businesses and nonprofits.
He dubbed the redone building The Wick and saw it quickly become fully rented in an all-inclusive model with paid utilities, including internet, and rents running from $200 to $800 monthly. That spawned the Wick 2.0 on F Street, also downtown, which filled up as well.
"I think Brunswick has been through a few different waves of revitalization. When we started, about every other building was vacant or for sale, and now big, old buildings are being invested in," says Kaufman. "Brunswick is a very different place than it was a few years ago. People who care about it are putting real money into it."
Brunswick Mayor Cornell Harvey says he remains optimistic about the prospects for a new public/private conference center downtown, which hinges on attracting a hotel partner to go with the site. "We've been trying to do this for 18 years, and we're not going to keep kicking the can down the road. We're going to get it done," he says.
The economic picture is made up of lots of little signs of progress, Glynn County Board of Commissioners Chair Michael Browning says, pointing to the new businesses downtown, tourism growth and library improvements, although he acknowledged the blow of a sawmill closure.
Helping support all of this growth is the presence of the Southeast Georgia Health System's Brunswick campus. The hospital held a ceremonial groundbreaking earlier this year to launch a three-year, $130-million expansion that will bulk up the emergency facilities, add 16 new operating rooms and increase patient rooms, among other improvements. "This is at the heart of our community's ability to grow," says Michael Scherneck, president and CEO.
---
Island Life
Tourism has long been the Golden Isles' golden goose, and that shows no signs of changing any time soon. New hotels are coming online across the full spectrum – the boutique Pilar Hotel on St. Simons, the completion of new hotels in the Jekyll Island revitalization and a cluster of new chain offerings at Exit 38 off Interstate 95.
Scott McQuade, president and CEO of the Golden Isles Convention and Visitors Bureau, sees money in the growth that will bring 1,000 new hotel units by the end of 2020.
"Last year, the Golden Isles experienced another all-time record year in the tourism industry," he says. "Some 3.2 million overnight visitors stayed in area accommodations, while 2.1 million day visitors passed through the area. The overnight visitors left an economic impact of $1.6 billion, while the day visitors added an additional $500 million of revenue to the area."
Ten years into a revitalization of facilities on Jekyll Island, Jekyll Island Authority Executive Director Jones Hooks sees some light at the end of the development tunnel.
"The authority began to tear down existing structures that were out of compliance with their lease and whose lifespan had ended. The plan was to come back on the existing footprint," he says. "First of all, it makes great development sense and, more importantly, there's a requirement in state statutes that restricts development on Jekyll Island to roughly no more than 1,675 acres."
All of the development that has taken place on Jekyll in the current revitalization, he notes, has occurred on the existing footprint.
Jekyll's Beach Village redevelopment will wrap up shortly, with the new Home2 Suites by Hilton due to come online this summer with 107 lodging units, across from the Westin that opened in 2015. New or revamped public parks on opposite ends of the island, Corsair Beach Park and Oceanview Beach Park, offer facilities such as changing rooms, restrooms, showers and ADA beach accessibility. Additionally, the island's original museum was redesigned and renovated in the footprint of the historic stable building in Jekyll's Gilded Age historic district and reopened as the Mosaic this spring.
Next up on the lodging construction front is a 118-unit Marriott Courtyard and a 90-unit Residence Inn, with anticipated completion by late 2020. "They will be dual branded, meaning they will be sharing certain amenities like lobby space. That's good from a land-use standpoint and from a financial standpoint, too," Hooks says.
The authority commissioned a carrying capacity and infrastructure study, with an eye toward keeping that golden goose healthy. The study assessed how many people and vehicles and how much development the island can accommodate and still protect its character and natural resources.
"We did this because we think the most important thing about Jekyll Island is the natural assets of the island, and we know we have to protect those," Hooks says. "We're trying to be very proactive. This study looked at everything from our beaches to our hard infrastructure like water and sewer. We've been looking at promoting our brand and bringing people to Jekyll Island, but at the same time we have to look at protecting our brand."
St. Simons Island is facing the same dilemma of preserving greenspace as Jekyll, but there, the effort is in the hands of the nonprofit sector, not state regulation. The St. Simons Land Trust raised more than $9 million in the past year to preserve greenspace by buying it.
In 2018, the trust closed on five parcels of property, according to David H. Pope, its executive director. Among those properties is an existing building being rehabbed as rent-free offices for the organization.
Bill Brunson, vice chair of the Glynn County Board of Commissioners, is excited about the special purpose local option sales tax (SPLOST) that the county began collecting in 2017 and is already looking ahead to a projects list for when the current one sunsets in 2020. The excitement comes from having tourists help pay for infrastructure, he says.
"SPLOST is such a key element for this community, with 3 million tourists visiting here. I've got to tell you the one-cent local option sales tax doesn't cover the amount of infrastructure that is required to handle 3 million tourists, and that many tourists strain our assets," he says. "This year, we're fixing to put in another half a million dollars devoted to beach safety, more lifeguards, stations, a tower that will be able to see a vast part of the beach, and those things are largely related to the number of tourists that are jumping in the water. We've got to make sure they're safe."
Tourism in Glynn County covers the full income range. McQuade says a portion of the patrons at motels clustered at the county's interstate exchanges aren't just taking a break en route to Florida – they're budget-minded vacationers day-tripping 20 to 30 minutes to the island beaches. On Jekyll and St. Simons, hotels run from middle-of-the-road to luxury, and on Sea Island, they start at luxury and go up.
Golf headlines much of what's happening at Sea Island these days. When the PGA's RSM Classic tees up the week of Nov. 18, one of the two courses over which it will be played will be the redone Plantation Course, due for completion in mid-October.
"It'll be a completely different golf course. They are lowering the back nine so you can see all the way through the golf course, you can see out to the ocean, you can see straight through," says Brannen Veal, director of golf for Sea Island. He describes the future revitalized course – the work of Love Golf Design – as a more playable but still challenging course.
The golf course isn't the only thing being refurbished on Sea Island. The resort, which has received four Forbes Five-Star awards for 11 years in a row, will wrap up two years and "north of $70 million" in upgrades and restoration later this year, according to Scott Steilen, president and CEO. Projects – some complete, some still underway – include new cottages and improvements at the Lodge; an expanded restaurant at The Cloister; and a new bowling alley, pub and nature center at the resort's Beach Club.
"The fact that we had two 100-year storms in less than 11 months has an impact on the amount of sand on our beach and where it goes," Steilen says. "Thankfully, our dunes did their job in protecting us, so it was time to replenish that. When finished with this $30-million project, we'll have dry sand beach at high tide from end to end."
---
Education and Training
Tourism demands a workforce, and local educators are intent on providing one – for the hospitality industry as well as for other business sectors.
"We are proud of the fact that the College of Coastal Georgia (CCGA) is the first institution in Georgia to offer a standalone bachelor's in hospitality and tourism," says Michelle R. Johnston, the college's president. The degree offering began last fall and attracted 62 students in its first year.
"All of our hospitality and tourism management students are required to complete an internship," she says. "Where else in the world can hospitality and tourism have access to one of the premier resorts in the world, with Sea Island, and one of the most recognized parks, Jekyll Island? That is the difference we offer, the proximity."
And, thanks to the proximity to the Federal Law Enforcement Training Center (FLETC) in Brunswick, the college's offerings in tracks like cybersecurity are "not your everyday criminal justice program," she says. Retired and active FLETC faculty members often serve as instructors at the college, and CCGA also has occasional access to special programming at the facilty.
FLETC, a massive, 1,600-acre complex where more than 90 federal law enforcement agencies train, is anything but a tourist asset – but it does fill hotels when stretched beyond its own 2,000 dorm rooms. In the federal government's 2018 fiscal year, more than 28,000 students attended training at FLETC's Glynco location. Basic courses can run 12 to 14 weeks; advanced classes go anywhere from two days to a few weeks. More than 900 people work there, and the course offerings cover things like internet forensics and investigations, weapons of mass destruction, active shooter incidents and money laundering.
---
Heavy Industry
Glynn County doesn't lack industrial brawn. Look no further than the waterfront to see it flexed. The Port of Brunswick handled some 630,000 cars last year. As many as 40 roll-on/roll-off ships a month belly up to one of the three berths at the Colonel's Island terminal, and some of those can carry as many as 8,000 cars at a time.
Look around Colonel's Island, where pavement is rapidly replacing pines, and you see massive parking lots, miles of road and rail and, oh yes, vehicles in eye-boggling numbers: family cars, high-performance prestige names, bulldozers and massive dump trucks, luxurious Belgian-made tour buses destined for touring music royalty – if it's got wheels, chances are it is there.
And when those wheels are on a Kia, ports officials get downright effusive.
"What's really great with Colonel's Island, we celebrate both imports and exports," says Griff Lynch, Georgia Ports Authority (GPA) executive director. "It's incredible to think that Kia is truly vertically integrated with the Georgia ports."
The vertical integration comes in, explains GPA Chair James Allgood, because the Kia plant in West Point imports parts through Savannah, builds the cars in western Georgia and exports them out through the Port of Brunswick. The first shipment of Kia's new mid-size SUV, the Telluride, passed through the port earlier this year, and Allgood says plans are for 3,000 of the Georgia-made vehicles to move through Brunswick each year.
The aviation side of industry reports a prosperous year in Glynn County, with a jobs increase. Gulfstream Aerospace Corp.'s company-owned aircraft service and completions center at Brunswick Golden Isles Airport, which has been led by General Manager Becky Elliott since January 2018, spent the year providing maintenance to all Gulfstream models and outfitting several large-cabin Gulfstream aircraft with interiors.
Gulfstream Brunswick, which had nearly 300 aircraft departures on the service side, added 60 employees during 2018, in large part because of an increase in completions work. The site has nearly 340 employees.
The company also bought into workforce development, joining other local companies to help develop an industrial systems pathway program in partnership with Coastal Pines Technical College and Golden Isles College and Career Academy.
The low unemployment rate was a blessing earlier this year when Georgia- Pacific closed its Sterling sawmill in Glynn County, leaving 120 without jobs, and Moore says the industrial community in the area absorbed many of those workers.
Woody Woodside retired as president of the Brunswick-Golden Isles Chamber of Commerce in the spring, following more than 30 years in the post. He leaves the chamber in the hands of Ralph Staffins, former president of the Covington-Newton County Chamber of Commerce, who started in Brunswick June 1. Woodside seemed to feel good about the shape he was leaving the place in. "Our industrial base has remained strong, I've seen more interest in investing in downtown and the properties down here, our numbers are up with Delta, and everyone's interested in working together."
Not a bad note to go out on.
---
Local Flavor
On the Home Front
St. Simons Island beachgoers probably don't realize that when they have their feet in the surf, they are standing on a former World War II battlefront. Just a few miles out to sea, where shrimp boats and jet skis now cruise, German U-boats once patrolled with deadly effect in the Battle of the Atlantic. Blimps, horse patrols and guard dogs answered the threat along the beaches, as Glynn County boomed with wartime industry.
This down-home drama is captured to excellent effect in the World War II Home Front Museum on St. Simons Island that opened in December – the latest element in the region's tourism assets. It's a modern museum, meaning it's longer on photographs and interactive exhibits than it is on artifacts, and it provides both a poignant look at coastal life during the war and an air-conditioned break from the sunny beach.
In about a 90-minute visit, museum-goers can relive this coastal county's surprisingly robust role in World War II, where Glynn County was home to one of the country's 10 airship (blimp) bases, one of only 18 shipyards building Liberty Ships and one of eight radar training facilities in the U.S.
Early in the four-year process leading up to the museum's opening, the society turned to the internationally known museum design firm of Gallagher & Associates to put the exhibits together. Thanks to the interactive displays, visitors can try their hand at such things as distinguishing friend from foe while plane spotting, using radar information to direct a naval battle, stretching ration coupons to cover the weekly groceries and dialing a vintage pay phone to hear oral history accounts from local residents.
The Coastal Georgia Historical Society developed the new museum in a historically significant building, the c. 1936 Coast Guard Station at East Beach. The building is part of the story it tells: survivors of two tankers torpedoed off St. Simons Island on April 8, 1942, were brought here after they were rescued, and the then-active Coast Guard station played a role in coastal defenses.
"So many people have personal connections to this story," says Sherri Jones, executive director of the Coastal Georgia Historical Society. She and Mimi Rogers, curator of the historical society, point to the artifacts, photographs and oral histories that make up the collection, donated by local residents, their descendants or people who spent the war years in Glynn County.
Even modern visitors far too young to remember the war may discover their own personal connection if, for example, they happen to be staying at the King and Prince Beach and Golf Resort, which was commandeered during the war as a radar training facility and residence for bachelor officers.
It's one of those rare museums that brings history to life and brings it home. – Betty Darby