Appreciating customers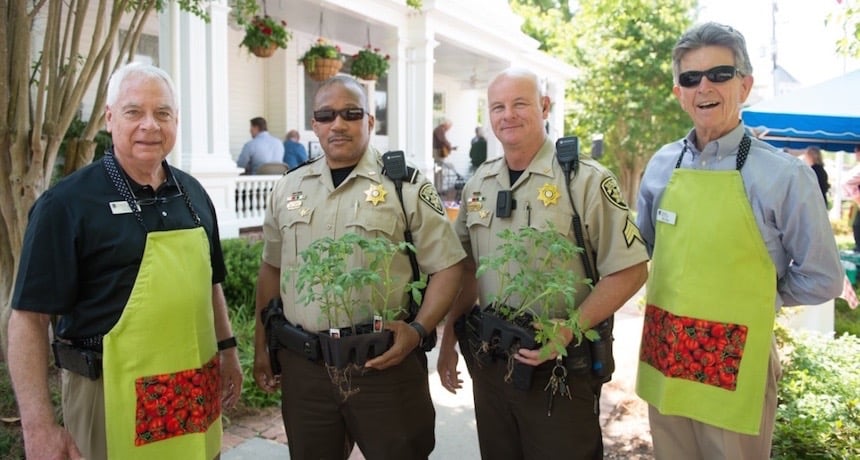 Forbes magazine recently named United Community Bank (UCB) one of the top
five U.S. banks on its list of the World's Best Banks. The coveted ranking was
based primarily on customer service, and this month UCB celebrates its patrons
with Customer Appreciation Days throughout Georgia, many of which are being
held today. (Check with your local branch to find out when its Customer
Appreciation Day will be held.)
In many counties, these annual celebrations are known as
Tomato Day because UCB gives attendees locally-grown tomato plants. This has
been the bank's tradition for more than 30 years and some branches have been
known to hand out more than 2,000 plants. Along with tomato plants, the
celebrations include free food, entertainment and camraderie.
Today in Marietta, the Cherokee
Street branch is providing live music from a bluegrass band. Throughout the
year, the Marietta team also tends a garden in the bank's backyard and shares
all produce with the community free of charge.
Look for more about UCB and other Georgia banks in our upcoming
July edition.
Photo, from left, C.B. Fair, regional president of West Atlanta; Maj. Michael Williams and Sgt. Anthony Poss of the Cobb County Sheriff's Office; and Bill Gilbert, UCB's former president of community banking who recently retired
Photo provided by UCB.
Do you follow us? Find us on Linkedin, Facebook, Twitter and
Instagram.