Remaining Relevant
Marketing Georgia's credit unions to the next generation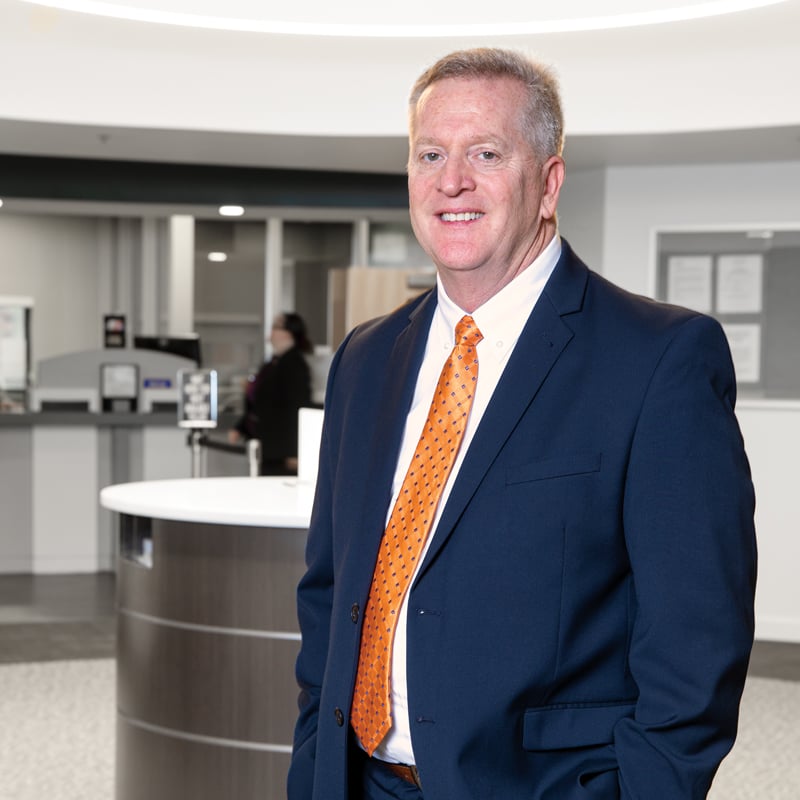 Metro Atlanta resident Renata Dennis falls into the typical credit union demographic. She's a baby boomer, a woman and a professional. She also followed in her parents' footsteps: she's a second-generation credit union member.
Dennis joined 1st Choice Credit Union in 1993 when she worked as a nurse at Grady Hospital. Now a clinical research nurse working in vaccine studies at Emory University's School of Medicine, Dennis changed jobs but not credit unions, sticking with 1st Choice despite the fact that they have just two branches, one at Grady and the other at the Auburn Avenue administrative offices.
She likes the high-touch service she gets from 1st Choice, admitting she's not a fan of online banking except to check her balances or to move money from one account to the other. Once she mistakenly locked herself out of her own checking account.
"I had to call customer service, and I recognized the voice on the other end of the phone," she says. "When I call, there's a person, not a machine, to talk to."
And there are other perks: annual dividends; no fees as long as she has a savings account; a modest life insurance policy she receives just for being a member; preapproval for car loans that helped her negotiate better terms at dealerships. "When I retire in a couple years or go part time, as long as I can still get down to Grady to make a deposit and the internet is up, I don't see any reason to make a change," she says.
---
Looking for Alignment
Dennis may not see a reason to change, but credit unions know they can't take contented customers like her for granted. The average age of a credit union member, nationally, is 47, but nearly half are over age 52. The baby-boom generation helped drive credit union membership, with most members happily embracing new technology, tools, products and services that make remote banking easier.
While credit unions are keen on keeping longstanding members satisfied, they're also looking at fresh ways to attract the next wave of members – Generation Y (typically called millennials, ranging from 23 to 38 years old) and Generation Z (those born starting in 1997, with no cutoff date established yet). The member-owned, community-oriented credit union vibe seems like a natural fit for the aspirationally minded younger generation.
Not necessarily, says Mike Mercer, president and CEO of Georgia Credit Union Affiliates (GCUA), the state's trade association for credit unions. "While what they say might be values-related, what they're doing is highly technology-related," says Mercer. "Convenience, simplicity and 140-characters-and-less are what young people gravitate to. Like most of us, they don't wake up in the morning thinking 'what financial institution should I be doing business with?'"
The GCUA puts a lot of time and energy into navigating the brave new world of next-gen marketing and in helping their members, too. For example, research shows that due to staggering amounts of student debt, many millennials are delaying the major borrowing cycles that come with home buying, marrying and starting a family, sometimes by up to 10 years.
They're still looking for the same products their more mature counterparts wanted – low-to-no fees, good rates on mortgages and other loans, access to ATMs – and some things boomers never thought of, such as intuitive mobile apps and peer-to-peer (P2P) payment services like Zelle.
The focus on convenience makes the credit union shared branch network all the more important. It's nationwide, affording members of even small credit unions access to 6,000 credit union branches across the country. "That makes it comparable to Wells Fargo or Bank of America – it's about the same number of branches they have," says Mercer. "Members have access to many tens of thousands of surcharge-free ATMs. Credit unions can provide most of the convenience needs that the younger generations are expecting to see when they go about their financial affairs."
As for reaching younger audiences with their message, most credit unions have learned that ad buys are best made on social media platforms like Twitter or Instagram, or on streaming services like Pandora or Spotify.
---
Scaling Up
Hank Halter is the CEO of Delta Community Credit Union, the state's largest with more than 390,000 members, $5.8 billion in assets and just over 1,000 employees. Delta Community, located in the bustling Cumberland area of Atlanta, was recently ranked among the best in the U.S. in Bankrate.com's 2019 Top Ten Credit Union's list.
As the name implies, Delta Community was founded by former Delta Air Lines employees, and for the first 65 years of its history it served that select employee group. However, in 2005 Delta Community broadened its charter, enabling the credit union to serve anyone who lived or worked in the 11 Metro Atlanta counties.
"Growing as we did enabled us to pick up economies of scale that we could turn around and invest in our infrastructure and our products," says Halter. "Because we're not-for-profit, we could take those dollars and invest in online tools. In fact, 83 percent of our members use the online channels – everything from ATMs, our award-winning mobile app, desktop, landline."
As of February 2019, Delta Community's reach expanded again, adding three more counties – Douglas, Paulding and Rockdale. "You're hearing stories about banks that are consolidating or shuttering branches; we're doing the opposite," says Halter. "We're opening our 29th branch in McDonough in Henry County in early May, supplementing our two existing Henry County branches."
Halter says technology and diverse product offerings help attract young members – they expect to offer Zelle to their members later in the year – but the strong service culture at Delta Community is the key to their high customer satisfaction ratings.
"We're very selective when we interview and hire," he says. "We invest a lot in training. Several weeks [of training] goes to every employee, and that goes to every employee whether in corporate communications or on the front line or in the back office. There's a culture here we want to maintain, and we have maintained it for 70 years."
---
New Strategy, New Results
Some credit unions are making marketing to younger members a top priority. "To survive, we need to get that millennial group," says Tom Hayden, bluntly. Hayden is CEO of Excel Federal Credit Union in Peachtree Corners. "When I got here [a year ago] it was, 'we'll just send out postcards, statement stuffers, pay for printing, postage,' and we got the same results. Nothing happened. We decided to change our strategic direction and do everything digital, as much as possible. It was less expensive, quicker, but it reaches our members, and the millennials, on their time and their convenience."
They began surveying their members to determine how they wanted to receive communication and what sorts of products and services they were looking for. That quarterly newsletter that used to arrive by mail? Check your email now, or look for it on the website. Marketing is done through Facebook.
Excel Federal is also taking advantage of geo-marketing – using cellphone data to target marketing through the member's location. Almost everything is on the table – contactless swipe debit cards; instant issue cards in the event of a compromised credit card; setting up travel and spending parameters on accounts.
"My feeling is that we're just beginning to get there," Hayden says. "Even with this strategy, we're small enough to adapt to any changes that might need to be made. We're going to do these surveys every six months; we need to stay in touch with our members to know what they want and need. We will change to meet their needs, whatever they are."
---
'You Have to Go to Them'
John Rhea, CEO of Robins Financial Credit Union in Warner Robins, would probably tell his Excel counterparts they're on the right track simply by being intentional about their strategy. Robins Financial has been in business for 65 years, has 204,000 members and operates 22 branches in 30 counties. It opened a branch in Watkinsville in January, its second in the Athens area, but according to Rhea, the bulk of their business is in middle Georgia – Houston, Bibb, Peach, Baldwin and Jones counties.
Robins Financial got serious about marketing to younger members about 10 years ago, during the Great Recession. Today their average member age is 44 – younger than the national average. What did they do differently?
"I think being aggressive with product offers and our pricing made the difference," says Rhea. "We also had to figure out how to touch them." Robins Financial went deeper, marketing well into Gen Z territory. "We tried to create product mixes. We actually have two account classes – one is for the really young, 12- to 15 year olds, called MyStash. It's their first opportunity to have a checking account," he says.
The MyStash account requires a parent/guardian signatory, and it's a debit card only – no checks. The second account type is called MyMoney, MyWay for members 16 to 20 years old. This full-fledged checking account includes a free box of checks and up to two insufficient funds refunds per year. "We all make mistakes, and sometimes young people make a few more," Rhea says. "We also give them $10 in ATM refund fees if they use a foreign ATM."
Many young people learn about the accounts in financial literacy classes that are taught in local high schools and colleges by an instructor provided by Robins Financial. "In a three-year period, we've taught 2,000 classes, reaching 30,000 students," says Rhea. "You have to go to them. That's been a big thing."
Robins Financial also invested in educational content on social media channels, including an extensive library of three- to four-minute videos on YouTube on topics from budgeting and buying a home to fraud prevention.
Rhea echoes the sentiment of his fellow CEOs: credit unions are responsive to the market. "If we get any inclination that our members are using something or want something that we don't have, we get on the stick," he says. "[We] don't have to go through 10 different layers or channels to get things approved. If we want to do something, we get on it and put it in motion in a hurry."
The community culture of credit unions is one that may end up resonating most with younger members. Whether it's Delta Community investing $650,000 into philanthropic programs in the communities they served in 2018 or Robins Financial paying $25 million in dividends to more than 100,000 qualified members in 2017 and 2018, credit unions have a markedly different ethos than a for-profit bank.
"What millennials say is important to them has a lot to do with the kind of values credit unions stand for," says Mercer. "At the end of the day, I do think that you're going to see people become more and more aware that credit unions are institutions that are genuinely structured to help them do what they're doing in their lives, not structured to harvest profits and send them off to third-party shareholders. I think that alignment is going to be a really important thing as people grow through their lives."
---
Georgia's Largest Credit Unions
Delta Community Credit Union
Atlanta
Hank Halter, CEO
Members: 378,836
Assets: $5.8 billion
---
Robins Financial Credit Union
Warner Robins
John Rhea, president & CEO
Members: 197,883
Assets: $2.5 billion
---
Georgia's Own Credit Union
Atlanta
David Preter, president & CEO
Members: 187,531
Assets: $2.3 billion
---
Atlanta Postal Credit Union
Atlanta
Chuck Head, president & CEO
Members: 113,888
Assets: $2.1 billion
---
Associated Credit Union
Peachtree Corners
Lin Hodges, president & CEO
Members: 163,680
Assets: $1.6 billion
---
Georgia United Credit Union
Duluth
Debbie Smith, president & CEO
Members: 158,538
Assets: $1.3 billion
---
LGE Community Credit Union
Marietta
Chris Leggett, president & CEO
Members: 109,615
Assets: $1.3 billion
---
Peach State Federal Credit Union
Lawrenceville
Marshall Boutwell, president & CEO
Members: 57,540
Assets: $474.6 million
---
Kinetic Credit Union
Columbus
Mark Littleton, president & CEO
Members: 46,077
Assets: $402.8 million
---
The Southern Credit Union
Fayetteville
Ray Hull, president & CEO
Members: 32,674
Assets: $394.5 million
---
Coosa Valley Credit Union
Rome
Andy Harris, president & CEO
Members: 43,716
Assets: $347.2 million
---
Credit Union of Georgia
Woodstock
Brian Albrecht, president & CEO
Members: 33,121
Assets: $318.9 million
---
CDC Federal Credit Union
Atlanta
Elizabeth Mercier, president & CEO
Members: 18,952
Assets: $309.6 million
---
MidSouth Community Federal
Credit Union
Macon
Roy Bibb, president & CEO
Members: 37,193
Assets: $264.1 million
---
Southeastern Credit Union
Valdosta
Mike Gudely, president & CEO
Members: 26,420
Assets: $244.6 million
---
MembersFirst Credit Union
Decatur
Terry Hardy, president & CEO
Members: 34,828
Assets: $236.6 million
---
DOCO Credit Union
Albany
Barry Heape, president & CEO
Members: 37,556
Assets: $212.9 million
---
Aflac Federal Credit Union
Columbus
Roy McLeod, CEO
Members: 17,519
Assets: $190.1 million
---
PowerCo Federal Credit Union
Atlanta
Nancy McCracken, interim president
Members: 18,242
Assets: $188.6 million
---
Coca-Cola Credit Union
Atlanta
Rob Hatefi, president & CEO
Members: 14,810
Assets: $188.3 million
---
Source: Georgia Credit Union Affiliates