Perimeter Area: New Identity
HQs, housing and walkability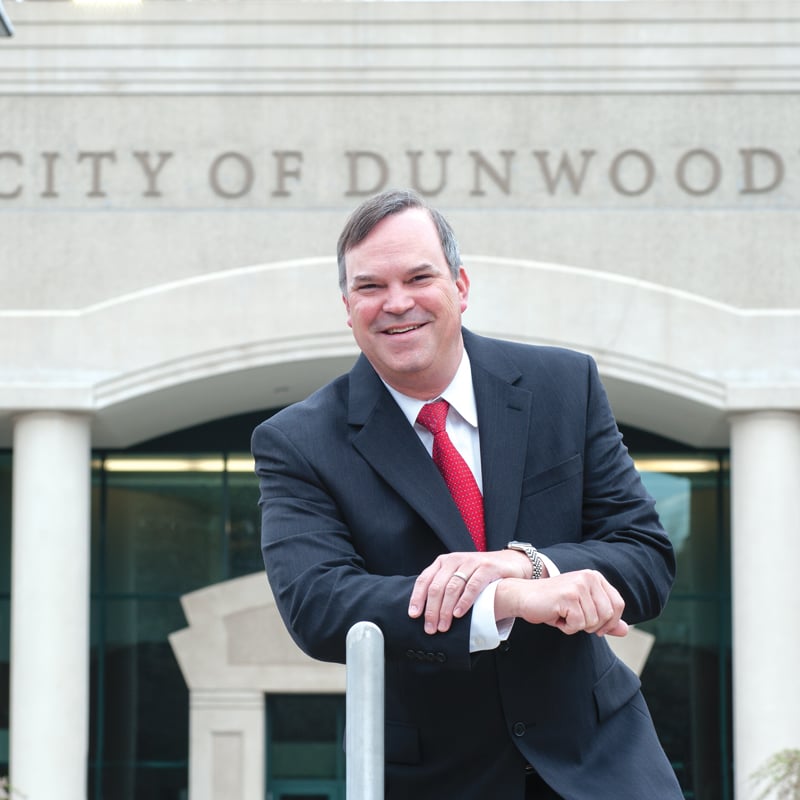 When you think of the Central Perimeter area in Atlanta, you probably think of Perimeter Mall or maybe the "King and Queen" office towers in the Concourse office park. But do you think of walking or biking along Ashford-Dunwoody Road, living in a high-rise condo or hopping on transit to make a quick trip to Cobb County?
Those things are either in the works or could be soon, as the region is quickly transforming itself from a traditional office-and-retail center to something much denser and more urban. "The Perimeter market is in the middle of a renaissance," says Ann Hanlon, executive director of the Perimeter Community Improvement Districts (CIDs), which include parts of Dunwoody, Brookhaven and Sandy Springs.
"This is now a 24-hour market," she says. "It's not unusual to see families walking around on the weekends, people pushing baby strollers, [kids on] school buses."
The CIDs partner with the three cities and two counties (Fulton and DeKalb) to address the area's changing needs, although one remains constant – getting around. But even traffic and transportation mean something different these days. One of the clearest examples is the Ashford-Dunwoody Commuter Trail, in the planning stages for almost 10 years but – thanks to a partnership between Dunwoody and the CIDs – about to make last-mile connectivity a reality.
To cut the time of the project by several years, Dunwoody will use funds from its hotel-motel tax reserve and the CIDs will match the funding. Hanlon says she's excited about the fact that the trail will feature a 15-foot sidewalk and separate bicycle track. The trail should help people walk or bike to their offices from the Dunwoody MARTA station – and help residents walk to restaurants and shops – without adding to the car congestion.
It's all part of the PCIDs' 2018 Consolidated Plan, a process that combines several initiatives into one strategic plan. During the review and plan development, three areas were identified for investment: access (vehicles and transit), mobility (transit, vehicles, bikes, pedestrians) and sense of place. With big state road projects and private development ranging from a new building at State Farm's headquarters to condos and apartments by Perimeter Mall, those areas are of paramount interest for the entire Perimeter market.
---
Dunwoody Gets Dense
Dunwoody was once shorthand for the 'burbs in Atlanta. Now? It's on its way to becoming a dense, walkable mix of shopping, bike trails, restaurants and condos – at least around Perimeter Mall. That area has long been a destination for companies looking for office space, but what's driving the corporate real estate decisions now is the location, location, location – of talent, specifically millennials who want to live and play near work. Dunwoody is primed to offer that, says City Manager Eric Linton, as it continues to urbanize and add residential capacity.
Two big projects will transform the area: The Park at Perimeter Center East, a mixed-use development with a staggering 900 condos (plus 3 acres of greenspace, a multiuse trail, townhomes, 500,000 square feet of office and some retail), will "change the dynamic a little bit in that area, which has always been an office market," says Linton.
Same for High Street Atlanta, a massive 40-acre development that's planned close to the Dunwoody MARTA station and State Farm headquarters. It will include a large number of condos and apartments, retail and office space, plus hotel rooms. North American Properties, which developed Avalon in Alpharetta and is redeveloping Colony Square in Midtown, will lead the leasing of retail, restaurant and entertainment as well as community engagement. (Boston-based GID is the master developer.)
At the heart of the region is Perimeter Mall, which originally drew people to Dunwoody. "A lot of the success here goes back to things that happened almost 50 years ago when the mall [opened]," says Linton. "It has really become the economic engine for the Perimeter area."
The mall has adapted to the changing landscape – literally and metaphorically. Its anchor tenants remain strong, the property has made changes to attract pedestrians (like moving restaurants to the front of the mall and developing stand-alone eateries in its parking lot) and its daytime traffic is substantial. Linton says that about 120,000 people are in Dunwoody during the day (whereas residents total about 50,000).
Now the addition of residential density will complete the circle. "It's important to keep the traffic coming in and out of the mall to support the retailers," says Linton. "As part of the evolution of the area, it's going to end up being very walkable and have a lot more people that will create more of a dinner- time and nighttime atmosphere."
Other developments include Twelve24 on Hammond Drive that will have 300,000 square feet of office plus some retail and restaurant space and an adjacent hotel. Staffing agency Insight Global has already claimed 205,800 of the square feet.
The perennial problem of the Perimeter – all the cars – is still a concern. But Linton is excited about two new projects that could provide congestion relief: the improvements to the Ga. 400 and I-285 interchange (a constant bottleneck that backs up on surface streets) and the addition of managed (express) lanes along 285 as part of the Georgia Department of Transportation's (GDOT) metro-wide project. Express lanes are five to 10 years away, but the 400/285 work should be done in 2020.
In the meantime, expect more people to flock to Dunwoody for an urban lifestyle, as strange as that sounds to any longtime Atlantan. "Folks are looking at every square inch of what has not been developed in Dunwoody to put in more density, whether it's office, condos or hotels," Linton says. "Dunwoody has become a very hot market."
---
Brookhaven Plans Ahead
The newest of the cities that make up the Perimeter area, Brookhaven was incorporated in 2012 and is looking to the future with the creation of an economic development strategic plan. The city hired its first economic development director, Shirlynn Brownell, in 2017.
"We're very excited to have some clear direction on what economic development in the city is going to look like for the next couple of years," Brownell says. Other initiatives include a recently implemented zoning overlay plan for Buford Highway, which she calls "our diamond in the rough." That's where most of the opportunities for redevelopment are, she says, since the city doesn't have a lot of available land on which to build or expand.
That doesn't mean the city is waiting around, though. Two major tenants joined the existing Perimeter Summit development last year. Accounting firm Carter, Riggs and Ingram consolidated its Atlanta offices into 4004 Perimeter Summit, taking about 50,000 square feet of space. The firm was the first tenant in the building, which was constructed in 2017.
And Northside Hospital also consolidated some employees into another building at Perimeter Summit, taking about 180,000 square feet.
"We'd love to see the 4004 Perimeter Summit building get leased up," says Brownell. "We think it's the ideal location." Sited at I-285 and Ashford Dunwoody Road, the mixed-use complex includes the Villa Christina restaurant and the Hyatt Regency hotel.
Brookhaven works closely with next-door neighbor Dunwoody and the Perimeter CIDs on issues that affect the entire area, like transportation and communication. The city recently partnered with Dunwoody to jointly train development authority board members from the two municipalities. "Whenever the opportunity presents itself, we try to partner together and present together – just keep each other aware of what's going on within the region," says Brownell.
Another area of collaboration with the CIDs – and just about every city along the top end of 285 – began with Mayor John Ernst, who gathered a group of mayors from DeKalb, Fulton and Cobb to talk about an east-west transit line leveraging the planned managed lanes along 285. The Perimeter CIDs and seven mayors, including Sandy Springs Mayor Rusty Paul, funded a study that concluded that such a transit line, with buses using the managed lanes, would be feasible.
---
Sandy Springs Creates Community
Sandy Springs is known for its corporate headquarters – UPS, Cox Enterprises, Graphic Packaging, Mercedes-Benz. But ever since the area incorporated in 2005, it had lacked something: a downtown. Now it has one.
City Springs, a mixed-use development with retail, restaurants, residential, performing arts spaces and City Hall located near Johnson Ferry and Roswell roads, opened in 2018. Mayor Paul says that the 1,000-seat Byers Theatre and smaller Studio Theatre in particular have been a hit with the community – he uses the word "joy" to describe reactions to performances at the larger space. And, he says, it's not just residents who are enjoying it.
"It's rapidly becoming a huge business center," Paul says of the flexible space that can be used for corporate meetings or banquets. The performing arts center also connects to a conference center at City Hall. It's all by design, the mayor says – a downtown that can go from day to night.
"It's designed in the daytime to be a huge asset to our large and growing corporate community," he says. "And then at night it transforms into a regional entertainment and cultural hub."
That, along with a recently adopted 20-year, $105.5-million parks and recreation master plan that will include a new cultural center at City Springs among other projects, is aimed both at current residents and ones the city wants to attract – the ones Paul calls the "first stroller" generation. "Young families just starting and young professional adults who are getting their careers started and then looking … to settle down," he says.
The younger generation is focused on quality of life, Paul says. Where baby boomers tended to move to a place for a job, millennials decide where they want to live and then find a job there.
"If you're going to be competitive … you've got to be focused on creating a high quality of life with a lot of things that the 20- and 30-year-olds want to do," says Paul.
But, the mayor says with a laugh, "I tell everybody – the baby boomers and the millennials want the same thing. They just want it at different times of the day – baby boomers want it earlier, and millennials want it later. … So we can make both groups happy." Sandy Springs, he says, is positioned to offer both the suburban lifestyle that boomer execs want as well as a more urbanized, walkable experience that millennials prefer.
Paul, a member of the Georgia Department of Economic Development's board of directors, says Sandy Springs' sweet spot is corporate headquarters – global, regional and U.S. The city notched a big win in 2018 when Inspire Brands, parent company of Arby's and Buffalo Wild Wings, announced it's adding 1,100 jobs and made a $32-million investment in its Sandy Springs headquarters at Three Glenlake Parkway. And Elavon, a FinTech (financial technology) company, is adding 200 new workers and leasing additional space at Concourse office park.
"We have an unparalleled story to tell the global corporate community that they should look at Sandy Springs and the Central Perimeter market to locate their headquarters," Paul says.
Headquarters, housing, walkability and transit – it's all designed to ensure the Perimeter area stays relevant and keeps growing.
---
Local Flavor
Farm to Road
For years, the Sandy Springs Farmers Market made its home in the parking lot of a closed Target on Johnson Ferry Road. Even in that less-than-charming spot, it thrived. Now, after a brief move, it's back home – and manager Lori Coombs couldn't be happier. Then again, home looks a lot different now.
Instead of a shuttered big-box, the market – which sets up on Mount Vernon Road – is surrounded by City Springs, Sandy Springs' new downtown. And the 1,000 people who regularly come through each Saturday looking for Georgia-grown produce, pasture-raised meat, fresh eggs, prepared foods, baked goods and more find themselves right in the heart of the city.
"There's a sense of community," says Coombs. "It can be a rainy day, but they'll show up. We have very loyal customers. … You're going to see your neighbors. You're going to see your politicians. You're going to see kids from school." You'd never know you're a mile from one of the busiest interstates in the country.
The market is in its 10th season, started by local business owners in 2010, according to Coombs. In 2014 Heritage Sandy Springs Museum and Park – located about a block away where the five original springs come together in a sandy spot – took over management of the market. It's now officially named the Heritage Sandy Springs Farmers Market, though locals still drop the first part.
In addition to food from about 45 vendors, the market usually has local chefs doing cooking demonstrations, live music and a gardening program for kids called Little Diggers. New this year are spices from Stoneridge Foods in Roswell, small batch granola from We Three Girls in Atlanta and more.
The Farmers Market is open each Saturday April through September from 8:30 a.m. to 12:00 noon and October through December starting at 9:00 a.m. Parking is free in an adjacent lot and in the performing arts center deck.