Albany | Dougherty County: Forging Ahead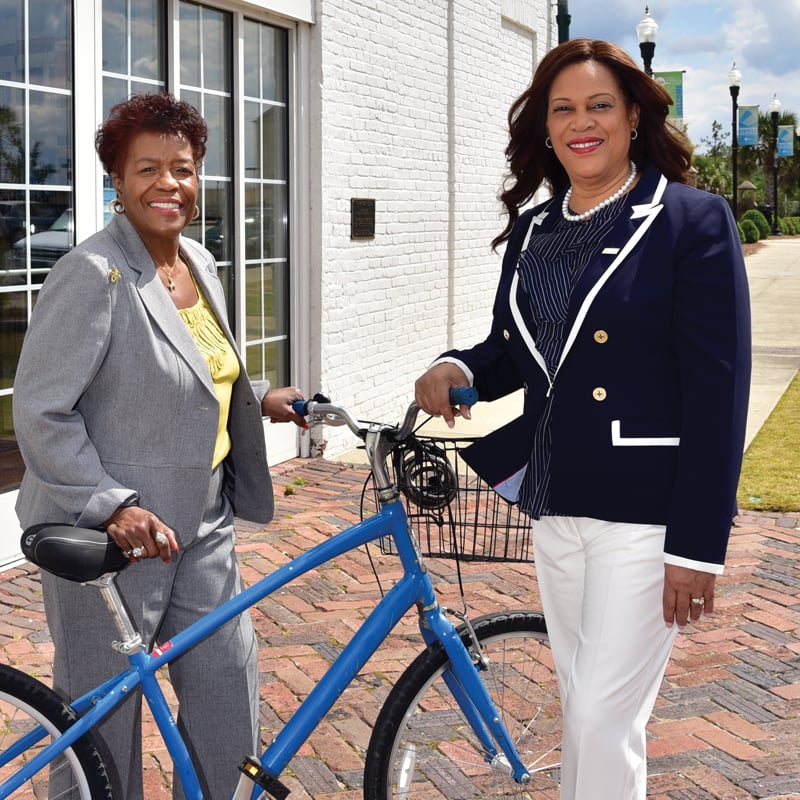 It's beginning to sound like a looping newscast, but many parts of Albany and Dougherty County remain in recovery following yet another natural disaster. The area took a direct hit in October from Hurricane Michael, less than two years after back-to-back tornadoes tore through much of the region. While a great deal of debris removal and rebuilding has taken place, many structures and homes, including that of Albany Mayor Dorothy Hubbard, are still draped in blue tarps awaiting roof repair or replacement.
"You couldn't ride through any street in this city; [damage] was everywhere you went, and recovery is going to take a long time," says Hubbard, who continues to be impressed by the compassion of community volunteers who have rallied for the third recovery effort.
Locals also rallied behind a March Special Purpose Local Option Sales Tax (SPLOST) effort, which is making leaders rejoice. The one-cent sales tax is projected to generate about $80 million over the next five years, says Dougherty County Commission Chair Chris Cohilas.
"It's a historic moment for our community," Cohilas says about the referendum, adding that funds will be used for much-needed improvements, including "paving roads and alleys, constructing roads and updating infrastructure."
Perhaps it's that spirit of community and camaraderie that helps draw visitors to the area, whether for business or pleasure. Led by Director Rashelle Beasley, the Albany Convention and Visitors Bureau (CVB) incorporated less than a year ago after separating from the Albany Area Chamber of Commerce. It was a move designed to help market the area to tourists that came out of a University of Georgia study requested by the city.
The CVB is charged with marketing the area to put visitors' "heads in beds" and "feet on the streets." On average, $2.1 million in hotel/motel tax is collected in Albany, up from the $1.2 million being collected when Beasley came on board in 2008. And the city's hotel occupancy is an admirable 62 percent, compared to the national average of 66.2 percent in 2018.
Topping the CVB's to-do list for 2019 is a wayfinding project to point visitors to area attractions and downtown highlights. In addition, new research begins this year to see where visitors to Albany are coming from, why they're coming – or why they aren't, she says. "That helps us focus on who we should be going after. It's a lot of business travel and helps us know how to market properly to get these people out of their hotel rooms," to spend money visiting attractions, restaurants and retail outlets.
A recently launched campaign is trending well, promoting Albany as being "off the beaten path," using tag lines such as Find Hidden Wonders – Off the Beaten Path, as well as Find Your Rhythm, and Make New Friends. In addition, crowdsourcing on the CVB website and getting visitors to use #visitalbany is proving beneficial. "Nothing tells your story better than those who come to visit," says Beasley.
---
On the Sunny Side
Georgia-Pacific broke ground in Albany earlier this year on a new 320,000-square-foot lumber production facility. The $150-million investment will create 130 new jobs and an annual payroll of $5 million, says Justin Strickland, president of the Albany-Dougherty Economic Development Commission. The facility will be developed on the entire 226 acres of the recently configured Albany-Dougherty Industrial Park that was sold to Georgia-Pacific.
In addition, Dougherty County this year announced its first venture into solar energy, says Strickland. A 900-acre solar farm developed by NEXTera Energy will open by the end of the year, adding renewable energy to the electrical grid, he says.
"Southwest Georgia has more sunny days than anywhere else in Georgia," he says. "The [Marine Corps Logistics Base Albany] has 125 acres of solar. For us to have an installation like MCLB Albany and to have another solar farm shows green energy works here."
Albany City Manager Sharon Subadan says a number of improvement projects are underway, including Team Up to Clean Up, a push to encourage volunteers to clean up litter and blight around the community, especially along major roadways into the city. In addition, Albany is embarking on a $20-million project to install automatic utility meters for the city's utilities customers. The equipment will give real-time information on usage that can also be monitored by the customer via computer.
City leaders are pleased with results of their decision last year to hire Spectra Venue Management to manage the civic center, municipal auditorium and amphitheater, adds Subadan. Not only has Spectra booked a number of shows that had high attendance or even sold out in Albany – a rarity in past years – including Three Dog Night, Travis Tritt and a Hot Wheels Monster Trucks show, the contract with Spectra saved the city $800,000 in its first year, she says.
---
Healthcare Happenings
After 30 years at the helm, Joel Wernick retired as president and CEO of Phoebe Putney Health System this spring. Scott Steiner, who previously headed four Tenet Healthcare Corp. hospitals in Detroit, took over the position on March 1. Steiner says throughout his career he's served a similar vulnerable population with a high rate of government-insured patients, particularly Medicaid, much like that served by Phoebe.
"It's just what you learn how to do, and you learn how to do it efficiently. You adapt and you survive," says Steiner, about the challenges and the politics involved with serving that population. "In the end, you do what's right. Sometimes you just have to say, 'let's put all of that aside and decide what's the right thing to do for our community. What's the right thing to do for people walking through our doors?' That right thing is to care the heck out of 'em. Give them safe care, good customer service and a little bit of hope that financially it'll be okay."
Steiner says he'll build upon the momentum created by Wernick, as well as Phoebe's employees, doctors and boards, while remaining true to a motto he's long followed: "Patients want three things: keep me safe, heal me and be nice to me. That's how I'm going to lead, with us being a highly reliable organization. And that speaks to taking great care of our patients, great care of our employees and great care of our doctors. All of that will equate to taking great care of our community."
---
Training the Future
With the Board of Regents' approval last August, Albany State University (ASU) became the first in the University System of Georgia (USG) – and the only historically black college or university in the United States – to offer nexus degrees in blockchain technology, one in blockchain with machine learning and the other in blockchain with data analytics, says Robert Owor, professor of computer science and software engineering at ASU.
Twelve recent ASU graduates have jobs with IBM, and currently 55 students are enrolled in the degree program, says Owor. The degrees stem from work being done as part of the USG's College 2025 Initiative, which seeks to ensure public higher education meets 21st-century learning and career needs.
The 60-credit-hour degree includes time in apprenticeship for experiential learning, says Owor, noting that ASU is partnered with local industries such as MillerCoors, Procter & Gamble and Marine Corps Logistics Base Albany for that purpose.
Higher ed in Albany is also addressing other workforce shortages. As the number of retiring drivers continues to grow faster than new drivers enter the field, there is increasingly a shortage of truck drivers. Albany educators and business leaders are working together to meet the demand. In fact, Albany Technical College (ATC) graduated the first class enrolled in its new Albany Transportation Academy last August.
"Procter & Gamble really started the education on this need," says Werhner Washington, P&G plant manager. The supply and demand ratio is causing a significant increase in transportation costs for companies like P&G, he says. Due to the shortage, trucking companies must pay higher salaries to keep drivers for their trucks, and they pass the costs along to their customers.
While ATC has offered a commercial driver's license (CDL) program for more than a dozen years, the recently established academy is "an opportunity for a more holistic plan that we hope matches the demand for graduates in the area that includes the diesel [mechanics] and other auxiliary programs that support truck driving," says Anthony Parker, president of ATC.
Students can complete the CDL program in just eight weeks, while the diesel mechanics program takes about a year, adds Parker, who expects enrollment in the CDL program to triple in the next academic year. Several trucking companies, including Southern Ag Carriers, Schneider Trucking and Raven Transport, have also partnered in these efforts, says Parker.
"Of course, we continue to work with the companies that are local and have been employing our CDL drivers and diesel technicians for some years," he adds.
As a constant supporter of the local community and the largest manufacturer in the area, P&G has also partnered in the past with the Commodore Conyers College & Career (4C) Academy in initiatives that include assisting with the robotics program and discussing the skills needed in the manufacturing industry. A partnership recently formed between the two provides for an internship opportunity for 4C Academy students enrolled in the year-long Industrial Operations Technician (IOT) program.
Developed several years ago between ATC, P&G and other area manufacturers to teach students some of the skills necessary for a career in manufacturing, IOT exposes participants to theories of operations management, quality and statistical process control, interpersonal and teamwork skills and mechanical skills, says Washington.
The manufacturing technician internship program is open to IOT students at least 18 years old. Interns will be paid to work three half-days per week at P&G for six weeks, during which time they'll be trained to operate a piece of equipment and be able to use some of the skills they'd use if they worked at the plant full time, he says.
"They will make adjustments on that equipment, they will check quality, they will do some maintenance on that equipment and they will also do some [product] loss elimination work to help the equipment run more efficiently," says Washington of the diagnostic techniques technicians use to find the root cause of a problem. Concurrent with that training, interns will also be part of a P&G manufacturing team.
"This will be interesting, because many of the people they will be working with are the same age as their parents – some are the same age as their grandparents – so they will learn how to work with a diverse group to help accomplish the needs of the team," says Washington.
The new internship is a prototype that Washington hopes will be expanded to other manufacturers in the area. "If we're able to do that, it will provide another pool of talent that we can pull from every year," says Washington.
It's just one more example of the Albany community's willingness to unite in initiatives for the benefit of residents, businesses and economic development.
---
Local Flavor
Urban Ag
Not in just any town can you show up at your favorite craft brewery and shop for fresh, locally grown produce at a pop-up farm stand while enjoying a beer or two. But not every town is Albany, and certainly not every town has someone like Fredando Jackson on a mission to get good food to the people.
Initially a grower peddling his own produce at area farmers markets and other outlets like the locally owned Pretoria Fields brewery, Farmer Fredo, as he is affectionately known, today leads the team as executive director of Flint River Fresh, the urban agriculture arm of the Flint River Soil and Water Conservation District.
The goal of Flint River Fresh is to increase access to fresh, local, affordable, healthy food while creating new economic opportunities for local farmers. Methods include establishing schoolyard gardens that teach children to grow and enjoy healthy food and taking a mobile farmers market to residents of "food insecure zones" where a lack of grocery stores or transportation makes access to healthy food a challenge.
Initially the program offered a community supported agriculture (CSA) membership, delivering a week's worth of fresh produce from area farmers for a set price, but the target audience has changed.
"The CSA really benefited people who were affluent and had an abundance," says Jackson, who works with the city of Albany, the Albany Housing Authority and the faith-based community to reach his target audience.
"We really have a focus on low-income families and seniors – people who don't have an abundance and are going check by check and week by week, not sure how they're going to feed their kids."
Flint River Fresh is always looking for opportunities to partner with local farmers to take their produce from the field directly to area consumers, says Jackson, who is currently working with about 15 farmers.
One such initiative, the Feed My Neighbor Project, connects farmers with local churches, setting up pop-up farm stands on days and times when the congregations normally gather. The group works with churches to distribute fresh produce boxes to communities in food insecure zones and helping them launch or expand existing church gardens.
The nonprofit has also launched a "Grow Your Groceries" series of gardening workshops that provides hands-on experience with raised bed construction, garden planning, container gardening and more to help build community and show that growing your own food is simpler than you think.
Through these initiatives and more, Jackson aims to make a difference in rural and underserved areas through practices that preserve the environment, empower youth and feed people in need.