Georgia Chamber promotes innovation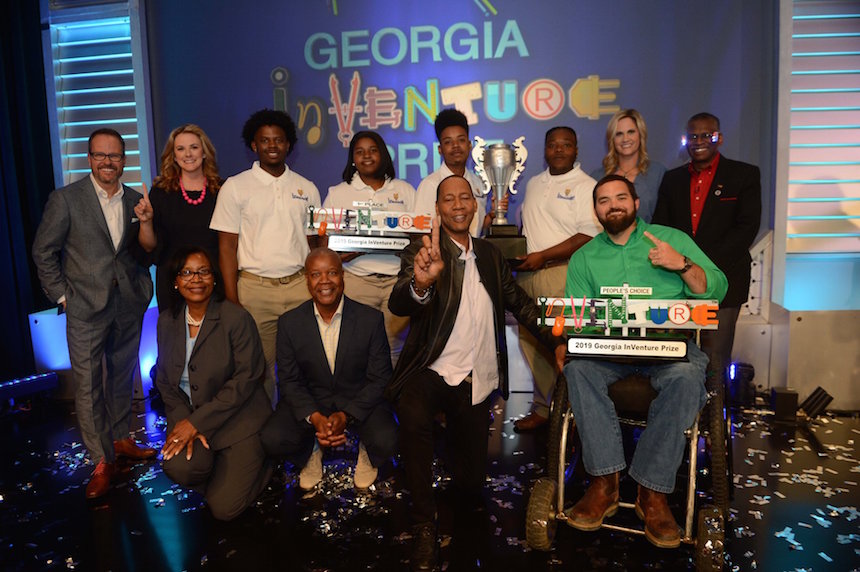 The Georgia Chamber of
Commerce recently held its first annual Georgia InVenture Prize competition
in partnership with the Technical College System of
Georgia, the Georgia
Department of Education and Georgia Public
Broadcasting. During the two-day competition student entrepreneur teams from
19 colleges presented their unique business solutions to judges. At the end,
two teams prevailed.
First place winner was Fort
Valley State University's Extendo Socket team. Extendo Socket is a
retractable extension cord built into an outlet socket. With the push of a
button, the cord reels back into the socket when it's not being used. The team
received a $25,000 cash prize along with the Georgia InVenture Prize Cup to
display on campus until next year's competition.
Second place and People's Choice Award winner was Spartan
Wheel Chariots, invented by Southern
Regional Technical College's Ben Huntzinger, who uses a wheelchair. His built-from-scratch
creation features thick wheel treads that allow the rugged wheelchair to be
used for off-roading and a more active lifestyle. He received a $25,000 cash
prize and valuable business connections.
Sponsors of the chamber's first competition to showcase the
state's innovation ecosystem and its college entrepreneurs included Georgia Power
Foundation, the University System of Georgia,
NCR Corp., Georgia Lottery Corp. and Gulfstream Corp.
Photo of InVenture Prize winners, college representatives and chamber officials provided by the Georgia Chamber of Commerce.
Photo of Ben Huntzinger courtesy of Southern Regional Tech.
Do you follow us? Find us on Linkedin, Facebook, Twitter and
Instagram.