The $63-billion Connection
Georgia's powerhouse tourism industry supports – and is supported by – nearly every segment of the state's economy.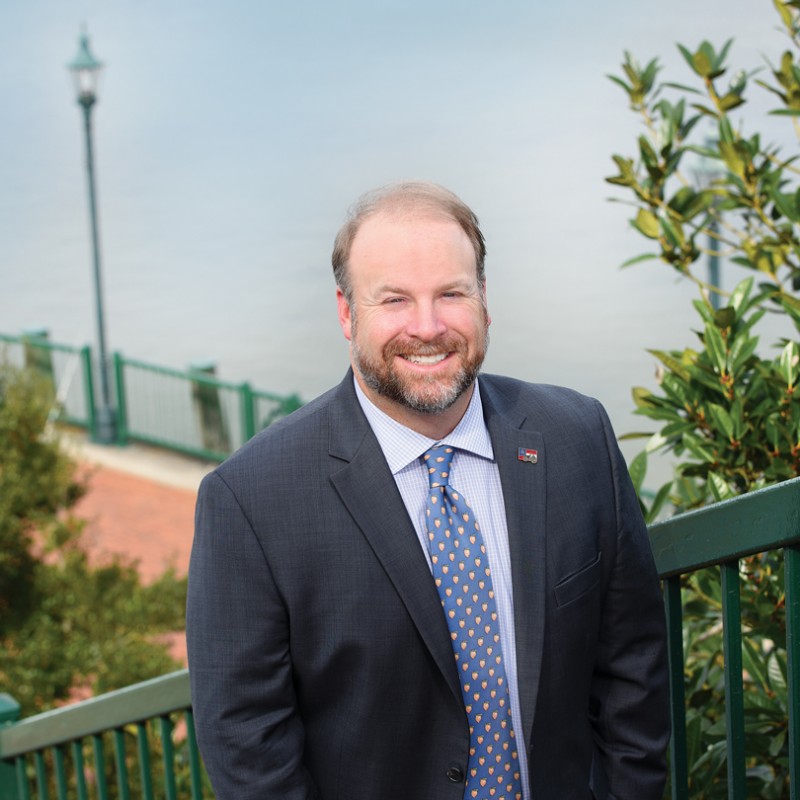 Jay Markwalter likes to point out how much of the growth that boosts Georgia's economy – new businesses, new investment, new jobs – is tied to tourism.
"All of that starts with a visit," he says, someone coming to the state to check it out on behalf of a company looking to relocate or expand.
Markwalter, executive director of the Augusta-based Georgia Association of Convention and Visitors Bureaus since April 2018, says, "If you ask economic developers in the state how important is tourism to your recruiting – it's crucial."
When a business is scouting locations, its representatives want to see for themselves what a place has to offer in the way of facilities and workforce, of course, but particularly in terms of quality of life for the employees and families who will be working and living there.
In fact, Markwalter thinks of the state's nearly 100 convention and visitors bureaus (CVBs) and destination marketing organizations as "closers" for the deals the economic developers bring.
---
Size and Scope
Georgia's mammoth tourism industry comprises hotels and lodging, restaurants, attractions, cultural sites and all kinds of service businesses. In 2017, it brought in $63.1 billion and generated nearly $3.3 billion in state and local tax revenues. Travel and tourism support more than 460,000 jobs in the state.
High-profile tourism-boosting events like Super Bowl LIII in February, which brought more than 150,000 out-of-state visitors to Atlanta and was expected to generate $185 million in economic impact once the final tallies are in, have short-term and long-term advantages, including burnishing the city's image. Atlanta CVB President and CEO William Pate touts the not-so-obvious benefits, "like the 6,000 journalists in town" who wrote stories from and about Atlanta – "You can't buy that kind of marketing" – and the top-level business executives who came for the game and left with a "refreshed perspective" on the city, possibly leading to future investment.
Yet smaller events have an impact as well. Georgia, for instance, is the No. 1 site for African-American family reunions. And music lovers love it here: Some 40 percent of attendees at the Savannah Music Festival and the Shaky Knees and Shaky Beats festivals in 2016 came from out of state.
"Tourism happens all around us," Markwalter says.
Leisure and business travel are the major categories, but they often blend as visitors combine the two. (Some tourism folks use the term "bleisure travel" to describe the combination.) But specialized sub-categories are growing, particularly historic tourism, bolstered by The Footsteps of Dr. Martin Luther King Jr. Trail and a proliferation of Civil War sites and trails; and agritourism, drawing travelers to working farms, wineries and craft breweries. Music tourism is robust in places like Savannah, Athens, Macon and Metro Atlanta. And, increasingly, film-related tourism is on the rise, encouraged by the state's booming movie and TV industry.
Overall, tourism is strong, says Kevin Langston, Georgia Department of Economic Development's deputy commissioner for tourism. "It's doing extremely well now," he says. "When you look at it statewide, it's easy to point to Atlanta. Savannah has had an amazing couple of years." But beyond the two geographical anchors, he says, "there is great tourism growth in every part of the state."
Langston's agency, charged with promoting Georgia as a travel and tourism destination, is making a big push through 2021 to focus on five areas – "pillars" in marketing nomenclature – where there is potential for even more tourism activity: African-American history and culture; film and music; outdoor recreation and sports; food, drink and the Georgia Grown program, a Department of Agriculture initiative that promotes food and food products grown or made in the state; and iconic Georgia features like national parks, heritage centers and wildlife sanctuaries.
The state budget for promotion is $6.5 million a year; many in the industry would like to see that bumped up.
Langston says a little more than half the travel in Georgia is leisure travel, notwithstanding Atlanta's reputation as a business travel hub, and international travel continues to grow. "Delta has helped us," Langston says. "With the Shanghai flights, there has been an explosive growth in Chinese travelers," who spend generously. "China is only the fourth largest market in number of visitors, but it's the No. 1 market in the world for spending."
More traditional markets like the UK, Germany, France and Italy remain strong, and Brazil's recovering economy has meant more visitors from that country.
In 2017, the income generated by Georgia's tourism industry was up by 3.5 percent over the year before; spending by domestic and international travelers was $35.4 billion.
---
Outlook
Langston sees continued growth in Georgia's tourism but suggests there may be something of a slowdown for 2019 and 2020. "I expect it to slow a bit but still expect it to grow. It really depends on what happens in other economies."
The ACVB's Pate says Atlanta has had an impressive run since the 2008 economic downturn: the city welcomed 53 million visitors in 2017, up from 38 million in 2010. Hotel occupancy rates have increased by more than 36.1 percent. The city hosted some 740 conventions and business meetings in 2017.
The outlook for 2019 and 2020 is rosy. "I feel good about our industry," Pate says.
Among the things that give him cause for optimism: enhancements being made to the Georgia World Congress Center, such as a Signia Hilton, the chain's new upscale brand; refurbishments at State Farm Arena, including "a lot of additional event space we can use for conventions here;" and prospects for developing the Gulch property near Mercedes-Benz Stadium.
He likes the increase he is seeing in people choosing to live in downtown Atlanta. "The continual influx of residents downtown will give it a feel more like Chicago or New York," enlivening the area. "This has people on the streets as well as more nightlife, more retail. It enhances the experience for visitors – it brings additional vibrancy."
And, of course, all those visitors to Atlanta and the rest of the state come hungry: Georgia's restaurant industry, a key tourism component, with nearly 19,000 locations throughout the state, is forecasting in excess of $20 billion in revenue for the coming year, says Karen Bremer, CEO of the Georgia Restaurant Association.
"We are the second largest private-sector employer," she says, "employing some 488,400, [but] with a lot more tentacles – that figure doesn't include delivery, contract services, landscape, janitorial, plumbers, agriculture, repair people, attorneys or accountants."
The National Restaurant Association says restaurants typically derive up to 30 percent of their sales from business and leisure travel and that about one of every four sales dollars is related to tourism – although the data do not distinguish between business travel and general tourism.
---
The Underpinnings
Like most good things, the success of the tourism industry doesn't happen by accident; a network of public and private organizations, entities and individuals is working to promote, enhance and nurture it, through sales, marketing, advocacy or educational efforts.
That includes the state tourism office, part of the Department of Economic Development, and other state departments like agriculture and natural resources; the Georgia Chamber and its Georgia Travel Association; local chambers of commerce; state and local CVB operations and other destination marketers; and industry groups like the Georgia Restaurant Association and the Georgia Hotel and Lodging Association.
In Savannah, where tourism is a $3-billion-a-year enterprise, two separate organizations guide the city's thriving industry – Visit Savannah, the marketing arm headed by Joseph Marinelli, and the Tourism Leadership Council, under the direction of President and CEO Michael Owens, concerned with operations. Owens says the council was created 21 years ago to strengthen the industry. "We decided we needed a sales side of the house and an operations side of the house."
Visit Savannah, which Owens calls one of the preeminent tourism marketing organizations in the world, is funded by hotel and motel taxes collected by the city; the council, supported by private membership monies, is able to engage in advocacy, lobbying and workforce training.
Industry associations commonly work with business and civic interests. Bremer encourages restaurant association members to join their local chamber or CVB, reminding them that the average restaurant derives a lion's share of its customers from within a three- to five-mile radius.
Markwalter says his group works with the Georgia Municipal Association and the Association County Commissioners of Georgia: "It's important to be in front of newly elected individuals, [to demonstrate] that members of our organizations, local tourism organizations, are absolutely good stewards of visitor dollars collected by lodging. We have to partner with our local government to allow us to reinvest that money. We are doing an excellent job in strategies, marketing, keeping the economic engine rolling."
---
Needs and Wants
Tourism leaders are united in their concern about workforce development, keeping a steady pipeline of employees entering the field.
"Workforce is the biggest challenge right now in our industry – adequate numbers of workforce members and workforce development." says Bremer. "There are not enough people out there looking for work – they must be happy where they are."
Restaurateurs who are the most successful at hiring and retaining workers, she says, "are great operators, very specific about who they hire, very serious about training and very specialized in ongoing development of personnel. We have chains that do a very good job, independents that do a very good job. I think it relates back to operations that have a very strong pro-employee, pro-customer [policy]. If you have happy employees, you will have happy customers."
In Savannah, Owens says keeping a viable tourism workforce requires a comprehensive approach, including being an advocate for affordable housing in the community, so industry employees, especially entry-level workers, can afford to live near their jobs. "We need more affordable housing and conveniences for workers at every pay scale [level]."
Owens works closely with Savannah Technical College. "President Dr. Kathy Love is a friend and colleague – we are partners. The technical college is crucial to our continued success." Its culinary programs are especially valuable to the restaurants that are such a draw for Savannah visitors, he says.
---
Ongoing Concerns
Most state and local tourism officials keep a sharp eye on the General Assembly and its members, hoping for their support and understanding of their industry's needs. Last year legislators finally passed a "brunch bill," in the works in previous sessions, allowing localities to vote on whether to permit Sunday morning alcohol sales in restaurants.
Industry professionals are always nervous about any sort of social legislation – especially so-called religious liberty legislation that could adversely affect tourism and the image of a welcoming state that Georgia projects. Prior to the 2019 session, House Speaker David Ralston let it be known he was not interested in seeing any such legislation brought to the house, but some individual legislators are not so willing to let it go.
"It would pose a significant risk," says the ACVB's Pate. "We are on the record opposing any sort of religious liberty bill or any kind of social legislation that could have the potential to have a significant [negative] impact on our business."
"Our industry is an industry of hospitality," says Bremer. "Most restaurants focus on trying to give the best service and the best food possible to everybody that walks through their doors, whether from out of town or whether local. We welcome everybody to dine at our table. Any things that would portray Georgia as an unwelcoming state are things we are concerned about – like different iterations of the religious freedom restoration act and legislation unfriendly to immigrants in our community."
---
Secret Weapon
Tourism is looking good; the convention business is strong. The strengths Georgia claims continue to serve it well – for tourism and for business in general: Hartsfield-Jackson Atlanta International Airport; a temperate climate; a variety of settings and locales; strong arts and cultural communities; top-notch university and technical college systems; and the generally fine quality of life available.
But one key attribute that is often overlooked or taken for granted has a genuine, if hard-to-quantify, impact on the tourism industry.
"Southern hospitality is very real," says Pate. "One of our great strengths is the people who live here," and provide that hospitality. It's no urban myth or outdated generalization, he says. In fact, it's a pretty formidable weapon for tourism and a lot of other industries that are thriving in the state.