Georgia Fare: Canyon grill
Canyon Grill in Northwest Georgia is a one-of-a-kind restaurant with friendly service and flat-out delectable food.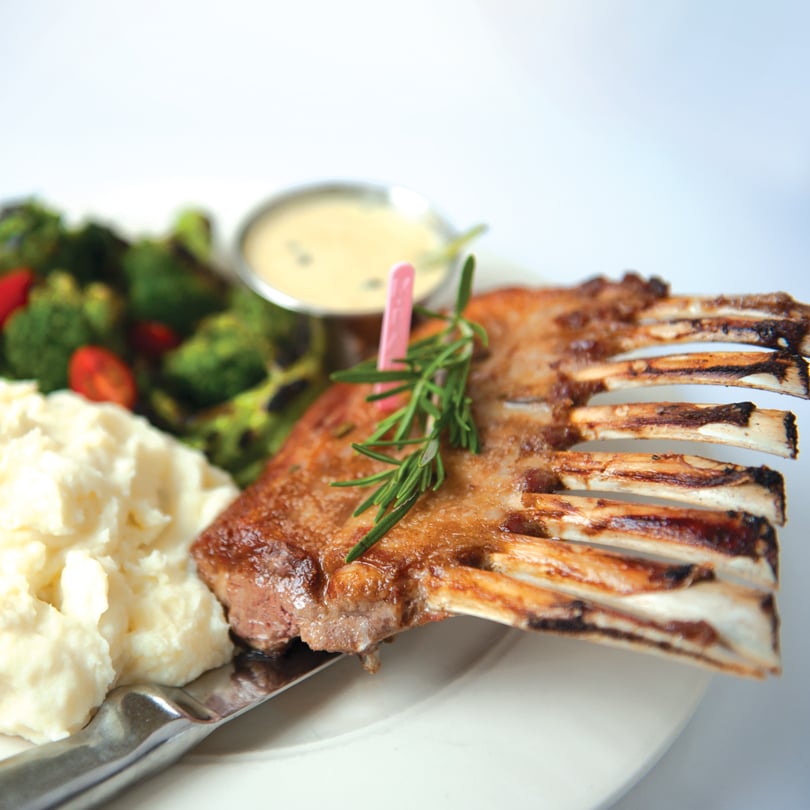 Lawton had a vision," says Canyon Grill Executive Chef and General Manager Kevin Dunlap. "He would have closed the doors rather than dilute it. That's why we're celebrating our 23rd year."
Dunlap is describing the unlikely – you might even say cloud-cuckoo-land crazy – business model of a restaurant that, on paper, should never have worked. It sits near a remote crossroads on Lookout Mountain, approached from any direction by a vertiginous winding road that, like nearby Cloudland Canyon State Park, is also often enveloped in nimbus, even in daytime. The menu includes filet mignon, trout amandine and rack of lamb in an area where it can be hard to find any food for sale beyond a country gas station's microwavable burrito. The restaurant does not sell alcohol.
And yet … when we arrive promptly at 5 p.m., the staff is already filling phone-in orders, and a few other couples and a family arrive close behind us. The hostess lets us choose our table (requiring a bit of switching on her reservation sheet), points out the wine glasses and ice bucket for our BYOB rosé, and soon, the white-coated staff are scurrying around the dining room as Barry White, Etta James and Frank Sinatra croon through speakers.
I last visited Canyon Grill a decade ago, and since then, original owner Lawton Haygood had sold the place. I hoped this one-of-a-kind restaurant had not lost its eccentric touches, its friendly service or flat-out-delectable food.
First item on the agenda: Canyon Grill's signature specialty, the "Slash N Burn Catfish." Developed by Haygood, this two-pound whole fried fish, a countrified version of a Szechuan dish drenched with spicy black bean sauce, has sold well over 30,000 orders since its inception on the menu his opening year. And yes, this crisp, curled Goliath was as good as ever, the crunchy cornmeal shell emitting steam when cracked, exposing tender white flesh – good for swiping through that kicking black bean sauce and pairing with a bite of cilantro.
We cooled off with wedge iceberg salad with blue cheese dressing and Nueske's bacon. That rack of lamb, perfectly medium rare with a subtly rosemary-scented cream sauce, was a whole new revelation, served as it was with wood-grilled broccoli and garlic mashed potatoes. French press coffee and delicious coconut cake finished the meal.
On our next visit, we began with black-pepper-flecked, expertly fried oysters, followed by filet mignon, fat and rare. Crispy potatoes (like short steak fries, with creamier interiors, the separated skins as thin and crisp as potato chips) and ethereal cornmeal-crusted fried squash all confirmed the kitchen's solid consistency. Hickory-grilled black grouper sautéed with capers, with an add-on of large grilled shrimp, and excellent purple grilled cabbage gave us no excuse to order dessert, but we did anyway, finishing up with a completely unnecessary but nevertheless devoured warm brownie with ice cream and chocolate sauce.
What is even more remarkable about Canyon Grill's success is that when Haygood was ready to sell (primarily, says Dunlap, to focus on his two other Chattanooga restaurants, Sugar's Ribs and the Boathouse), he found a qualified, passionate buyer who also knew what he was getting into. Johnny Holland had begun with Haygood as a dishwasher, before working his way up through the ranks for the next nearly 20 years.
Dunlap was hired to take over the kitchen and general manager duties after working with Haygood for several years – although his experience is dwarfed by that of others on the staff, who have worked at the place for as long as 18 years. Many have been employed there for over a decade. "We have customers now who started eating here when they were kids, and now they're bringing their kids in," says Dunlap.
When Georgia's alcohol consumption laws changed in January, the Canyon Grill could have begun selling wine and beer, which might have meant a larger profit margin. "We just decided we didn't need the headache," Dunlap says. "We opted for the charm and nostalgia."
Not only is the business model working, but Dunlap says business has been picking up, especially in the last 18 months, largely from young professionals who drive over from as far away as Birmingham and Gadsden, Ala.
With low overhead and a tight ship, Dunlap says his prices are far more affordable than big-city restaurants. Recently he treated his staff to dinner at Atlanta's King + Duke, where a Peachtree Road address means high rent. Still, he says, "Their steak was $110, and mine is $55. And I'm pretty sure it's from the same butcher."
Bringing your own bottle of wine also brings down your bottom line (and there is no corkage fee). It's hard to think of a better restaurant value in the state. This time of year is gorgeous in the mountains, and if you've never seen Cloudland Canyon, it's time to go. I know just the place for dinner afterwards.
---
Canyon Grill
28 Scenic Highway, Rising Fawn
706.398.9510
canyongrill.com
Hours: Dinner, Wednesdays-Sundays
Parking: Plentiful in attached lot
Dress Code: Anything from smart casual to worn Patagonia
---
More Catfish and Other Delights
Daphne Lodge
Cordele
One of the last old-fashioned fish camps still packs them in for fried catfish, hush puppies, slaw and cheese grits.
---
Good Luck Gourmet
Doraville
This Buford Highway outpost offers a Szechuan-style fried whole fish with spicy (fermented) bean sauce, topped with green onion and jalapeño.
---
Louisiana Bistreaux
East Point & Decatur
Along with oysters, dark-roux gumbo and jambalaya, you'll find Cajun-style fried cornflour catfish, served with lemon jalapeño coleslaw and Brabant potatoes.