Geared for Great Careers
Georgia's technical colleges provide continually expanding opportunities for students and skilled workers for industry.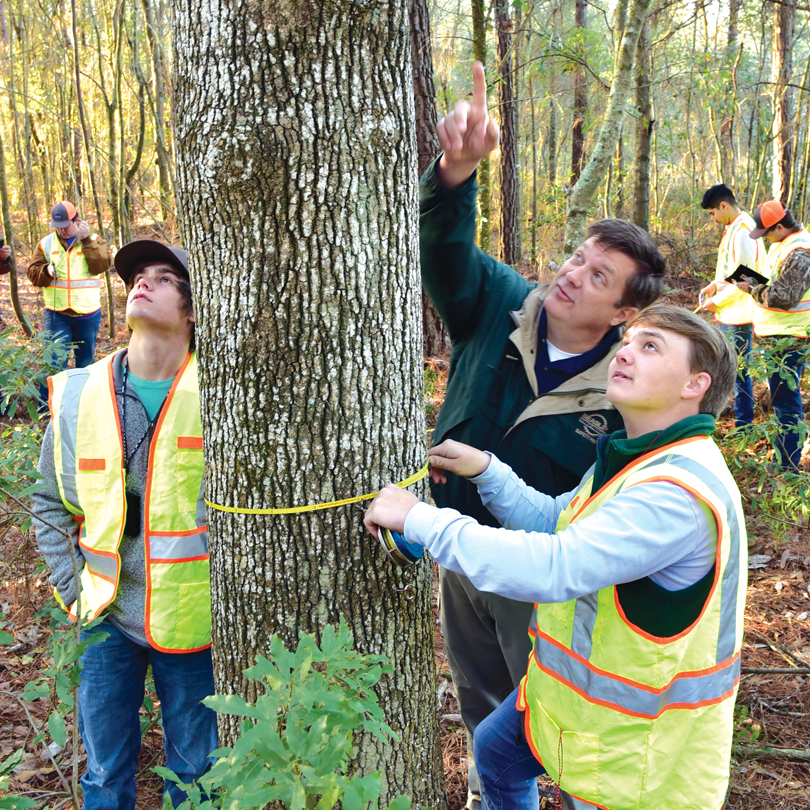 The legacy of former Gov. Nathan Deal has yet to be fully written, but a sizable portion of it will certainly be devoted to his focus on strengthening workforce education through the Technical College System of Georgia (TCSG). Nowhere was that more vividly demonstrated than at last October's ribbon cutting of the dazzling new Hall County campus of Lanier Technical College, the first newly constructed technical college campus in the history of technical education in Georgia.
"As Georgia's newest economic development tool," said Deal at the ceremony, "this new campus will provide thousands of students with even greater opportunities to find enduring and meaningful careers here in the No. 1 state to do business."
In his speech, Deal was talking about people like Donna Pickens, a 46-year-old accounting student who says Lanier Tech did more than provide the opportunity for workplace advancement. "It changed my life," she says.
Married with children and working as a bookkeeper for digital services provider Peniel Solutions LLC in Duluth, Pickens never considered herself college material. But the company's owners saw potential in her, encouraging her to take on more responsibility and to further her education, on their nickel if she made a B average or above. While she took on new roles at the office, she never found time to go back to school.
"I made every excuse in the book," Pickens says. "They bugged me at every performance review. In February 2017, they said they were tired of asking me." That's when she finally went to her computer, googled "accounting certifications" and, before she could back out, paid her fees and signed up for her first accounting class at Lanier Tech.
Thus far, by taking one class at a time, Pickens has earned her Office Accounting Specialist certificate and maintained a 4.0 grade point average (GPA) the entire time. Now she plans to keep going another two years in the accounting diploma program.
Pickens gets emotional describing the change she's undergone since going back to school. "I discovered someone I didn't know existed," she says. After years on the job, Pickens knew accounting processes, but not the principles. After she understood the 'why,' she found the confidence to speak up around the boardroom table. "The classes I've taken have been the missing puzzle [pieces] for me at work," she says. "Lanier Tech has given me my voice."
Old School, New Digs
That's music to the ears of Lanier Tech President Ray Perren, who says his college offers 45 programs from "A to W – accounting to welding. We don't have a zoology program, so there's no Z." But there's just about everything else – including a high-performance motor sports program with ties to Road Atlanta.
Approximately 40 percent of Lanier Tech students are enrolled in allied health programs – EMT training, paramedic, dental assistant/hygiene, pharmacy tech, surgery tech, nursing assistant – the list goes on. "Another 25 percent are enrolled in what people think of when they think of technical colleges – the trades – but of course now the trades are high tech," says Perren. "Welding is still welding, but the equipment has evolved and so has the curriculum."
The same holds true with courses having to do with automotive maintenance; HVAC; manufacturing, including precision manufacturing; and so on. About 20 percent of the students are engaged in business programs, everything from accounting and marketing to computer science and cybersecurity. And Lanier Tech offers a host of public safety programs, including fire safety, criminal justice and, of course, commercial truck driving – one of 17 high-demand careers for which students can receive free tuition.
In late January, Lanier Tech's students began taking many of these classes in six pristine buildings on the 95-acre campus in Hall County. The $150-million campus incorporates an administration and student services building with a library, a conference center and classroom buildings complete with computer labs, state-of-the-art health labs, mechanical training labs and other specialized training facilities. The campus offers outdoor instructional space such as a commercial truck driving range and space for a soon-to-be-built burn tower, part of the fire safety instruction curriculum.
Currently, Lanier Tech has about 4,100 students, including those online and at other campuses in Forsyth, Barrow, Dawson and Jackson counties; 2,700 will call the new campus home. "This campus was built, as is, to accommodate 5,000 students," says Perren. "We fully expect by fall 2023 we will have those 5,000 students here." Not to worry. The master plan includes two more buildings, and necessary infrastructure is already in the ground.
Also on the campus: the Nathan Deal Economic Development Center, where Lanier Tech fulfills another part of its mandate – workforce development. Working with the state and local industry, Lanier Tech develops classes to train new or existing employees.
The college offers one of the few programs in the country training in ammonia refrigeration, which is the most cost-effective and energy-efficient method of storing frozen and unfrozen foods. It's used in poultry processing plants and cold-storage warehouses. "The course was started here 20 years ago by the poultry industry to make sure they had enough technicians and has grown since then," says Perren. "We have students from all over the country who come here for a weeklong course."
Making a Rural Impact
Georgia's technical college system is unique, says TCSG Commissioner Matt Arthur. "Not every state has made the type of commitment to technical education that Georgia has," he says. The TCSG boasts 22 colleges with 88 campuses. All colleges are SACSCOC (Southern Association of Colleges and Schools Commission on Colleges) accredited and, should a student seek a transfer to another college, there are 25 system-wide transfer agreements in place with other institutions, including four-year universities.
As of November 2018, the 22 technical colleges are registered apprenticeship sponsors with the U.S. Department of Labor. The registered apprenticeship program is a workforce development program combining 30 to 40 hours of work, weekly, with part-time classroom training. Georgia is one of the few states in the nation to have its entire technical college system serve as apprenticeship sponsors.
One myth Arthur hopes to have completely busted is the notion that students have to graduate with a degree from a four-year college or university, saddled with backbreaking student debt, in order to have a successful career. Nothing could be further from the truth.
"Our tuition is $89 per credit hour," says Arthur. "The HOPE Career Grant pays for tuition in 17-high demand career programs."
But the TCSG is probably most proud of its 99 percent placement rate. Students who graduate from Georgia technical colleges are not only prepared to work, they find jobs – fast.
"Students come to us to train for a career," Arthur says. "Eighty-eight percent of our students are in the job field they want to be in and train for. Most are hired or offered a job before they even graduate."
This is the message Arthur believes will resonate with rural Georgians: whatever your goals, technical college – whether through dual enrollment (taking college-level courses for credit while in high school), achieving a certification or training for a job in a local business or industry – provides your best option for finding a good-paying job.
"Rural Georgia needs jobs, but the jobs out there are mid-skill jobs," he says. "They require more than a high school education. They need a certificate, and that's what we do, that's what we train for. With 88 campuses, we're close to every community. We are the system that is going to make an impact."
The expansion of a timber-harvesting program at Coastal Pines Technical College (CPTC) offers a perfect example of what happens when a company recognizes a growing workforce gap. Ashley Tyree, procurement manager with Beasley Forest Products, knew something had to give. Its workforce was aging, and the area's young people weren't qualified for jobs with just a high school diploma. He learned that CPTC had a dual-enrollment timber-harvesting program to address workforce needs. So, two years ago, Tyree asked his bosses if he could teach a Coastal Pines timber harvesting program class twice a week during his workday to interested students at the local Jeff Davis High School. They agreed.
"During the first year I taught 12 to 13 students, and five ended up working in the timber industry or continuing their education at a forestry school," says Tyree. The course introduces the students to all aspects of the work, including valuable hands-on experience with heavy machinery. "By the end of the school year I know whether or not they're qualified to work for us, and I've been able to give them some guidance."
The course isn't the ultimate solution to Beasley's workforce shortage, but it's something, says Tyree. And for young people, technical college – especially during high school – is a smart move. "Our foresters with four-year degrees make less money than those coming out of high school who know how to operate the heavy machinery," he says.
Responding to Industry
Meanwhile, Ogeechee Technical College (OTC) in Bulloch County, but also serving nearby Screven and Evans counties, can't add commercial truck driving (CTD) courses fast enough. Just over 50 miles from the Garden City Terminal at the Port of Savannah, commercial truckers are always in high demand. Ogeechee Tech added a second CTD program in Screven County after the original course, held in Evans County, was filled day and night, with a waiting list. The Screven County courses began in March.
It's a good problem to have, says OTC President Lori Durden."This semester we also introduced the heavy diesel service technician program at the request of the trucking industry because someone has to take care of all these trucks," she says. "Every new program is born out of a need business brings to us. If it doesn't lead to a job in this area of the state, we don't offer it."
Durden is excited about several new programs coming online this year. In January, the college opened a 34,000-square-foot Industrial Technology building housing the industrial systems, electrical systems and logistics programs as well as a cutting-edge robotics lab outfitted with FANUC robots – the world leader of robots used in manufacturing facilities.
"We're working toward what's being called a FAST Site [FANUC Authorized Satellite Training] for FANUC," says Durden. "Our instructor is going through training to achieve certification. Once we do it, we will be the only such site in the state of Georgia. Our lab will be used to train our own students, and we can train incumbent employees of manufacturing facilities throughout the Southeast that use these robots in their facilities. Our instructor has to achieve the certification, and FANUC has to inspect our lab. We don't want to count our chickens before they've hatched, but that's our goal."
A unique program being introduced in fall 2019 came about after officials from Georgia's Department of Natural Resources (DNR) said they were having trouble filling vacant positions around the state. Ogeechee Tech partnered with Athens Technical College, combining portions from two curricula – fish and wildlife and criminal justice – to create a new program called conservation law enforcement. The program will train students for skilled positions, such as game wardens, within the DNR.
The ability of technical colleges to quickly respond to the needs of industry is one of its finest attributes. Instructors will often tweak courses as they go to reflect changes taking place in their discipline, but right now the TCSG is undergoing a systemwide realignment of curriculum. Industry leaders – large and small – are sitting down with instructors and educators to rewrite curriculum wherever necessary.
"We are really focusing on making sure that our curriculum is exactly what industry needs at this time," says Arthur, citing HVAC as an example. "'Smart' technology has completely changed the way HVAC repair needed to be taught. They used to have to take everything apart to find out what was wrong. Now they can look it up on their phone. We just had to update the curriculum and align it, get it to match up with today's technology."
Arthur says Gov. Brian Kemp and his staff have been just as supportive of technical education as the previous administration. "We really expect things to only get better under his leadership," he adds.
"It's a great time to be at the technical college. Businesses are growing," Arthur says. "They're changing, and we're seeing the change with them. People just need to realize that we offer a lot of different opportunities with over 600 different programs. People can find what they want to do in a career with us."