Valdosta | Lowndes County: Well-rounded Region
Infrastructure improvements, expansions and military services.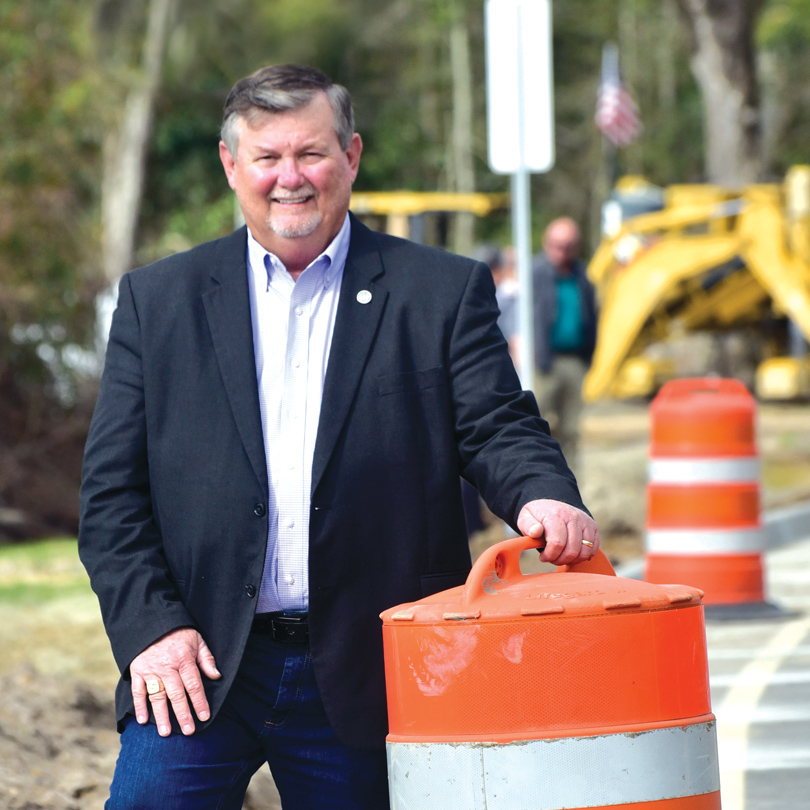 Maintaining strong relationships with existing industry and taking calculated proactive steps to attract new business is the formula for success in Lowndes County, which straddles I-75 just north of the Florida line. Expansions and newcomers are both on the list of recent developments, and an eye to the future includes identifying a specific vision for continued success.
---
A Vote for the Future
One of the most progressive steps taken in Lowndes County recently was the passing of the Transportation Investment Act (TIA), which began collecting a 1 percent sales tax last October, says Bill Slaughter, chair of the Lowndes County Board of Commissioners. The referendum passed in 2012 to fund regional and local transportation improvements but was just adopted in the South Georgia region last year.
"It's going to provide immediate and necessary funding to be able to do infrastructure, road projects and bridges for our community over the next 10 years that we probably would've never been able to accomplish," says Slaughter, of the critical funding projected at $163 million.
Also underway in Lowndes are continued upgrades to water and sewer infrastructure. The commission is currently discussing a new animal shelter and the historic courthouse project. The latter has been vacant for about 10 years, and leaders are considering creation of a regional welcome center. The most recent Special Purpose Local Option Sales Tax (SPLOST) allocated $2 million for renovations, says Slaughter, but much more will be needed to complete the project.
As in most communities, leaders in Lowndes County and Valdosta must periodically take a step back and develop a clear path for the future. A recently launched visioning project, One Valdosta-Lowndes, will help them do just that, drawing on the expertise of a steering committee that includes members from across the community.
"We're trying to identify those initiatives that we can collaborate on that can have the largest impact for our entire community," says Myrna Ballard, president of the Valdosta-Lowndes Chamber of Commerce. "It's not just a business community initiative or just education."
---
Neighbors New and Old
Last summer, Lowndes County welcomed Metal Benderz to the county-owned Hahira Business Park, chosen by the company's site selection team following many months traversing the Southeastern U.S. Lowndes leaders are especially pleased with the deal as the company occupies the former Wireco building, which sat vacant for the past 10 years.
The manufacturer of light gauge steel framing systems leased the building and will, within two years, invest $5 million and create 50 jobs, says Andrea Schruijer, executive director of the Valdosta-Lowndes County Development Authority (VLCDA). The company continues to hire many welding students coming out of Wiregrass Technical College, she says.
The much-anticipated Georgia Beer Co. opened its brewery in Valdosta last fall, the result of a million-dollar-plus capital investment. In a shared project, the chamber, the Downtown Development Authority and the VLCDA renovated an old waterworks building at a downtown gateway and leased it back to Georgia Beer, says Ballard. The company will brew beer for offsite distribution.
Several existing industries announced expansions in the county in the past couple of years, including Virtual World Technologies, says Schruijer. "They basically help companies on the back end with their security and IT issues, remoting in to fix things. And it's not just here, they do it all over."
When Virtual World outgrew their Valdosta space, says Schruijer, the owner, who lives in Hahira, knew the time was right to relocate to a four-acre corner lot he'd been eyeing in the Hahira Business Park. His purchase leaves just one or two acres in inventory at that park, she says.
"He has some great ideas for that and wants it to be a Google-type facility, definitely more toward your millennials, with a creative atmosphere," she says, noting he has three years to build out the planned 7,500-square-foot facility, an estimated $1.4-million investment.
Valdosta Mayor John Gayle says CJB Applied Technologies is expanding its Valdosta-Lowndes footprint with an additional $2.5-million capital investment and job growth. Plans are to construct a 10,000-square-foot standalone facility on 8.4 acres in Miller Business Park to support continued growth in applied research and development in chemical and biological markets, adding products to their existing line. The new location will be the company's fourth facility in Lowndes County and will employ chemical engineers, researchers and other degreed personnel.
"One of the reasons we offered the incentives we did for this expansion is because, overall, this company will add over 30 jobs and more than $5 million in capital development," says Schruijer. "While this is a separate facility, because of the company's growth we've seen over the past several years, we continue to help them."
Also expanding, says Chris Hamilton, president and CEO of the Valdosta-Lowndes County Conference Center and Tourism Authority, is Wild Adventures theme park, which in 2018 announced a reconfiguration that will include an alligator experience and a new section for younger visitors.
---
Kudos Given
Moody Air Force Base in Lowndes County is crucial to the community, and keeping the base open is a priority. About five years ago, chambers in Valdosta, Nashville, Adel and Lakeland formed the South Georgia Military Affairs Council, to help support the base.
Ballard says the region was recently named one of five Great American Defense Communities across the country by the Association of Defense Communities. The Great American Defense Communities program is designed to recognize the overall support that communities and regions in the U.S. provide to service members and military families.
"It's not to recognize communities that look after their base; every community does that," says Ballard. "It's to recognize communities that look after their military personnel – men, women and kids – and that's what we got recognized for."
Secretary of the Air Force Heather Wilson made it very clear that during the next round of Base Realignment and Closure (BRAC), one of the things they're really going to be looking at is the quality of life for personnel, Ballard says.
Lowndes continuously looks for ways to improve and enhance the relationship with Moody, says Slaughter. The county was able to secure funding to purchase a defunct mobile home park just outside the base's main gate. "We don't have any specific plans other than to just clean it up," he says, of the significant blight issue. It's just one way the county is working to keep the area around the base looking sharp. Protecting the base from encroaching development is also an ongoing goal, says Slaughter.
---
Retail Therapy
The development authority recently partnered with the city of Valdosta to work with consulting firm NextSite 360 on retail strategy and promoting the area for retail, something city leaders haven't done before, says Schruijer.
NextSite has a partnership with Georgia Power, combining efforts to match retail businesses with the markets for which they are best suited. Using global mapping to show where shoppers are coming from and which stores they are searching for most often, NextSite helps communities better understand what it is retailers are looking for when considering a new location.
"They've really helped us a lot with the mall area … overall it's doing well. We've got some great boutique shops and a great [mall] general manager there who really believes in the experience of the mall," Schruijer says, noting the regularly scheduled arts and cultural events hosted there that give shoppers a reason to stay longer.
In addition to shopping, Lowndes County is gaining recognition among foodies, says Hamilton, pointing out the homegrown restaurants across Valdosta as well as the available food tours. In addition, in the Valdosta-surrounded city of Remerton, live entertainment and nightlife are alive and well, he says, noting the "little town within a town," is popular with the Valdosta college crowd.
The true hidden gem in Lowndes, he says, is the small town of Hahira, with a charming downtown offering quality shopping and a Honey Bee Festival that draws 30,000 visitors. Figure in an active arts and culture community and a thriving film festival, and Lowndes County has more to offer than many realize.
---
All for One
Because communities in rural Georgia tend to face many of the same challenges, Valdosta State University (VSU) recently formed the Center for South Georgia Regional Impact, dedicated to identifying and resolving those concerns. VSU President Richard Carvajal believes connecting those issues with the talents and research efforts of his faculty, staff and student body will provide some solutions.
Among the issues Carvajal cites is the population challenge across the region, where almost no county is expected to grow, and most are projected to see populations decline over the next decade and a half. An aging workforce is also a strain for communities trying to attract new business and industry, he says.
Leading the charge at the center is Executive Director Darrell Moore. He is well-versed in rural challenges, having spent the past 21 years as president of the Moultrie-Colquitt County Development Authority. Most valuable to Moore is the extensive professional network he's built throughout the state, especially in South Georgia.
In addition, Moore has developed a resource team at VSU that he believes can have the greatest impact on the region by considering return on investment and establishing the capabilities of the center.
With all the components of a viable live, work, play community, Valdosta and Lowndes County are finding the area's well-rounded status is appealing to long-time residents, newcomers and business leaders alike.
---
Local Flavor

Boarding Boom
Motorists traveling south on I-75 through Lowndes County have likely wondered about the activity taking place on cables above ponds along the side of the interstate. The elaborate training and performance venue was established for wakeboarding, the sport of riding on a short, wide board resembling a surfboard and performing acrobatic maneuvers while being towed behind a motorboat.
Wakeboarders Quinn Silvernale and Luke Tilt met at college, traveling and riding across the country and abroad. Through their experience at other facilities, they formulated their own idea for a wake park and opened the first location of Valdosta Wake Compound in 2011 with a two-tower system on a 10-acre fishing lake. In need of additional space, the men later acquired and developed a 30-acre facility with custom-designed ponds and a six-tower, full-sized cable system where they continue to operate today.
While the sport of wakeboarding has been popular for years, the cable-park industry came out of Europe and is a much more recent addition to U.S. recreation, says Tilt. In fact, only a handful of cable parks exist in the Southeast, including two in Georgia – Valdosta and Cartersville. "We're still in the infant stages here in the U.S. in the wakeboarding industry," he says. Growing popularity of the sport has drawn both beginner and professional wakeboarders to the Valdosta facility for training and competition.
"The facility is for all riding types. We can teach people that have never wakeboarded or done any type of board or water sport at all," says Tilt, adding that students as young as five have participated in private lessons, and summer camps target children seven and older. They teach other watersports as well, such as knee boarding and wake skating, and have a skatepark onsite. "We have something here for everyone."
The Valdosta facility also hosts statewide and national competitive events. In April, Valdosta Wake Compound will for the third time host one of the world's largest wakeboarding events, The Yardsale, says Tilt, bringing professional riders from around the world to Southwest Georgia. – K.K. Snyder