The Global Trade Puzzle
Will Georgia's exports continue to flourish? The answer depends on a variety of pieces coming together.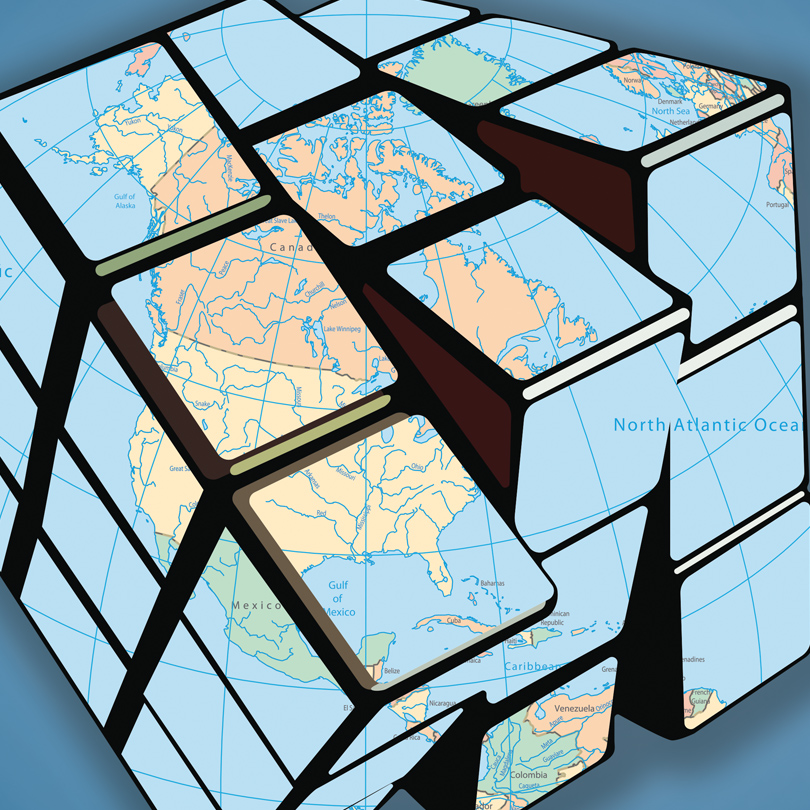 Record-breaking. That is how the Georgia Department of Economic Development (GDEcD) described the state of global trade in Georgia one year ago, when the most recent numbers had just come in. The value of Georgia exports exceeded $37.2 billion in 2017, an increase of 4 percent over the previous year. The numbers put Georgia eighth in the nation in total trade, with a record-breaking $128.6 billion in imports and exports.
The figures show that the global market for the state's goods has expanded dramatically over the past few years. Georgia companies continue to produce what international customers want, whether aircraft or automobiles, machinery or medical devices, poultry or pecans.
Investment flows into Georgia, too. The state announced its single largest foreign investment project in November 2018, a $1.67-billion commitment from Korean manufacturer SK Innovation. The company, which develops and manufactures lithium-ion batteries for hybrid electric vehicles, plans to build a 1-million-square-foot facility in Jackson County that will accommodate more than 2,000 new jobs.
With all that good news, there's no reason for concern, right? Not exactly.
Despite the pluses, outside influences – questions surrounding provisions in the renegotiated NAFTA agreement, now called the United States-Mexico-Canada Agreement (USMCA), which must still be ratified by all three governments; retaliatory tariffs imposed by China in response to tariffs first imposed by President Donald Trump's administration; and even natural disasters like Hurricane Michael – can cast a pall of uncertainty over Georgia's usually bright trade picture.
---
Good Deal? Bad Deal? No Deal?
While the USMCA is a trade agreement negotiated at the national level, its potential impact on Georgia has some state leaders concerned, since Canada and Mexico are Georgia's top two trading partners for exports. In 2017, Georgia exports to Canada totaled $6.17 billion, while exports to Mexico totaled $3.62 billion. As steward of the state's agriculture industry, Agriculture Commissioner Gary Black is one who is not on board with the renegotiated treaty.
"With the different altitudes and variations in the Mexican climate," Black says, "[Mexican growers] have the capability of taking not just our market but the market up the east coast with vegetable production." He says the USMCA doesn't protect Georgia farmers from Mexican growers whose crops are not just subsidized, but "dumped within our market window at whatever price."
He has advice for consumers: educate yourselves and buy local. Black's message to Georgia lawmakers is more pointed.
"We've made gains in some areas of the treaty, but based upon the situation with fresh fruits and vegetables – areas of vital importance to Georgia – we have asked every member of the Georgia congressional delegation to vote 'no' [on the USMCA treaty]."
The top local representatives from both Canada and Mexico view their trade relationships – and thus the impact of USMCA – with Georgia as very important.
"If you look at the amount of jobs created because of trade and investment between Canada and Georgia, you're looking at over 330,000 jobs," says Nadia Theodore, consul general of Canada to the Southeast United States. "While we are often overlooked as the 'little cousins' to the north of the United States, we really are the most important trade partner Georgia has. Cultivating and nurturing that relationship is job No. 1."
Theodore says that means calling attention to the fact that Canada means big business to Georgia. Like Canada-based Irving Consumer Products' 700,000-square-foot paper manufacturing plant being built in Macon, which will be completed this year. The $400-million investment will create 200 jobs.
Keeping investment and job opportunities flowing for both partners is essential, and it's why Theodore is vocal about her concerns over the Trump Administration's use of the Section 232 tariffs included in the Trade Expansion Act of 1962 to justify the imposition of steel and aluminum tariffs on countries including Canada and Mexico, on the basis of threats to national security.
"Businesses love and thrive on predictability and certainty," Theodore says. "In order to grow our economies, in order to continue to create good paying, sustainable jobs, we need to create a stable environment for business." Use of Section 232 to impose tariffs on Canada as a national security threat undermines that stability, she says.
"The idea that Canada is a national security threat to the United States given that we are partners in NATO, NORAD, we have this long undefended border, is a bit beyond the pale for Canada but also for business," she continues. "That does not create stability for them because that is not in keeping with a rules-based trading system. For me that is the big 'T' threat or big 'C' concern when it comes to trade and outside forces – the erosion of the rules-based trading system and the rule of law when it comes to trade."
Looking through his positive lens, Ambassador Javier Díaz de León, who serves as consul general of Mexico in Atlanta, says the renegotiated USMCA is a win-win-win for everyone mainly because of the jobs it will keep and continue to create. "Thousands and thousands of jobs in Georgia have been created because of the opportunity that our free trade agreement has created," he says, citing the automobile-manufacturing sector in particular.
Many of the same companies building cars or producing auto parts in Georgia also have manufacturing facilities in Mexico and Canada. For example, the Kia plant in West Point was the first North American manufacturing plant for the South Korean automaker. The company opened a second North American manufacturing facility in Monterrey, Mexico, in 2016. Canadian company Decostar (also known as Magna International), a global automotive supplier of molded components and assemblies, has a facility in Carrollton and plants in Mexico.
"[Auto manufacturing is] not really a competition," Díaz de León says. "The manufacturing process is segmented across all three countries in North America. It's not a Mexican car or a Canadian car or an American car – it's a North American car.
"Trade is not a threat," he says, adding that there's no better way to combat uncertainty than to maintain strong alliances. "When you engage with your partners, when you strengthen your communication, you're more secure. Globalization, the competition of global markets, isn't something you choose whether or not you want. It's like saying I don't like winter. It's going to happen anyway. The question is do you have a good sweater on?"
---
Insult to Injury
In response to tariffs that were imposed by the Trump administration throughout 2018, China, the European Union, Mexico and Canada placed tariffs on roughly $121 billion worth of U.S. exports. The fallout from these retaliatory tariffs has hit Georgia hard, with producers of agricultural products – soybeans, cotton and especially pecans – among those feeling it the most. Georgia leads the nation in pecan production. Since nearly a third of the state's pecans are exported to China, they became the perfect target for a tit-for-tat tariff that jumped from 7 percent to 47 percent.
According to research from the Brookings Institution, 6 percent of goods exported from Georgia are currently affected by retaliatory tariffs, many in the agricultural sector. The data, prepared by Brookings' Metropolitan Policy Program Fellow Joseph Parilla and research analyst Max Bouchet, estimates the tariffs may affect about 20,415 total export-supported jobs in the state, the 11th highest number in the nation. (The "total export-supported jobs figure" refers to workers that make/grow the product but also handle the product's logistics, warehousing and transportation.)
Farmers have received some help. Last July, in response to the harmful effect of the tariffs, the Trump administration announced a pot of $12 billion in financial assistance for farmers whose profits were dinged by the trade war.
After Hurricane Michael roared through in early October causing losses that rose to $2.5 billion, the Georgia General Assembly met in an emergency session before Thanksgiving to put together a relief package for affected farmers. In addition to the $270 million in emergency funding for state and local agencies involved in the cleanup (HB 1EX), the legislature also approved a $200-million tax credit for growers who will be replanting commercial timber and pecan trees (HB 4EX). But further federal assistance for Georgia growers got held up in the end-of-the-year budget bickering.
Black says he has no timeline or estimate of disaster relief funds that may come from the U.S. Congress. However, he has expressed thanks for the $55 million the Georgia legislature allocated to the Georgia Development Authority to provide relief to farmers affected by Hurricane Michael.
At the end of the day, there's only so much a farmer can do to mitigate risk. "I don't know how to prepare for a hurricane except to get out of the way," says Black, a strong champion of the Georgia Grown brand.
But get out of the way is not something brothers Eric and Rob Cohen were able to do in early October 2018. Just days before they planned to begin shaking the pecan trees to bring in the harvest at Pecan Ridge Plantation in Southwest Georgia, Hurricane Michael came barreling through. Because the Category 3 storm carried sustained winds of over 115 miles per hour, the crop was destroyed along with 70 percent of their trees.
"It was a complete loss," says Eric Cohen. "We have insurance on our crop for one year, but the real problem comes in the years ahead because we don't have as many trees to make up for the amount of payments and the equipment."
Cohen says he and his brother will survive this storm because of side jobs (real estate and crop consulting) and many years of good harvests that gave them the opportunity to pay down the debt on their land. But 2018 had already been a tough year for Georgia pecan farmers. Hurricane Michael merely added insult to injury.
"The pecan business has been going our way these past 10 years before these tariffs got put on us," says Cohen. "I exported about 80 percent of our crop [mostly to China]. I was not happy about the tariffs from the start. I have an economics degree. I knew it was going to kill us." Cohen had the opportunity to share his thoughts about the tariffs with Vice President Mike Pence during the vice president's post-hurricane tour of the region.
And the brothers are planning to re-plant two varieties of pecans – both early maturing. "But I can't beat a storm," Cohen says. "If we get one more storm, I'm done."
---
Exporting for All
Mary Waters, GDEcD's deputy commissioner for international trade, agrees that market diversification is key not only to surviving in the agriculture industry, but also to Georgia's present and future success. "Whether we're talking about the markets that our companies are selling to, the types of companies that are involved in exporting [or] the products, technologies and services that we export to the global market, Georgia's trade story really is reflective of the diversity of our industry base and the dynamism of our companies," she says.
"I think there's a misperception that exporting is just for large companies. That only the big multinationals have the time or resources to be involved in global business, and that's simply not the case," Waters says. "Half the companies we work with through the year have fewer than 20 employees, so really the export story for Georgia is a small business story."
That's the message Santiago Marquez, president and CEO of the Georgia Hispanic Chamber of Commerce, shares with his members looking to grow through exporting. "Olé [Mexican] Foods, one of our members, signed a deal with the military," he says. "Now you can find Olé Foods [like tortillas] on military installations all over the world. Olé is still a 'small' business but doing big business."
And diversifying the customer base is just smart business – for companies large and small. Companies with customers in global markets weathered the most recent recession better than those focused solely on domestic customers, Waters says. "The U.S. is an important market in the global economy, but there are other markets that are sometimes showing faster growth, depending on the sector," she says. "The stat that is often quoted is that 95 percent of the world's customers are located outside the U.S. It's really important for our Georgia companies to be resilient, to mitigate the risk of the next economic downturn – to have those customers in global markets already in place."
Waters says Georgia companies need to know what's happening in the world and shouldn't be afraid to move into global markets. "They can start small and have those successes that build on one another, and we're here to help with that. Don't be dissuaded from building internationally. It can be a great way to grow your company."
---
Facilitating Trade
The state's enviable logistics assets – the Ports of Savannah and Brunswick and Hartsfield-Jackson Atlanta International Airport – are always mentioned as top reasons Georgia ranks so high in global trade. The ports and the airport both had record years in 2017 and 2018 and continue to enlarge their footprints and services to support economic development and businesses throughout the state.
Georgia Ports Authority projects include:
• Inland ports: In 2018, the Appalachian Regional Port in Chatsworth opened and development of the Northeast Georgia Inland Port in Hall County was announced. These regional ports offer new gateways to the Port of Savannah – and from there, the world – via intermodal rail service, providing a more efficient option for companies to move cargo to and from the coast.
• Mason Mega Rail Terminal: At the Port of Savannah, this terminal will enable the handling of more cargo more efficiently from Neo-Panamax mega-ships. When completed in 2020, the project will double rail capacity to 1 million container lifts per year, making it the largest on-dock intermodal rail facility at a North American port.
Hartsfield-Jackson Atlanta International Airport projects include:
• Air cargo facilities: An expansion, including an additional 1 million square feet of warehouse space, should be completed in 2021.
• Master plan: The $6-billion, 20-year master plan announced in 2016 includes upgrades to the airfield and parking, a new hotel and canopies over the terminals. – Patty Rasmussen