Next-generation Makers
The state's engineering programs are focused on innovations for industry and the engineers of tomorrow.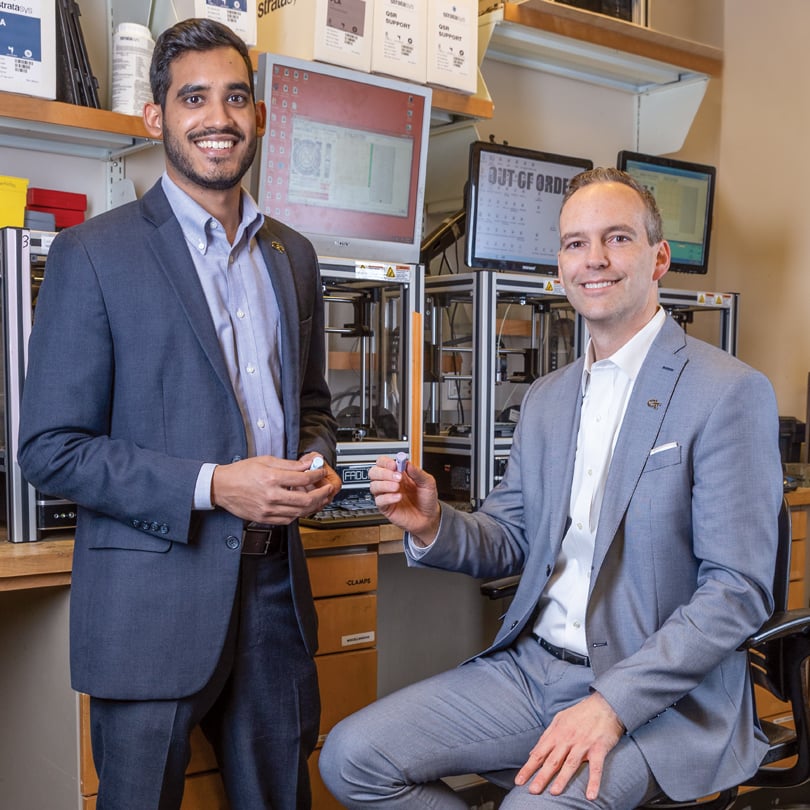 Engineering education in Georgia has existed since before the Civil War, and over the years our universities have developed specialized programs to meet the evolving needs of industries. Today, four of the state's public engineering schools – Georgia Tech, Kennesaw State University (KSU), Georgia Southern University (GSU) and University of Georgia (UGA) – are offering students the chance to participate in new disciplines and pioneering research leading to patented inventions, startup businesses and the transformation of the profession.
"Being able to innovate is what makes this country great, and engineering is important to that," says Daniel Cox, professor and founding chair of the recently formed manufacturing engineering department at Georgia Southern's Allen E. Paulson College of Engineering and Computing. "It's all about competitiveness, and in the USA we need to be better than the best."
---
Biomedical Advances
Georgia Tech is accustomed to being competitive. Its College of Engineering is consistently ranked among the nation's top 10, and its separate engineering schools are recognized as leaders in their respective fields. Among these, the Wallace H. Coulter Department of Biomedical Engineering (BME) has become the country's largest BME program with 1,200 undergraduate and 223 graduate students.
"It's an elite program," says James Rains, professor and director of the department's capstone program, which oversees senior student design projects. "We have some real leaders that are changing the direction of research and healthcare." He cites interdisciplinary work such as developing ways to help diagnose cancer faster and easier, and determining how best to manufacture stem cells. These and other projects are being undertaken by BME faculty in conjunction with representatives from other programs at Georgia Tech and Emory University.
The BME department is also one that receives the nation's highest level of funding from the National Institutes of Health (NIH), the federal agency charged with supporting biomedical and public health research.
"The NIH funding says a lot about the faculty we have," says Rains. "They're thought leaders in many different disciplines."
For their capstone project, BME student teams are paired with faculty and encouraged to take on a problem they'll work all year to solve. "Every school has a capstone project," says Rains, "but the way we run ours is unique. It's structured so we educate students on what it's like to be in the industry, to understand a disease or problem and develop a solution to bring to market and help people."
He points to a recent project between the Mayo Clinic in Jacksonville, Fla., and a team of five BME and mechanical engineering students. Dubbing themselves Cinco de Mayo, the team initially considered 10 potential problems to solve, but ended up focusing on epidural anesthesia used to eliminate pain in approximately 2.5 million birthing mothers a year in the U.S.
After watching dozens of surgeries and talking to roughly 200 physicians and surgeons, the team found out that properly inserting the needle into a patient's back to deliver anesthesia can be hit or miss, causing complications. In fact, each year more than 300,000 patients experience complications related to these epidurals. The students created their Neuraline device to verify correct needle placement and guide it into place.
But the BME team didn't stop there. They continued work on development of the device via Georgia Tech's CREATE-X program, which helps empower students to launch startups.
"The Neuraline project is a great example of what students can do in class and in this institution," says Rains. "We have many pieces to help them pursue an entrepreneurial pathway. The CREATE-X program helps them with funding and mentorship, which is the most valuable thing you can give a startup." He says the team, which graduated last year, is now working full-time on technical development of the device at the company they created, Ethos Medical. And they are not alone in their endeavors. BME capstone projects have resulted in 12 startups and 60 patent applications in the past few years.
"Because of CREATE-X, students see a whole new highway they can go down," says Rains. "They can create their own new business, and we give them the means to take a crack at it."
---
Research Capabilities
KSU's Southern Polytechnic College of Engineering and Engineering Technology was born as an offshoot of Georgia Tech following World War II. The current program evolved from the 2015 merger between KSU and Southern Polytechnic State University, and it has become the state's second-largest engineering college. More than 4,500 students are working on 20 undergraduate and graduate engineering and engineering technology degrees at the Marietta and Kennesaw campuses.
"We're the fastest-growing college at KSU," says Renee Butler, interim dean. "We're looking at industry-sponsored research and innovation, and research started from the faculty perspective." As an example, she cites a partnership with Mohawk Industries where KSU students are working on increasing automation in the floor-covering giant's North Georgia factories.
Undergraduate and graduate students also have opportunities to design solutions to problems close to faculty members' hearts, such as the recently developed white blood cell counter. Electrical engineering Assistant Professor Hoseon Lee's sister was undergoing chemotherapy, which can lower white blood cell levels. She had to make repeated trips to the hospital to have her cell count monitored. Lee and a team of six electrical and mechanical engineering students spent a year looking at more efficient ways patients could monitor their white cell counts without frequent hospital visits. They created a cost-effective device that fits in one hand, operates on two AAA batteries and can be used at home, and they applied to patent it.
"A trend we're seeing in healthcare overall is more portable, more data- driven equipment that can provide data to physicians without disrupting patients' lives," says Butler. "[The project] is really exciting for students to see the whole design process from conception to something that has become an actual product that can be patented, because it [can have] such an impact on people's lives."
The KSU Research and Service Foundation (KSURSF), a nonprofit organization that helps manage intellectual property for the university and supports product commercialization, assisted the team with the patent process. In addition, KSURSF helps students identify places to apply for grant funding. So far two KSU engineering teams have received full patents on their products.
"We're going to see more research emphasis and emphasis on graduate programs at KSU," Butler says.
---
Sweet Spot
Research is also a major focus at GSU's Allen E. Paulson College of Engineering and Computing, which was founded in 2012, building upon a 40-year tradition of teaching engineering technology in Statesboro. Within its six departments, more than 3,500 students are now earning 17 undergraduate and graduate degrees.
The newest department – manufacturing engineering – was approved by the University System of Georgia (USG) Board of Regents in 2014 and is currently educating its inaugural class of about 100.
"There are not that many manufacturing engineering bachelor's [degrees] in the country," says Cox, "and there are no manufacturing engineering degrees in Georgia." He says the discipline is often part of a specialization or track, like mechanical engineering, but "ours puts emphasis on the manufacturing aspects."
He says there are several areas within the manufacturing engineering curriculum that provide opportunities for faculty and students – primarily undergraduates – to work on applied research. "A lot of it stems from the needs of the companies," he explains.
The discipline incorporates traditional materials science and manufacturing processes as well as automation and robotics to help facilities function more efficiently.
Cox says additive manufacturing is today's hot area. It uses advanced technologies to construct 3-D objects by adding material in layers. The materials used can be plastic, metal or concrete. Think 3-D printing. Several nearby companies, such as Gulfstream Aerospace in Savannah and Augusta Medical Systems, which makes medical devices, are working with the department on additive manufacturing projects.
Nanomanufacturing is another up-and-coming area for GSU. The discipline produces special materials – like powders or fluids – to improve a product's efficacy. Nanomanufacturing can also refer to making parts from these materials or altering a product in small steps to achieve extreme precision. Examples include materials used in robotics and prosthetics.
One robotics project the department is working on features a driverless robot that will remotely inspect and collect samples in planted pine tree farms for better harvesting. He says the department has a new flexible manufacturing system that can be used to investigate robotics applications for companies.
These and other projects will be greatly expanded and enhanced when the manufacturing engineering department moves into GSU's new Engineering and Research Building in 2020. "The building will help Georgia Southern engineering programs more readily do world-class research," Cox says.
"Because we're new, companies are still finding out about us, and more will be seeking out our students," he says. "Manufacturing engineering is a sweet spot that fills a need that's growing rapidly. We aim to fill that need."
Mohammad S. Davoud, dean of the GSU College of Engineering and Computing, agrees. "We stand supremely prepared to deliver on the promises of training manufacturing engineers for Georgia and the southeastern U.S., opening up research vectors and collaborating with regional manufacturers on technological and applied research issues."
---
Planet Challenges
UGA's College of Engineering was also established in 2012 by the USG Board of Regents, even though the university's first engineering students graduated in 1868. Since it was officially organized, the college has grown to more than 2,000 undergraduate and graduate students pursuing eight bachelor's, five master's and two doctorate degrees.
In 2016, an interdisciplinary trio of faculty members established the New Materials Institute (NMI) within the college to train the next generation of engineers and scientists to design products with the end of their lifecycle in mind. One of the founders, Jason Locklin, NMI director and professor of chemistry and engineering, says, "Thinking about the challenges the planet has – that of persistent plastic materials entering the environment because of improper waste management, and redesigning those plastics – is at the core of what the New Materials Institute is all about."
He says the past two years have been spent growing and developing a variety of ways to establish the institute's research reputation for designing plastic materials with better end-of-life consequences. Most of the students working on NMI research projects are master's and Ph.D. candidates, but some undergraduate students work in the labs.
Recently, the NMI received a grant of $150,000 per year for five years as the third site participating in the National Science Foundation's Center for Bioplastics and Biocomposites (CB2), an Industry/University Cooperative Research Center. (The other two partners are Iowa State and Washington State universities.)
As a CB2 site, the UGA institute will contribute capabilities in designing new biodegradable polymers and additives, advanced fibers, durable coatings and finishes and thermoplastics with barrier properties that can be used for films, sheet goods and filtration. Industry partners like 3M, Ford, John Deere, Hyundai and ADM will join Georgia companies such as Shaw Industries Group, Boehringer Ingelheim and Futamura in benefiting from NMI's focus on biodegradable alternatives for plastic. This is especially important in light of the fact that more than 90 percent of the world's plastic does not get recycled.
One of the Athens partners, RWDC Industries, is supporting development of a fully biodegradable plastic straw through its Environmental Stewardship Foundation. The foundation and NMI are working to create prototypes of the straw that can be consistently manufactured in quantities large enough to meet global demand and that will completely biodegrade in soil, salt water and fresh water.
In addition, NMI is working on a disposable cup with a coating that will not prohibit it from being recycled or from biodegrading, unlike the current plastic coating used on hot and cold beverage cups.
"It's the future of engineering and the future of how we teach design," Locklin says. "Having an engineering student who understands and has experience with that type of design – and understands its importance – will be the engineer of the future."