Georgia Fare: Tiny Lou's Dancing Queen
Tiny Lou's in Atlanta's revamped Hotel Clermont leans into its sultry past, adds layer of lux.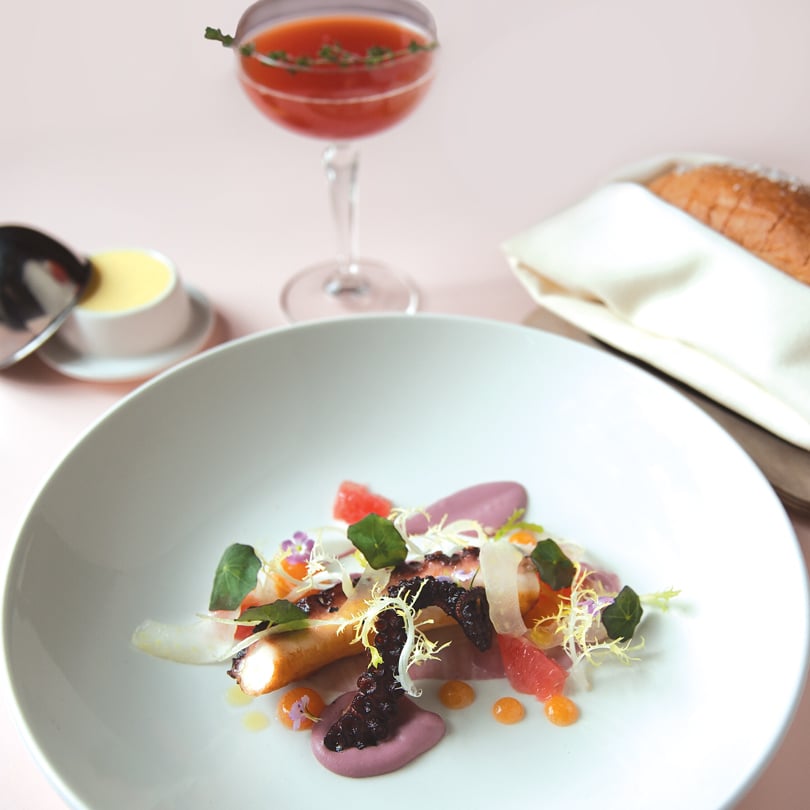 The menu states "Above Where the Ladies Dance," below the rendering of the restaurant's curvaceous and exotically clad namesake. According to the legend, Tiny Lou (who performed at the Clermont Hotel in the 1950s) had once "refused to dance with Hitler."
She's a fitting icon for this liberated French brasserie with plenty of American attitude. Many of us watched, and feared, the lengthy makeover of the Clermont, formerly a rundown single-occupancy hotel above a beloved Atlanta icon, the Clermont Lounge, where strippers in their fifth decade and beyond dance for a young, hip crowd in one of the most unexpectedly sweet experiences in the city. Thankfully, the Lounge is still there, along with its star ecdysiast, Blondie, still crushing beer cans with her patented method.
Now the Hotel Clermont is an upscale destination, and its lobby, bar, rooftop patio and downstairs restaurant all seem designed for you to make an *entrance.* Swing into the paved courtyard, and valets usher you into a sleek terrazzo-tiled lobby. Pass the dark-as-a-womb bar and head down the stairs, under the neon-scripted sign. To the right, two-tops and curved banquettes; to the left, mostly four-tops.
The rest of the hotel has the kind of lux touches that signal comfort and taste, with just a whisper of bordello (Architectural Digest included the bar in a recent piece on each state's most beautiful boite), but Tiny Lou's looks like what it aims to be: a hard-working French brasserie, complete with cane-backed chairs and an elaborate 1940s brass-fitted dessert cart.
Halfway into our first course on our first visit, we were so impressed we started plotting how often we'd return, and with whom. It's the kind of place you want to show off, to be there when others experience the same sheer delight. A couple next to us celebrated their 60th wedding anniversary with champagne and foie gras. They insisted on sharing their wine with the kitchen and waitstaff, as one explained why she loved working there. "Everyone is so passionate about everything we do here," she said. It shows.
From the bread service (described as brioche, but tasting like the most perfect Parker House rolls you've ever had, served with salted butter) to the French-pressed coffee, Tiny Lou's excels at both the main reason you've come (medium-rare steak with "Clermont sauce" and a haystack of crisp fries; trout almondine with toasted nuts in almond milk and brown butter; Carolina poulet rouge, a roast chicken with haricots verts and mushrooms, which stands in memory as the best dish of two visits) and the small details (duck consommé, with small dumplings stuffed with foie gras; a porcini tart topped with quail egg and French ham; a waiter who, despite a sudden crush, remained cheerful and on-point, even with our many special requests).
Other standouts: Roasted octopus with purple mustard greens; butter-crisped fluke meunière; the Grounds for Divorce cocktail of Old Fourth Ward gin, blood orange, lime and ginger. And on my next visit, I'm sure going to consider ordering the big mess of a cheeseburger (double-stacked, with gruyere) another neighboring diner ordered, rolling his eyes in ecstasy after each bite.
Missteps were few: The cubed sweet potato macaire was dry and uninteresting. On our second visit, a waitress wanted to rush us, interrupting our conversations repeatedly, attempting to clear away an unfinished cocktail, and after we explained we weren't ready to order yet, feeling it necessary to inform us that "It will take longer for your food to get here after it gets more crowded."
Desserts, overall, didn't seem quite as strong as the rest of the menu, or perhaps it was just the luck of our draws. The first night's iced cookies were delicious, if uncomplicated, but the second visit's mango tart was downright disappointing in its one-dimensional sweetness.
In the meantime, we're still plotting our next visit. I want to try the whole roasted loup de mer, the venison and maybe the omelette. Or the daily gnocchi? There's a lot to experience, including that rooftop lounge, which ought to start to be pretty pleasant at least some days in March. And I'd like to take my time doing it.
---
Tiny Lou's
789 Ponce de Leon Ave. N.E., Atlanta
470.485.0085 or tinylous.com
Hours: Dinner, nightly; brunch Saturdays and Sundays
Parking: Complimentary valet
Dress Code: Stylish and sensuous
---
More Nostalgic Reinventions
LLoyd's
Atlanta
Yes, both Ls are capitalized in this quirky "grandpa bar" from the folks behind Victory Sandwich and SOS Tiki Bar (itself a nostalgic reinvention). LLoyd's has it all: pine paneling, animated "waterfall" pictures and great food and drink, including a $5 happy hour (martinis, Manhattans and Vespers) and meatloaf with all-you-can-eat mashed potatoes.
---
Piedmont Brewery
Macon
This brewpub offers throughly modern brews and grub, including house-smoked meats, but you can also take your IPA downstairs to play classic video games plus skeeball and foosball.
---
Lone Wolf Lounge
Savannah
This self-proclaimed "dive" features fanciful tiki drinks, old vinyl and, at Sunday brunch, a three-tiered Bloody Mary garnish station in a decidedly downscale environment. As one online commenter said, "feels like I'm in my uncle's family room."