Drones, and more drones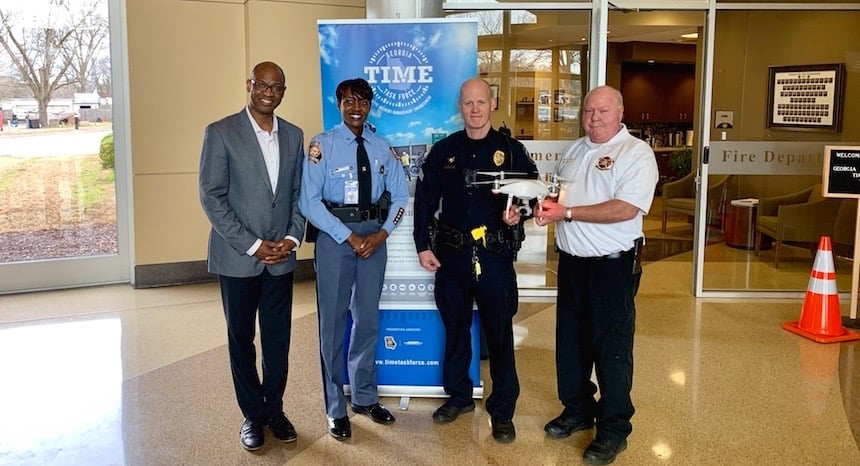 If you saw Maroon 5's Super Bowl halftime performance, you
saw a live drone light show courtesy of 150 Intel drones, which the corporation
says set a world record for drones flown indoors. These days, it seems drones
are everywhere, performing a wide variety of functions.
Recently the Barrow
County Fire Department and the Union City Police Department
received Drone Safety Grants from The Auto Club Group, a AAA affiliate; and
Georgia TIME (Traffic Incident Management Enhancement), a Georgia Department of Transportation task
force. The grants will be used to purchase two drones, valued at about $5,000
each, to help first responders clear traffic incidents and reduce the number of
secondary crashes.
In addition, a $1.2 million federal grant has been awarded
to a Georgia State University researcher and
his collaborators to develop drone use in wildfire management. According to
Xiaolin Hu, associate professor of computer science and the grant's principal
researcher, the drones will provide more timely data that allow authorities to
help contain wildfires, aid in predicting their spread and give residents in
affected areas more time to evacuate.
Photo provided by AAA.
From left: Garrett Townsend, The Auto Club Group director of public affairs;
Georgia State Patrol Captain Nikki Renfroe; Sergeant Kenneth Mohney, Union City
Police Department; and Deputy Chief Dwayne Jamison, Barrow County Fire Department

Do you follow us? Find us on Linkedin, Facebook, Twitter and
Instagram.