2019 Georgia Trustees: Frank Blake and John Schuerholz
This year's Georgia Trustees – the state's highest honor – represent everything a leader should be, including a commitment to excellence and to the common good.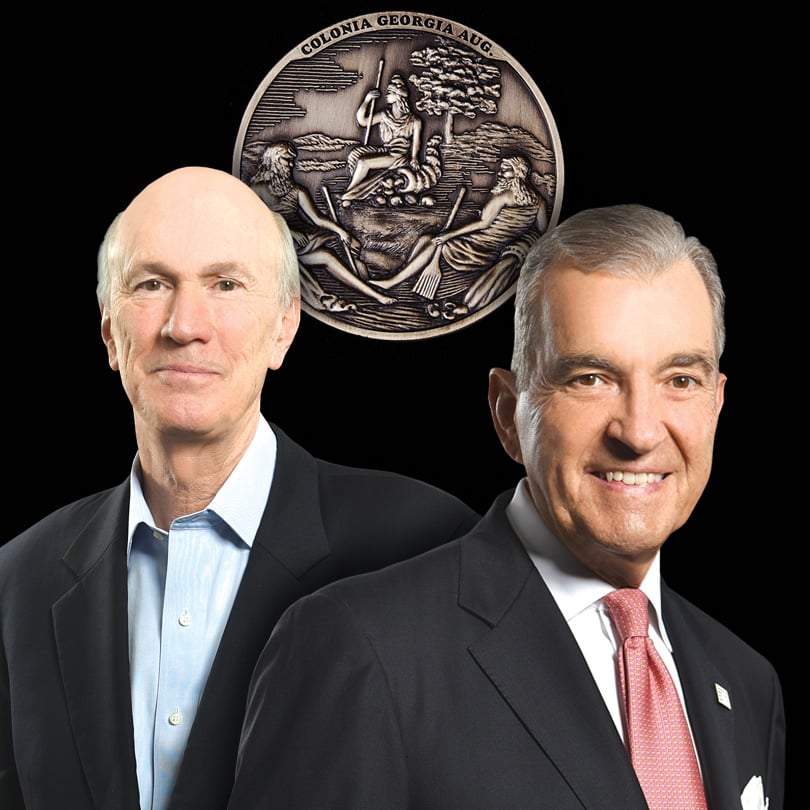 The Atlanta Braves and The Home Depot are iconic brands firmly associated with the state of Georgia, thanks in large part to this year's newest Georgia Trustees, John Schuerholz, vice-chair emeritus of the Atlanta Braves, and Frank Blake, retired chair and CEO of The Home Depot.
Schuerholz and Blake are each leaders who have had profound impacts in their fields. It's what sets them – and the Georgia Trustees who have come before them – apart.
Being named a Georgia Trustee is the state's highest honor, presented to individuals from every sector whose work has made Georgia a better place to live. The award is presented by the Office of the Governor and the Georgia Historical Society (GHS). Schuerholz and Blake will be honored for their achievements Saturday, Feb. 16, at the historical society's Trustees Gala in Savannah, part of its annual commemoration of the state's history.
The original trustees were chartered by England's King George II in 1732 and charged with establishing the new colony. The group disbanded in 1752, but the state re-established the honor in 2009 to recognize contemporary Georgians.
The original motto of the trustees, Non Sibi Sed Aliis, which means "not for self, but for others," steers the selection process each year toward people whose lives and accomplishments have had a positive impact across the state.
"Frank Blake and John Schuerholz reflect what is best in the original Georgia Trustees," says Todd Groce, president and CEO of the GHS. "Their commitment to the common good and their insistence on putting others first are in keeping with the leadership of James Oglethorpe and the other visionary founders of Georgia. Through their character, modesty and comportment, Frank and John are prime examples of everything a great leader should be." – Karen Kirkpatrick
---
Home Improvement
Former Home Depot Chair and CEO Frank Blake revived the Georgia-based retail giant, leading it back to its roots and forward to prosperity.
By Susan Percy
The first call Frank Blake made after taking the top job at The Home Depot was to Bernie Marcus; the second was to Arthur Blank – connecting with the founders of the 40-year-old Atlanta-based home improvement chain that changed the retail landscape.
"They are giants of the retail world," Blake says. "I wanted to learn as much from them as I could. I wanted to understand what had made Home Depot great, where we might have lost the thread and how they thought about the business. It was hugely helpful."
Blake joined the company in 2002 as executive vice president for business development and corporate operations, became chair and CEO in 2007 and retired in 2015.
He is credited with turning around the company, which had lost its way under former CEO Bob Nardelli – who came from General Electric, where Blake himself spent several years, working for the legendary CEO Jack Welch. Nardelli's brash style did not sit well with investors and board members; nor did the company's stagnant stock prices or his $210-million severance package.
Employee morale was low, customer service – long a hallmark of the retailer – had suffered, and the slowing national economy and impending housing market collapse were threatening the company's stability. Blake zeroed in on customers and employees, made some hard choices and restored The Home Depot to its former glory – and then some.
Blake is a lawyer by training, with stints in the administrations of Ronald Reagan and both Bush presidents, and a New Englander by birth; he did his undergraduate work at Harvard and earned a law degree from Columbia. His straightforward, somewhat self-deprecating manner – he has referred to himself as an "accidental CEO" – was a real contrast to Nardelli's and mirrors the back-to-basics approach that righted the business and saw stock prices climb.
"No one from my prior life would have ever said, 'This guy is going to end up running a major corporation,'" he says. "In fact, most of them wouldn't have said this guy is going to end up running anything."
He references Ken Langone, the investment banker who arranged initial financing for Blank and Marcus when they established the company. "He tells a great story in his book [I Love Capitalism!] that when they named me CEO of Home Depot, the person who hired me at GE bet Ken $10,000 I wouldn't last a year."
The GE guy lost his bet, and Blake, whose previous role had been "principally buying companies," settled in.
---
The Challenges
"A couple of things were happening," when he began his tenure as CEO, he says. "The company's performance – against Lowe's principally – was not as good as we wanted it to be; customer satisfaction scores were going down; the morale in the company was under a lot of pressure. Internally, things were not as strong as they could be. That had been true for a while."
Externally, the housing market, crucial to the business, was in trouble. "The housing market just stalled," Blake says, "then collapsed. Home Depot started seeing a dramatic impact from the back half of 2006 – the market was falling badly, then continued to fall for the next four years."
Early on, Blake addressed the cultural aspects of the company's difficulties. Thus, his overtures to Marcus and Blank, who responded with enthusiasm.
"I'm amazingly grateful that both Bernie and Arthur were so willing to give of their time and wisdom," Blake says. "They could very well have said, 'Oh, God, another guy from GE, and this guy's a lawyer – don't call us.'"
A key early moment for him was his first store manager meeting. "I started by bringing Bernie out on stage. Bernie spent two hours talking to the store managers – it was an important signal [of] what we were doing, where we were going, how we thought about how our future connected with our past. The next year both Arthur and Bernie spoke."
There were plenty of tough decisions at the start, Blake says: "Where to invest and where not to invest. We invested in our associates, stores, supply chain and online; and we stopped doing a lot of things.
"We stopped building new stores, which was a huge change for the company. We had been building 200 stores a year, and we stopped. Dead stop. We actually took half a billion dollar write-off to clear out all the stores in the pipeline."
At the time, he says, the typical new store cost about $20 million to open; at 200 a year, the building freeze represented some $4 billion in cash savings annually.
The company shut down some auxiliary businesses and sold HD Supply, which catered to the construction industry rather than the do-it-yourselfer, and which Blake personally had spent several years building up.
"We were going to focus on the core and fixing the core and changing the business model. Growth had been driven by opening new stores; now growth was driven by what we did within the square footage we already had."
The change in direction helped position the company for the online revolution that caught many retailers unprepared, although Blake claims no particular foresight on that score.
"We knew it was an important thing to invest in," he says. "It was fortuitous. We would have stopped building stores anyway, but it was good that we stopped because we had cash even during the downturn to invest in things we needed to invest in, which included online."
His actions lifted the company, and his management style brought stability and civility. He used to spend weekends handwriting notes to employees, congratulating and encouraging them. When he retired, they responded in kind, sending him their own notes of appreciation – thousands of them, which he cherishes.
---
More Than A Job
"What makes Home Depot so energizing to work in, so powerful," he says, "is it is truly the American dream lived out every day, every week, every month. By and large people don't start in retail thinking it's going to be their career. You take an hourly job – you need a job. Then, for different reasons, you like it. You like the family, the store, the work. You like interacting with customers. Over time, it becomes a career."
Some 85 percent of Home Depot store managers started as hourly associates, as did many district managers, he says.
"Toward the end of my tenure as CEO, Ken and Bernie and I flew out to Columbus, Ohio, to walk stores. At one of the stores they set up a lunch. Pretty damn close to 100 percent of the associates, going around the table, started by thanking Bernie: 'But for Home Depot my child wouldn't have gone to college … but for Home Depot I wouldn't own a home, but for HD I wouldn't have … .' You see just truly wealth generated and success created from people who are really working hard every day in these demanding retail jobs. It was one of those moments – if you dreamed of what you could do in life, having people say that would be maybe the best indicator of success. Gives me chills."
Part of any company's success, he believes, is paying attention to what its employees want and need. "Home Depot has always been a strong supporter of LGBT issues; that comes from our workforce." Boycotts from anti-gay groups never made much of an impact, he says. "But the touchtone for most companies begins with – you want your employees to be proud of where they work. Different leadership navigates that differently, but that's the core. You want the company to be a good corporate citizen."
---
Post-Depot
Despite his successful run, Blake retired in 2015, having groomed his successor, Craig Menear, whom he cheerfully describes as "better than me."
What made it time to leave? "First, I was 65. I guess I'm of the school that says don't overstay your welcome." He calls retirement challenging "in terms of getting things exactly right," finding the balance of business, personal, and community and charitable work.
He serves on the boards of Delta Air Lines, Macy's and Grady Hospital – work that provides "a different kind of satisfaction" than running a major company.
Despite his northern roots, he decided to stay in Atlanta. "I'm very fortunate," he says. "Both of my kids live in Atlanta. I have a stepson in Atlanta and five grandchildren here." His wife, Liz Blake, recently retired as senior vice president and general counsel for Habitat for Humanity.
Blake is an unabashed booster of Atlanta and Georgia. "I think Atlanta is unique – it's got a lot of transplants such as myself and my wife, and it has a very solid core of people who are from Atlanta and create expectations of what it's like to be in Atlanta; but it's a welcoming city and state."
He especially admires the way the business, governmental and philanthropic communities work together. "The political community actually engages with the business community, and the philanthropy community engages with the business community in a very powerful way. People here in Atlanta and Georgia understand, but coming from outside, it's fairly impressive. The generosity of business leaders with their time and resources is impressive."
Of course, he keeps a sharp eye on his old industry. Retail has seen rapid change, mostly due to the rise of Amazon, which he has famously called "a dark star," and the overall surge in online sales.
Yet change and challenge are an integral part of the industry. "The great thing about retail – it goes through massive waves of change. That's been true forever. The Sears and Woolworths of the world changed the landscape, then the Walmarts and Home Depots of the world changed the retail landscape. Amazon and dot-coms are changing the landscape because they provide a great customer experience. There are times you want to sit on your sofa and order something online, other times you need to get up and go talk to someone.
"The future of retail is going to belong to people who most effectively integrate the physical and virtual worlds. Amazon now owns retail space; most retailers have put serious effort into their own online presence and have pretty good online offerings. Customers want an enjoyable and efficient process."
He believes that customer experience remains paramount. And he keeps coming back to the focus on workforce.
Not long after he retired, Blake was having dinner at a restaurant in Atlanta when a longtime Home Depot employee approached his table with a young woman. "Excuse me," he said, "but I wanted my daughter to meet you because you're the reason she's going to college."
"I know I'm not the reason," Blake says, relishing the story. "It's a hundred other people, thousands of people; the great thing about Home Depot is what it creates for the associates who work there."
---
High Achiever
Former Atlanta Braves President and General Manager John Schuerholz took the team from worst to first and ensured himself a place in baseball's Hall of Fame.
By Patty Rasmussen
To look at the Atlanta Braves these days, it's hard to believe they were ever anything but winners. Consider the team's glittering new ballpark and surprising trip to the postseason led by National League Manager of the Year Brian Snitker. Then there were extraordinary plays from Rookie of the Year Ronald Acuna Jr. and his Gold Glove-winning teammates Freddie Freeman, Ender Inciarte and Nick Markakis (who also picked up a Silver Slugger), among others.
But 29 years ago, the Braves were breathtakingly bad. In today's vernacular, the 1990 season would be called a dumpster fire.
The team lost 97 games. Ninety-seven. After three last-place finishes, the Braves were considered a punchline, perennial losers. In 1990, they fired their manager, Russ Nixon, in the middle of the season, bringing Bobby Cox back to the dugout, telegraphing changes to come by trading beloved outfielder Dale Murphy to Philadelphia.
The Braves were determined to rebuild the team the right way. The organization was investing heavily in scouting and player development, nurturing their young talent and not rushing them. Stan Kasten, current president and part owner of the Los Angeles Dodgers, was the president of the Braves at the time. "I really needed someone to make the pieces all fit together, and that was John," he says.
He was referring, of course, to John Schuerholz – the Hall of Fame baseball executive who became the first general manager to lead teams to the World Series in both the American and the National Leagues (Kansas City Royals in 1985, Braves in 1995).
In 1990, Schuerholz was the GM of the Royals, at that time considered the "IBM of the American League" – professional, reliable. After winning it all in 1985, the team remained in contention each year. Gaining the necessary permissions, Kasten spoke to Schuerholz about leaving Kansas City and coming to Atlanta.
On the face of it, there was no reason why he would uproot his family and career and move to Atlanta. But under the surface, there was instability in the Royals organization. When Schuerholz did his research, he liked what he saw in Atlanta.
"The Braves had made a commitment to improve through the draft, which has been the marrow of my baseball life," he says. "They got their teeth kicked in while doing it, but I saw the quality of player in the pipeline, moving its way toward the major leagues. … I felt if they'll listen to me and hear my message, we'll get this done." Just as importantly, he really liked Kasten. "The more time I talked to Stan – brilliant, energized – I said this will be a challenge, but this will be fun. And it was."
Schuerholz admits he made the biggest decision of his life leaving the Royals to become the Braves GM in 1991. "I certainly didn't think we'd be playing in the World Series in one year's time against another worst-to-first team," he says. That achievement in itself remains an astonishing feat, but it's what came after that makes Schuerholz say, "I would not be in the Hall of Fame if I hadn't come to Atlanta."
For 14 consecutive seasons, the Atlanta Braves won their division – a streak that's never been matched in Major League Baseball or any other major American sports league. "It's an otherworldly accomplishment," says Braves Chair Terry McGuirk. "I can't remember the number off the top of my head, the number of players off of the 25-man roster that changed out each year to get to the end of that 14-year run, but I think by the end there was only one left that was there in the beginning and that was John Smoltz." (In fact, 272 players saw action for the Braves in their division runs from 1991 through 2005, and Smoltz was the only player with the team for all 14 seasons, according to sports analytics consultant Steve Fall of The Sports Resource.)
Part of Schuerholz's genius, says McGuirk, was his ability to change the tires of the bus while it was moving, never missing a beat, and still go faster the next year. And he always looked unflappable – impeccably dressed in suit and tie, suspenders and pocket square. You never saw him sweat. "He just had that knack," says McGuirk. "He was the 'It' baseball executive during that period."
---
Embracing Change
Schuerholz was considered the master builder, a crafter of teams that could win. But he knew it had as much to do with mental attitude and the culture of the organization as it did with the men playing the game. He consumed articles about leadership and change.
"I began to say we better get comfortable with change," he says. "We better get our arms open to change. And then we better learn to manage change. This had nothing to do with baseball, this was just life."
He developed presentations that he'd make to the minor league staff during spring training. "It was like a college class," he says. "Everything about which I was speaking – change – had to do with baseball, or getting better at your jobs in baseball, but also being more aware of how to get better."
For Schuerholz, embracing change wasn't empty rhetoric. His career was a case study in fearlessness. In 1965, he was a junior high school teacher who harbored a dream of working in baseball. Unlike most people, he acted on his impulse by writing a letter to Jerold Hoffberger, president of the National Brewing Co. and the chair of the Baltimore Orioles, asking for a position in the organization.
The letter was passed along to Executive Vice President Frank Cashen, who invited Schuerholz in for an interview. He was hired in 1966 as an administrative assistant and worked alongside Cashen, Orioles GM Harry Dalton and farm director Lou Gorman, all legendary baseball men. He soaked in their wisdom, and when Gorman left Baltimore in 1968 for Kansas City, Schuerholz went with him. Schuerholz climbed the ranks in Kansas City, eventually becoming, at the time, the youngest GM in major league history at age 41 in 1981.
The professionalism known as the 'Orioles Way' moved with him to Kansas City and became the 'Royals Way' and eventually part of the 'Braves Way.' "It was people knowing we expect nothing from you but your very best," says Schuerholz. "It was a standard and expectation, and we brought that here."
Whatever it was clicked in a big way. The team that finished last three years in a row, the only major league team to draw less than a million fans three years before, somehow went from worst to first. Schuerholz attributes the success to leadership – off the field and on.
"If you're going to turn around a ship like that it's a slow process, ordinarily. We accelerated the process because people bought in," he says. "They believed what I was saying. They didn't think I was a loudmouthed phony. They knew it was in my heart. I wanted them to enjoy the feeling of being part of this organization as much as I did."
The leadership troika of Schuerholz, Kasten and manager Bobby Cox was built on mutual regard, trust and respect that spilled over into the decision-making process. "There were things that are just the president's decision, and Bobby and John understood that," recalls Kasten, "There were things that were a manager's decision, and John and I understood that; and there were things that were the GM's decision, and Bobby and I understood that. We would have our views, we would weigh in, argue and debate, but at the end of the day we respected each other enough to say 'Okay let's go the way whose responsibility it is to go.' It's easy to say or understand that. In practice it's not that easy."
Schuerholz also found key position players – specifically third baseman Terry Pendleton whom he calls "the guy" – to supply veteran leadership to his young team. And what some call instinct, Schuerholz calls "knowledge and experience. If you blend those two things together, you become quite instinctive."
The Braves' 14-year run of division titles was punctuated by multiple trips to the postseason, including five World Series while Schuerholz was GM. In 1995, the Braves defeated the Cleveland Indians to win their World Championship.
By 2007, Schuerholz was ready to step out of the day-to-day, year-round operations of running the club. He moved into the executive ranks, becoming president of the organization, and then vice chair. "He participated greatly in the relocation of the team to SunTrust Park, the building of The Battery and all the conceptual aspects of that," says McGuirk. "It was a nice ending of his full-time career with the Atlanta Braves."
In December 2016, Schuerholz was unanimously elected by the Today's Game Era Committee for induction into the National Baseball Hall of Fame, and on July, 30, 2017, he was formally inducted at a ceremony held in Cooperstown, N.Y. Family and friends from Baltimore, Kansas City and Atlanta flocked to the little hamlet in central New York to watch the induction with thousands of other baseball fans. "To have my plaque up on the wall in Cooperstown? It's mind boggling," he says.
Throughout his career Schuerholz remained involved in philanthropy. He's given back to his alma mater – the baseball facilities at Towson University in Maryland are named in his and his father's honor. He's also been involved with L.E.A.D., an Atlanta nonprofit using baseball to reach at-risk youth by directing them to college and career education, and YES! Atlanta, another organization reaching teenagers in danger of falling through the cracks without intervention. Probably closest to his heart is Camp Sunshine, which provides camp experiences for children with cancer.
In 2018, Schuerholz was named vice chair emeritus by the Braves, a title he says means he gets to "sit back and pontificate." He still goes to his office at SunTrust Park, but during the season he watches batting practice using binoculars from the balcony outside his office rather than from behind the batting cage. And he's less likely to stay the entire game. An art lover, Schuerholz plans to pick up the paintbrush in the near future.
One of Schuerholz's greatest strengths was his ability to change the perception of the Braves franchise in people's minds. "Influencing people and making them come along with you is the essence of leadership," says McGuirk. "John made it fun, and people wanted to follow him in his pursuit of championships and victory. The success begat itself."
Putting Schuerholz's contributions into perspective, McGuirk says, "We're all Georgians. Atlanta is in our blood. There are a lot of important people in the world doing great things in Georgia – but in sports, there are few higher achievers … than John. He has been recognized by his sport, by his peers, as one of the greatest sportsmen in Georgia."
---
Past Trustees
2018
Ed Bastian
Delta Air Lines CEO
Paul Bowers
Georgia Power president, chair & CEO
2017
Duane Ackerman
Former BellSouth CEO
A.D. "Pete" Correll
Former Georgia-Pacific CEO
2016
Jim Blanchard
Former Synovus CEO and philanthropist
Muhtar Kent
Former Coca-Cola Co. chair & CEO
2015
Alana Shepherd
Shepherd Center founder
Paula Wallace
Savannah College of Art and Design founder and president
2014
Arthur Blank
The Home Depot co-founder and Falcons owner
Billy Payne
Atlanta Olympics visionary and former Augusta National Golf Club chair
2013
Truett Cathy
Chick-fil-A fast-food pioneer and philanthropist
Herman Russell
Construction giant and Civil Rights participant
2012
Tom Cousins
Developer and philanthropist
Andrew Young
Former ambassador and former Atlanta mayor
2011
Vince Dooley
Former University of Georgia athletics director and football coach
Sam Nunn
Former U.S. senator
2010
Hank Aaron
Braves baseball legend
Ted Turner
Businessman and philanthropist
2009
Bernie Marcus
The Home Depot co-founder and philanthropist
Marguerite Neel Williams
A founding trustee of The Georgia Trust for Historic Preservation