2019 Hall of Fame: Lasting Influence
The 2019 inductees into Georgia Trend's Most Influential Hall of Fame.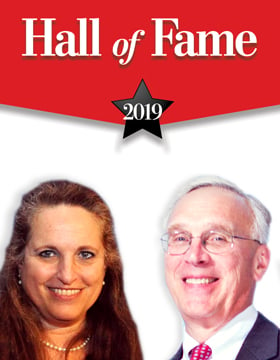 Michael Cassidy
Director of Emory Biomedical Catalyst
The landscape of technology-based economic development – engaging business, higher education and government; attracting top-tier researchers; and capitalization of that research in Georgia – would have looked very different if the Georgia Research Alliance (GRA) hadn't been around for the past 28 years. And there are more than a few folks who believe that having Michael Cassidy at the helm of the organization for 18 of those years was essential to the GRA's success, a compliment he graciously deflects toward the GRA team.
"There is a wonderful team at GRA, and I'm proud of the organization that my colleague Susan [Shows] and I built," he says. "But the secret sauce is the 'alliance' part – business, higher ed and the state – those three sectors being brought together with focus and an agenda."
In early 2018, the GRA announced Cassidy would step down from his role as president and CEO at the end of the year. Instead, on Oct. 1, Cassidy joined Emory University in a new position, director of the Emory Biomedical Catalyst, a role that looks very much like the one he vacated with a notable difference – the focus on biomedical research.
Of the $2 billion in research conducted at Georgia universities, $1.2 billion falls under the umbrella of biomedical; half of it conducted at Emory. But, Cassidy notes, "for all of that very high-quality research activity, you don't see the companion launch of new companies like you do on the technology side of things." Capitalizing that research will be the focus of the Emory Biomedical Catalyst.
"There's a lot of opportunity built up inside this university," says Cassidy. "We'll be looking at how we can commercialize more of that science into profitable businesses. That will be good for the economy of the state. It will create more job opportunities. It will help to put Atlanta and Georgia on the map as a biotech powerhouse – which we all believe we are, we just don't have the same outcomes to show for it. We know that life-saving drugs are being created in the labs here, [but] we don't have those businesses here in Atlanta, in Georgia, to brag about."
Honored and humbled by being dubbed a person of influence, Cassidy says, "I hope what I may be remembered for in helping to build the reputation of the GRA is the emphasis on collaboration. The simple notion that one plus one can equal a lot more than two." – Patty Rasmussen
---
Maria Saporta
Founder and editor of the SaportaReport
Writer and columnist for the Atlanta Business Chronicle
In the era of fake news, where journalists frequently face derision, Maria Saporta remains a respected standard bearer, pursuing stories that make a difference in readers' lives. Whether it's addressing the stigma associated with mental health issues by writing about depression among corporate CEOs or shining a light on the ethics of Atlanta's leaders, her work reflects the deep responsibility she feels.
"I care about where we're going as a community, as a state and as a nation," she says. "Hopefully what I write reflects how important it is to me that we make our community a stronger place."
Saporta started her career as a journalist at The Telegraph in Macon in 1980, then spent 27 years writing for The Atlanta Journal-Constitution (AJC) where she covered a variety of business topics. She also penned a column about Metro Atlanta's urban growth and development issues.
In 2008, she began writing for the Atlanta Business Chronicle, and 10 years ago next month, she founded the online news website SaportaReport, which delivers daily updates on business, political and cultural news while highlighting the region's growth, challenges and successes. By assembling a team of esteemed writers, including several AJC colleagues, Saporta has built the reach of her website to more than 80,000 monthly viewers.
Her dedication to civic journalism and the future of Metro Atlanta is matched by her passion for her profession at a time when she feels it's endangered.
"This is a very difficult time for journalism," she says. "Not only are we facing amazing financial hurdles to keep news outlets financially viable, but it's also a dangerous time for our democracy when we start attacking the press. I remind myself of the Greek word for journalist – dimosiográfos – which means writer for the people. We're writing to make a difference in society."
Since her start in journalism at Atlanta's Grady High School, Saporta has adhered to that mission, and her efforts have been recognized by many organizations, including the Society of American Business Editors and Writers, the YWCA Academy of Women Achievers and the Atlanta Urban Design Commission. In 2017, she received the Excellence in Preservation Service Award from The Georgia Trust for Historic Preservation and the Outstanding Public Outreach and Journalism Award from the Georgia chapter of the American Planning Association. Last year, she was honored with the Atlanta Hero Award from Rotary International.
"My independence and my ability to bring a historical perspective to what I write are my biggest assets," she says. "I'm just happy that I can continue to contribute as a journalist in Atlanta." – Mary Ann DeMuth
---
Past Hall of Fame Inductees
2018
T. Rogers Wade
Chair, Governor's Defense Initiative; Chair, Georgia Public Policy Foundation
---
Philip Wilheit Sr.
President, Wilheit Packaging
---
2017
Hank Huckaby
Former Chancellor, University System of Georgia
---
Alicia Philipp
President, Community Foundation for Greater Atlanta
---
2016
Arthur Blank
Co-founder, The Home Depot
Owner, The Atlanta Falcons
---
Alana Shepherd
Co-founder, Shepherd Center
---
2015
Bill Bolling
Founder & Former Executive Director,
Atlanta Community Food Bank
---
Saxby Chambliss
Former U.S. Senator
---
2014
John Lewis
U.S. Congressman
Civil Rights Leader
---
Robert Shaw
Chair & CEO,
Engineered Floors
Former Owner, Shaw Industries
---
2013
R. Charles "Charlie" Loudermilk
Founder & Chair Emeritus, Aaron's Inc.
---
Monica Pearson
Former News Anchor, WSB-TV
---
2012
Otis Brumby
(1941-2012)
Publisher, The Marietta Daily Journal &
Neighbor Newspapers
---
Bobby Cox
Retired Manager, Atlanta Braves
2014 Baseball Hall of Fame Inductee
---
2011
Ray Anderson
(1935-2011)
Chair, Interface Inc.
---
David Ratcliffe
Former CEO, Chair & President,
Southern Co.
---
Franklin Skinner
Former CEO & Chair,
BellSouth Telecommunications
---
2010
Dr. Joseph Lowery
Minister
Civil Rights Leader
---
Bill Shipp
Journalist
Political Columnist
---
2009
Spurgeon Richardson
Former President & CEO, Atlanta Convention & Visitors Bureau
---
2008
Hank Aaron
Baseball Legend
Founder & Owner,
755 Restaurant Corp.
---
Mack Mattingly
Former U.S. Senator
Former Assistant Secretary General (NATO)
Former U.S. Ambassador (Seychelles)
---
Carl Patton
Former President,
Georgia State University
---
Herman J. Russell
(1930-2014)
Founder & Chair, H.J. Russell & Co.
---
2007
A.D. "Pete" Correll
Former Chair & CEO,
Georgia-Pacific Corp.
---
Bernie Marcus
Co-founder, The Home Depot
Philanthropist
---
William S. Morris III
Founder, Chair & CEO,
Morris Communications Co.
---
2006
James Blanchard
Retired Chair & CEO,
Synovus Financial Corp.
---
Zell Miller
(1932-2018)
Senior Strategic Advisor,
McKenna Long & Aldridge LLP
Governor, U.S. Senator
---
Betty Siegel
Former President,
Kennesaw State University
---
2005
Tom Cousins
Founder, Former Chair & CEO,
Cousins Properties Inc. Philanthropist
---
Vince Dooley
Athletic Director Emeritus,
University of Georgia
---
2004
Tommy Irvin
(1929-2017)
Georgia Commissioner of Agriculture
---
Manuel Maloof
(1924-2004)
Longtime DeKalb County CEO and Commissioner
---
Sam Massell
President, Buckhead Coalition
Former Mayor, City of Atlanta
---
J. Mack Robinson
(1923-2014)
Businessman & Philanthropist
---
Ted Turner
Founder, CNN, TNT TBS
Environmentalist & Philanthropist
---
2003
Griffin Bell
(1918-2009)
U.S. Attorney General
U.S. Circuit Court Judge
---
S. Truett Cathy
(1921-2014)
Founder, Chick-fil-A
Philanthropist
---
Jimmy Carter
Nobel Peace Prize Winner
Former U.S. President
---
Rosalynn Carter
Former First Lady
Mental Health Advocate
---
Thomas B. Murphy
(1924-2007)
Longtime Speaker, Georgia House of Representatives
---
Sam Nunn
Former U.S. Senator
National Defense Authority
---
John C. Portman Jr.
(1924-2017)
Architect, Developer, Entrepreneur
---
Carl Sanders
(1925-2014)
Governor, Attorney
---
Dr. Louis Sullivan
Founding Dean, Morehouse School of Medicine
Former U.S. Secretary of Health and Human Services
---
Andrew Young
Former Mayor, City of Atlanta
Former U.S. Ambassador to the United Nations, Civic Leader