2019 Georgian of the Year: Lee Thomas
Lee Thomas's strong leadership has made Georgia the top spot for filming movies and TV.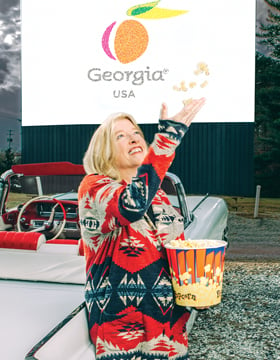 Even Lee Thomas is sometimes surprised by the success and scope of Georgia's film industry. Like the day she was driving along Peachtree Road in Buckhead and saw actor John Malkovich standing on the curb at a traffic light. "I had to pull out my phone and check to see if he's in town – and yes," she recalls, shaking her head. "There is so much going on here."
And there was the episode of The Simpsons that had Homer making a movie and declaring he "won't thank the Georgia Film Commission, no matter what," as other characters gasped. For that one, she sent Matt Groening, creator of the long-running animated TV show, a Georgia film office jacket with a peach logo. "That's promotional value we didn't have to pay for," she says.
Thomas, an Atlanta native who has worked for the state film office since 1996 and has been its head since 2010, nurtures an industry that had a $9.5-billion impact on the state in FY 2017 – up from $241 million 10 years ago – while bringing in $2.7 billion in direct spending.
The state film office was created in 1973 by then-Gov. Jimmy Carter following the success of the Burt Reynolds film Deliverance. Reynolds made five additional movies here, including Smokey and The Bandit, and the long-running TV series In the Heat of the Night was shot in Covington.
Under Thomas' guidance the state's film and TV activity has flourished, kicked into high gear by the 2008 tax credit passed by Georgia's General Assembly. That Georgia peach logo is a common sight in movie and TV credits.
Her succinct state-of-the-industry appraisal: "We've arrived."
In October, the cast and crew of The Walking Dead took over the State Capitol to shoot an episode of the popular Georgia-based TV series. Coming up in 2019? "We are excited about Zombieland 2. Zombieland 1 was shot here. We've had Lady and the Tramp doing live action for Disney in Savannah. BadBoys 3 with Will Smith will be here."
Georgia is a key player – the top-ranking film location in the world in 2016 and tied with the U.K. for No. 2 in 2017 – with some 455 movies, TV shows, commercials and music videos shot here in FY 2018. The film office is part of the Department of Economic Development, which is headed by Pat Wilson.
For her role in guiding, strengthening and enhancing Georgia's film industry, Lee Thomas is Georgia Trend's 2019 Georgian of the Year.
Her longtime boss, former Gov. Nathan Deal, says, "Lee Thomas has demonstrated an unwavering commitment to the promotion of Georgia's entertainment industry, and her efforts have had a profound impact on Georgia's reputation as a hub for film creation. Recently, we've seen a number of action films, including superhero movies, filmed here. Lee is one of the real-life heroes working behind the scenes to see that the world's leading filmmakers choose Georgia."
Deal notes that the motion picture and television industry is responsible for more than 92,000 Georgia jobs and $4.6 billion in total wages.
---
Before and After
Thomas grew up in Atlanta, where she attended Marist School. She earned an undergraduate degree in radio, TV and film at the University of Georgia's Grady College and a film studies master's from Georgia State University, then attended New York University's doctoral program in cinema studies and worked at the Brooklyn Arts Council before heading back home. She started at the film office as a project manager and location scout.
Despite the inherent glamour factor in movie making, her description of her work is matter-of-fact: "We try to get film and television projects to shoot in the state, try to get infrastructure to the state. Those are our main focuses."
Her six-person office reads scripts and breaks them down shot-by-shot to help find appropriate locations. They oversee the film tax credit that Thomas calls "the incentive that changed our world in 2008" and the Camera Ready Communities program, which provides direct local assistance for film projects; and they offer logistical support for productions.
"Before the Olympics," she says, "there were no tax credits. It was all driven by locations. We spent a tremendous amount of time trying to find the right locations for films – shooting on 35 mm film, taking the film to Wolf Photo, then FedExing it to the West Coast so they could see what Georgia looked like."
The local industry hummed along with some successes, including Midnight in the Garden of Good and Evil, shot in Savannah in 1997. But big changes were ahead for movie and film production – changes that would lead Georgia to pass landmark tax credits: 20 percent for production expenses and another 10 percent for embedding the Georgia logo in the credits.
"In the late 1990s," Thomas recalls, "Canada started very aggressive incentives to try to get what had been a U.S. business across the border. We started seeing our business going away. Lots of vendors went out of business, and crew people had to find jobs in other markets. There was not much work here at all." The legislature passed a sales and use exemption in the early 2000s, which "helped a little, but not a lot."
An especially big loss for the state's film industry highlighted the need for better incentives. "We scouted a long time for the Ray Charles story [Ray]. He was a Georgia native. Taylor Hackford was directing. He loved the locations and set up an office. We were very excited to have this big project. Then Louisiana passed an incentive, and Ray closed its doors and left. To add insult to injury, they used the Louisiana State Capitol for our State Capitol in the movie."
That experience "was a big wake-up call. We had to find a way to compete."
In response, the legislature passed a tax credit in 2005. "It was a little bit convoluted, a tiered system that was hard for productions to budget with." The law – and system of credits – was revamped in 2008, with input from industry people.
"That is the thing that changed everything for us," Thomas says.
---
Juggernaut
Over the last 10 years, investment and infrastructure have come quickly, one after another. The first big soundstage – basically a large soundproof warehouse-like facility where filming is done and dialogue recorded – was Screen Gems, at the site of the old Lakewood Fairgrounds just south of downtown Atlanta. That was followed by Eagle Rock Studios; Third Rail Studios; Atlanta Metro Studios at the site of the old Shannon Mall; Tyler Perry Studios, originally at Greenbrier, now at the former Fort McPherson site; and Blackhall Studios, which built nine sound stages and is ready to double in size.
Then came Pinewood Atlanta in Fayetteville, an offshoot of the iconic British studio known for Star Wars and James Bond films. "To have the presence of Pinewood here," says Thomas, "18 stages where there was a wheat field a few years ago; and now they are building literally a city across the street to accommodate all the people who are there." It's huge.
"Clearly," says Deal, "this industry has taken deep root under Lee Thomas' watch as filmmakers and film production companies have come to fully understand and value our competitive incentives program."
The effect of all the new facilities and the creative communities that have grown up around them has been dizzying. "We can try to attract shows that we were never able to attract before," Thomas says. Previously, "I would go to LA and talk to Marvel and say we'd really love to have a Marvel movie – but we didn't have anywhere to put a Marvel movie."
But in recent years, some of Marvel's most successful films have been shot here, including Black Panther, Ant-Man and Captain America: Civil War.
---
Timing and Support
For Georgia's economy, the timing of the tax incentive couldn't have been better, coming as the recession was kicking in. But initially, accommodating some of the film activity required ingenuity and a little scrambling.
"We really didn't have a great soundstage option for Catching Fire – the second Hunger Games. There wasn't anything built here big enough yet," Thomas says. "At the time, the World Congress Center trade show business was down because of the recession, so a lot of shows had cancelled. We called, and they really got busy and started moving shows around. That was the first time [the center] had ever been used as a soundstage. By the time the next two [Hunger Games productions] came, Mockingjay 1 and 2, then we had lots of options for them."
The tax incentives are unquestionably the driving force behind Georgia's film success, but other attributes come into play.
"There's a lot that other states just don't have," says Thomas. "We have diverse locations – mountains and coastlines and big cities and small towns. One of our competitors is New Mexico, but when you're in New Mexico, it looks like New Mexico. Georgia can be a backdrop for a lot of places, and it has a temperate climate. Michigan was big competition – but Michigan in January? They're not shooting outside."
And, as is true for other industries that find Georgia appealing, Hartsfield-Jackson Atlanta International Airport looms large. "We have the world's busiest airport – 26 flights a day to LA. That's a huge goose for us."
So is general livability. "People love it here," Thomas says. "We see celebrities buying houses here, people who work here over and over again. Once they shoot here, they like the quality of life, they like the atmosphere."
Early in her tenure with the film office, there weren't enough shows to support a permanent cadre of crews. "We used to say we were two crews deep – that's how many we could support. Now there are times we have 47, 50 shows going on at one time, TV and feature films. It's different now; it's an option for people.
"It's so exciting what's happening now. It's completely changed some people's lives. Our industry came in at a time when things were falling apart – Georgia got hurt less by the recession because of the film industry."
The economic impact is widespread. Reports of film-company spending bear this out, she says. "It's hardware, it's paint, it's caterers, Uber drivers, rental cars, hotels. Lots and lots of food and lots of gasoline. Then all the people here living their daily lives – buying houses, moving their kids here, setting up a life here."
The particular structure of the tax credit – with no "sunset" or expiration date built into the law that created it – has made it particularly reassuring to production companies and infrastructure providers; a separate legislative act would be required to rescind or alter the credit, unlike incentives in some other places.
"Businesses know the future of the entertainment industry is secure and promising," says Deal.
"No other market has seen the kind of investment that Georgia has and the infrastructure we have," says Thomas. "You see places that have an incentive in place for few years, and they might get a soundstage, but they don't get 10 soundstages, don't get 13.
"We have 1.1 million square feet of soundstages that are purpose-built and 1.2 million square feet of soundstages that are retrofitted. That's in addition to warehouses that are used time and time again."
Beyond the infrastructure and resources available, Thomas credits the top-level support the film industry has garnered.
"[Former] Gov. Deal has been a huge supporter," she says, "and we have had across-the-board support from the legislature, which is why we've been able to get this far. You see with competing states, they go up and down or pass legislation that is unfriendly to many companies, film companies being one of them. We have created this environment that we just think is going to flourish if we can keep it up."
The industry's role as a job creator endears it to state officials and individuals working in film and TV. The University System of Georgia has ramped up educational efforts, as schools like Kennesaw State, Georgia State and Clayton State have initiated or expanded their programs. The Georgia Film Academy, a joint effort of the university system and the Technical College System of Georgia, offers six-month courses that include training and internships to produce job-ready candidates who can easily command $84,000 a year working in Georgia.
And there is the instant economic gratification of the film business. When a production company comes in, Thomas says, "They literally open an office and start spending money. They are not building highways and getting ready; there's not a three-year ramp-up period. And it's not all centered around Atlanta."
Small towns around the state benefit, such as the little town of Glennville in southeast Georgia, which recently saw shooting for Gemini Man, with Will Smith, set for release later this year.
---
Worries, Challenges
Despite all the good news and great numbers, there is no resting on laurels for Thomas and others in the film business. Following the November 2018 election and attendant turmoil, some in the industry raised concerns about working in Georgia because of widely publicized voting system difficulties and fears that yet another so-called religious liberty bill, like the one that passed in 2016 but was ultimately vetoed by Gov. Deal, might soon show up.
Such "social issue" legislation poses serious harm to the industry.
"One of our biggest competitors was North Carolina," Thomas says. "They passed a bathroom bill, and all of their workers moved to Georgia – we picked up their business." Instead of tax credits, North Carolina offers a cash incentive. They literally had millions that nobody would touch, she says.
When similar bills are being debated in Georgia, the state film industry feels the effect: "Our business goes down."
Yet keeping the momentum going is as exciting as it is challenging: "It's going so well – there are signs it's getting bigger and bigger, like having writers' rooms here," Thomas says, meaning writers at locations here in Georgia rather than based in Los Angeles or New York.
"Content creators are moving here – they want to tell Georgia stories, so it's not just that everything's going to start from the west coast or New York, but going to happen organically with the people here."
On her wish list? "Visual effects is something we definitely need more of. We have a lot of projects, a lot of soundstages making movies that have a lot of 'green screen' work," she says, referring to the technique of shooting against a solid green background, so other backgrounds, characters and action can be added later. "But then they go to LA, London, Vancouver to do all the finish work. That's a labor-intensive part of the process that we'd like to attract."
Looking ahead, timing is again on Georgia's side, positioning the state for additional growth. "We are just in a great period," Thomas says. "There is all this disruption in the film industry. Now there are so many platforms needing content – content creators have become a driving force. This disruption keeps taking place with all of the new platforms, studios sucking up studios – all of the rules are out of the window and everybody's starting all over again. It's a great opportunity for Georgia. Everything is being recreated."
As for Thomas, she thrives on the changes, the challenges, the possibilities – and those surprises that keep coming.
"I came home one day to a letter on my front porch," she says. "Somebody was interested in the house for a movie. It was somebody I didn't know, a location scout. The note said, 'If you have any questions about who I am, please call Lee Thomas.' I remember thinking, 'Well, this is an existential crisis.'" But a good one.