Treating Georgia's Children
Pediatric hospitals ensure the state's most vulnerable citizens don't fall through the healthcare cracks. Followed by the listing of Georgia's 2018 Top Hospitals.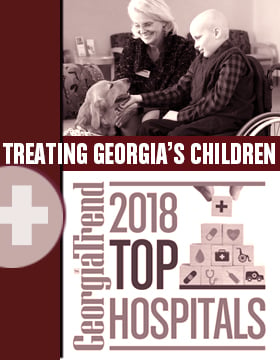 When her daughter was seven years old, Lee Ann Liska, now the CEO of Augusta University (AU) Medical Center, home of the Children's Hospital of Georgia, found herself living every parent's nightmare. "She was diagnosed with leukemia and treated for three years before she was truly cancer-free," says Liska. "It was such a blessing to have Children's Hospital of Cincinnati [at that time Cincinnati Children's] in our community where we lived and worked. I was the CEO of the adult hospital right next door. It's hard to appreciate the asset until you need it but, wow! When you need it. That's why we continue to tell the story of children's hospitals."
Even if a child survives cancer, he or she is likely to have chronic health issues that require further treatment the remainder of childhood and adolescence. As Liska knows, children's hospitals are typically more experienced and better equipped to handle both the physical and emotional needs of the patient and the family going through the aftercare process. The idea that a children's hospital is the same as an adult hospital, only with bright paint on the walls and smaller furniture, is as outdated a concept as feeding a cold and starving a fever.
Fortunately, Georgia is home to pediatric healthcare advocates making sure that children statewide have access to some of the best medical care available. Throughout Georgia, pediatric hospitals are expanding their physical footprint, services and most importantly, their outreach into more counties than ever. Over the next five to seven years, many of Georgia's most vulnerable citizens will have access to premium healthcare services in unique, child-centric institutions thanks to visionary CEOs, communities and employees.
As communities throughout Georgia have discovered, children's hospitals benefit the region and state in a number of ways. According to data from the Children's Hospital Association, a research and advocacy group based in Washington, D.C., the average children's hospital spends approximately $104.3 million annually on programs such as wellness, abuse prevention and mental health services to benefit the community. "There's a lot of science showing that communities that monitor children's health raise the standards of adult health," says Amy Knight, chief operating officer of the organization. "Children's hospitals play an important role there as well."
Though pediatric specialty hospitals make up a small percentage of the total number of hospitals in the United States, they are an important ingredient in the healthcare mix for children, providing support for their families. The rise in the number of children's hospitals tracks with population demographics, but also with improved cure rates for what used to be devastating terminal childhood illnesses.
"Children are not small adults," says Dr. Valera Hudson, pediatrician-in-chief and medical director for the Children's Hospital of Georgia and pediatric department chair at the Medical College of Georgia (MCG) in Augusta. "Anyone who has been around children knows the complexity and the difference between a newborn and a teenager. The developmental differences are staggering. In medicine the complexities are amplified by that. If you give me a set of symptoms, you have to tell me how old the child is before I can begin to think about what might be wrong with him, because that set of symptoms in a one year old would make me think of one diagnosis while the same set of symptoms in an older child may take me down a totally different pathway.
"Everybody working in a children's hospital is specifically trained to work in a children's hospital," Hudson says. "Even if a physician is able to care for a child in a standard hospital, if they don't have the whole specific team, it's not the same in non-pediatric specific hospitals."
---
First-class Healthcare
Donna Hyland is the president and CEO of Children's Healthcare of Atlanta, a nationally ranked pediatric healthcare system. Hyland was part of the team that created Children's in 1998 when Egleston Children's Healthcare System merged with Scottish Rite Children's Medical Center and later added Hughes Spalding in 2006 and the Marcus Autism Center. Hyland says having a leading pediatric healthcare system in the state is good for economic development.
"We have families that move to Atlanta because they want to be near a first-class children's hospital," she says. "It's good for job growth. Everyone knows there's a war for talent. When families are making decisions about where they want to live, we think we're a real asset for companies."
But, as pleased as she is with the effect Children's has on the economic vitality of Atlanta and the state, Hyland's chief mission is the medical wellbeing of children. She is currently overseeing the institution's next project – development of the 70-acre, $1.5-billion North Druid Hills Campus, which includes a hospital, the newly opened Center for Advanced Pediatrics, support buildings, loads of greenspace and walking trails.
Step one was construction of the 260,000-square-foot Center for Advanced Pediatrics, which opened in July. The outpatient center is a one-stop shop offering multiple pediatric specialties under one roof. The center even includes teaching kitchens, where dieticians can work with children (and their parents) with diabetes or other medical issues that require they eat in a different way.
"This [center] was for the families getting up at two and three in the morning driving to Atlanta for a day of doctor's appointments for the specialization we offer," says Hyland. "We wanted to ease the burden for those families. We also wanted to make it easier for the doctors to collaborate and coordinate the care." Hyland calls the center a "'glimpse into what we're going to have on the site.' Sometimes I have to pinch myself because it's taken us years to plan [the campus]," she says. "It's going to be amazing. It's going to change the complexion of this whole part of Atlanta."
The centerpiece of the new campus will be a 446-bed pediatric hospital that will replace Egleston Hospital at Emory. The new hospital, expected to be completed in 2025, will feature two patient bed towers, the AFLAC Cancer and Blood Disorders Center, neonatal intensive care units (ICU), pediatric ICU and cardiac ICU, and other services including surgical, emergency and radiology. They've even thought of simple things like a washer and dryer on each patient floor so parents don't have to leave the hospital to do a load of laundry.
Chris Chelette, vice president of planning, design and construction for Children's, insisted on embedding the healing effect of nature into the hospital's design. "We knew through scientific studies and through our own experience of stepping outside on a sunny day, how we feel better," he says. "Access to nature reduces the need for pain medication for patients, it provides better outcomes. From a design perspective we wanted to make sure that when a child was in their room they had a healing view, a view over the trees."
Chelette and his team are downright giddy with the amount of actual greenspace they have to play with – 20 acres – which will include walking trails and a "Great Lawn" outside the Center for Advanced Pediatrics so that North Druid Hills Road isn't visible. "We're blessed to be able to take a total campus, over 70 acres, to create a brand new hospital – we are studying everything about the experience trying to make things as instinctive as possible," he says. "We're trying to make this a transformative experience."
Children's has other building projects going up. A three-story medical office building in Kennesaw, Children's Town Center, opened recently, a cousin to the Center for Advanced Pediatrics in style, materials and design, and Chelette and his team recently finished a 46-bed expansion at Scottish Rite hospital. Children's expanded its influence in other ways as well.
In April 2018, Children's announced a formal affiliation agreement with Piedmont Columbus Regional hospital, the only hospital providing pediatric medical services for children in west Georgia and east Alabama. Children's is providing tools, training and best practices to Piedmont Columbus. In July, Piedmont Columbus opened their renovated and expanded neonatal ICU, made possible by a $2 million donation from Auburn University students.
---
Soothing Young Patients
The Children's Hospital of Georgia in Augusta opened 20 years ago and, as the pediatric teaching hospital associated with the AU Medical Center and MCG, has been a training ground for many pediatricians in Georgia. "What distinguishes us is that we have medical students, residents and fellows that are part of that care continuum, that team continuum for both the Children's Hospital and the adult hospital and that's unique," says Liska. "We're also the only public medical school in the state."
In 2015, Children's Hospital of Georgia opened an interactive, child-centered radiology suite providing personalized lighting and music for extra levels of comfort during often upsetting tests. "We also do role playing with a simulated CT scanner we call a 'Kitten Scanner,'" says Liska. Last December, Children's Hospital introduced its first full-time therapy dog, a golden retriever named Nugget, to help soothe young patients during stressful hospital visits. She's been such a hit the hospital hopes to raise funds to get a second therapy dog.
Liska says her vision for Children's Hospital's next 20 years includes expanding its reach further from the central campus. AU Medical Center has been involved in a three-year legal battle to build a community hospital in nearby Grovetown that appears to be resolved. "We've typically been just downtown, expecting patients to just come to us but we recognize that's a real hardship for parents for more of the routine care, observation care," she says. "We will provide that in the community, hopefully at our new hospital in Columbia County fairly soon. It has 100 beds, but has an observation unit for children."
---
Healing the Next Generation
On Feb. 1, 2018, HCA Healthcare purchased Savannah's Memorial Health, home of Memorial Health Dwaine & Cynthia Willett Children's Hospital of Savannah, the only children's hospital in southeast Georgia. In 2017, Willett treated 75,000 children from 35 counties in southeast Georgia and South Carolina at their hospital and clinics; 20,000 of those patients came through the pediatric emergency department.
Plans to enlarge the children's hospital were submitted and approved by the state in March 2018. "We increased the investment from $30 million to $65 million," says Shayne George, CEO of Memorial Health. "That enables us to bring the entire hospital online in 2020 rather than staggering it out over time. We wanted to be all in with our investment and bringing this hospital to completion."
The project will retrofit a freestanding building located on Memorial's campus and will provide 85,000 square feet for pediatric specialties and subspecialties. It will have 50 inpatient beds, including 14 intensive care beds, four pediatric operating rooms and 18 children's surgery beds. "The increased investment will help us enlarge the rooms to help us better support family-centered care," says George. "We want to wrap around this a caring, healing environment for children."
Though the planners didn't know it, Macon's Navicent Health will open the doors of its $82-million Beverly Knight Olson Children's Hospital on February 26, 2019, the birthday of its CEO, Dr. Ninfa Saunders. "It's the most beautiful birthday gift I could possibly get," she says. It's especially meaningful to Saunders because it was the employees who raised the initial $2-million to make the children's hospital possible.
The new 160,000-square-foot facility houses four pediatric operating rooms and a pediatric emergency room, both lacking in the previous children's hospital. Thanks to a generous donor, patients will "drive" themselves in remote-controlled – actually nurse-controlled – vehicles to their surgical procedures. It's just another way of keeping the focus on the patient experience.
"When you ask a recovering adult, 'How are you doing,' they'll answer, 'I feel better,'" says Saunders. "A child may not be able to articulate their feelings, but you know it when they start playing, when they start looking outside, when they start engaging with their surroundings."
Most of the hospitals were designed with input from their patients. "There's nothing more frightening than being taken outside your normal environment and being put into a very scary space when you're not well," says Children's Hospital of Georgia's Hudson. "Anything we can do to support that experience, we want to do. If they're in the middle of a very important video game – we can come back later. The patient is at the center of what we do."
---
2018 Top Hospitals
Focus on Performance
Data analyses reveal state rankings
This year, legislative and policy changes in the healthcare arena continue to foster uncertainty among providers around ways to improve patient outcomes and lower costs. Despite this uncertain climate, hospitals in Georgia are making strategic investments to increase operational efficiencies while working to improve patient experiences and outcomes.
For this list, which includes hospitals that provide a range of services, Georgia Trend groups hospitals of similar size and mission. The categories are: Teaching Hospitals, whose primary mission is teaching – regardless of size – and are certified by the Association of American Medical Colleges Council of Teaching Hospitals and Health Systems; Large Hospitals (250+ patient beds); Medium Hospitals (100 to 249 beds); and Small Hospitals (fewer than 100 beds). The American Hospital Directory provided the hospital bed size.
In addition, hospitals in the ranking include those that participate in the Centers for Medicare and Medicaid Services (CMS) Hospital Value Based Purchasing program. The CMS program does not include Veterans Administration (VA) medical centers, children's hospitals, critical access hospitals and long-term care facilities. A Total Performance Score was used to rank the hospitals in each group using information on clinical process, patient experience, outcome and efficiency. The hospital rankings are based on CMS data downloaded Aug. 18, 2018. Analysis of the data was completed for Georgia Trend by independent consultant Mark A. Thompson, associate dean and professor at the Hull College of Business at Augusta University.
While hospital rankings can assist consumers in providing valuable information on overall hospital performance, there are many factors that an individual should consider when deciding where to go for hospital services. Consumers should consult their doctors or other healthcare professionals before making a decision. – Mark A. Thompson
---
TOP TEACHING HOSPITALS
Hospitals whose primary mission includes teaching and are certified by the Council of Teaching Hospitals (COTH), regardless of size*
1. EMORY UNIVERSITY HOSPITAL, ATLANTA
2. EMORY UNIVERSITY HOSPITAL MIDTOWN, ATLANTA
3. GRADY MEMORIAL HOSPITAL, ATLANTA
4. WELLSTAR ATLANTA MEDICAL CENTER, ATLANTA
5. THE MEDICAL CENTER, NAVICENT HEALTH, MACON
6. AUGUSTA UNIVERSITY MEDICAL CENTER, AUGUSTA
7. MEMORIAL HEALTH UNIVERSITY MEDICAL CENTER, SAVANNAH
*Does not include VA Medical Centers or Children's Hospitals
---
TOP LARGE HOSPITALS
Hospitals with 250 or more patient beds
1. WELLSTAR PAULDING HOSPITAL, HIRAM
2. PIEDMONT ATHENS REGIONAL MEDICAL CENTER, ATHENS
3. HAMILTON MEDICAL CENTER, DALTON
4. PIEDMONT ATLANTA HOSPITAL, ATLANTA
5. WELLSTAR WEST GEORGIA MEDICAL CENTER, LAGRANGE
6. NORTHEAST GEORGIA MEDICAL CENTER, GAINESVILLE
7. SOUTH GEORGIA MEDICAL CENTER, VALDOSTA
8. JOHN D. ARCHBOLD MEMORIAL HOSPITAL, THOMASVILLE
9. WELLSTAR KENNESTONE HOSPITAL, MARIETTA
10. SOUTHERN REGIONAL MEDICAL CENTER, RIVERDALE
11. DOCTORS HOSPITAL, AUGUSTA
11. NORTHSIDE HOSPITAL, ATLANTA
13. COLISEUM MEDICAL CENTERS, MACON
14. EASTSIDE MEDICAL CENTER, SNELLVILLE
15. FLOYD MEDICAL CENTER, ROME
16. GWINNETT MEDICAL CENTER, LAWRENCEVILLE
17. WELLSTAR COBB HOSPITAL, AUSTELL
17. SOUTHEAST GEORGIA HEALTH SYSTEM-BRUNSWICK CAMPUS, BRUNSWICK
19. UNIVERSITY HOSPITAL, AUGUSTA
20. ST. FRANCIS HOSPITAL, COLUMBUS
---
TOP MEDIUM-SIZED HOSPITALS
Hospitals with 100-249 beds
1. MEMORIAL HOSPITAL AND MANOR, BAINBRIDGE
2. UNION GENERAL HOSPITAL, BLAIRSVILLE
3. WASHINGTON COUNTY REGIONAL MEDICAL CENTER, SANDERSVILLE
4. EMORY JOHNS CREEK HOSPITAL, JOHNS CREEK
5. DONALSONVILLE HOSPITAL , DONALSONVILLE
6. NAVICENT HEALTH BALDWIN, MILLEDGEVILLE
7. TANNER MEDICAL CENTER VILLA RICA, VILLA RICA
8. HOUSTON MEDICAL CENTER, WARNER ROBINS
9. TIFT REGIONAL MEDICAL CENTER, TIFTON
10. WELLSTAR DOUGLAS HOSPITAL, DOUGLASVILLE
11. FAIRVIEW PARK HOSPITAL, DUBLIN
12. CRISP REGIONAL HOSPITAL, CORDELE
13. TAYLOR REGIONAL HOSPITAL, HAWKINSVILLE
14. EMANUEL MEDICAL CENTER, SWAINSBORO
15. TANNER MEDICAL CENTER – CARROLLTON, CARROLLTON
16. MEMORIAL SATILLA HEALTH, WAYCROSS
17. EMORY SAINT JOSEPH'S HOSPITAL OF ATLANTA, ATLANTA
18. REDMOND REGIONAL MEDICAL CENTER, ROME
19. PIEDMONT NEWNAN HOSPITAL, NEWNAN
19. CARTERSVILLE MEDICAL CENTER, CARTERSVILLE
19. UNIVERSITY HOSPITAL SUMMERVILLE, AUGUSTA
22. NORTHSIDE HOSPITAL FORSYTH, CUMMING
22. CANDLER HOSPITAL, SAVANNAH
24. HABERSHAM MEDICAL CENTER, DEMOREST
25. ST. MARY'S HOSPITAL, ATHENS
---
TOP SMALL HOSPITALS
Hospitals with fewer than 100 beds
1. GRADY GENERAL HOSPITAL, CAIRO
2. GORDON HOSPITAL, CALHOUN
3. EVANS MEMORIAL HOSPITAL, CLAXTON
4. PIEDMONT COLUMBUS REGIONAL, COLUMBUS
5. PERRY HOSPITAL, PERRY
6. DORMINY MEDICAL CENTER, FITZGERALD
7. FANNIN REGIONAL HOSPITAL, BLUE RIDGE
8. DODGE COUNTY HOSPITAL, EASTMAN
8. PIEDMONT MOUNTAINSIDE HOSPITAL, JASPER
10. ELBERT MEMORIAL HOSPITAL, ELBERTON
11. STEPHENS COUNTY HOSPITAL, TOCCOA
12. NORTHEAST GEORGIA MEDICAL CENTER BARROW, WINDER
13. COFFEE REGIONAL MEDICAL CENTER, DOUGLAS
14. SOUTHEAST GEORGIA HEALTH SYSTEM – CAMDEN CAMPUS, SAINT MARYS
15. MEADOWS REGIONAL MEDICAL CENTER, VIDALIA
16. PHOEBE SUMTER MEDICAL CENTER, AMERICUS
17. COLQUITT REGIONAL MEDICAL CENTER, MOULTRIE
18. NORTHSIDE HOSPITAL CHEROKEE, CANTON
19. EMORY HILLANDALE HOSPITAL, LITHONIA
20. COLISEUM NORTHSIDE HOSPITAL, MACON