Southwest Georgia: Open for Business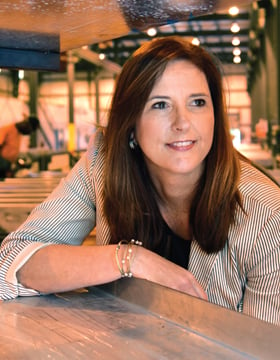 While Southwest Georgia continues to be a draw for new and expanding businesses and industry, the rural region faces many challenges, not least of which is the devastation caused by Hurricane Michael in mid-October. The Albany area, which was still recovering from back-to-back tornadoes in January 2017, was in the hurricane's direct path. Early damage estimates were staggering, with state agricultural losses said to total some $3 billion, according to Agriculture Commissioner Gary Black. Losses were in timber, cotton, peanuts, pecans, poultry and fall vegetables. Thousands of homes, businesses, hospitals and more were without electricity as downed trees destroyed power lines and blocked roads. Damage to infrastructure in Dougherty County was "phenomenal," says Chris Cohilas, county commission chair.
But, people in the area are determined and resilient. And a new center at Valdosta State University (VSU), while not designed to help with hurricane fallout, is dedicated to identifying and resolving other issues the region faces.
VSU's Center for South Georgia Regional Impact is the result of a strategic plan that includes a commitment to creating more opportunities for student community engagement. Leaders there are aware that many of the issues confronting individual counties are the same across the entire region. VSU President Richard Carvajal believes connecting those issues with the talents and research efforts of his faculty, staff and students will offer up some solutions. VSU is the largest university in Southwest Georgia, and Carvajal is serving his third university presidency in the region.
"We love South Georgia … this is home to me, and I love calling it home," says Carvajal. "But that doesn't mean we can't be honest in identifying and admitting to the challenges that we have."
Among the issues Carvajal cites is population across the region, where almost no county is expected to grow. "In fact, most are expected to see population decline in the next 10, 15 years," he says. In addition, a continued graying of the population will make it hard for business and industry looking for employees to replace a retiring workforce.
"How can we use the talents of our folks … to figure out how we improve education, how we improve healthcare?" he says, adding that a number of counties in the region don't have a single practicing physician, making it difficult for those counties to attract industry.
Other goals of the center include assisting existing businesses, enhancing the arts, maintaining quality of life and helping local governments be more efficient and effective.
"Those are all areas where we have expertise. We're not trying to walk into any community and say, 'You have to do it this way,' but for any community that is looking for answers and wants to work with us, the center is there to marry them with folks who bring some content expertise and who are willing to help."
Leading the center is Executive Director Darrell Moore, who spent the last 21 years as president of the Moultrie-Colquitt County Development Authority. He held similar positions in Ware and Pierce counties since graduating from VSU in 1991. His involvement in economic development projects in the region represents more than a $325 million impact and 3,000 new jobs, according to John Crawford, VSU's vice president of university advancement.
"I've got a good professional network throughout Georgia, especially in South Georgia, so I've got contacts in every county," says Moore, who hit the ground running, holding community meetings to assess needs. "I also want to take advantage of the relationships we have with our state partners – the Georgia Chamber of Commerce, the Department of Economic Development, Department of Community Affairs and all of our utility partners."
In addition, Moore has developed a resource team at VSU that he believes can have the greatest impact on the region, "using the resources that we have, looking at return on investment and trying to figure out what we can do and what we can't do."
---
New Manufacturing
A couple of big hitters committed to projects in Southwest Georgia this year, including Georgia-Pacific, which announced a $150-million investment. The company plans to construct a 320,000-square-foot lumber production facility in Albany, bringing with it 130 jobs and an annual payroll of $5 million, says Justin Strickland, president of the Albany-Dougherty Economic Development Commission. The facility will be developed using the entire 226 acres of the recently configured Albany-Dougherty Industrial Park.
"Selling our entire industrial park is a huge win for the community," says Strickland, of the property on U.S. 82 designated as an industrial park late last year. Georgia-Pacific has had a presence in Dougherty County since 1981 with its corrugated box plant. Construction is expected to begin in January and the lumber production facility is slated to begin operations in late 2019.
"It's a little bit different than the old sawmill that most people are used to. These are state-of-the-art production facilities that use every bit of the tree that's possible, from the bark down to the shavings that are left over from the sawing," says Rick Kimble, senior manager of business communications for Georgia-Pacific. He adds that Albany is the third new location for a lumber plant they've announced in the past 12 months – including one in Warrenton, Ga., and another in Talladega, Ala. – and attributes the demand for lumber to an upswing in the housing market.
Also in Dougherty County, WebstaurantStore, an internet-based restaurant supply company, plans 40 new jobs in an expansion, and Proctor & Gamble added 30 new technicians to its payroll, Strickland says.
An hour southwest of Albany, Decatur County announced in the spring that firearms manufacturer Taurus USA would invest more than $22.5 million to construct a 205,000-square-foot factory and national headquarters facility, says Rick McCaskill, executive director for the Development Authority of Bainbridge and Decatur County.
The factory, which will be Taurus' only manufacturing facility in North America, says McCaskill, will bring 300 jobs. "It's a huge investment and a big, big deal for the state," he says, of the project being built at Commodore Industrial Park and slated to open the end of 2019.
(The Georgia Economic Development Association named the Georgia-Pacific and Taurus USA projects Deals of the Year for 2018. See "Big Deals" to learn more.)
---
Busy Along I-75
Bordering North Florida, Lowndes County welcomed Metal Benderz to the Hahira Business Park this year. The manufacturer of light-gauge steel framing leased a building, made a $2-million investment in equipment and created 30 jobs with the expectation of adding to that initial investment, says Andrea Schruijer, executive director of the Valdosta-Lowndes County Development Authority. The company continues to hire welding students coming out of the nearby Wiregrass Technical College, she says.
Georgia Beer Co. is opening a brewery in Valdosta. A public-private partnership allowed the project to go forward in an old downtown waterworks building owned by the Valdosta-Lowndes County Development Authority that has been renovated to accommodate Georgia Beer, says Schruijer. The company will brew beer for offsite distribution, but offer tours and samples at the downtown location.
Lowndes County commissioners this year approved construction of a nearly $6-million soccer complex and recently constructed a new tennis tournament complex, adding six courts to the 12 existing courts, she says. The county already enjoyed a healthy reputation for bringing in sports tournaments, which will grow with the expanded facilities. The new complex has hosted a national tournament of the United States Tennis Association and will host it again in 2019, bringing in about $1 million over the two years.
Neighboring Cook County is also investing in the health and wellness of residents. The county recently broke ground on a $5-million recreational complex to be built in phases on about 85 acres. The facility will eventually include eight ball fields, soccer fields, parking for 500 vehicles, a walking track and other amenities, says Lisa Collins, executive director of Cook County Economic Development Commission.
Leaders there continue to position the county as a great location for business and industry, including successfully pursuing a state-funded 500-foot runway extension project that will make Cook County Airport more corporate friendly, says Collins. In September, Middle Georgia State University opened a flight school at the airport, she adds.
Collins says she's working five projects representing approximately $450 million in capital investment and 510 jobs. Newcomer Linde, an air separation plant that will produce nitrogen and oxygen, will begin operations by first quarter 2019, following its initial $40 million investment bringing at least 35 jobs, says Collins. In order to accommodate Linde's large power usage, MEAG Power built an $8-million substation, giving the county "the advantage of enticing industries who have large power loads to look at Cook County for expansion and/or relocation," she says.
California-based Grimmway Farms, the largest grower, producer and shipper of carrots in the world, began operations earlier this year at its new Cook County facility that will serve the East Coast. They invested $5-million in the project that provides 54 full-time and seasonal positions.
North of Adel off I-75, Tift County recently purchased 400 acres of new industrial property with all infrastructure in place, including rail, and is having it Georgia Ready for Accelerated Development (GRAD) certified, says Brian Marlowe, president and CEO of the Tifton-Tift County Chamber of Commerce and executive director of the Tifton-Tift County Development Authority. In October, the authority was in the process of building a new 100,000-square-foot spec building, expandable to 350,000 square feet. The county's last spec building sold to American Textile Co. before construction was complete. The $21 million project resulted in 70 jobs and a grand opening last March.
"Industrial and warehouse-distribution prospect activity remains high," Marlowe says, with about $52 million in investments since first quarter 2017. "We also continue to experience a tremendous amount of new retail and commercial growth."
Farther north, Crisp County is anticipating the announcement of a new company that could bring 125 jobs, 100 of which would be for truck drivers, says Grant Buckley, executive director of the Cordele-Crisp County Industrial Development Council. Another anticipated deal would place a new manufacturer in a building that's been on the market about a dozen years, bringing with it about 40 jobs in the first couple of years, he says.
Existing industry Stella Jones transitioned away from making railroad crossties and now manufactures wooden utility poles following a multi-million-dollar investment to change equipment and construct kilns at its Cordele facility, says Buckley. In addition, Columbus-based Goldens' Foundry added a shift and about 75 positions. The company molds various fixtures out of iron, such as fire hydrant bases and parts for heavy-duty trucks. Three other existing businesses are also talking expansion, says Buckley, who is pleased with the county's decreasing unemployment level.
"Our unemployment a year ago would have been in the low- to mid-fives and this year has been in the fours," he says. "We got down to 4.0 percent in May, and that's the lowest it's been in at least 18 years, probably more. … It's good for our citizens that those jobs are out there. People are looking for workers and it's an employees' market right now, so that's good for the man on the street."
---
Drawing Business
As of late summer, anyone calling the Georgia Department of Natural Resources (DNR) for hunting and fishing licenses and other requests will reach Brandt Information Services, a call center that brought 25 jobs to downtown Thomasville, says Shelley Zorn, executive director of the Thomasville-Thomas County Development Authority.
Cheese maker Sweet Grass Dairy will expand with a $3.5-million investment to build a 12,000-square-foot facility on 25 acres deeded to them by the development authority, says Zorn, adding that they will employ 75 when the expansion is complete. Flowers Corp. added 100 jobs with a restructuring that brought positions back to the home office in Thomasville as the company prepares to celebrate a century of business next year.
Southern Lodging LLC will invest $13.5 million to build a 90-room Marriott on the last remaining lot near downtown Thomasville, adding another 40 jobs, she says. In addition, Hurst Boilers completed its third expansion in four years, adding 70 jobs, and Ag-Pro, based in Boston, Ga., announced an investment of $3 million for a new facility.
Check-Mate Industries, a tool and die, stampings and assemblies manufacturer serving customers in the aerospace, firearms and medical fields, will repurpose a 158,000-square-foot former Caterpillar plant into a high-tech manufacturing facility. The company will move its operations and corporate office to Thomasville from New York during the next three to four years, investing more than $15 million and employing 230 people, says Zorn.
Colquitt County currently has $96 million in projects underway, says Moore, including the recently completed $30-million, 40,000-square-foot expansion that doubles capacity for National Beef and adds another 100 jobs with more on the horizon.
Greg Icard, interim president of the Moultrie-Colquitt County Development Authority following Moore's move to VSU, is overseeing final approval of the county's first business incubator. Construction is slated to begin this month and be complete by May. The 40,000-square-foot project will be spread across four buildings, three of which will include 21 units for industrial/manufacturing warehouse space and seven office spaces, all of which will be leased at a discounted rate. The $3-million incubator was funded by a $1.8 million federal grant and Special Purpose Local Option Sales Tax (SPLOST) dollars and will be located in the GRAD certified Citizens Business Park.
Moore's changing role coincided with completion of his term as chair of the regional economic development initiative Locate South Georgia, a position now held by Jason Dunn. Also executive director of the Fitzgerald and Ben Hill County Development Authority, Dunn reports $25 million in new capital investments there over the past 18 months and a 40 percent drop in unemployment.
---
Meeting Healthcare Needs
The Philadelphia College of Osteopathic Medicine, under construction in Colquitt County, is scheduled for completion next summer, with the first class of students entering in the fall, says Moore. The $25-million project will bring 30 jobs initially with plans for more as the school grows. "That's going to be transformational for South Georgia and help everybody in South Georgia and rural Georgia address the healthcare shortage that we have," says Moore.
Other healthcare demands are being met across the region as construction continues on Cook County's $35-million facility to replace the aging Cook Medical Center, which is operated by Tift Regional Health System. In addition, Lee County is moving forward with plans for a new 50-bed, $50-million acute care hospital, says Winston Oxford, executive director of the Lee County Chamber and Development Authority. That hospital is slated to open in 2020.
Oxford is optimistic about the potential for development on about 170 acres surrounding the planned hospital site. "We envision other doctors' offices and medical services coming close to the hospital at that site," he says, as well as a drug store and high-end grocer.
The county is also working to recruit developers and retailers to bring commercial investment to the area. He anticipates an amphitheater and abundant green space on the property, which is a former golf course boasting majestic 150-year-old oak trees.
The region has proved strong – not only in facing the challenges Mother Nature has thrown at it – but also in getting the word out about business opportunities. Existing industries are making investments to expand operations and create new jobs across the region, while site selectors flock to locations with great interstate access and a growing workforce. Both demonstrate that Southwest Georgia is a profitable place to do business.