Making Art Accessible and Relevant
A year into his job, Woodruff Arts Center's Doug Shipman is making his mark on the arts community in Atlanta – and around the state.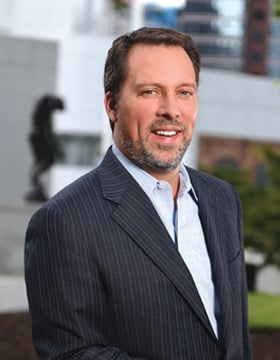 Doug Shipman assumed leadership of Atlanta's 50-year old Woodruff Arts Center in July 2017. The center, founded in 1968 as a tribute to arts patrons who died in a plane crash at Orly Airport in Paris, houses the Atlanta Symphony Orchestra, the High Museum of Art and the Alliance Theatre.
Over the years, it has expanded its mission to reflect the diversity of its home base and to emphasize education and outreach as well as exhibitions and performances. The center serves some 200,000 Georgia children every year, via teacher training, presentations or hosting the busloads of students who visit regularly.
Shipman, an Arkansas native and graduate of Emory University, was the founding CEO of Atlanta's Center for Civil and Human Rights.
He talked to Georgia Trend Editor-at-Large Susan Percy at Woodruff. Following are edited highlights from the interview.
---
GT: How would you describe your first year on the job?
Shipman: We've obviously been busy. The Alliance Theatre is being completely rebuilt and opening this fall; the High Museum has been reinstalling exhibits, changing the works on the wall, changing the way exhibits flow, doubling the size of the educational spaces. We've been building audiences, expanding family programs, expanding the kinds of exhibits. Audiences have been diversifying. I've long been a patron here, but I didn't realize how much happens on a daily basis.
---
GT: The center is celebrating its 50th anniversary this year. Remind us of some of the major accomplishments.
Shipman: The arts center was born out of tragedy. It was to be a home for the arts, a beacon for the region, a place that would be world-class and provide training for the next generation. What you see is the embodiment of what they [the founders] hoped would happen.
We've become the third largest arts center in the country behind Kennedy Center and Lincoln Center. It has produced new music, championed new artists, produced 12 shows to Broadway. It has expanded multiple times, and across all that has remained this incredible force for not only bringing the arts to people but making the arts relevant. More recently, it's been able to find out how to stay financially stable – it's been in the black the last four years straight.
It is the story of 50 years' accomplishment, but also the resilience of this organization as things have changed – including this [Midtown] neighborhood. It's not an overstatement to say that the arts center and Colony Square were the catalysts to create what we now see as this incredibly vibrant part of the city.
---
GT: And the challenges?
Shipman: How do you grow the audience, how do you change with technology, be relevant for families, have a huge education push?
---
GT: What's your most pressing need?
Shipman: We need to address Symphony Hall. We need to make Symphony Hall a wonderful patron and artist experience. We are working through a vision for that; over the medium term a plan for Symphony Hall – whether that's a refurb or a building – is something we are going to undertake. Right now the art is much better than the experience. We want the experience to match the art.
---
GT: What else is ahead for the center?
Shipman: We are going to continue to push to be relevant to young people, new Atlantans, people moving here – growing programs and experiences.
Some specifics: Every second Sunday [of the month] is a free day at the High Museum – 5,000 or 6,000 people come; it's accessible for anybody. The symphony not only plays Mozart but also plays the soundtrack for Star Wars. We do family programs aimed at five-year-olds.
I think you will continue to see us open up ourselves more broadly to the neighborhood and other forms and arts organizations. Last year we literally gave away almost half a million dollars worth of space for other arts organizations to perform, to hold their meetings, to showcase themselves. I think the arts center isn't just for the three arts partners, but for the whole community.
---
GT: In an interview just before you came to the Woodruff Arts Center, you said you thought having three different arts groups under one umbrella was an asset. Do you still feel that way?
Shipman: Absolutely.
---
GT: Why?
Shipman: If you think about the leaders of the arts partners – Rand Suffolk at the High, Susan Booth at the Alliance, Jennifer Barlament at the symphony – and then me: We are basically of the same generation, we all have kids in school. None of us actually grew up in Atlanta. I think we all have a similar kind of disposition about where we should take this place, the ways we can serve the community. There is an enormous amount of alignment and some incredible collaborative wins. The High and the Alliance have done joint summer series around children's book authors for several years. This year it was Winnie the Pooh – there was an exhibit at the High, a stage show at the Alliance. The symphony and Alliance did Candide – so [you had] really fantastic theater actors, opera singers, musicians on the same stage.
Philanthropically, we're able to go out and do really big projects. We are finding ways to do things that almost no other arts organization can do, not only in Georgia, but almost no other organization in the country.
---
GT: The Atlanta Symphony has been through some contentious times, with lockouts in 2012 and 2014. The most recent four-year contract was set to come up for renewal this year. Bring us up to date on that.
Shipman: The contract has already been extended – in the spring – for three additional years. It was a very healthy process, a very quiet process. I think it really showcases the kind of trust that has been built and the kind of momentum that has been built, especially between the staff of ASO that manages the orchestra and the musicians themselves. I think it's a really positive step that we were able to do that early and without any contention.
---
GT: What are the dollars-and-cents realities of running the arts center?
Shipman: This place is roughly a $100-million business. The majority of that comes from activities – earned revenues from ticket sales, a sizable endowment. Roughly 30 to 35 percent of the dollars every year are raised. It's a largely self-sustaining environment. We can keep the lights on and play the music; but in order to have kids come here for free, have the kinds of camps we have, we invest so much in education that we need to raise the money.
---
GT: What role do the arts play in the economic health of a city or region?
Shipman: People realize the arts are a big economic development piece. When a company decides where it's going to move or grow, it looks at arts and culture, especially in the Atlanta region – but also Savannah, Macon and Columbus.
Creativity is at a higher premium than it has been probably ever. People understand the arts are not only good because they are wonderful; they're great because of lifestyle, of quality-of-life issues. As we are growing technology companies, growing our entrepreneurial sector, [we've got] to have good, solid, creative arts organizations.
---
GT: What about financial support for the arts?
Shipman: Georgia receives corporate support for arts and culture at a level that is a national envy. When I talk to my colleagues in other places they are always envious of how much corporate support – not only money, but also leadership support, volunteer support. There is really something unique about Georgia's corporate culture.
We have benefited in deeply significant ways from corporate leadership, from the time and personal energy of a lot of folks in the corporate sector. That's something deeply embedded in Atlanta. I think it goes all the way back to the famous King dinner: King wins the Nobel Prize in '64; Coke steps in, says we're going to have a dinner for him, and everybody's going to buy a ticket or maybe Coke doesn't need to be here [remain in Atlanta]. Tickets sell. That sets the tone.
[Editor's Note: Coca-Cola President Paul Austin came up with the idea of the dinner and saw to it that the white business community supported it; Mayor Ivan Allen Jr. urged white leaders to actually attend the dinner, which most of them did.]
---
GT: How about individual and public support?
Shipman: The arts have been well supported over time by individuals and philanthropic foundations – but we still lag when it comes to public support on the state level and even city level. I am hopeful as this connection becomes more and more apparent between economic development and arts that we'll start to see more public investment. The payback on public investment in the arts is multiple times what you put into it, because it comes back in that economic development and in that competitive advantage.
---
GT: Let's talk about diversity at the arts center, in terms of audiences and offerings.
Shipman: This has been something that has been front of mind for the last several years preceding me. When Rand Suffolk came to the High [in 2015], on a daily basis the audience (take out kids, because kids skew the numbers, actually skew them positively because they are more diverse than the general population) walking into the High Museum was 82 percent white, 18 percent people of color. That was twice as good as the national average – 91 percent white, 9 percent people of color – for what's called an encyclopedic museum. Rand came in and said we could be proud of that, but the truth is that number makes no sense for Atlanta given the population here. Last year the High was 50-50 – literally leading the nation.
---
GT: How did that happen?
Shipman: They have put all kinds of artists in exhibitions. More than half of special exhibits have been women, people of color or LGBTQ artists. They changed who the docents are – recruited a more diverse docent class, changed their marketing, changed their programs, changed everything – to create an experience that will attract all kinds of audiences. And they have invested even more in families. They have been able to vastly diversify their audience, which also has led them to diversify their board of directors – including Killer Mike, an artist who just came on board. That's an indication of where they are going.
---
GT: What about the Alliance and the symphony?
Shipman: At the Alliance, a similar outcome, but different strategy. They have been showcasing various actors, cross-casting in all kinds of ways. Last year, if you went to A Christmas Carol, Tiny Tim was an African-American boy, with an African-American mom and white father. That's just the way they've cast their shows. They are also evolving with new artists and new playwrights, shows that speak to various audiences to build audiences and diversity.
The symphony, because of programs like Movies in Concert, they have been migrating their programs in order to diversify. We think about how do we actually become a pipeline for diversifying the art field, theater field, music. That's also very exciting.
---
GT: What's your overall appraisal of the arts community in Atlanta and Georgia?
Shipman: We are really in a unique time, with several tailwinds, exciting things happening. There are a number of venues coming online – in Sandy Springs, Lawrenceville. The Cobb Energy Center is well established. Newnan has a performing arts center. Combined with the film and television industry [that is] also building infrastructure around sound stages and all the things they're doing, we see more performance and venue assets than ever before.
---
GT: Any sectors that are particularly strong?
Shipman: They are all vibrant in slightly different ways – theater is incredibly vibrant, especially because it is being supported by film and television. An Emory [University] professor gave me a stat the other day – he says over 3,000 Equity actors have moved to Atlanta in the last five years. They are moving here for film and TV then becoming actors on our stages, directors, writers.
The music sector is just on fire in so many ways – so many producers, so much activity here – it bleeds over into orchestral music and chamber music. And you have some of those artists moving across genres
Dance is really thriving – it's a little bit under the radar, but there's lots of grass roots activity. Kennesaw State [University] has a wonderful dance program; Spelman [College] has an incredible dance program – starting to produce artists who are staying here. At the top, [there's] the Atlanta Ballet and Terminus – but it's all the way through.
---
GT: How about the visual arts?
Shipman: From the BeltLine to arts festivals, there's a brand new set of artists emerging.
Visual arts have always suffered in the sense that you can launch a career in Atlanta and come back when your career is established, but can never stay through the middle of your career. We are starting to see that middle part of a career able to be sustained across the ecosystem.
More broadly, I've been surprised at the enormous appetite of younger people around the arts that I did not witness when I was coming up through college. The number of millennials who are seeking out a visual arts gallery opening, a dance program, is really, really large, especially when it happens at a unique place – dance on the BeltLine, something at Serenbe, something on the waterfront in Savannah. We as an arts organization have to adapt to that.
---
GT: How does your work at the Center for Civil and Human Rights inform what you do at the Woodruff center?
Shipman: That's such a deeply held legacy, the King legacy, the civil rights legacy, for everyone from Atlanta. When we built the institute, we had to understand how to include people in the conversation, to think about how are we serving everybody, how are we taking forward the principles. Those lessons I learned and those notions of community are very helpful.
Second, it certainly comes in handy having run a museum when you have a museum on your campus: How do these kinds of places work, how do you think about patron issues, how do you think about projecting the future?
Third, that position was one that touched the political establishment, touched the philanthropic establishment, touched the press, touched a lot of different parts of the community. I try not to think [only] about what's in the best interests of the arts center but the arts and cultural community broadly and what is happening in the civic space. This is a very special place that can do a lot of good.
---
GT: What makes your work personally meaningful to you?
Shipman: I have two young daughters, and when I bring them here, to tap into the wonder of this place and not take it for granted but to see it through their eyes reminds me how special it is: World-class art you can walk to anytime, world-class musicians, world-class theater.